Thursday, 10 October 2019 at 8PM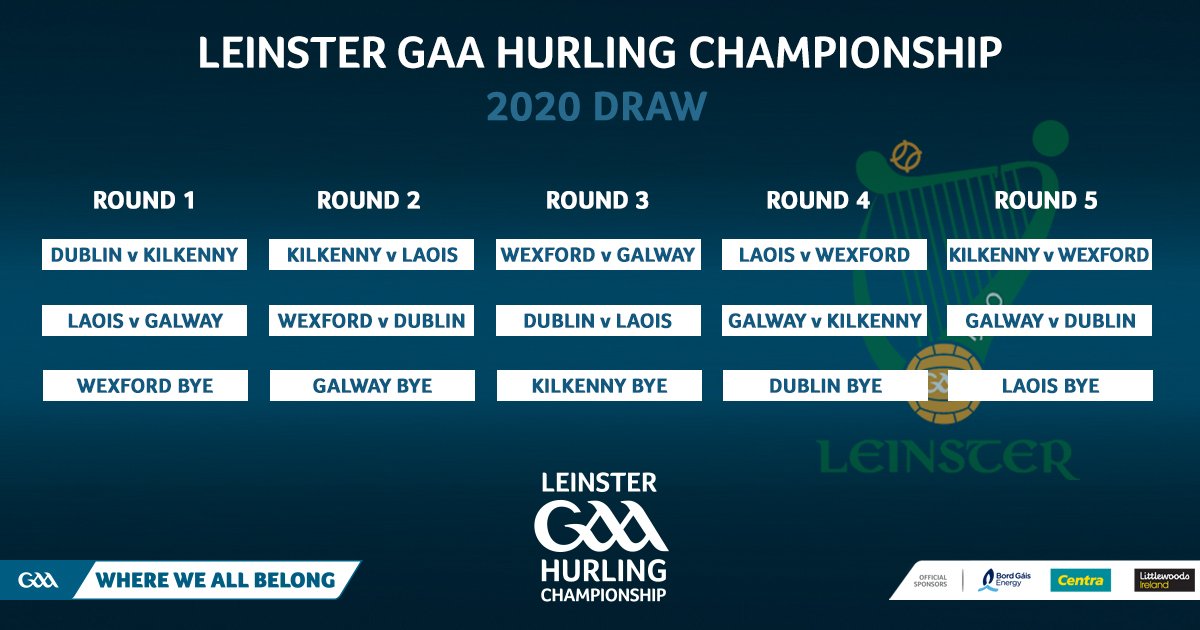 The draw for the 2020 Leinster GAA Hurling Championship was completed on Thursday and it sees Kilkenny's campaign open with an away game against Dublin, this is followed with a home game against Laois in round two. Kilkenny will have a bye in round three and will then face Galway away in round four, followed by a home game against Wexford in the fifth and final round.
Sunday, 30 June 2019 at 9PM
Kilkenny's attempt to win another Leinster title came up short on Sunday with Wexford claiming a 1-23 to 0-23 victory. Little separated the teams throughout the contest but a penalty for Wexford in the final ten minutes proved crucial and Wexford never looked back from there. For Kilkenny the quarter finals are next with a date against the winners of Cork and Westmeath on the weekend of July 13/14th. All details TBC
For full match report click below (Johh Knox, Kilkenny People)
For pictures from the day click here (Willie Dempsey)
For pictures from the minor click here (Martin Rowe)
Friday, 28 June 2019 at 8PM
Brian Cody and his managment team have tonight named the Kilkenny team that will face Wexford in the Leinster final on Sunday at 4pm. This is the second meeting of the teams in as many weeks and is the meeting where only one side can emerge with silverware. The winner also secures an All-Ireland Semi-Final spot in four weeks time whereas the loser will secure a Quarter final spot in two weeks.
Sunday, 23 June 2019 at 8PM
Sunday next sees Kilkenny contest the Leinster Minor Final against Wexford in Croke Park at 11.30am, this will be followed by the meeting of Laois and Westmeath in the Joe McDonagh Final at 1.45pm. The Leinster Senior Final against Wexford has a throw-in time of 4pm. It promises to be an entertaining day at GAA HQ.
All ticket prices and information can be viewed here, tickets will be sold as usual through Centra and Supervalu stores and online at here.
There will be a public sale of tickets in Nowlan Park on Tuesday from 10am - 2pm.
Sunday, 16 June 2019 at 9AM
Brian Cody's men claimed a Leinster Final berth for the second year in a row following an epic encounter with Wexford. The contest was a hard fought affair with no inch given by either side. The sides ended all square 1-18 to 0-21 and given Dublin had just beaten Galway in Parnell Park, both Kilkenny and Wexford will have to do it all again on June 30th with the Bob O'Keeffe the prize on offer for the victors.
Meanwhile the Kilkenny minors overcame a resilient Kildare in Newbridge to also secure a Leinster final berth against Wexford on Saturday June 29th. The opening quarter was close but Kilkenny showed their scoring power in the run up to to half time, a period that proved crucial to their win ultimately, running out 2-20 to 0-15 winners.
Both of Kilkenny's Celtic Challenge teams came up just short on the day with Kilkenny Amber losing out to Galway McDonaghs on a score of 2-25 to 0-17 while Kilkenny Black lost out to Dublin Plunketts, the final score there 2-13 to 1-10.
The Junior Footballers also took to the field in Scotland against the home side but Scotland claimed victory running out 1-15 to 0-11 point winners to claim a spot in the All-Britian Junior Football Final.
In the opening match of the day from Wexford Park Blacks and Whites were victorious over Glemore in the Leinster League Club Division 2 Final. The final score 3-12 to 1-9.
Click below for full senior match report (Trevor Spillane, Kilkenny People)
Click here for pictures from the Leinster Kilkenny v Wexford (Willie Dempsey)

Click here for pictures from the Leinster Kilkenny v Wexford (Martin Rowe)
Click here for pictures from the Leinster Club Div 2 Final (Willie Dempsey)