Saturday, 08 August 2020 at 7PM
On the 23rd of September, the GAA invites all clubs to open their doors to the wider community and support its first GAA National Inclusive Fitness Day. The event falls during the European Week of Sport (23rd – 30th September) and aims to promote sport and physical activity to everyone regardless of age, ability, ethnicity, nationality, or fitness level.
Click below for more details.
Friday, 07 August 2020 at 7PM
For a round-up of Minor hurling action from the past week, click below. (Bord na nOg PRO Pado Flynn)
Friday, 07 August 2020 at 3PM
GAA President John Horan and GAA Ard Stiúrthóir Tom Ryan have today issed an update on the COVID-19 pandemic with regard to the GAA. The have thanked the GAA community for their help, and assitamce throughout the past dew months but have also asked the GAA community to remain viligant at all times and not to become relaxed about the threat posed by COVID.
Click below for their joint communication and for the updated guidance issed for all in the community, both players, mentors and spectators.
Thursday, 06 August 2020 at 7PM
The Kilkenny team of the decade, for the years 2010 to 2019 has been announced. It shows a number of players spanning the noughties and this decade. Now all the winners from each of the teams will feature in an online vote from this weekend, and in print in next week's Kilkenny People. August 21 is the deadline for the final vote where the greatest hurlers of the last six decades in Kilkenny, as voted by the readers of the Kilkenny People and kilkennypeople.ie will be announced.
Click here to read the Kilkenny People selections.
Voting for the Goalkeeper in the team of the decades is now open, click here to vote.
Thursday, 06 August 2020 at 6PM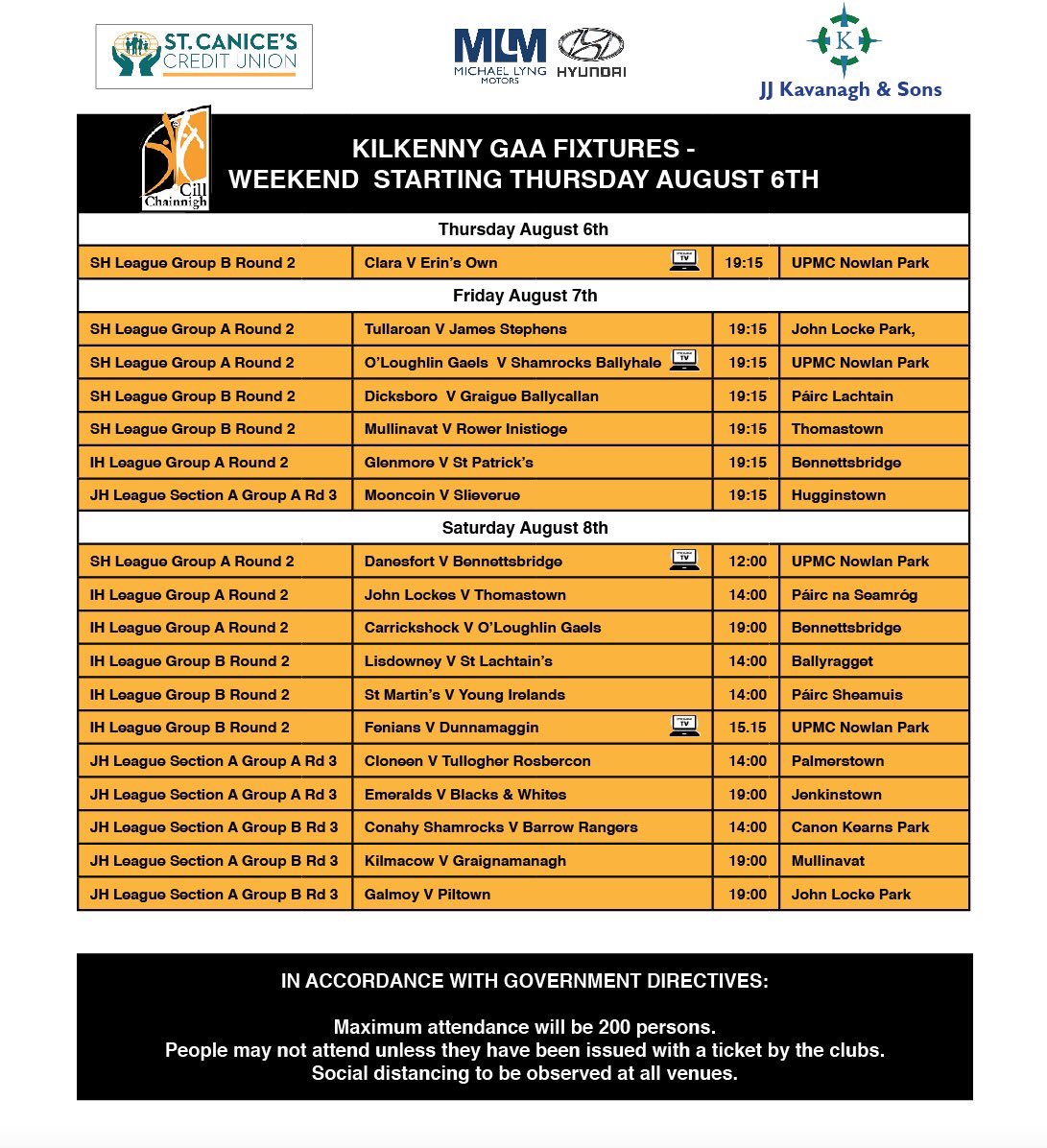 A busy weekend lies ahead with a host of senior, intermediate and junior games to look forward to, for a full list of these fixtures click below. Four of these games will be streamed live on the Kilkenny GAA live stream and full details can be found here.
We would like to remind all our players and supporters to continue to follow all HSE and Public Health guidelines. The limit on attendance at games is 200 people, including players, mentors, stewards, physios etc. All adults and Juveniles must also have a ticket. We ask all supporters to please practice social distancing while attending games.
For all Senior, Intermediate and Junior games, tickets will be issued to each club and only those in possession of a ticket should attend, no walk-ups allowed.