Thursday, 10 October 2019 at 8PM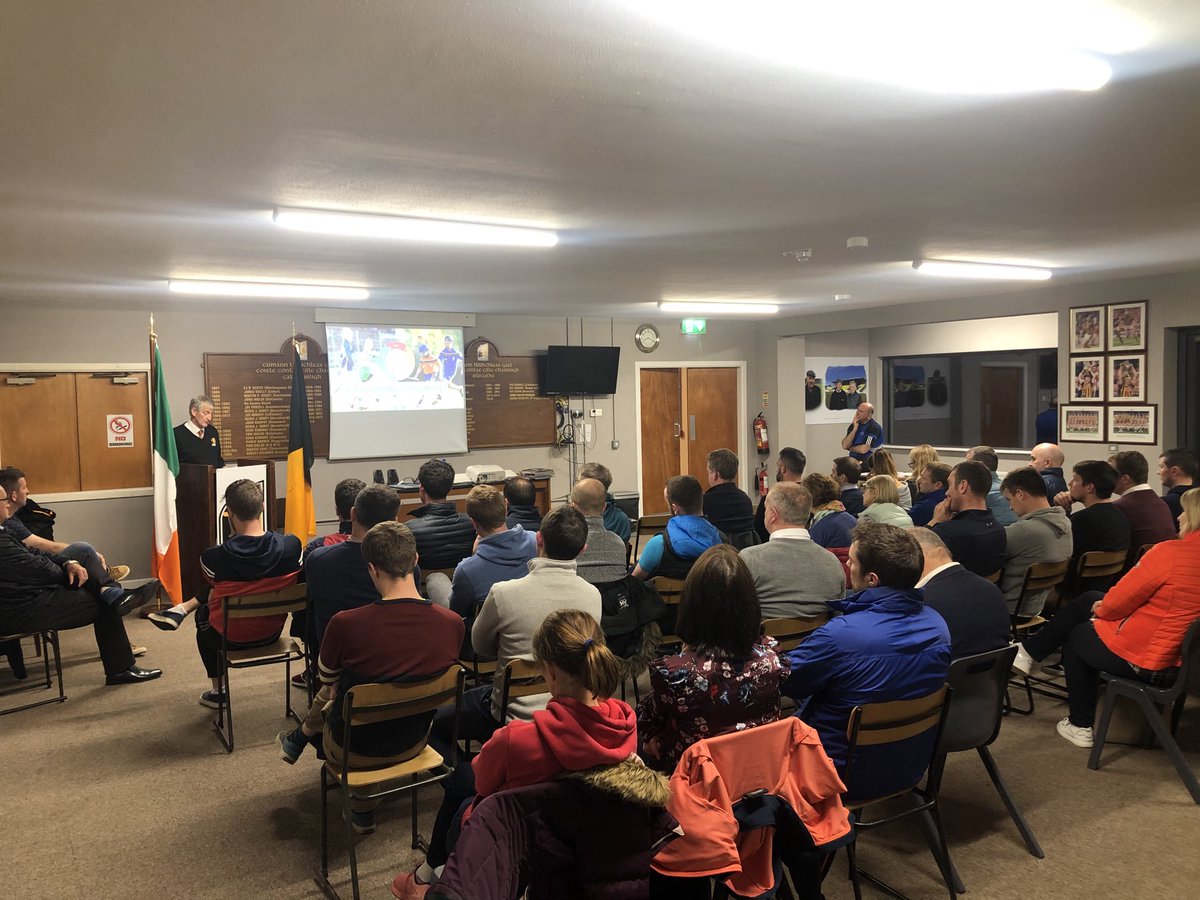 A huge number of teachers were present on Thursday night for the annual and long running second level Kilkenny GAA/Kilkenny Supporters Club 'equipment grant' night. The night presents an opportunity for Kilkenny GAA to acknowledge and thank our second level schools and teachers for their continued support towards training and developing our GAA players throughout the county.
The evening opened with an introduction from Kilkenny GAA Chairperson Jimmy Walsh, followed by a presentation by Pat Daly, GAA Director of Games Development on Wellbeing in our schools, a topic we all need to be more aware of and cater for. The evening ended with some refreshments whihc provided for a good opportunity exchanging ideas. We wish all our schools, teachers and players all the best in the school year ahead.
For photos from the night click here (Willie Dempsey)
Sunday, 06 October 2019 at 7PM
After a busy weekend of club action, James Stephens and Erins Own have both secured their S/F berths in the St Canice's Credit Union Senior Hurling Championship. Next weekend will see Ballyhale and Clara face off, while O'Loughlin Gaels and Mullinavat must do it all again following their draw this weekend. The S/F pairing were drawn tonight and it sees James Stephens face Erins Own while the winners of Ballyhale and Clara must face the winners of Mullinavat and O'Loughlin Gaels. The next number of weekends throw up some interesting ties.
In the Michael Lyng Motors Hyundai Intermediate Hurling Champioship, St Lachtains and Young Irelands secured S/F spots after overcoming Dunnamaggin and St Martin's respectively this weekend. Those S/F are down for decision next weekend.
Meanwhile Conahy overcame the challenge of Slieverue (0-25 to 0-17) to secure a County Final spot in the JJ Kavanagh & Sons Junior Championship. In the Section B of this competition O'Loughlin Gaels took the honours beating Dicksboro 2-16 to 2-12.
For St Canice's Credit Union S/F draw results click below.
For pictures from some of this weekend's games click here (Willie Dempsey)
Sunday, 06 October 2019 at 7PM
Former Kilkenny Captain Sean Clohosey (Ex Tullaroan) has passed away. Sean won two All-Ireland's with Kilkenny in 1957 and 1963 and five Leinster titles in 1953, 57, 58, 59 (Captain) and 63. He also won a National League in 1961-62. In latter years Sean moved to County Cork were he became heavily involved with Midleton GAA Club. Sean was featured in the Kilkenny Yearbook some years ago, click below for this article. Kilkenny GAA wish to extend our deepest sympathies to Sean's wife Patricia, his sons and daughter, grandchildren and extended family and friends. For funeral arrangements click here.
Also this weekend we remember Eugene Alyward who was tragically killed early Sunday morning. Eugene was a member of the Ballyhale Shamrocks team. All associated with Kilkenny GAA extend our sympathies to Eugene's parents Pat and Marie, brother Cian, grandparents, extended family and friends. For funeral arrangements click here.
Monday, 30 September 2019 at 7PM
The draws for the JJ Kavanagh & Sons Junior Hurling Championship S/F's and the Michael Lyng Motors Hyundai Intermediate Championship were held in Nowlan Park on Monday night. Thanks to Jack Kavanagh of JJ Kavanagh & Sons and Neil Lyng of Michael Lyng Motors for carrying out the draws. Click below for full draw details.
The CCC will arrange the fixtures and details will be posted to the fixture pages as soon as they are agreed.
Monday, 30 September 2019 at 10AM
Once again the Kilkenny GAA Yearbook committee have begun the task of collecting all the events and reports from various teams, games, development squad and club activities throughout the year. It is a process that takes huge dedication overseen by Barrie Henriques and his team. This will be the 30th Edition of the yearbook and it will be on sale at usual outlets towards the end of the year for €12.50.
We ask all clubs and contributors to please begin collecting the necessary articles and pictures, emails with relevant deadlines will be circulated shortly.