Sunday, 24 November 2019 at 9PM
Mullinavat secured a historic win and in so doing a place in the AIB Leinster Intermediate Club Football Final in two weeks time following a 2-10 to 1-7 win over Rosenallis of Laois on Saturday. The game was moved to MW Hire TC, Dunmore at short notice following heavy overnight rain but that certainly didn't affect the Mullinavat lads who from the off were determined to make history. Final fixture details tbc.
On Sunday Dicksboro claimed the Kilkenny Honda Centre Minor A League title following a 1-20 to 0-10 win over Dunnamaggin. The win means Dicksboro secured a minor double in the 2019 season. For pictures from both the Mullinavat and Dicksboro Vs Dunnamaggin games click here (Willie Dempsey).
Also on Saturday Shamrocks secured a JJ Kavanagh & Sons U-21 'A' semi-final spot following a 2-15 to 0-15 win over James Stephens while Dicksboro ran out 0-17 to 0-9 winners over Mooncoin to also claim a spot in the semi-finals.
Next weekend Shamrocks take to the road to face St Mullins in MW Hire O'Moore Park, Portlaoise on Sunday at 2pm, while Tullaroan will face Seir Kieran in UPMC Nowlan Park on Saturday at 1.30pm. Also on Saturday Conahy Shamrocks will take on BallyGarrett Realt na Mara in Bellefield, Enniscorthy at 1.30pm. We wish all the teams well in their respective Leinster Finals.
Saturday, 23 November 2019 at 9PM
On Friday 22nd of November a large crowd of over 120 people attended an awareness evening covering the topics of Mental health/resilience, drink and drugs awareness and gambling addiction in he Conahy Shamrocks Clubhouse.
Click below for a full report on the event.
For pictures click here
Saturday, 23 November 2019 at 9AM
We urge players and supporters to please check all fixtures and venues prior to departing for games this weekend. Some games have been moved/calloff due to heavy rain.
JJ Kavanagh & Sons U21 A ;James Stephens Vs Shamrocks now on at Kells Road venue.
JJ Kavanagh & Sons U21 B ; Rower Inistioge Vs Glenmore OFF. St Martin Vs Piltown now fixed for Canon Kearns Park.
AIB Leinster Club Intermediate Football S/F Mullinavat Vs Rosenalis now fixed for MW Hire TC, Dunmore at 1.30pm.
Friday, 22 November 2019 at 9AM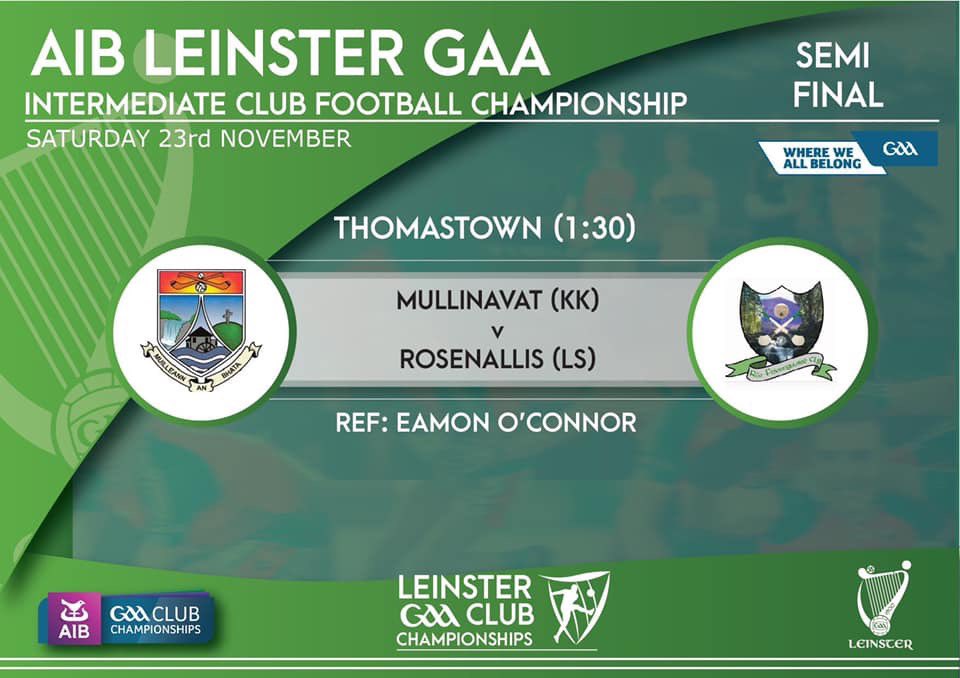 Mullinavat will contest the AIB Leinster Club Intermediate Football S/F Vs Rosenallis of Laois on Saturday at 1.30pm in Thomastown. A number of strong performaces from Mullinavat since claiming the County title has meant Mullinavat have a chance to claim a place in the provincial decider. We wish them all the best as they represent the county.
Sunday, 17 November 2019 at 11PM
Kilkenny claimed the Super 11's title in New York on Saturday night following a 0-64 to 0-40 win over Limerick. The crowd of 11,000 were treated to three games on the night, Kilkenny beating Tipperary by 0-86 to 0-36 to secure that final spot. In the first semi-final of the evening Limerick overcame Wexford to secure their spot in the final. For match report click here (Kilkenny People)
In the Leinster Club Championship, Shamrocks overcame the challenge of Wexford champions St Martin's to secure a Leinster final spot for the second year in a row. The Kilkenny champions got a great start and were 1-1 up within a minute of the game starting, from here they never looked back and ran out 5-19 to 1-16, TJ Reid scoring 2-14 in a masterful display. They will now face St Mullins of Carlow in the final in two weeks time.
Meanwhile in the Leinster Intermediate S/F Tullaroan beat Naas 3-17 to 1-13 while Conahy Shamrocks ran out 1-22 to 1-7 winners over Clonquish Gaels in the Leinster Junior S/F. Both of these finals are also scheduled for two weeks time also.
For match report click below (John Knox, Kilkenny People)
Click here for pictures
For additional Tullaroan pictures, click here (Willie Dempsey)