Monday, 27 July 2020 at 7PM
For a preview of the U-15 hurling Championship by Bord na nOg PRO Pado Flynn click below.
Saturday, 25 July 2020 at 3PM
The first round of the JJ Kavanagh & Sons JHL Section A took place on friday evening with six games down for decision. One of these games, the Emeralds Vs Tullogher Rosbercon game made history for being the first game to be streamed by Kilkenny GAA. For results of these games click here.
We remind all our members and supporters to please practice social distancing, sanitise hands and to follow all HSE and public health guidelines while attending games in the coming days and weeks.
To view pictures from the Emeralds Vs Tullogher Rosbercon game click here (Willie Dempsey)
Thursday, 23 July 2020 at 7PM
It's a new Millennium, the Brian Cody years, the two decades of utter dominance from Kilkenny and we begin with the team nominations from 2000 to 2009 - seven All-Ireland's in ten years. Some hurlers to chose from here. The final selection, chosen from those who made the team for each decade, will be guests of honour at the GAA Race Day in Gowran Park. If your final selection matches the overall team, you can join them there.
To find out how to vote click here.
Wednesday, 22 July 2020 at 8PM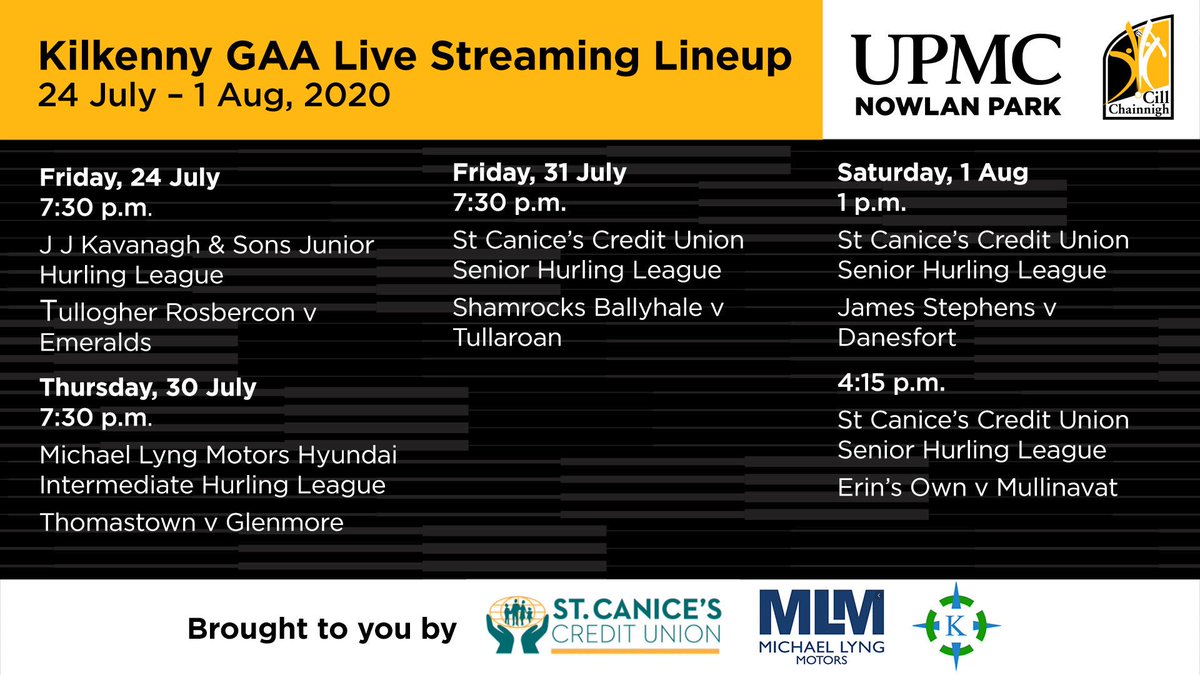 Kilkenny GAA is delighted to announce our live streaming will commence this Friday at 7.30pm with the meeting of Emeralds and Tullogher Rosbercon in the JJ Kavanagh & Sons Junior League in UPMC Nowlan Park. An e-ticket will cost €6 for this single game, click here to purchase. The following weekend we will showcase three games on the streaming network and a fourth game the meeting of Shamrocks Ballyhale and Tullaroan will be shown live on TG4 at 7.30pm on the Friday July 31st.
Click below for details of all streamed games, full pricing packages will be announced in the coming days.
Monday, 20 July 2020 at 3PM
We are half way through our selections for the teams of the 60's, 70's, 80's and here are the current standings. Check out the Kilkenny People every Wednesday to see the selections and to see how to vote.
Click here to view the selections so far.