Thursday, 06 August 2020 at 7PM
The Kilkenny team of the decade, for the years 2010 to 2019 has been announced. It shows a number of players spanning the noughties and this decade. Now all the winners from each of the teams will feature in an online vote from this weekend, and in print in next week's Kilkenny People. August 21 is the deadline for the final vote where the greatest hurlers of the last six decades in Kilkenny, as voted by the readers of the Kilkenny People and kilkennypeople.ie will be announced.
Click here to read the Kilkenny People selections.
Voting all positions in the team of the decades is now open, click here to vote.
Thursday, 06 August 2020 at 6PM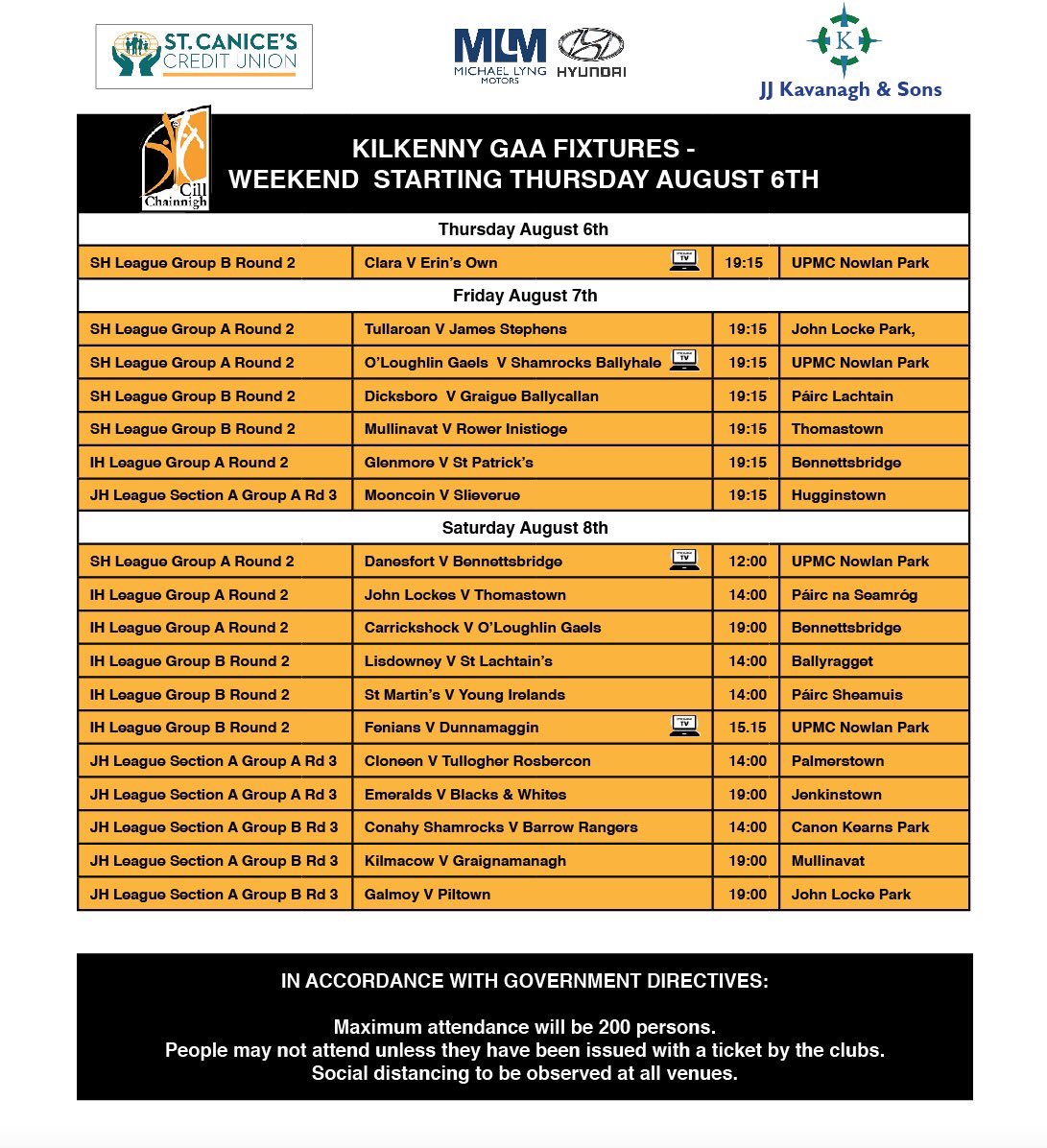 A busy weekend lies ahead with a host of senior, intermediate and junior games to look forward to, for a full list of these fixtures click below. Four of these games will be streamed live on the Kilkenny GAA live stream and full details can be found here.
We would like to remind all our players and supporters to continue to follow all HSE and Public Health guidelines. The limit on attendance at games is 200 people, including players, mentors, stewards, physios etc. All adults and Juveniles must also have a ticket. We ask all supporters to please practice social distancing while attending games.
For all Senior, Intermediate and Junior games, tickets will be issued to each club and only those in possession of a ticket should attend, no walk-ups allowed.
Sunday, 02 August 2020 at 11AM
The first hectic weekend of many is behind us and we were treated to a host of close games with some great fare on offer. For most supporters the experience of this weekend was unique as many games were watch through TV/Laptops and tablets but the excitment was still palpable. For all this weekends results click the here.
As we look forward to next weekend fixtures, we thank our clubs, their officers, players and supporters for the way in which they embraced the new and hopefully temporary measures we have in place re ticket allocations due to the 200 person limit on attendances. We also remind all going forward of the continuing need to practice social distancing and to follow all HSE advice.
Click here for match reports (Kilkenny People)
For pictures from some of this weekends games click here (Willie Dempsey)
For pictures from the Shamrocks Vs Tullaroan game click here (Martin Rowe)
Monday, 27 July 2020 at 9PM
The coming weekend sees the first rounds of the St Canice's Credit Union Senior hurling league and the Michael Lyng Motors Hyundai Intermediate hurling league take place. It promises to be a unique experience for all with attendances within all grounds capped at 200 people, including players, mentors, stewards media and supporters. Tickets have been issued to clubs and only those with a vaild ticket from their club should attend games.
Four games will be available to supporters via television and the Kilkenny GAA streaming service. The game between Shamrocks Ballyhale and Tullaroan will be live on TG4 on Friday night at 7.30pm. The meeting of James Stephens and Danesfort and the game between Erins Own and Mullinavat will be carried live on the Kilkenny GAA stream on Saturday at 1pm and 4.15pm respectively, individually each game will cost €6 to stream, or €10 for a daily pass to watch both. The meeting of Thomastown and Glenmore on Thursday at 7.30pm, wil also be streamed and the e-ticket for this game will be €6.
Click here to see all streaming details.
Monday, 27 July 2020 at 7PM
For a preview of the U-15 hurling Championship by Bord na nOg PRO Pado Flynn click below.