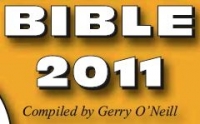 Widely acknowledged as the most up to date of its kind in the Country the latest Kilkenny Bible is the ultimate record or source document for any person with even the slighest interest in the vast spectrum of GAA activities at County and National level. Recently updated by its editor Gerry O'Neill the current Online edition on the Resources Link on this site has well over half of its 277 pages dedicated to Hurling, Football, Handball, Ladies Football and Camogie Results at Club, Primary Schools, Colleges, Féile and Inter Firms levels in the County. The entries stretch from Day one in 1884 to this years All Ireland Club Finals. Also included are the Winning Teams, All Stars, Referees, County Officers and Club Crests.
Q1 "Who played in the first Intermediate Hurling County Final in Kilkenny"? …………………….
At National level, Results in every grade in each discipline at each level is included. Also to be found are Intercounty Teams, Poc Fada winners, Railway Cup sides, attendances and the Champions Roll of Honour for every County.
Q2 How many Senior Provincial Titles have Kilkenny won? ………………….
The answers to the questions and many many more can be found by going through the index. To research your club or check up on a player just enter the name in the Search option. The answers to the questions are: Urlingford defeated Kilmacow in the first Intermediate Hurling Final in 1929 and Kilkenny won forthy eight Provincial Senior Titles.
The production will be available shortly on Disc. Download PDF version