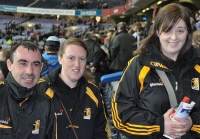 Dublin began the game at a fast pace and led by 0-5 to 0-2 after ten minutes.Former Tipperary player Ryan O'Dwyer gave Dublin a first-minute lead to which Richie Hogan replied with a third-minute free. Dublin created two goal chances in the early stages, but Paul Ryan and Conal Keaney fired wide when goals looked possible .
Eddie Brennan got Kilkenny's first score from play in the tenth minute with a good point when under pressure but a point from play from Liam Rushe, added to frees from Conal Keaney, saw Dublin leading by three.
Almost ten minutes elasped before the next score when. Colin Fennelly won possession and split the Dublin rearguard with a great run before shooting. Dublin goalkeeper, Gary Maguire, made a brillliant save but Mathew Ruth was on hand to sweep in the rebound and bring Kilkenny level.Dublin might have replied with a goal of their own as Dotsy O'Callaghan dispossed David Herity but Noel Hickey was on hand to deny the Dublin corner forward a goal.
Points followed from Aidan Fogarty for Kilkenny, then Shane Durkin and Paul Ryan for Dublin before RichieHogan hit another for Kilkenny followed by Daire Plunkett, Dublin and Eddie Brennan for the Cats.Dublin then scored their only goal of the game following some brilliant teamwork.Ryan O'Dwyer found Plunkett whose pass was excellently controlled by Paul Ryan whose powerful shot gave David Herity no chance os a save in the Kilkenny goal.
At this stage Dublin led by1-11 to 1-6 buffer and Conal Keaney free followed in the closing minutes of the first half. Kilkenny upped their game as the first half closed and a point from Michael Fennellywas followed by a late goal from Eddie Brennan. If Dublin's goal was an example of a team score then Brennan's was a classic individual forward's score as he gathered a long ball played in towards him, turned his marker Tomas Brady and blasted to the net.
The weather deteriorated significantle in the early stages of the second half but continued to add on then scores hitting four of the next five points with Richie Hogan (0-2), Michael Fennelly and Ruth raising the white flags.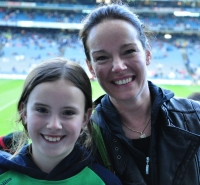 Back came Dublin as Liam Rushe's 41st-minute point was followed by a Daire Plunkett point eight minutes later. That left the game blanaced at 1-14 to 2-11 with just over 20 minutes remaining.
Kilkenny had a lucky escape when Dotsy O'Callaghan's mishit shot was deflected out for a 65′ that Conal Keaney put wide.Kilkennt then seized the iniative again as Mathew Ruth hit Kilkenny's third and his second goal after Gary Maguire had again spectacularly saved a goalbound shot from Colin Fennelly. Eddie Brennan had a point attempt stopped by a combination of goalkeeper Gary Maguire and the crossbar before two frees from Paul Ryan, who had taken over over the free-taking duties from Conal Keaney, left the minimum between the sides. Dublin then registered three wides in succession as they sought the equaliser before Ryan levelled the game in the fourth minute of stoppage time.
Scorers – Dublin: P Ryan 1-05 (0-1f, 0-1 '65'), C Keaney 0-06 (0-3f, 0-1 '65'), L Rushe 0-2, S Durkin, R O'Dwyer, J McCaffrey, D Plunkett 0-1 each
Kilkenny: M Ruth 2-1, E Brennan 1-2, R Hogan 0-5 (0-3f), M Fennelly 0-2, A Fogarty 0-1
DUBLIN: G Maguire; N Corcoran, T Brady, O Gough; R Walsh, P Kelly, S Durkin; J McCaffrey, L Rushe; D Plunkett, C Keaney, P Ryan; D O'Callaghan, R O'Dwyer, S Lambert.
Subs used: Shane Ryan for S.Lambert (50 mins), P. Carton for Daire Plunkett (67mins).
KILKENNY: D Herity; M Kavanagh, N Hickey, J Dalton; P Hogan, B Hogan, C Fogarty; P Murphy, E Larkin; R Hogan, M Fennelly, C Fennelly; M Ruth, E Brennan, A Fogarty.
Subs used: TJ Reid for Paul Murphy (44 mins), J Mulhall for Aidan Fogarty (52mins), PJ Delaney for Conor Fogarty (56mins).
Referee: Barry Kelly (Westmeath).