Kilkenny 4-17 Dublin 1-15

Kilkenny Leinster Senior Finalists 2011
Kilkenny avenged their Allianz Hurling League final defeat to Dublin by capturing an historic seventh successive Leinster GAA Hurling Championship in style with a 4-17 to 1-15 victory at Croke Park on Sunday.Dublin were outclassed by a Kilkenny team, back at full strength, back to its best and rediscovering its goal scoring touch, .Kilkenny enjoyed a 2-10 to 0-7 lead at the break thanks to goals from Eoin Larkin and Colin Fennelly while Henry Shefflin and Michael Rice both found the net in the second half.
While Paul Ryan gave Dublin hope, reducing the difference to six points, with a goal from a free in the 56th minute, Kilkenny eliminated any Dublin hopes of a revival by immediately striking their fourth goal when Michael Rice finishing to the net.
To be fair Dublin started without key players Ryan O'Dwyer and Tomás Brady, and then lost centre-back Joey Boland after 20 minutes. However it is unlikely their presence would have affected the result as with all their big name players back in the team, the Cats dominated this game from start to finish.Tommy Walsh gave a masterclass at wing-back, having missed the first Championship game of his career against Wexford, while Henry Shefflin finished with a tally of 1-9.
Kilkenny started the game in high gear and were 0-3 to 0-1 ahead after six minutes, with Henry Shefflin converting two frees and Michael Rice finishing an excellent move involving three Kilkenny forwards. Even at this stage Dublin were finding it difficult to match Kilkeny's intensity and their only score in the first 10 minutes came from a Paul Ryan free. Kilkenny's first major score came when Eoin Larkin, playing at full-forward, found the net in the 11th minute taking a Colin Fennelly pass and finishing from an acute angle.
Alan McCrabbe and Conor McCormack tried to interrupt Kilkenny's dominance with points but a second goal after twenty minutes re-asserted the Cats' control. This time Colin Fennelly turned finisher, racing onto a ball played into space in the corner, beating defender Oisín Gough for pace on the outside and beating Dublin custodian, Gary Maguire, with a well-placed shot. A pair of converted frees from Paul Ryan reduced Kilkenny's lead down to six points, 2-6 to 0-6. Dublin came close to goaling in the 33rd minute, when a long ball into the goalmouth area deflected off Noel Hickey, wrong-footing Kilkenny 'keeper David Herity and appeared to be trickling over the line. Herity, however, adjusted his footing brilliantly and spectacularly scooped the ball off the line to save what appeared to be a certain goal.
Almost immediately Kilkenny returded to the attack and increased their tally by three points in added time with Henry Shefflin adding two and captain Brian Hogan one, to give their side a 2-10 to 0-7 half-time lead. Dublin had another goal chance at the start of the second half but Simon Lambert missed what looked like a simple chance.
Kilkenny added a third goal in the 43rd minute when T.J.Reid found the his Ballyhale clubmate Shefflin in space and Henry ruthlessly found the net to give his side a 12-point, 3-11 to 0-8, lead.
Kilkenny continued to dominate at this stage as Dublin were reduced to frees from Paul Ryan. The Ballyboden player, Ryan, did score Dublin's only goal of the game driving a free to the back of the Kilkenny net after Jackie Tyrrell had been penalised for a foul on Maurice O'Brien. The gap was down to a mere six points, 3-13 to 1-13, but the home supporters were disappointed as within a minute Kilkenny added a fourth goal.
While minutes earlier, Dublin goalkeeper Gary Maguire had saved brilliantly from Eoin Larkin, he had no chance when Richie Power caught a long ball and popped a pass to Michael Rice, who drove a shot to the back of the Dublin net.
Richie Hogan and Henry Shefflin added scores from play as Kilkenny extended their lead to finish eleven point winners and book a place in the All Ireland semi-final on August 7th.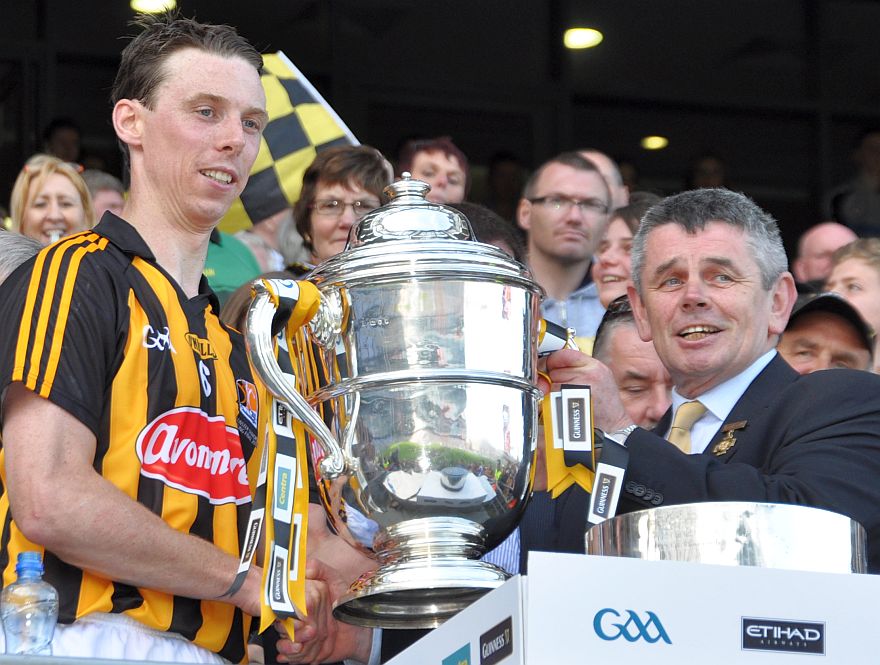 Kilkenny Captain recieves the Bob O'Keeffe Cup from Leinster Council Chairman Martin Skelly
Dublin Scorers: C Keaney 0-1, C McCormack 0-1, A McCrabbe 0-2, P Ryan 1-9 (1-9f), D Plunkett 0-1, M O'Brien 0-1.
Kilkenny Scorers: B Hogan 0-1, M Rice 1-2, R Power 0-1, E Larkin 1-2, C Fennelly 1-0, H Shefflin 1-9 (0-7f), R Hogan 0-2.
Dublin: G Maguire, N Corcoran, P Kelly, O Gough; J McCaffrey, J Boland, S Durkin, L Rushe, C Keaney, C McCormack, A McCrabbe, S Lambert, D O'Callaghan, P Ryan, P Carton. Subs: M O'Brien (0-1) for Boland (20), P Shutte for Gough (HT), D O'Dwyer for P Carton (HT), D Plunkett for Keaney (39, temp), Keaney for Plunkett (40), Plunkett (0-1) for Lambert (44), S Ryan for D O'Callaghan (65).
Kilkenny: D Herrity, N Hickey, JJ Delaney, J Tyrrell, T Walsh, B Hogan, P Murphy, M Fennelly, M Rice, TJ Reid, R Power, E Larkin, C Fennelly, H Shefflin, R Hogan. Subs: M Ruth for Larkin (12 temp), Larkin for Ruth (13), P Hogan for Delaney (HT), J Fitzpatrick for TJ Reid (53), M Ruth for R Power 971), J Mulhall for Larkin (71).
Referee: Barry Kelly (Westmeath)
Attendance: 33, 814