Kilkenny 2-17 Tipperary 1-16


All Ireland Senior Champions 2011
Kilkenny regained the Senior Hurling all Ireland title defeating Tipperary with an excellent display to capture a 33rd title in Croke |Park yesterday. Combining tradituional Kilkenny style with steel Kilkenny were the better team throughout the game getting the tactics just right and crowning a good performance with two excellently worked goals in each half, the first from Michael Fennelly and the second from Richie HoganKilkenny enjoyed an excellent start hitting five points without reply. Kilkenny backs were in almost total control as Jackie Tyrrell picked up Lar Corbett and, with half-backs Tommy Walsh, Brian Hogan and JJ Delaney dominant against a struggling Tipperary half-forward line, this was a different scenario from 2010.In total Tipperary's starting six forwards managed just three points from play, while Kilkenny's sextet registered 1-12. The rest of Tipperary's scores came from seven Eoin Kelly frees balls, points from midfielder Gearóid Ryan, centre-back Conor O'Mahony, half time substitutes Benny Dunne and Pa Bourke and two sideline cuts by Noel McGrath. Tipperary didn't land their first score until the 16th minute, but they added two further points to reduce the deficit to two after 23 minutes. However after 35th minutes Michael Fennelly ran on strongly to a pass from Richie Hogan and powered the ball past Brendan Cummins to help Kilkenny to an interval lead of 1-8 to 0-6 after a half in which four of Tipperary's scores had come from frees.Kilkenny continued on in the same vein to begin the second half, leading by 1-12 to 0-8 after 45 minutes and by 1-12 to 0-10 shortly afterwards, when a driving run by Eddie Brennan split the Tipperary defence. His pass found Richie Hogan who controlled it excellently on his hurley before driving a spectacular high into the Tipperary net. However Kilkenny seemed to allow Tipperary back into the game and a goal from Pa Bourke cut the deficit to just three points with six minutes remaining. It seemed Kilkenny might rue a failure to capitalise on their all-round superiority.However Kilkenny supporters need not have worried and Tipperary could get no closer as Kilkenny pushed the margin back to four to secure a sweet All Ireland win.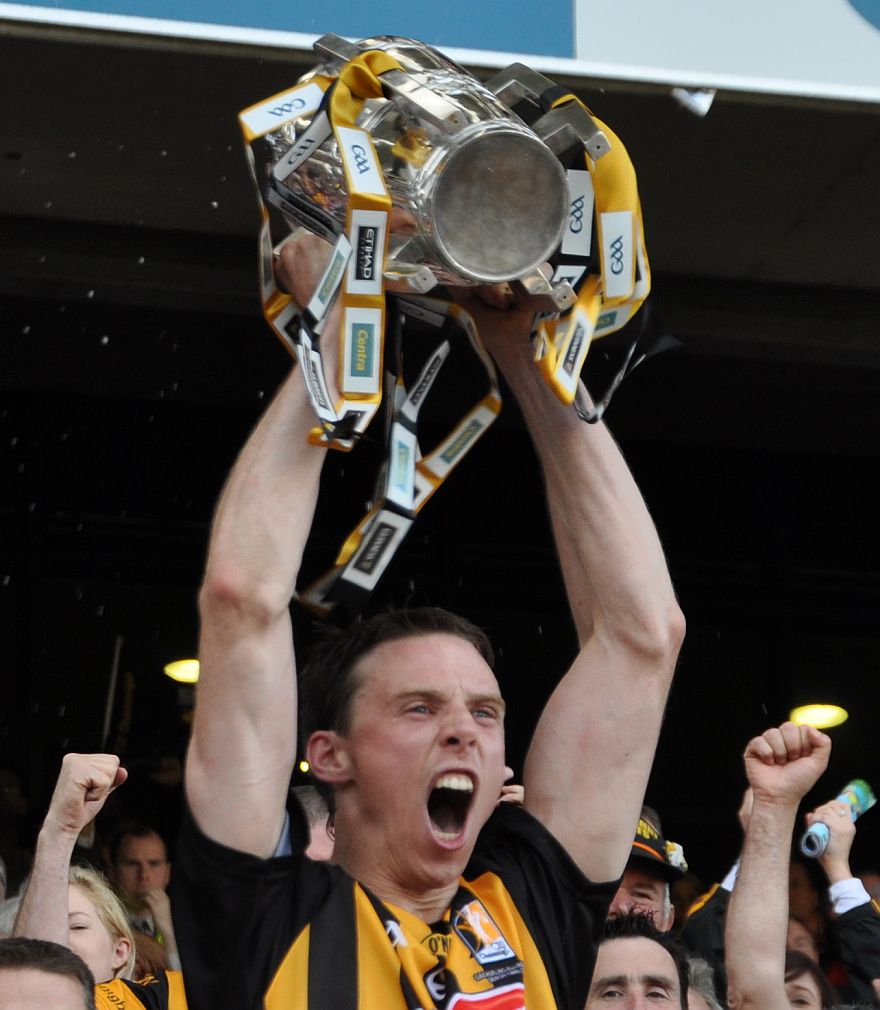 Brian Hogan raises the McCarthy Cup
Scorers -Kilkenny: H. Shefflin 0-7 (5f), .R Hogan 1-1, M. Fennelly 1-0, C. Fennelly, E. Larkin, R. Power 0-2 each, E. Brennan, M. Rice, T.J. Reid 0-1 each. Tipperary: E. Kelly 0-8 (7f, 1 '65'), N. McGrath 0-3 (1 s/l), P. Bourke 1-0, G. Ryan 0.-2, B. Dunne, C. O'Mahony, J. O'Brien 0-1 each.Kilkenny – D. Herity; J. Tyrrell, N. Hickey, P. Murphy; T. Walsh, B. Hogan, JJ Delaney; M. Fennelly, M. Rice; E. Brennan, R. Power, H. Shefflin; C. Fennelly, E. Larkin, R. Hogan. Subs: T.J. Reid for E. Brennan (60), J. Mulhall for R. Hogan (65).Tipperary – B Cummins; P Stapleton, P Curran, M Cahill; J O'Keeffe, C O'Mahony, Padraic Maher; G Ryan, S McGrath; S Callanan, N McGrath, Patrick Maher; E Kelly, J O'Brien, L Corbett. Subs: B Maher for O'Keeffe (29), B Dunne for S McGrath (h-t), P Bourke for Callanan (h-t), D Young for O'Mahony (57), J O'Neill for O'Brien (66).Referee Brian Gavin (Offaly).