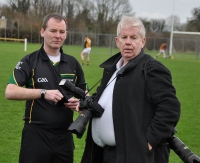 Congratulations Ray on your successful award
from all in the Kilkenny GAA
IT WAS AN afternoon that started with a mistake and ended with an award-winning photo.
For sports photographer Ray McManus, it was just another day's work.
Today, McManus won the second prize sports singles at the 2012 World Press Photo contest, the world's most prestigious annual photojournalism competition. His photo 'Scrum Half' is a snapshot of a familiar scenario for those who play on Ireland's rain-sodden amateur rugby pitches week after week.
Taken last February on Dublin's Anglesea Road, the still shows Blackrock's Conor Crowley covered in mud, playing the ball from the back of a ruck during the second half of an AIL match against Old Belvedere. Old Belvedere won 10-9 in a game which few will remember but which has been captured in history by McManus' photo.
AN Irish photographer beat more than 5,200 photojournalists from around the globe to win a top prize in one of the world's most prestigious press photography contests,
Dubliner Ray McManus (58), right, who founded the Sportsfile agency more than 30 years ago, came in second in the sports category at the 55th annual World Press Photo Contest.
He was among 5,247 photographers from 124 countries vying for the best photos published in the world press last year.
He was singled out for this stunning photo taken of a rugby match between Old Belvedere and Blackrock on February 5, 2011.
The photo, entitled 'Scrum half', features an action shot taken in heavy rain during a match in Dublin.
Mr McManus, of Harold's Cross, Dublin, said he was honoured.