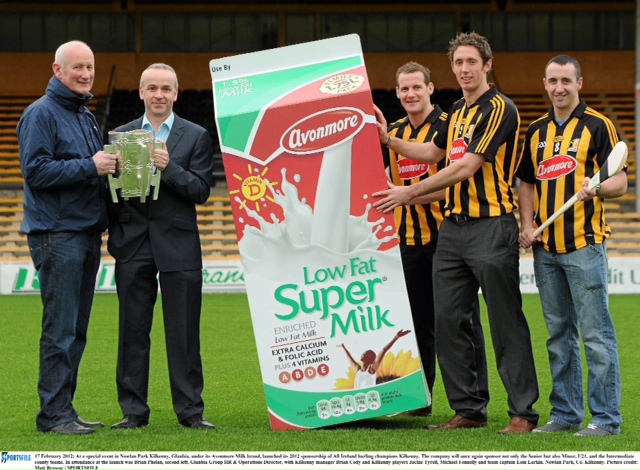 At a special event in Nowlan Park Kilkenny, Glanbia under its Avonmore Milk brand launched its 2012 sponsorship of All Ireland hurling champions Kilkenny. The company will once again sponsor not only the Senior but also Minor, U21, and the Intermediate county teams. As in previous years the sponsorship is performance based and also includes a players' holiday fund bonus.
Speaking on behalf of the sponsors Brian Phelan, Glanbia Group HR & Operations Director said,
"We are delighted to continue our sponsorship of the Kilkenny hurlers who have been such outstanding ambassadors not alone for Kilkenny hurling but for Irish sport in general. We have had a truly fantastic and successful relationship with Kilkenny who over the past decade have won eight All Ireland Senior titles making them one of the greatest teams of all time.
This sponsorship is an ideal fit for a food nutrition company like Glanbia and particularly for our consumer brand Avonmore milk. There has always been a strong link between the GAA and Glanbia through its employees, suppliers and customers. I would like to wish the Kilkenny hurling teams and management every success in 2012."
Speaking on behalf of the Kilkenny County Board, Paul Kinsella, Chairman said, "Preparing county teams involves a huge cost and it would be impossible for Kilkenny to do this without the continued support and generous sponsorship from Glanbia, so I thank them for their generous support in the past and for their continued support in 2012."
Brian Cody, Kilkenny Senior Team Manager, speaking on behalf of management and players said, "All the players and team management very much appreciate the generous sponsorship and support we get from Glanbia. I also want to thank Glanbia for providing a range of their dairy and nutritional products over the season which plays an important role in maintaining a healthy diet for our hurlers in conjunction with our team's dietician. We look forward to rewarding them again this season."
Also in attendance were Kilkenny Team Captain, Eoin Larkin with players Jackie Tyrell and Michael Fennelly, Kilkenny County Board Officers, Paul Kinsella Chairman, Ned Quinn, Secretary Barry Hickey,Treasurer, Conor Denieffe, PRO along with senior team equipment manager Denis "RACKARD"Coady.