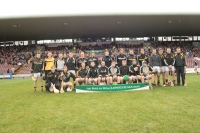 Kilkenny won the 2012 Bord Na Móna Walsh Cup Final in Pearse Stadium today defeating Galway by 2-20 to 1-14. It was a satisfactory display from Kilkenny who led throughout the game. They enjoyed a great start when Richie Hogan fielded a long range free and finished emphatically to the net and Kilkenny proceeded to dominate the first half leading at the interval by1-13 to 1-7 with Richie Power who received the Man of the match award contributing nine first half points, two of which came from play. The other first half scores came from Richie Hogan who registered two points and John Mulhall and Colin Fennelly. Galway improved on the resumption and with quarter of an hour to go were only three points in arrears but an error by the Galway goalie gave Kilkenny a simple goal and Kilkenny finished out the game strongly to win by 2-20 to 1-14 and capture an 18th Walsh Cup title.
Kilkenny-
1. D. Herity, 2. P. Murphy, 3. J.J. Delaney, 4. N. Hickey, 5. P. Hogan 0-1 (free), 6. B. Hogan, 7. C. Fogarty, 8 L. Ryan, 9. M Rice, 10. J. Mulhall 0-2 , 11. R Power 0-11 (0-8 frees and 0-1 65′), 12. E. Larkin(Captain) 1-1, 13. C. Fennelly 0-2, 14. R Hogan 1-3, 15. A Fogarty.
Subs. T. Walsh for P.Hogan, M. Fennelly for M.Rice, J.Tyrrell for P.Murphy all half time. C.Buckley for C. Fennelly 50m, W. Phelan for N. Hickey 65m
Galway-
1. J. Skehill, 2. K. Hynes, 3 D. Cooney, 4. F. Moore, 5. B. Flaherty, 6. T. Óg Regan, 7. P. Huban, 8. E. Ryan, 9. D. Burke, 10. C. Cooney, 11. I. Tannian 12. J. Coen, 13. D. Hayes, 14. J. Canning, 15. J. Regan.