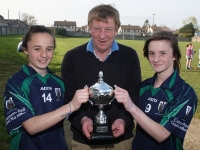 The new Barrow Gaels juvenile club in south Kilkenny hosted the Kilkenny final of Feile Peil na n-Og on Monday and the attention to detail by the club was second to none. Played in picturesque Graiguenamanagh a feast of football was provided throughout the afternoon with Kilkenny City Girls emerging victorious to represent the county at the national finals in June.
The day kicked off with a draw for semi final places which pitted Thomastown against Freshford and Kilkenny City against Piltown. Thomastown have represented Kilkenny at Feile for the past five years and have been worthy ambassadors, reaching the knockout stages three times before winning the Division 4 title in 2010. The two sides met in last year's county final with Thomastown the stronger, however, the City have put in a huge amount of work in the intervening twelve months with Feile their target for 2012. Piltown and Freshford are at fledgling stage at underage level and could not match their semi final opponents, but gained great experience and now have their own targets for the year.
By 3pm the stage was set for what promised to be a well contested battle and it did not disappoint. The two sides backbone the county under 14 side so the girls know each other well and every dual was a tight one. The city started at a lightening pace with a Jenny O Keeffe point in the 2 nd min. A loose ball around the Thomastown square on 5 mins saw Aoife Cantwell react quickest, grabbing possession on the 14m line and unleashing a piledriver to the net to put her side 1-1 to 0-0 ahead. Niamh Deely, Jenny O Keeffe and Hannah Scott added points in quick succession to put the City ahead 1-04 to 0-0 but Thomastown kept the pace up and Becky Walsh pointed from a tight angle. Twos saves from Laura Tynan either side of the break may have been just another snippet of action at the time, but could in hindsight be the moments that sealed the trip to Feile 2012.
A super over head catch on the stroke of half time and a race to an incoming ball after the break with two Thomastown forwards giving chase could have resulted in goals for Thomastown. This would have surely turned the game on its head. Thomastown added two points through Becky Walsh and Ria Lawson but the city refused to panic and added two of their own to win 1-06 to 0-03 and were crowned Feile county champions 2012. After a hard working display at midfield Kilkenny city's Niamh Deely was named as Player of the Match.
This was a game of very high standard with superb defending on both sides and great attacking play. The city had the edge in front of goal and looked threatening at every attack but were made work hard for their scores by a tight marking Thomastown rearguard. Eoin Hennessy, Maria Twomey and their fellow selectors will have the team fully focussed and determined when the cavalcade heads for Portlaoise on June 22 nd .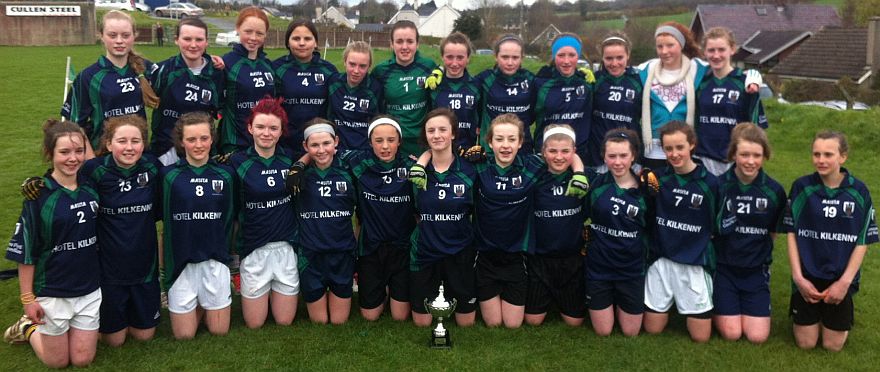 Kilkenny City: Laura Tynan, Lauren Valentine, Neasa Galwey, Shauna Valentine, Eadaoin Murphy, Michelle Teehan, Aobha O Gorman, Jenny O Keeffe, Niamh Deeley, Jennifer O Keeffe, Aoife Cantwell, Caitlin Moore, Hannah Scott, Sophie O Dwyer, Ally O Keeffe, Ciara Delaney, Shannon Holohan, Niamh McMullan, Brianna Mallon, Michelle Burke, Ciara Deeley, Tara Clifford, Ciara Phelan, Saoirse Comerford, Izzy Carey.
Thomastown : Niamh Sheehy, Aoife Holden, Laura Tennyson, Ava Comerford, Niamh Costigan, Aoife Naddy, Rachel Walsh, Grace O Donnell, Blaithnid Galwey, Ria Lawson, Marita Butler, Ailis O Shea, Becky Walsh, Emer Farrell, Rebecca Nevin, Jenny McGuinness, Ruby Harvey, Ashleigh Morrissey, Tara O Neill, Jill O Neill. Referee: Mags Doherty.
U14 Blitz
In conjunction with the Feile action a series of blitz games took place between beaten semi finalists Piltown and Freshford and B' teams from Kilkenny City and Thomastown. Also making their debut was the new Barrow Gaels club recently formed in the Graiguenamanagh/Rower/Goresbridge area. The games were evenly matched and several players shone on the day which should bode well when under 12 county training commences in the coming weeks for the Leinster u12 blitz in June.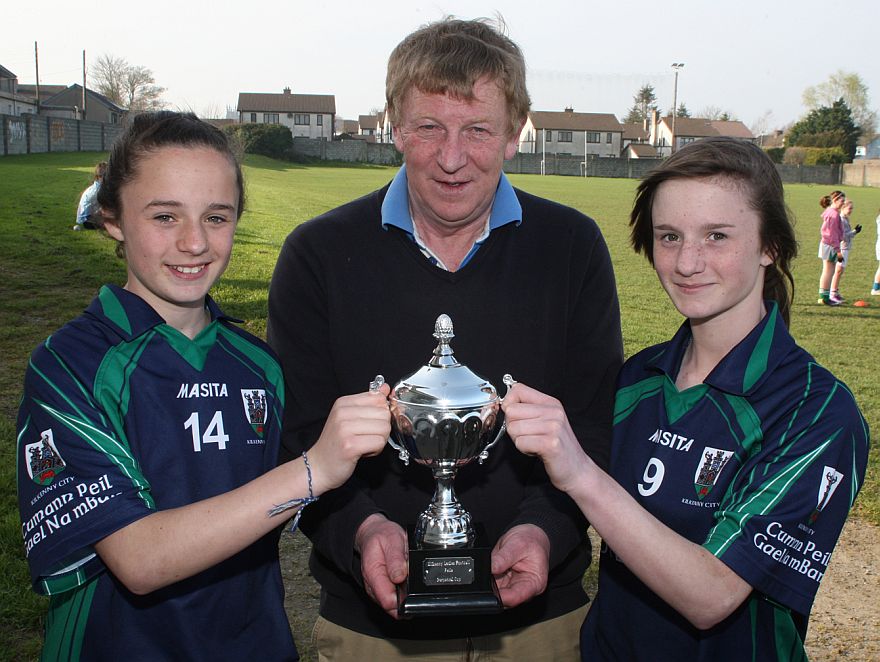 Noelle Curran, Kilkenny Ladies Football p.r.o