Southern U-21 B Shield Final
Galmoy/Windgap 2-12 St Fiacre's 1-7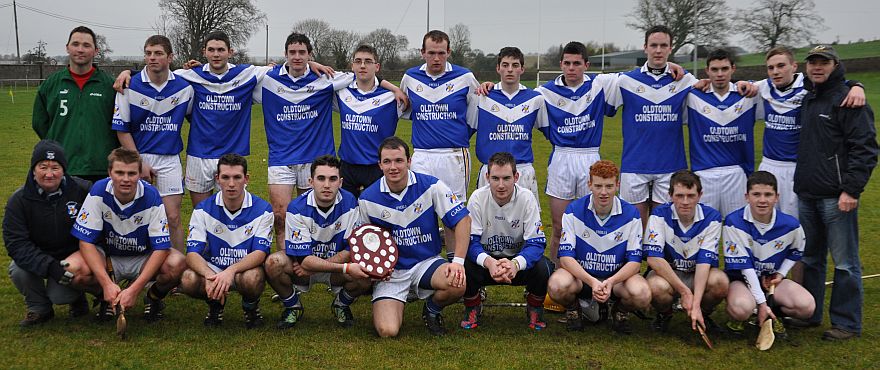 Galmoy Windgap in Blue and White JJ Kavanagh & Sons U21B Shield Winners:
Back: Noel Power Selector; Frank Phelan, Sean Foley, Tom Phelan (Bawn), Darren Walsh, Darragh Morrissey, Micheál Phelan, Martin Duggan, Tom Phelan(Casteltown), Peter Landy, Peter Hennessy, Jerry Drennan (Selector).
Front: Hannagh Drennan (Selector) Jason Stanley, Adrian Landy, Cian Ryan (Joint Captain), Tom Corcoran (Joint Captain), Michael Power, Daniel Cashin, Padraig Walsh, Kevin Duggan
In a most entertaining game of U-21 hurling at Bennettsbridge on Saturday,Galmoy/Windgap won the Southern B Shield with a convincing victory over St Fiacre's.This is the first piece of silverware for Galmoy/Windgap at U-21 level since the clubs first joined underage forces in 2006.It is the second year of a competition which was won last year by Carrickshock and serves its purpose well in providing extra games for club U-21 players. St Fiacre's,an amalgamation of Graignamanagh and Blacks & Whites, put up gallant opposition right to the end but the winners were that little bit sharper
The first half was very evenly contested and with only two points between the sides,Galmoy/Windgap 0-8 St Fiacre's 0-6 ,at the break it was still all to play for.Midfielder Cian Ryan had opened from a free for the winners following a foul on Padraig Walsh.Ryan then pointed from play when Tom Phelan(Bawn) cleverly slipped him a quick line ball.St Fiacre's opened their account through lively corner forward Jordan Brett in the 12th minute, when Michael Bolger first timed a clever crossfield ball to him.Micheál Phelan edged the winners two ahead when he took a pass from Padraig Walsh and split the posts.Cian Ryan followed up from a free which he won himself before we had two successive points from St Fiacre's.James Doyle hurled very well at midfield for St Fiacre's and it was he who won a 16th minute free which Michael Bolger pointed.Full forward Lee Kinsella added another when Jordan Brett supplied him with possession.Nicholas O Donnell was putting in a great shift at wing back for St Fiacre's at this stage.
Sean Foley had a smashing chance of a goal when he fielded a Cian Ryan lineball but his shot skimmed the crossbar.Michael Bolger levelled the game in the 22nd minute when he pointed two frees,0-5 each.A minute later St Fiacre's went ahead for the first time when James Doyle pointed from distance.
Galmoy/Windgap then switched Sean Foley back to wing back with Adrian Landy going to midfield and Tom Phelan(Bawn) manning the centre forward berth for the remainder of the game.This move gave them a more solid look and with Jason Stanley in great form at centre back, they only conceded three more scores in the last 38 minutes of the game.Phelan picked of an impressive point over his shoulder from the left hand sideline.Adrian Landy also benefitted from the move and he too struck a forty metre point allied to another Ryan free to leave two points between the sides at the interval.
St Fiacre's made some changes too after the break,the most notable being the switch of Lee Kinsella to centre forward and Michael Bolger to the edge of the square.In fairness they battled hard in the second half but their accuracy let them down on numerous occasions.They were then dealt a blow when a speculative shot from Tom Phelan (Bawn) went all the way to the net in the 35th minute.This livened up proceedings and when Jim Ryan goaled at the other end ,the game took on championship fervour.Ryan then reduced the margin to the minimum with a classy point after a long solo run.
A Cian Ryan free stretched Galmoy/Windgap ahead again .James Meaney had been clearing a lot of ball from his full back position for St Fiacre's.With a quarter of an hour remaining,Tom Phelan(Castletown) was switched from wing back to full forward for Galmoy/Windgap.A minute later Phelan flicked a long delivery from Cian Ryan to the St Fiacre's net and that goal decided the game as Galmoy/Windgap now turned the screw.Tom Corcoran moved out to midfield and with Sean Foley and Jason Stanley cleaning up every thing in defence and providing a constant supply to their forwards ,they picked off a few more insurance points and went on to close out the game.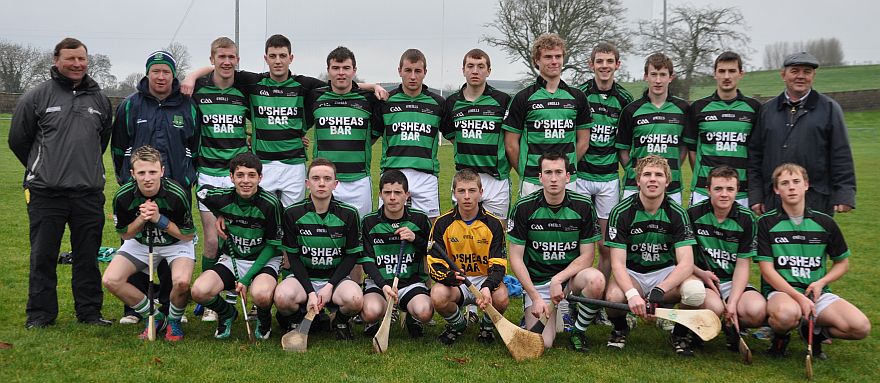 Galmoy/Windgap:Michael Power,Darragh Morrissey,Peter Landy,Darren Walsh,Tom Phelan(Castletown)(1-0),Jason Stanley(0-1),Adrian Landy(0-1),Cian Ryan(Joint Capt.)(0-6,0-4frees),Tom Phelan(Bawn)(1-1),Peter Hennessy(0-1),Sean Foley(0-1),Frank Phelan,Micheál Phelan(0-1),Padraig Walsh,Tom Corcoran(Joint Capt)
Subs:Daniel Cashin for Frank Phelan(inj.) 5 mins, Martin Duggan for Daniel Cashin 52mins and Kevin Duggan for Tom Phelan(Castletown) 54 mins.
St Fiacre's:Patrick Nolan,Ciaran O Brien,James Meaney,Thomas Joyce,Nicholas O Donnell(Capt.),Bernard Hennessy,Thomas O Donnell,James Doyle(0-1),Aidan O Dowd,Michael Bolger(0-3frees),Jim Ryan(1-1),James Coakley,Seamus Kavanagh,Lee Kinsella(0-1),Jordan Brett(0-1)
Subs:James McCabe for James Coakley 31 mins,Sean Doyle for Lee Kinsella 55mins & Liam Aherne for Seamus Kavanagh.
Referee:Dominic Connolly(Mooncoin)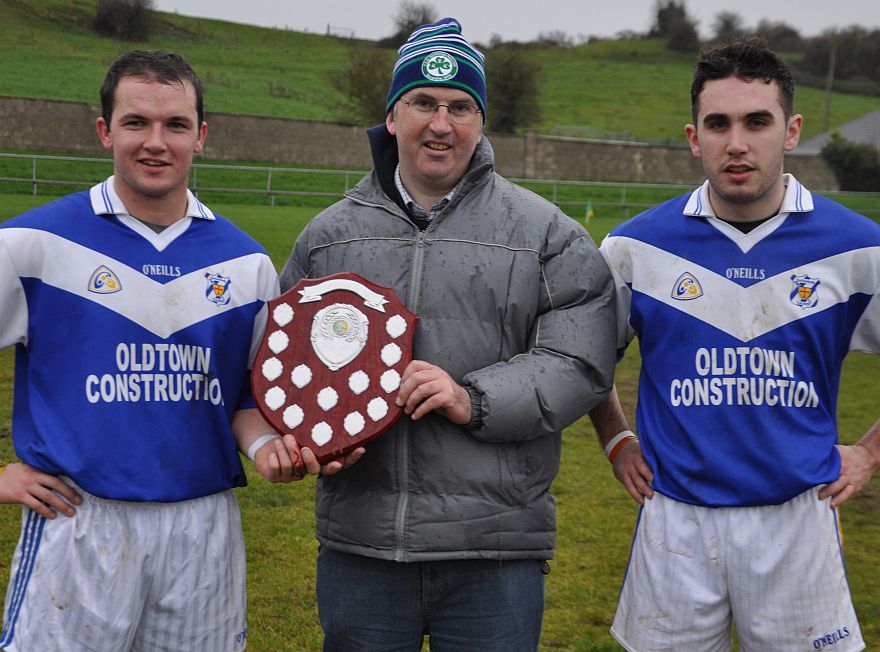 Tom Corcoran (Joint Captain), Cian Ryan (Joint Captain), and Dave Gallagher Southern Board PRO