Kilmacow 1-11 Dunnamaggin 0-8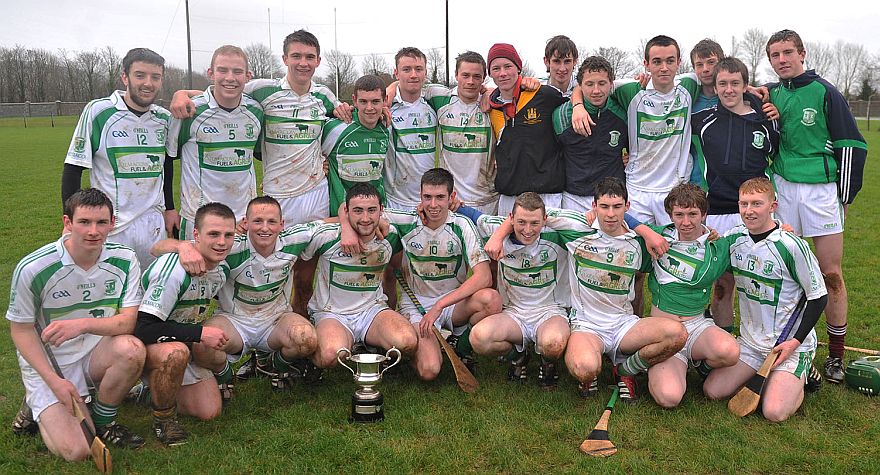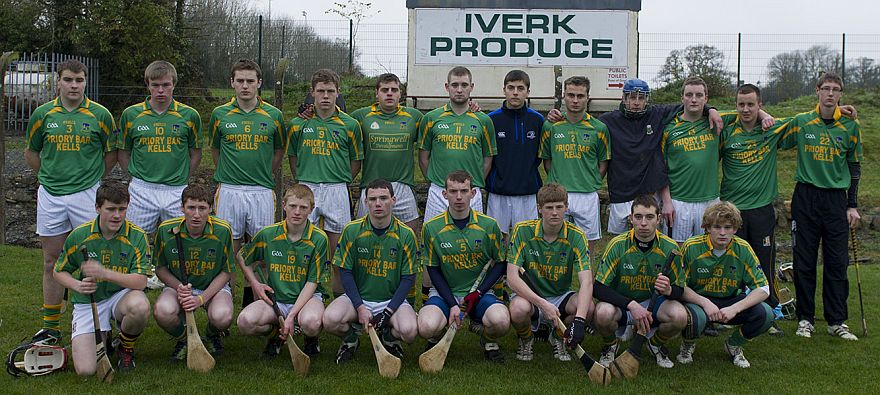 Kilmacow's Second-Half Surge Decisive
Kilmacow 1-11 Dunnamaggin 0-8
Played in incessant and bitterly cold rain Dunnamaggin and Kilmacow produced an exciting and intriguing encounter in this J.J. Kavanagh & Sons Southern B Championship Hurling Final displaying very high levels of skill and terrific endeavour where players contested every ball as if it was the match-winning decider.
Kilmacow began brightly, putting some fine moves together before midfielder, Ryan McKenna, put them ahead with a well-taken point. Dunnamaggin were exerting great control at the back and Willie Phelan levelled with a long range free. Kieran Bergin was gaining a foothold at centre-forward and put his side in front with a nicely worked point. Again Ryan McKenna got a valuable point to level making it 2pts apiece with just a few minutes left in the first quarter.
The Willie Phelan led Dunnamaggin backline, together with their midfielders, continued to dominate giving their forwards an endless supply of ball but, despite Kieran Bergin causing endless problems upfront, their wayward shooting and very good defensive Kilmacow cover meant it wasn't translated into scores. Instead a pointed free from Josh Tobin (K) put Kilmacow in front again before another Kieran Bergin point levelled. Emmet Blanchfield(K) pointed from midfield to regain the lead in this period where Dunnamaggin were still in control. Kieran Bergin(free) pointed to level before Kilmacow had one more chance to lead before the break but the free went wide, only their third of the half, to leave half-time score 0-4 each.
On the resumption play began to open up and it was Kilmacow who seized the initiative and took the game to their opponents with their half-backline upping their game , led by Luke Harney. Their midfield got in the act and gave their forwards a good supply of low and well directed ball. Their forward line, which hadn't scored from play in the opening half, came to life. First Josh Tobin pointed before adding another from a 65 to open up a two point lead for the first time.
Now the Dunnamaggin defenders were at full stretch but Kieran Bergin found the target again to leave the minimum between them going into the final quarter. Wing forwards Josh Tobin and Ed Irish pointed to add to the Kilmacow lead. A Shey Dempsey point stretched it further to 4pts and it looked as if Dunnamaggin would need a goal. They set about their task in determined fashion and engineered two excellent goal chances, getting a player clear in the on goal each time, only for poor finishing to let them down. The Kilmacow defence came back to rescue the situatio. The first chance eventually yielded a 65 but the resultant free went wide. They didn't give up and points from Paddy Delaney and Willie Phelan (free) cut the lead to two points. As the game entered the final minutes Kilmacow struck for the decisive move of the game which allowed Josh Tobin to cut in from the left corner to rifle the ball to far corner of the Dunnamaggin net for a match winning goal. Willie Phelan wasn't giving up and drove forward and pointed to bring it back to 4pts. However KIlmacow were now in confident mood with their opponents needing a goal at least to get back into the game. Johnny Hayes and Shey Dempsey added further points to leave the final score 1-11 to 0-8 as an ecstatic Kilmacow team celebrated a well-merited win at the final whistle, having been runners-up in the two previous finals. The score line probably didn't do justice to the efforts of a gallant Dunnamaggin side whose wide tally was particularly high, especially in the first half.
Best for the winners were Luke Harney, Ryan McKenna, Dean Power, Denis Scully, and Josh Tobin.
Best for Dunnamaggin were Willie Phelan, Kieran Bergin, Peter Kenneally , Paul Kirwan and Aaron Doherty.
Kilmacow: Danny Connolly;Jack McGuire:Dean Power;Kevin McNamara;Ian Ahearn;Luke Harney(Capt.);Denis Scully;Ryan McKenna(0-2);Emmett Blanchfield(0-1);Ed Irish(0-1);Dylan Cooke;Josh Tobin(1-4 2fs. 1 65);Shey Dempsey(0-2);Johnny Hayes(0-1);Andy Kearns.
Subs. Shane Harney;Lee Doyle;Maurice Costelloe;Ryan O'Hanlon;Rob Croke;Jason Grant;Diarmuid O'Dwyer;James Connolly;Declan Dowling;Jamie O'Neill.
Dunnamaggin: Adam Kenneally;Conor Long;Anthony Kearney;William Moylan;Paul Kirwan;Willie Phelan(0-3 2fs.);Aaron Doherty;Peter Kenneally;Andrew Fitzpatrick;Michael Costello;Kieran Bergin(Capt) (0-4 1 free);Paddy Power;Andrew O'Dwyer;Paddy Delaney(0-1);Eoghan Kearney.
Subs. John O'Neill;John Fitzpatrick;Ray Cody;William Bergin;Paddy Kenneally;Jason Doherty;Conor Coffey;Matthew Moylan.
Referee: Raymond Byrne, Glenmore
A strong second half performance enabled Kilmacow to overcome a gallant Dunnamaggin side in the J.J. Kavanagh & Sons Southern U-21 B Hurling Championship Final at Piltown on Sat. In the cold and incessant rain these teams provided some very skilful and exciting hurling in a wholehearted display worthy of any final.
In the first half the losers were the better side but poor shooting and a strong defensive display by the winners kept their rewards to a minimum. Kilmacow's ability to make the most of their opportunities, with just three wides, kept them in a good position. Scores were level four times as the sides went in 4pts apiece at the break.
In the second half it was Kilmacow who dominated and opened a 2pt lead for the first time and maintained it before striking for home with a fine goal towards the end of the half. Dunnamaggin had two clear goal chances prior to this but luck wasn't with them and it was Kilmacow's day, all the sweeter after losing the previous two finals.
Kilmacow: Danny Connolly;Jack McGuire:Dean Power;Kevin McNamara;Ian Ahearn;Luke Harney(Capt.);Denis Scully;Ryan McKenna(0-2);Emmett Blanchfield(0-1);Ed Irish(0-1);Dylan Cooke;Josh Tobin(1-4 2fs. 1 65);Shey Dempsey(0-2);Johnny Hayes(0-1);Andy Kearns.
Subs. Shane Harney;Lee Doyle;Maurice Costelloe;Ryan O'Hanlon;Rob Croke;Jason Grant;Diarmuid O'Dwyer;James Connolly;Declan Dowling;Jamie O'Neill.
Dunnamaggin: Adam Kenneally;Conor Long;Anthony Kearney;William Moylan;Paul Kirwan;Willie Phelan(0-3 2fs.);Aaron Doherty;Peter Kenneally;Andrew Fitzpatrick;Michael Costello;Kieran Bergin(Capt) (0-4 1 free);Paddy Power;Andrew O'Dwyer;Paddy Delaney(0-1);Eoghan Kearney.
Subs. John O'Neill;John Fitzpatrick;Ray Cody;William Bergin;Paddy Kenneally;Jason Doherty;Conor Coffey;Matthew Moylan.
Referee: Raymond Byrne, Glenmore