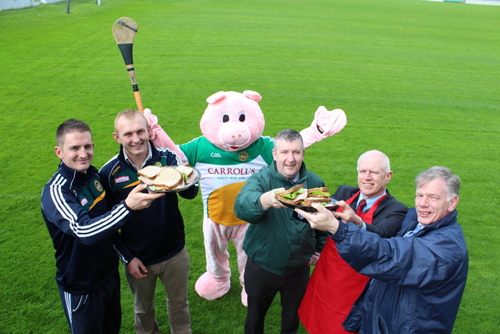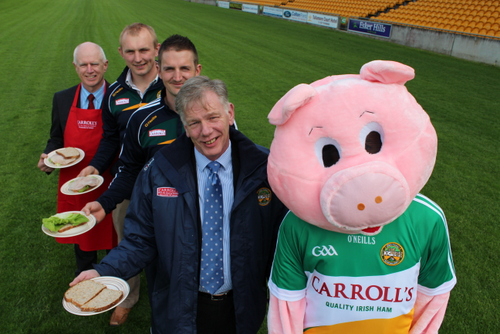 HURLING LEGENDS TO SERVE UP A CARROLL'S HAM-TASTIC TREAT AHEAD OF O'CONNOR PARK SHOWDOWN.
A unique charity event, featuring a host of ex-Offaly and Kilkenny hurling legends, is set to provide GAA fans with an entertaining pre-championship game treat on Sunday June 9th when Offaly take on the reigning All Ireland champions.
Carroll's, Offaly GAA, Club Faithful and Irish Autism Action are all teaming up on the day that will cater for all the family and provide the perfect atmosphere for the big game on the day.
A world record breaking attempt – to make as many Carroll's ham sandwiches in one hour will take place in the Tullamore GAA centre from midday on Sunday June 9th and will provide some interesting pre-game entertainment ahead of the 2pm throw in of the Leinster SHC Quarter Final at O'Connor Park, Tullamore of Offaly and Kilkenny.
The world record attempt will also provide a backdrop to the Sunday Game's Michael Duignan hosting a Q&A session with other ex-players, the likes of Eddie Brennan and Joe Dooley, who will be giving their insight into one of the great Leinster hurling rivalries ahead of the clash, but will also be on hand to make some sandwiches for the world record attempt.
GAA Fans from both counties and across the midlands are also being given the opportunity to take part in the world record attempt where Carroll's the longest running sponsor in the GAA at 23 years sponsoring Offaly GAA, are providing the sandwich making materials for the unique occasion.
The record breaking sandwiches will then be donated to the match going crowds at O'Connor Park, by volunteers from Autism Action Ireland to help them raise some much needed funds.
Through a dedicated kid-zone with a kicking cage, face painters and lots more, this pre-championship event promises to provide guaranteed entertainment for the whole family.
Deirdre O'Neill, Marketing Manager with Carroll's said, "As the longest running sponsor in the GAA, we're delighted to be involved in this unique world record attempt. We are providing fresh Carroll's ham, bread and other ingredients to aid the world record attempt and keep the midlands on the fundraising map. As well as the World Record Attempt and the public Q&A session with former players, there will be a free outdoor kids' zone. It means that GAA fans have an opportunity to greet their heroes, test their skills and do their bit for charity, before throw in at O'Connor Park".
Paul Bell, chairman of Club Faithful, the official Offaly GAA supporters' club said "Club Faithful are delighted to be facilitating an event like this on Sunday June 9th. We want to thank TullamoreGAA for use of their great facilities. We are asking all GAA fans to help us make a difference for a very worthy cause. All public donations from GAA fans for the world record Carroll's ham sandwiches on Sunday June 9th will go directly to helping Irish Autism Action".
Niall Murphy of Autism Action Ireland said, "We are hoping for big crowds on Sunday June 9th to help support our mission of bringing positive change into the lives of those affected by autism. The first thing is come down to Tullamore GAA club for midday to help us break the world record! We will also have an information stand for any parents who have questions around autism and neuro-developmental disorders".
The current world record, for the number of sandwiches made in one hour, stands at 1,686 sandwiches. According to the World Record Academy, that accolade currently goes to an engineering fraternity in the USA. They had a conveyor belt of volunteers to package peanut butter & jelly sandwiches.