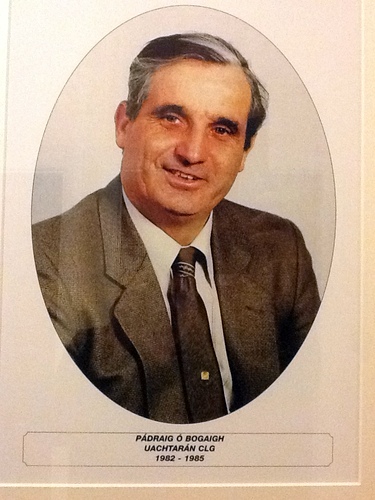 GAA followers in Kilkenny and all over Ireland are today mourning the passing of Paddy Buggy former President of the GAA and former Kilkenny All Ireland Senior Medal winning hurler. Born and reared in Slieverue Paddy gave a lifetime of service to the GAA. He was a member of the Slieverue team that won the Kilkenny Junior Championship in 1950 and the Senior Championship in 1954. He came on to the Kilkenny panel in 1950 and captained the Kilkenny side which lost to Wexford in the 1955 Leinster Final. His proudest day on the hurling fields came in 1957 as he, together with his club-mates Micky Walsh and Dick Rockett, was a member of the Kilkenny team that defeated Waterford in that year's All Ireland. He was also on the 1959 side that lost out in the All Ireland Final to their great rivals at that time, Waterford. Paddy retired from inter-county hurling in 1960.
Once his hurling career finished Paddy's involvement in the administration side of the Association began. He served as Secretary, Treasurer and Vice Chairman of his beloved Slieverue Club. He was the Southern Board Delegate to the Leinster Council from 1964 to 1974. In 1978 he was elected Chairman of the Leinster Council and served as President of the GAA from 1982 to 1985. It was a particular honour for Paddy to serve as Uachtaráin in the GAA's centenary year of 1984. In that year also he was conferred with an Honorary Degree in Law. In 1990 he served as Chairman of Kilkenny County Board.
For Paddy Buggy the GAA was much more than a pastime – it was a way of life!
Kilkenny GAA extends its deepest sympathy to his wife Peggy, his children Bernard, John, Gerard and Louise and his grand-children. Ar Dheis De go raibh a anam dhilis.
A Minutes Silence will be observed at all Kilkenny Club Matches this weekend.
For Funeral Arrangement click HERE