Click here for PHOTOS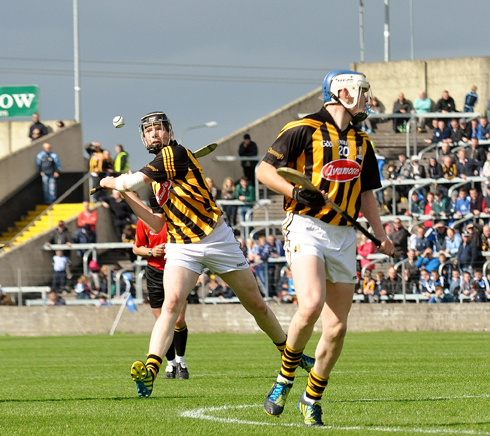 Kilkenny 1-14 Dublin 0-17
A 72nd minute point from half-time substitute, T.J. Reid saved Kilkenny and earned them a replay with Dublin after this tense and hard fought Leinster senior hurling semi-final in Portlaois yesterday.
Leinster champions, Galway, will have to wait until Saturday (7pm) for the replay in Portlaois to know who their opponents will be in the July 7 final in Croke Park. For the losers on Saturday, there will be a home game in Phase 2 of the qualifiers against Tipperary.
The Cats had a narrow, narrow escape after being dominated by the disciplined and good hurling Dubs during the closing period. Reid was only Kilkenny's third scorer of the half, and he made the best of an error in the defence to shoot the equaliser from close range.
A 71st minute point from a free by deadly free taker, Joseph Boland looked like earning the Dubs what would have been their first win over the Noresiders in the championship in 71 years. It nearly was!
A strong wind blew right down the field from the town end, but surprisingly, the team playing against it fared best in both halves. Dublin had first use of it, but their shooting was terrible, and 10 first half wides, plus they missed a first rate chance of a goal, left them looking vulnerable at the break when the score was 0-8 each.
The Kilkenny hurling up to this had been good, and there was great promise shown by the likes of Tommy Walsh, Brian Hogan, Richie Hogan, Lester Ryan and especially the towering Walter Walsh at right corner-forward, who was a constant torment to the opposition. Walsh had 0-3 in the bag at the rest.
While Dublin opened the new half full of intent, and prodeeded to play a top class keep possession game, they looked in trouble when Walsh fired home a Kilkenny goal in the 43rd minute to push the Cats 1-8 to 0-10 ahead.
The Noresiders had no follow up, however. Dublin, with Liam Rushe, Peter Kelly and Michael Carton superb in defence, and David O'Callaghan the tormentor in chief in attack, continued to enjoy a massive amount of possession. They used that possession in a calm, calculated manner, all the time stretching the opposition.
After Walsh's goal a point from John McCaffrey earned the Dubs parity. It was score for score virtually all the way after that, but Dublin looked to have snatch a dramatic win when Boland landed his ninth point into additional time.
Reid saved the unsure Cats, who have an additional injury worry after defender Paul Murphy was stretchered off the pitch before half-time with a serious ankle injury.
Scorers: Kilkenny – Eoin Larkin (0-7, seven frees); Walter Walsh (1-4); Richie Hogan (0-2); T.J. Reid (0-1). Dublin – Joseph Boland (0-9, seven frees); Paul Shutte, John McCaffrey, Conal Keaney, Danny Sutcliffe, David O'Callaghan, Mark Shutte, Shane Durkin (0-1 each); Paul Ryan (0-1, free).
Kilkenny – E. Murphy; P. Murphy, J.J. Delaney, C. Fogarty; T. Walsh, B. Hogan, K. Joyce; L. Ryan, M. Rice; C. Buckley, R. Power, E. Larkin; W. Walsh, R. Hogan, C. Fennelly, capt. Subs – P. Hogan for P. Murphy (inj) 33rd min; T.J. Reid for Rice ht; A. Fogarty for C. Fennelly 58th min; M. Ruth for R. Power 62nd min.
Dublin – G. Maguire; N. Corcoran, P. Kelly, P. Schutte; S. Hiney, L. Rushe, M. Carton; J. McCaffrey, capt, J. Boland; C. Keaney, R. O'Dwyer, D. Sutcliffe; C. McCormack, D. Treacy, P. Ryan. Subs – D. O'Callaghan for P. Ryan 18th min; M. Schutte for C. McCormack ht; S. Durkin for Sutcliffe 45th min; S. Lambert for D. Treacy 56th min; E. Dillon for S. Hiney 62nd min.
Referee – John Ryan (Tipperary).
LEINSTER S.H.C. SEMI-FINAL REPLAY – 29th June 2013 – O'MOORE PARKKILKENNY V DUBLIN @ 7.00pm
GENERAL
Stand – €20
Terrace – €10
Tickets can be purchased from the following locations:-
(a) the participating County Boards
(b) Leinster Council Offices, Portlaoise by:
(1) Sending a cheque/postal order and a S.A.E.
(2) By Credit Card (057) 8682000 (there is a €4 administration charge on all credit card
transactions)
(c) Tickets.ie
(d) www.gaa.ie
FAMILY TICKETS:-
1 Adult and 2 Juveniles etc.
Family Tickets are available for Stand
Stand:- Adults €20 Juveniles €5 each
1 Adult and 2 Juveniles etc.
Family Tickets are available for Terrace
Terrace:- Adults €10 Juveniles (U-16's): FREE OF CHARGE
Senior Citizens & Students (Stand & Terrace):-
Purchase full price tickets and on the day of the match they can claim a rebate €10 when they produce appropriate I.D. at Stiles No: 2 (Stand) and a €5 Rebate at Stiles No: 19 (Terrace) PRIOR TO ENTRY INTO THE STADIUM.
Wheelchair Tickets:-
The Wheelchair Ticket is free of charge and the Assistant's ticket is €20
Adult Club Group Tickets:-
Adult Club Tickets available for €5 each to the Terrace or €15 each to the Stand (Min. Group 15 & Max. Group 50)(APPLICATIONS THROUGH CLUB SECRETARY ONLY)