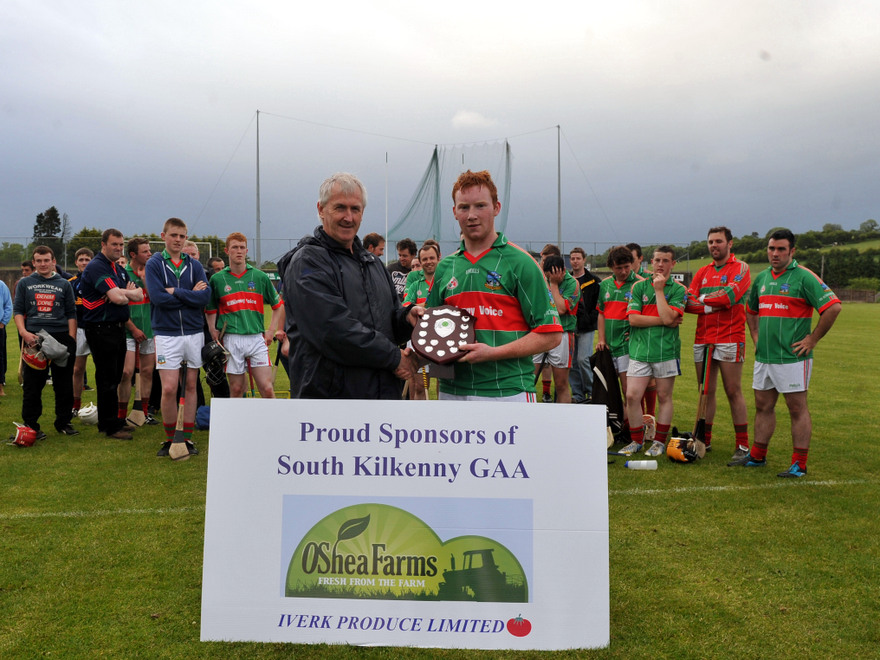 South Chairman Pat Dunphy presenting the Iverk Produce Junior A League Trophy to Rower Inistioge Captain Tom Murphy.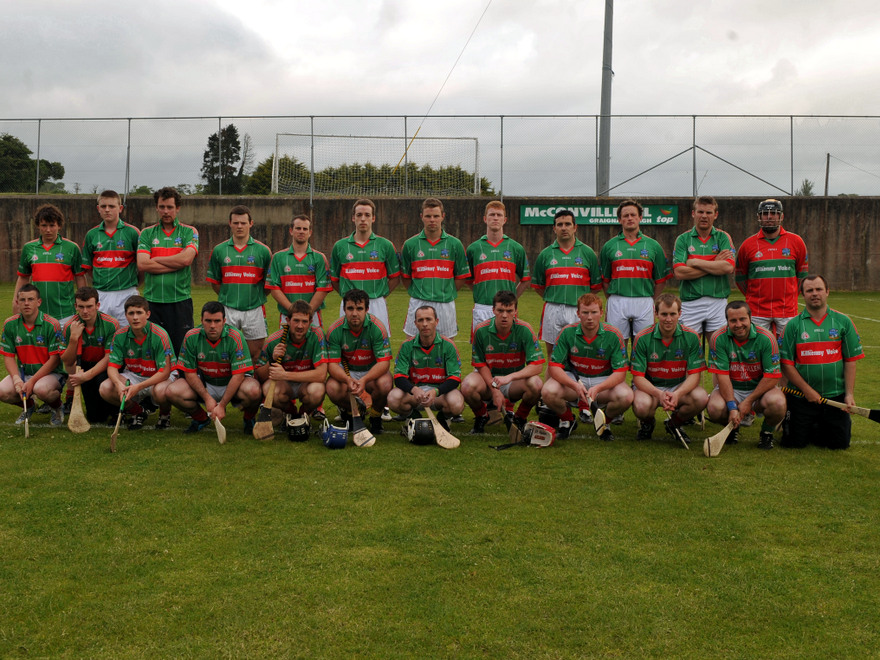 The Rower Inistioge Team, winners of the Iverk Produce South Junior A League.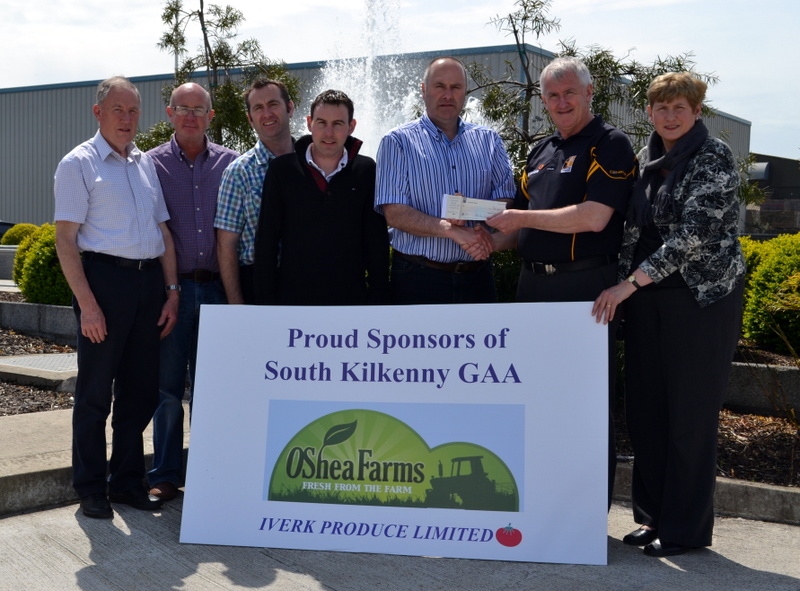 Iverk Produce sponsors of Southern 'A' League and Championship as well as the Southern Junior Championship presenting cheque to Southern Board for 2013 season. L to R Andy Aylward Treasurer Southern Board, John Stapleton South Board PRO, Paul Long Southern Board Secretary, James O' Shea Iverk Produce, Phil Brophy Iverk Produce, Pat Dunphy Southern Board Chairman, Fidelis Doherty, Assistant Secretary Southern Board.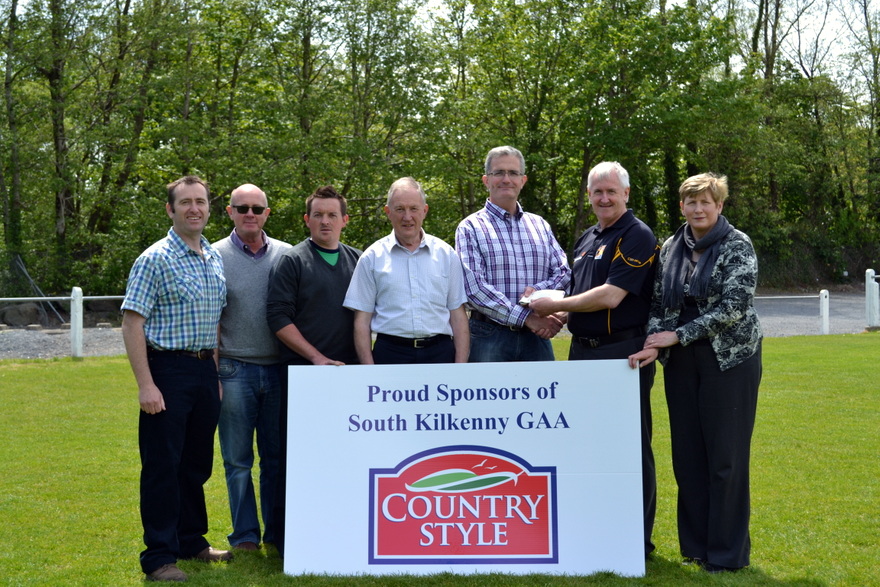 Rory Williams of Country Style Foods presenting sponsorship cheque for the Southern 'B' league & Championship. L to R. Paul Long Southern Board Secretary, John Stapleton South Board PRO, Maurice Flynn, Assistant Chairman South Board, Andy Aylward Treasurer Southern Board, Rory Williams Country Style Foods, Pat Dunphy Southern Board Chairman, Fidelis Doherty, Assistant Secretary Southern Board.
Iver Produce South Junior A League Final – Report courtesy Barry Henriques
More laurel wreaths for the Rower Inistioge!
Rower Inistioge 2-13 Ballinkillen (Carlow) 0-13
Having already annexed the County Football Championship, and the South Junior B League Title, the Rower Inistioge went nap on Saturday evening last when they defeated the Carlow challengers, Ballinkillen in the South Junior :League Roinn A Championship in Graignamanagh. These are Glory, Glory halleluiah days for the men down on the banks of the Nore, and with their Intermediate team enjoying top billing at the head of their Group League table, everything in the garden looks rosy—- at the moment.
However there is still a huge amount of hurling to be done before the "against the odds" stages of the many Championship start, and the various protagonists pull out into the open choppy waters of the serious business of knock-out competition.
But I'm sure that the Rower lads will enjoy what is happening to their club presently. It is about winning, and any man who tells me that a winning habit will make no difference in the long run is a loser. A winning habit has the same effect as a rising tide—it lifts all boats.
Before getting into the hurling action, a word in commendation for the effort by the Graignamanagh in having their premises in pristine condition for all the visitors, players and spectators alike. The condition of their pitch is billiard-table level, with a sod to rival the best around. The white lines were absolutely straight as a rush and glistening. Their two very serviceable stands act as a spectator convenience and as a dugout for the competing teams. They provided linesmen for this Final, and their hospitality for the visiting South Board, Match Officials, and Press was thoughtful.
A big Bula bos to all concerned.
And so to the match.
Lest we forget, can we say that this Final was a thoroughly entertaining, fine piece of hurling endeavour, played at a fast pace, with plenty of honest endeavour, good nuggets of skill, and very well refereed by John Bennett, the Tullogher official.
Ballinkillen could have won the game but they were denied the ultimate winners accolade by a combination of poor shooting, over-use of the hand pass, and their inability to punch home a goal or two. They also shot an inordinate number of wides, many of which were of a rather easy variety.
The Rower Inistioge lads won because they rode their luck a little. A Neil Lyng effort in the 8th minute for instance from nearly seventy yards from the Ballinkillen goal could not in the wildest dreams of the most supreme optimist have been expected to force an umpire to raise a green flag, but that is exactly what happened. The winners were lucky too to have David Dunphy in such inspirational form guarding their net. He made a string of good to unbelievable saves, and one in particular in the 28th minute, with his side under pressure from the marauding Ballinkillen he put his body on the line to deflect a point-blank stop from Sean Murphy at the expense of a '65. It was only one of many, and he certainly merited the Man-of-the-Match accolade being meted out by the Rower support at the end of an enthralling encounter. Not too far behind Dunphy was the Ballinkillen centreback David English who was majestic in the pivotal role. Time and again he stood between his side and many Rower Inistioge attacks coming down the middle of the Park. His free-taking was perfection, hitting six from six. Even in the latter stages of the game, when his side threw caution to the wind in search of victory, he strode like a Roman Gladiator, ball stuck to his hurley towards the Rower goal area, with a steaming defiance in his every step. John James Kenny could have been many people's choice as their Man-of-the-Match, and very few could argue, particularly when judged in context of his second half display.
The Carlow men were first out of traps, when Marty Dalton shot a point in the 3rd minute. Within another three minutes, Cathal Bolger levelled matters with a free, and then we had that Neil Lyng "well-taken" goal from 70 yards. That really was an exocet missile into the gut for the Ballinkillen men. The Rower opened up a four-point lead by the 19th minute, but the Ballinkillen outfit came back with a necklace of four unanswered points to tie up the game at the 24-minute mark. Sean Murphy bagged three of the points, while English helped out with a long-distance free.
It would not be his last effort.
At half time the winners were ahead by 1-7 to 0-6.
On the resumption, Daryl Roberts narrowed the advantage by a point after 3 minutes, but JJ.Kenny wiped out it advantage. English brought the game to a goal differential, and then Tom Murphy slammed home a game-changing goal in the 39th minute.
It amazed many Rower supporters that their mentors saw fit to replace Conor Lyng, after that goal, considering that it would never have been registered but for the Herculean effort made by Lyng. It is doubtful too if some of the first-half scores might have seen a scoreboard but for the assists by the courageous full forward.
The rest of the second half was thrill-a-minute stuff, enjoyed by all. The passion on the pitch was well matched by a similar tsunami of the same between the rival support.
Ballinkillen were well served by John Hughes, Colm Hughes, Craig Wall, Sean Murphy, Marty Dalton, and of course the outstanding David English.
The Rower Inistioge will relish this win. They will celebrate it for a few days, but it is back to business smartly. Nicky Kenny, Sean Cummins, John Murphy were a solid full back line. Neil Lyng, and David Tennyson hurled with tremendous gusto as wing backs, while Sean Grace has had an outstanding campaign. Up front Tom Murphy, Cathal Bolger, Padraig Tierney, Michael Doyle and Conor Lyng clocked in a good shift, but there is no doubting that the contributions of Dunphy and John James Kenny were central to a great team victory.
Scores
Rower Inistioge: John James Kenny (0-6, one '65, two frees); Neil Lyng (1-1); Tom Murphy (1-0); Cathal Bolger (0-2, one free); David Dunphy (0-2, frees); Sean Grace, Padraig Tierney (0-1 each).
Ballinkillen: David English (0-6, frees); Sean Murphy (0-3); Marty Dalton (0-2); Daryl Roberts, Craig Wall (0-1 each).
Rower Inistioge: David Dunphy, Nicky Kenny, Sean Cummins, John Murphy, Neil Lyng, Padraig Lyng, David Tennyson, Sean Grace, John James Kenny, Padraig Ryan, Tom Murphy, Padraig Tierney, Cathal Bolger, Conor Lyng, Michael Doyle.
Subs (used): Dean Kehoe, Danny Cottrell, Dillon Kehoe.
Ballinkillen: Martin Minchin, John Hughes, Michael Ryan, Lauren Kinsella, Colm Hughes, David English, Padraig Kinsella, Craig Wall, Darren Dalton,Andrew Gaule, Vincent Meaney, Sean Murphy, Marty Minchin, Damien O'Neill, Daryl Roberts.
Subs (used): Declan Foley, John Ryan, Declan Foley.
Ref: John Bennett (Tullogher)
Report on Country Style Foods Junior B League Final – Courtesy Barry Henriques
Rower Inistioge 3-10 John Lockes 0-11
There was an element of questionable enigma about this Final, as the winners powered into a ten-point lead by the 22nd minute, against a challenge that barely merited the name. John Lockes were a beaten docket by the time, or so it seemed, as the Rower Inistioge suffocated them. They were still seven points to the good at the break, and looked odds on victors.
Their defence experienced little difficulties in stymieing the Callan attack, in which only Josh Haines was the only source of threat around. At the opposing end the likes of Eoghan Fahy, Keith Doheny, Laim Kennedy, Mark Nolan and Robbie Jackman were at their wits end, and more, to deal with the surging tide provided by the likes of Danny Cottrell, Conor Lyng, Michael Doyle and Micheal White.
The first goal for the winners arrived in the 2nd minute when a sweeping Rower Inistioge movement, crafted from well back, was smartly finished by corner forward, Cottrell. The second goal, compliments of the crafty, and talented Micheal Doyle was rifled home seventeen minutes later.
Two points of the Rower first-half take were converted frees. Half of the john Lockes take came the same route.
There was a sliver of hope in the Callan second half performance. Having lost the considerable presence of Robbie Jackman through injury in the 23rd minute, Callan were forced to spring young Bill McDowell. This youngster ignited the place. Easily the most conspicuous, and talented hurler on the park, one wondered why it took so long to spring the boy.
The Callan lads came hunting down the winners, who started to tire visibly. What appeared a forlorn hope at the break now morphed, to a degree, into a light hope that the runaway leaders could hold out. The real plus from a John Lockes perspective was the performances of the young brigade who hurled with a conspicuous passion, and a pride in their jersey. Youngsters like Haines, the Power twins (still under 16), and Bill McDowell give hope for the future. Add in the likes of Doheny, Fahy, Nolan, Phelan, and Liam Kennedy, and there is a modicum of hope.
The Rower Inistioge won because they had forwards who showed courage, a positivity in the face of challenge, and a passion for what winning with your club means. They were nearly caught on the run in, but that was due in the main to their fatigue, and a little complacency.
With his twin brother Mike having already won the County Junior Football Championship, a nice family double is now complete with Manager, Declan Byrne adding to the magic when it comes to preparing teams to win Trophies. It certainly proves that Clubs don't have to search too far for people to train winning outfits—ther are plenty in their own clubs.
Scores
Rower Inistioge: Danny Cottrell (1-3, three pointed frees); Michael Doyle, Michael White (1-2 each); David Dunphy (0-3, two frees).
John Lockes: Niall Hennessy (0-5, three frees); Josh Haines (0-2); Brian McCann, Mark Shelly, B.Grace (0-1 each): Bill McDowell (0-1, free).
Rower Inistioge: Patrick Lyng, John Murphy, James Roche, Eugene Murphy, Paul Flood, Padraig Lyng, PJ.Wilmot, Dean Kehoe, David Dunphy, Michael White, Padraig Ryan, Michael McDonald, Michael Doyle, Conor Lyng, Danny Cottrell.
John Lockes: B.Grace, David Phelan, Eoghan Fahy, Keith Doheny, Liam Kennedy, Robert Jackman, Mark Nolan, Jim Power, Sean Power, Josh Haines, Niall Hennessy, Mark Shelly, Brian McCann, Martin O'Connell, Dan McCormack.
Subs (used): Bill McDowell, James Power.