Date of Death: Monday 19th August 2013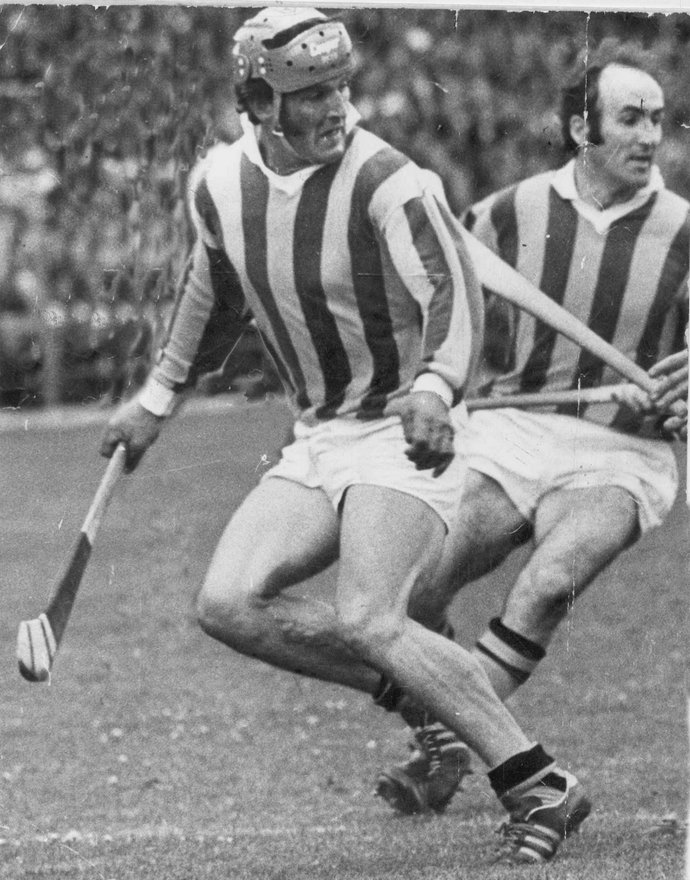 Extract from Enda Mc Evoy's article on "The Terrible Twins – Pat Delaney and Kieran Purcell" published in the Kilkenny Yearbook some years ago.
The public are not always right. Which isn't to suggest that the thousands of hurling fans from around the county who cast their votes for the Kilkenny Team of the Century recently got it wrong when they came to deciding who should fill the centre-forward and full-forward spots, but merely that two eminently well-qualified candidates who didn't make the cut had ample reason to feel hard done by. If John Power and Christy Heffernan, the chosen pair, can be classed as folk heroes of the Black and Amber – as indisputably they can – so too can the non-chosen pair, Pat Delaney and Kieran Purcell. The early 1970s, the period in which the latter duo played, was the third golden age of Kilkenny hurling. There is no way of telling its story without also telling the story of Delaney and Purcell. Kilkenny never had a double act like them before. Almost certainly they'll never have a double act like them again. Not at the same time, at any rate. As big as they were strong, as hardy as they were forceful, Delaney and Purcell constituted a rod of iron down the centre of the Noreside attack as the county racked up five successive Leinster titles and three All Ireland victories in the space of five seasons. Yet to hold that despite their significance they were basically one-dimensional, that their only purpose in life was to hew the wood and draw the water for the likes of Eddie Keher around them, is both unfair and incorrect. These guys could hurl. Think of Delaney's three-goal haul in the 1969 Leinster final, which helped Kilkenny beat Offaly by two points (3-9 to 0-16), set the county on the road to another McCarthy Cup success and as a byproduct delayed Offaly's emergence by a decade. Think of Purcell's smashing goal against Tipperary in 1971. Think of Delaney bouncing the sliotar off the ground and back into his hand against Cork a year later, one of the riders on Kilkenny's last-quarter storm. Think of the blow an already punch-drunk team suffered in 1973 when Purcell was laid low by an appendix operation. Fast forward to the 1976 National League final replay against Clare in Thurles and another hattrick from Delaney. Pat Delaney and Kieran Purcell. Kilkenny's own answer to gaelic football's terrible twins from Galway, Sean Purcell and Frank Stockwell. Each was masterly, or as close to it as made no difference, in his own position. Each could also make a more than competent fist of things in the other player's position. They could, and did, interchange at a moment's notice, almost invariably initiating the switch themselves without needing instruction from the sideline. Double trouble indeed. A county colleague of his in the 1970s, Mick Crotty had known Kieran Purcell from a long way back, the two of them having begun secondary school together in St Kieran's on the same day in 1958. Purcell wasn't slow about making an impression, showing such promise in the first-year league matches between September and Christmas that, come the new year, he graduated to the second- and third-year leagues along with his contemporaries Godfrey Moylan from Danesfort and Maurice Aylward, elder brother of current Carlow-Kilkenny TD Liam Aylward. "Right from the start," Crotty says, "it was apparent how much ability Kieran had." Purcell's vast natural talent is a theme commented on again and again by his former teammates. While he and Delaney were broadly similar in looks and physique, in terms of style they were poles apart. Purcell was the more skilful, his excellence under the dropping ball a byproduct of his gaelic football background at home in Windgap. "Kieran was terrific at plucking the sliotar out of the air, and he guarded his catching hand very well in doing so," Pat Henderson recalls. "Pat worked a different way. He was low set to the ground, he controlled our attacks once in possession. Between them they gave Eddie Keher the freedom to exercise his skills as distinct from having to take a lot of abuse." Too true, agrees Keher, a veteran of the old rules hurling. It wasn't, Inistioge's finest adds, that Kilkenny "were soft" in that age when men were men, John Doyle was head chef in Hell's Kitchen and opposition forwards had good cause to be very, very nervous. "Our forwards were very good, but they were light, and the opposition defences we came up against were physically strong. But once Purcell and Delaney came alongwe were able to match the other counties in that area." What's more, according to Keher, the two of them couldn't have arrived on the scene at a more apposite time, with Delaney emerging after two strikingly poor junior teams in the parish of Johnstown united under the banner of Fenians to capture the county junior crown in 1968 before progressing to senior glory in 1970. Though Kilkenny had won the All Ireland in 1967, many of those players were not about to steer the county to further glory in the new decade; Tom Walsh had already departed the scene and Keher himself, a part of the furniture since 1959, was pushing on in years. Then Delaney and Purcell materialised and made a new man of him, in the process allowing him to negotiate the journey from hurling artist to hurling legend. "A couple of the players had retired by the end of the 1960s. I was beginning to wind down myself, to lose pace, and I supposeI could easily have called it a day. But Pat and Kieran added years to my career. Over time it became easy to read their game and feed off them. When eventually they retired, I speeded up my own retirement. There was little point in staying on without them." Delaney and Purcell provided balance along with punch. The Kilkenny team of the 1970s, Mick Crotty points out, was lucky in that it had a good mix, much of it supplied by the pair of them. "All six forwards were six feet tall or over, and strong enough to be able to hold their own. But Delaney and Purcell were the two who created the havoc. Delaney had this tremendous ability to grab a ball and run – and the more opponents that hopped off him, the more he liked it. Micheal O'Hehir would often talk in his commentaries about a player getting his dander up. When Pat Delaney got his dander up, he'd go through a stone wall."
Such memories. Such men.