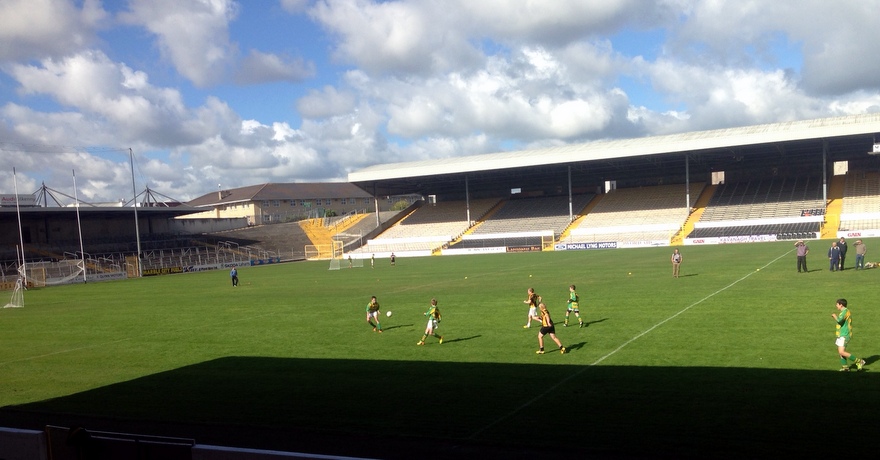 Kilkenny GAA
U-12 Festivals
Nowlan Park
Saturday 21st September 2013
Co-Ordinators Role
Distribute "Respect Bibs" to one mentor for each Club
Arrange Clubs to their pitches (See sheets below)
Make Presentation of momento to All Players (J.Meagher)
Stands to be used as Dressingrooms for all team
Ensure Players are rotated if there are subs
Format
Each Club will have the opportunity to have TWO Teams Playing on two pitches side by side, in our "Theatre of Dreams" – Nowlan Park. Teams are to be of mixed ability – Not an "A" and a "B" Team. Each club will have One Game – 20 minutes a half.
Teams will be 7/ 9/10/11/12/ a –side (as designated by club numbers)
If a club has subs, subs are to be rotated, so that a player is only taken off once during the game.
It is vital clubs are in place ready to start on appointed time to ensure smooth running of both days
Normal Hurling rules apply
Player who is fouled takes the free,
Nearest player to the sideline, takes the sideline.
Bad language is discouraged on the pitch and on the sidelines
Each player will be presented with a momento of the occasion in the Presentation Stand
Transition year students will referee the games
We would ask mentors to wear the "Respect" Bibs and shake hands with opposing mentors before and after the game.
Players to shake hands before and after the game as part of "Respect" campaign
We all should try to make it a memorable occasion for players/coaches and parents.
14. Thank you and your club for your co-operation during 2013.
Group 1
Start time 8.30am x 2 clubs
| | | | | | |
| --- | --- | --- | --- | --- | --- |
| Club 1 (Pitch at O'Loughlin Gaels end under New Stand) | Score | V's | Club 2 (Pitch at O'Loughlin Gaels end under Old Stand) | Score | Co- Ordinator |
| O'Loughlin/Gaels (Team Bán) | | | Graigueballycallan | | J.Meagher |
| O'Loughlin/Gaels (Team Bán) | | | Graigeuballycallan | | |