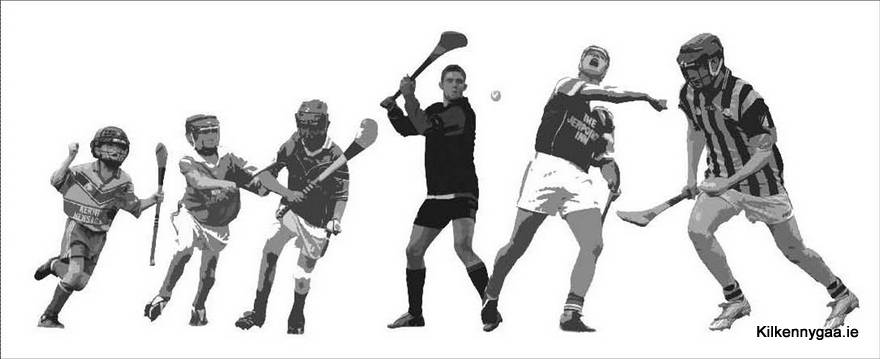 Youth Player Performance Development Pathway – Preparing for the Future"Date : Tuesday 28th OctoberVenue : Hotel KilkennyTime : 7.30pm
Guest Speakers, Roles/Topics :
Ned Quinn (County Board Chairman)
Brendan O'Sullivan (Development Squads Chairman)
Dr. Claire Lodge (Injury Prevention)
Noreen Roche (Age-Appropriate Diet and Nutrition)
Séan Kelly (Age-Appropriate Exercise Development needs – Specific to GAA Players)
Brian Cody (Kilkenny Senior Hurling Manager)
Invited to attend :
v A Parent/Guardian and the Player
v Development Squad Mentors
v Two Teachers from the Post Primary School Sector
Players will be contacted by their own Squad mentors.
Players are asked to wear their Kilkenny GAA Development Squad tops and to bring a pen.
One Parent/ Guardian asked to accompany their Youth Player, on the night.
Refreshments will be served
The following players are requested to attend the Development Squad Information Night on the 28th of October in Hotel Kilkenny at 7.30p.m.
U14 Panel
Declan Buggy (Erins Own), Dean Mason, (Ballyhale Shamrocks), Eric Kearney (James Stephens), James Phelan (Lisdowney), Sean Brennan (Mooncoin) Mikey Butler (O Loughlins) Eoghan Moylan,(Dicksboro), Diarmuid Phelan (Danesfort) Declan Duggan (Piltown) James Brennan (Erins Own),Mark Kehoe, (Slieverue) Dacel Fwamba (O Loughlins) Alex Hatt (Rower Inistiogue) Cathal Holland(Erins Own), Conor Heary (O Loughlins) Justin Cahill (Dicksoro) Conor Drennan (Galmoy) Mark Nolan (Dicksboro) Killian Egan (Graigue Ballycallan) Colm Whelan (Thomastown) Gary O Sullivan(Lisdowney) Ian Walsh (Dunamaggin) Oran Brophy (Piltown) Liam Grant (Emeralds, Jamie Malone[ O Loughlins]Josh Doheny[ John Lockes]Evan Doyle[ John Lockes], Conor McMahon[ Erins Own]Liam Stynes[ Dicksboro] Aaron Brennan[ Graigue Ballycallan], Martin O Neill[Mooncoin]Conor Murphy[ Bennetsbridge]Robbie McCauley[ Dunnamaggin], Fergus Byrne[ Jas. Stephens]Eoin Cody[ Shamrocks]Michael Walsh [Gowran], Darragh Hartley[ Glenmore]Darragh O Keefe[ Dunnamaggin]Eoin Cahill[ Conahy], Dylan Morrissey[ Tullogher Rosbercon]James O Dwyer[ Jas Stephens] Paddy Doyle[ Galmoy], Jason Phelan[ St Patricks] Tom Sheridan[ Kilmacow]Adam Fitzpatrick[ Dunnamaggin], Frank Murphy[ Tullogher Rosbercon] Stephen Donnelly[ Thomastown], Liam Brennan Smith [Dicksboro], Ned Kirwan[Thomastown], Darragh Galway[Thomastown], Dylan Carey[Young Irelands], Adam Morrissey[James Stephens], David Carroll[Lisdowney], Robbie Doheny[St Patricks], Eoin Brennan[Danesfort], Luke Hogan[O'Loughlins], Jason Devereux[Shamrocks], Tom Kennedy[James Stephens], Padraig Donnelly[St Lachtains], Leo Barco[Clara], Shane Cullen[Windgap], Cian Harding[Conahy], T J Tierney[John Lockes], Conor Hoban[Dunnamaggin], Thomas Rice[Conahy], Ciaran Colclough[St Lachtains], Padraig O Neill[Young Irelands], Liam Fennelly[James Stephens], Shane Maher[Thomastown}
U-15 Panel
James Bergin (Clara) Tommy Ronan (Graigue Ballycallan)Luke Murphy (James Stephens) Sam Hickey (James Stephens) Conor Grace (Galmoy) Conor Flynn (Graigue Ballycallan)Niall Carroll (Fenians) Ronan Buckley (O'Loughlin Gaels)Jack Kelly (Barrow Rangers)Jordan Molloy (O'Loughlin Gaels) John Dowd (Erin's Own) Ross Whelan (James Stephens) Sean Ryan ( Graigue Ballycallan) Robert Butler ( James Stephens) Oisin Phelan (Galmoy)Ciaran Brennan (St Martins) Jesse Roberts (Graigue Ballycallan) Sean Rafter ( St Lachtains)Brian Cleere (Dicksboro)Niall Brennan (Lisdowney)Michael Doyle (Barrow Rangers)John Minogue (Dicksboro)Cian Dawson (St Lachtains)Ger Troy (Emeralds),Thomas Dunne[Glenmore] Ryan Croke [Mooncoin] Ted Drea[Young Irelands] Patrick Hearne[Shamrocks], Richard Hennessy[Glenmore] Jack Cullen[Thomastown][Darragh Walsh[Piltown]Padraig Mullen[Danesfort], Adrian Mullen [Shamrocks]Martin Davis[Shamrocks]Rob Dunne[ Young Irelands]Jim Ryan[Rower-Inistioge] Conor Murphy[John Lockes]Jack Byrne-Doyle[Mullinavat]James Aylward[Glenmore]Gavin Grant[Slieverue] Luke Fitzpatrick[Dunamaggin]Oisin O'Dwyer[Kilmacow]Thomas O'Connor[Tullogher-Rosbercon] Brian Staunton[Thomastown]Rory Lodge[Dunamaggin]Sam O'Dwyer[Bennetsbridge] Daithi Barron[Thomastown]David Costello[Kilmacow]Conor O'Keeffe[Danesfort], Stephen Wemyss[Thomastown]
U-16 Panel
Ronan Ryan (Piltown) Brian Coady (St. Martins)Jack Frisby (Slieverue)Evan Carroll (Dicksboro)Martin Keoghan (Tullaroan)Marc Drennan (Barrow Rangers) Shane Mahony (O Loughlin Gaels)Chris Kavanagh (Captain) (Dicksboro) James Mullaly (Danesfort)Tom Whitty (Danesfort) Joe Connolly (Clara) James Bergin (Conahy Shamrocks)Sean Bolger (O Loughlin Gaels)Edward Moylan (Dicksboro) Edmund Delaney (Conahy Shamrocks) Sean Buggy (Erins Own) Donal Cass (Conahy Shamrocks) Paddy Nolan (St. Fiacres) John Donnelly (Thomastown) Sean Power (Emeralds)Brian Kavanagh (Lisdowney) Victor Costelloe (Dunnamaggin) Jay Leahy (O Loughlin Gaels) Cillian Power (Slieverue) Adam Power (Thomastown)Ben Alcock (Slieverue) Paddy Bolger (Clara)Cian Butler (Dicksboro) Paddy Brennan (St. Patrick's) Hugh Corkery (Bennetsbridge) Jake Cullen (Danesfort) Shane Dawson (St. Lactains)Jack Delahunty (Thomastown)Jack Delaney (Galmoy)Stephen Delaney (Lisdowney)Conor Dowling (St. Martin's)Niall Dowling (St. Patrick's)Terry Dreelin (St. Fiacres)Oisin Gough (Dicksboro) Liam Dunphy (Lisdowney)Mark Kearns (Mooncoin)Matt Kenny (Clara)Jamie Norris (Piltown)Stefan Maher (Carrishock) Alan Murphy (Kilmacow)Eamonn Phelan (Slieverue)Larry Vereker (Kilmacow)Jack Walsh (Rower Inistioge), Tommy Walsh(Tullaroan), Darren Mullen(Ballyhale Shamrocks)
U-17 Panel
Shane Murphy[ Glenmore] Shane Feehan[ Erin's Own] Shane Walsh[ Piltown] Diarmuid O' Dwyer [Kilmacow] Aidan Nolan[ Dicksboro] Michael Cody[ Dunnamaggin]Conor Byrne [James Stephens] Dylan Jordan[ Lisdowney] Niall Walsh[ Windgap] John Quinn[ St.Lachtains] Tom Kenny[ Dicksboro]Tadgh O' Dwyer[ James Stephens]Sean Carey[ Young Irelands] Jim Dollard[ Dicksboro]Robbie Murphy[ Dicksboro] Paddy Gannon[ St. Patricks] Jack Lawlor [O'Loughlin Gaels ]Shane Byrne [Bennetsbridge]James Power [John Lockes] Sean Power[ John Lockes] Johnny McEvoy[ James Stephens] Bill Sheehan[ Dicksboro] Shane Maher[ O'Loughlin Gaels] John Walton[ Tullaroan]Dylan Caulfield[ Thomastown] Ronan Coffey[ Dunnamaggin] Ryan Bergin[ John Lockes] Jake Scanlon[Jas Stephens] Eamon Egan [Graigueballycallan] Gary Bryan [O'Loughlin Gaels] Kevin Crowley [Mooncoin] Conor Doheny [Dicksboro] Darragh Joyce [Rower Inistioge] Daniel O'Connoe [O'Loughlin Gaels] Andrew Gaffney [Dicksboro] Cathal McGrath [John Lockes] Ross Butler [O 'Loughlin Gaels] Conor Hennessy [Tullogher] Richie Leahy [Rower Inistioge], Cian Loy[O'Loughlin Gaels], Gary Bergin[O'Loughlin Gaels]