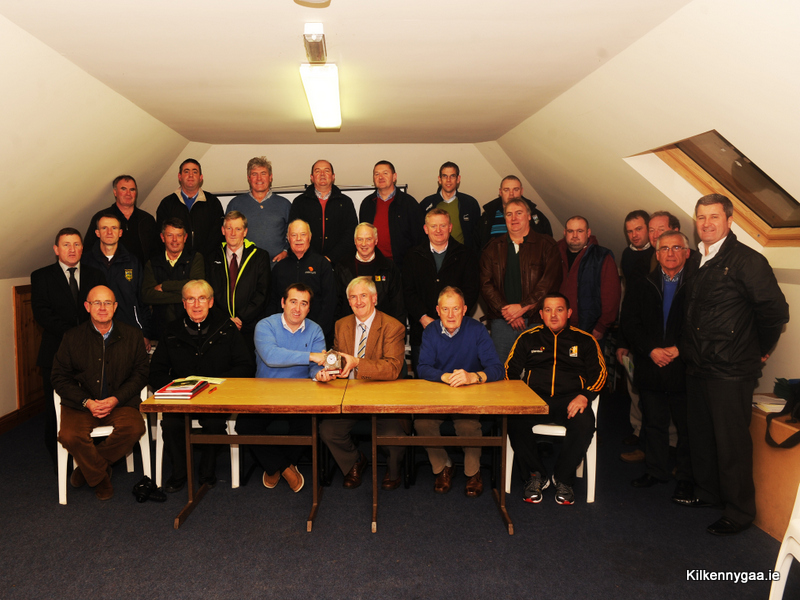 Chairman South Board Pat Dunphy making a presentation to out-going secretary Paul Long at the South Convention in Mullinavat GAA Club
Secretary Report 2014. North Board
I would like to, on behalf of the Northern board, welcome everyone to tonight's 89th Northern Convention.
There were 22 clubs affiliated to the Board in 2014.
12 clubs registered teams to play in the Junior championship, the Northern Junior league, the All County hurling league and either the Paddy Cahill Memorial Cup or the Kevin Fennelly Memorial cup.
8 clubs registered teams to play in the Junior A league and championship.
16 clubs registered to play in the Junior B Hurling Championship, the Junior B hurling league and the Joe Walsh memorial Cup.
11 clubs registered teams to play in the U21A Hurling championship.
8 clubs registered teams to play in the U21 B Hurling Championship
I would like to congratulate the winners and the runners up in the competitions.
Junior Championship Bennettsbridge 1-17 Mooncoin 1-7
Section B Championship final O Loughlin Gaels 1-13 James Stephens 0-14
Northern Junior Championship O Loughlin Gaels 1-15 Blacks and Whites 1-13
Northern Junior A Championship Lisdowney 2-17 Fenians 1-9
Northern Junior B Championship O Loughlin Gaels 1-15 Danesfort 2-8
North U21 A Championship 2014 To be completed
North U21 B Championship 2014 To be completed
Junior League Section A Final Bennettsbridge 2-17 Piltown 0-20
Junior League Section B Final To be played
All CountyLeague Final O Loughlin Gaels 3-7 Graignamanagh 0-15
North Junior A League Final Graigue Ballycallan 0-12 Lisdonwey 0-10
North Junior B League Final Blacks and Whites 1-13 O Loughlin Gaels 1-10
Paddy Cahill Final To be Played
Kevin Fennelly Cup Final Naomh Eoin 2-16 Barrow Rangers 1-14
Joe Walsh Cup Final Bennettsbride 4-10 Carrigeen 0-7
I would like to congratulate all who went on to win county titles.
Junior A Championship Final Mooncoin 2-14 Lisdowney 0-19
Junior B Championship Final O Loughlin Gaels 1-20 Graiguenamanagh 1-18
Junior A League Final Griague Ballycallan 2-17 Ballinakillen 2-15
Junior B League Final To be played
Competitions.
Junior Hurling Championship
21 clubs entered to play in the Junior Championship, which threw up some exciting games. Bennettsbridge proved third time lucky, A young Bennettsbridge team beat Mooncoin in the final. In the league section of the championship Bennettsbridge also proved successful beating Piltown in the Section A final. While the section B Final is between Ballyhale Shamrocks and O Loughlin Gaels is still outstanding. O Loughlin Gaels completed an outstanding year at adult level as well as Juvenile level beating James Stephens in the section B championship final.
North Junior Hurling Championship
12 teams entered the North Junior Championship which was played as a knockout competition. O Loughlin Gaels beat Blacks and Whites to claim the Northern Junior Championship.
Northern Junior A Championship
8 teams contested the North Junior A with Lisdowney winning the North Junior A title beating neighbours the Fenians in the final. They just lost out to Mooncoin in the county final final.
Northern Junior B Championship
16 teams entered the championship. O Loughlin Gaels overcame Danesfort in the final and followed it up with a county final win against Graiguenamanagh
Northern A U21 Championship
At the time of writing there is 5 teams in the competition with Bennettsbridge playing James Stephens in the quarter final, the winner due to play O Loughlin Gaels in semi final, while Dicksboro await Clara in the other semi final.
Northern B U21 Championship
At the time of writing the competition is down to last 3 team with Conahy Shamrocks playing Graigue Ballycallan and the winners playing Emeralds in the Northern Final.
Northern Junior A League
8 teams entered. Griague Ballycallan had a thrilling 2 point win over Lisdowney and rounded off a successful year wining the CountyLeague title.
Northern Junior B League
16 teams entered the league Blacks and Whites defeated O Loughlin Gaeks in the North League Final. They are waiting for the county final to be played against Piltown
All County League
25 teams entered the AllCounty league with O Loughlin Gaels winning the AllCounty league beating Graignamanagh in the final.
Paddy Cahill Cup
10 teams competed in this competition with Clara still due to play St Mullins in the final.
Kevin Fennelly Cup
5 teams qualified for the Kevin Fennelly knockout competition. Naomh Eoin defeated Barrow Rangers in the final
Joe Walsh Cup
10 teams qualified for the Joe Walsh Cup final with Bennetsbridge winning after beating Carrigeen
Congratulations
I would like to congratulate the Kilkenny Senior Hurling team for a tremendous achievement of winning the walsh Cup, League Final, Leinster final and All Ireland Final. Congratulations to Brian Cody and Henry Shefflin on winning 10 All Irelands, I wish Tommy Walsh, Brian Hogan, David Herity and Aidan Fogarty all the best in retirement. I congratulate Pat Hoban and his Management team on winning the Leinster and All Ireland Minor Hurling finals, Well done to Rower Inistiouge on winning the All Ireland Intermediate Club final, On the schools front history was made with 2 Kilkenny teams featuring in the All Ireland Final. On the day St Kierans took the spoils. Kilkenny CBS however won the Junior Colleges All Ireland final, Not to be outdone Good Counsel featuring a number of Kilkenny Hurlers won a All Ireland Junior final of their own last week. The Leinster Senior Hurling Championship Kilkenny v Offaly and the Senior Qualifier between Wexford and Waterford proved that NowlanPark to be suitable venue for big games. Well done to the county board and stewards for the great job in hosting these games. Well done to the Minor team who won Leinster and the Senior Camoige team on reaching the All Ireland Final. Congrats to O Loughlin Gaels who won the minor, U16 and U14 county finals. Best of luck to Bennettsbridge, Mullinavat and Ballyhale Sharmockss in their club championships.
Sponsorship
On behalf of the board I would like to thank J.J Kavanagh and Sons Urlingford, for their generous sponsorship of our leagues and championship.
Finance
As you can see the balance sheet we have a surplus for the year €2,999. I would urge clubs to support both Hurlers Co-Op Draw and the County Board Lotto and also to encourage members to join the Kilkenny Supporters Club.
Referees
I would like to thank all the referees, umpires and linesmen who without them, no games would go ahead.
Thanks
I would like to thank the following for their help and co-operation during the year.
The Board officers: Paul Kavanagh, Donal Brennan, John Byrne,
The Fixtures Chairman Conor Denieffe and his committee.
The grounds men, gatemen, stewards, secretary's and Northern Board delegates in all clubs.
To all newspaper and radio personnel and to all those who took photographs in the year.
To Ned, Jimmy, Barry and all the CountyBoards officers for all their help through the year.
To Caroline in NowlanPark for all her help.
To the Southern Board officers who we worked with together throughout the year.
To Willie Dempsey and Board na Og for their cooperation during the year.
To Liam Dewberry for all his help through the year.
Finally
Finally I would like to thank everybody for their help through out the year and offer condolences to anyone who suffered bereavement in the year. I would like to wish everyone a Happy Christmas and a peaceful New Year.
P J Kenny Runai
Chairman's Address, Southern Convention 9/12/2014 – (Pat Dunphy Carrigeen)
A dhaoine uaisle, cuireann se an-áthas orm bheith de phribhleid agam labhairt libh mar Chathaoirleach Choiste an Deiscirt ar ocáid na Comhdhála Bhliantula 2014.
I would like to welcome you all here tonight to our annual convention. I am honoured to have the privilege of addressing you as Chairman of the Southern Board. To me the Southern Board still plays a very important part of GAA activities in Kilkenny.
I would like to start by thanking you and your clubs for your help and cooperation that you have shown throughout the year in facilitating the board's officers to run the various competitions. There is no doubt this level of cooperation is required to ensure games and competitions are played on time and in a competitive manner.
I also have many people to thank and congratulate for their efforts throughout the year. The many players who play the game, representing their clubs, making that extra effort, helping their clubs run social and fund raising events, looking after grounds and so on. They are indeed the most important members of our Association. Our officials in all clubs need to be mentioned. Not an easy job regardless what their role is. There is always plenty of voluntary work to be done. Most of these people give a lot of their time and get very little recognition but are themselves proud of their club achievements, their facilities and the community spirit.
Next I would like to thank another special body of committed GAA people, our referees especially those in the Southern Board area. It is great to see so many of our referees operating at higher levels, Inter County, Leinster, County Championships. However regardless of the level, all of our referees are doing a great job and I would like to thank them for their efforts in assisting with our games, for being available nearly all the time some of it at short notice. We do our best to give adequate notice. Sometimes things happen beyond our control and our referees always cooperate even when they are put out themselves. It is not a very nice and comfortable job. It carries a lot of responsibility. It requires a lot of commitment. Well done to all our referees.
I would now like to thank the clubs that gave their grounds for southern board competitions throughout the year. All of our grounds are in great condition. Clubs have put a lot into them and it is of great support to the board when clubs are called upon for the use of their grounds. As I already have alluded to the excellent condition grounds are kept in I would like to thank the grounds men who keep the pitches so well. It may go unnoticed to some but they put in, invaluable work and can be proud of the way all of our grounds look and the way all are well presented.
Our sponsors need to be commended highly for their continuous support that helps the game in South Kilkenny. To Iverk Produce, Piltown, Country Style Foods, Kilmacow and J. J. Kavanagh, Urlingford, we say thanks very much. Your financial backing is crucial at a time when finance is hard to come by. Yet despite a harsh economic climate you haven't let us down and continued your support without question. Can I urge you the delegates to support wherever you can our sponsors and raise this also at your club meetings.
At this stage I would like to congratulate and thank our county team players and management for their wonderful achievement this year and indeed over the past several years. This year was unique with records tumbling. It is a great era for Kilkenny people to be alive and witness what has happened at inter county level. They are all true heroes who give more than 100% commitment. A lesson for all who want to succeed. I do feel that Croke Park should 100% fund players holidays for those who get to the latter stages of the All Ireland Series. Counties who participate at this stage see their players training hard to September and beyond. It is not fair to have the players trying to participate in fundraising events and our hard pressed clubs who have so much on their plate trying to raise funds in their own clubs many in debt. Croke Park should definitely assist far more in this regard.
Next to our competitions and before I go into our Southern Competitions let me say congratulations once again to The Shamrock's Ballyhale on a great senior county final win and last Sunday winning the Leinster Senior Club Championship. You keep coming back with more spirit and enthusiasm year in year out and are always there or thereabouts at the concluding stages of the senior county championship.
I would also like to congratulate Mullinavat on their great victory in the Intermediate Championship and in Leinster also. You earned your victory the hard way but always came out on top at the end which says a lot about the character, commitment and effort given by the team. Unfortunately they lost out last Saturday in the Intermediate Club quarter final. However you have had a great year well done.
Also congratulations to Mooncoin on winning the County Junior A Championship and Graignamanagh on winning the County Junior Football League.
I want to also congratulate the various winners of our Southern Leagues and Championships, Iverk Produce South J.H.C. Kilmacow, Iverk Produce South J.A.H.L. Ballinkillen, Iverk Produce South J.A.H.C. Mooncoin, Country Style Foods South J.B.H.C. Graignamanagh Country Style Foods South J.B.H.L. The Rower Inistioge. There can only be one winner but the enjoyment, the heart break, the efforts, the parish interest and the respect demonstrated by all clubs and parishes in the south is admirable. In effect all clubs are winners to some extent.
Thanks to the media, both radio and print for the promotion of our games, to the Kilkenny People, The Kilkenny Reporter, K.C.L.R. and especially to Barry Henriques for his excellent comprehensive coverage of all our activities in the South with his photographer, Charlie Maher. Barry has been a great help to the Southern Board as well as being a former chairman he has given the Southern Clubs great time in his columns. Well done to them all as their work not only brings news of our games to local areas but right around the world.
Modern technology plays a huge part in the working of the G.A.A. I would like to thank all those involved in an ever increasing social networking world where information is moving in all directions at incredible speed. This is the modern era and we have to adapt or be left behind. With so much activity going on we need to have the skills and backup to ensure continuity and that we have several people trained to operate our systems in the event of a problem occurring where the whole system is put at risk. I would like to ask the officers of the county board to ensure we have enough trained personnel to carry on the flow of information in the event of this being at risk. We have also seen this year how media technology can be used negatively and I would ask that all clubs and boards be aware of this. Sometimes what is put out in emails or social network sites may be a long way from fairness and the truth. Sometimes it is difficult to detect this. We all need to be conscious of what can happen.
This year as always the work of the Southern Board has been challenging in its own way but if anyone has to deal with that type of challenge there isn't any better team I can call on other than the present outgoing officers of the Board. The busiest position like all organisations is the secretary's role. I wish to compliment and thank most sincerely our secretary Paul Long, who has given great service to the board over the last 3 years. Attending fixture meetings, county board meetings, ongoing dealings with clubs, ensuring fixtures are played on time, solving any problem that arises and notifying clubs of fixtures and meetings etc. It is a very busy position and Paul has excelled in the role. However he is retiring this year due to work commitments as Paul has taken up a senior management role with his company and I would like to wish him all the best in that role. In saying this I know that Paul is young and still has a lot to offer the association. I would also like to thank Andy Aylward our treasurer who is an excellent financial manager. You could not get a more committed GAA person than Andy who is always dependable and who prides in being accurate and doing the job right which is very important in this role. Andy is a great help to the board. To John Stapleton our PRO, thanks John for your great work in the PR aspect of the board. Ensuring we have programs, the convention booklets at the back end of the year not to mention being an able photographer which he puts to good use on behalf of the southern board. I would also like to compliment our vice chairman, Maurice Flynn, for being available when needed and Assistant Secretary Fidelis Doherty who was always available to help in any way she could.
Thanks also to the Mullinavat Club for hosting our meetings during the year.
Finally I would like to pay special tribute again to all the clubs in the manner in which they conduct their affairs in terms of looking after their many teams, development of their grounds and sporting facilities and accommodating the many fixtures of this Board. The teams are generally well presented on match days. Their work is first class. Thanks again to you all.
I would like to thank our County Board Officers for their assistance and advice throughout the year. They have been more than helpful whenever called upon. A lot of work goes on in the background that nobody hears of. Many problems and issues that arise from time to time are sorted and dealt with quickly. Thanks to them all for their guidance.
On a sad note throughout the year we have lost many good people who have passed on to their eternal reward. I would like to on behalf of the board and myself to offer our condolences to their families. I want to especially mention Mick Carroll of Mullinavat a true and committed Gael who served his club and various boards with distinction. Mick is badly missed. Can I also mention Bill Costelloe of Piltown who has just passed away two days ago after a long illness and where Bill kept performing his duties as club secretary while enduring his illness. Bill was a man of the highest integrity and a very hard working club official. I know many others have passed on during the year and we will take votes of sympathy at the end of the meeting.
Guim gach rath ar obair na gclubanna agus Choiste an Deiscirt sa bhliain seo chugainn agus go mbeirimid beo ag an am seo aris. Go raibh maith agaibh!
SOUTH BOARD ANNUAL CONVENTION 2014
Secretary's Report 2014
A Chairde,
2014 has once again proven to be an eventful year for the South Kilkenny GAA Divisional Board and it's hurling championships, to date we have one South board competition winner Mooncoin Junior A, marching on to capture a county championship title.
Congratulations South Board championship competition winners Kilmacow, Junior, Mooncoin, Junior A and Graignamanagh, Junior B. The U-21 competitions are on going.
I would like to congratulate Ballyhale Shamrocks, Mullinavat and Bennettsbridge on their senior, intermediate and junior county & Leinster championship victories and continued success representing Kilkenny in the all Ireland club championship campaigns. History was made within the southern board this year as two Carlow teams Ballinkillen and Erins Own competed in the the South Junior A league final in Graignamanagh.
We have successfully organized and completed 140 games to date with some remaining U-21 A & B hurling championship and shield games to complete.
All South Kilkenny GAA Board winners 2014:
South Junior Hurling Championship – Kilmacow
Junior A Hurling Championship – Mooncoin
Junior A Hurling League – Ballinkillen, (Carlow)
Junior B Hurling Championship – Graignamanagh
Junior B Hurling League – Rower Inistioge
Under 21 A Hurling Championship – On Going
Under 21 B Hurling Championship – On Going
Under 21 A Hurling Shield – On Going,
Under 21 B Hurling Shield – On Going
There was no Jim Farrell North v South cup game played in 2014.
Congratulations to all Kilkenny Senior and Minor players and management as Leinster and All Ireland hurling champions and to all south Kilkenny players, selectors and managers who have represented Kilkenny in 2014 with a special mention for Pat Hoban minor manager and Henry Shefflin on an amazing record breaking 10th all Ireland senior title.
I would like to thank all officials involved with the 16 clubs that represent the South Board for their co-operation and help in ensuring our games are played so efficiently. I would like to thank Conor Denieffe, Chairman and Ned Buggy Secretary of the CCC for their honesty, assistance and help throughout the year. Thanks to PJ Kenny Northern board secretary whom I have worked closely with across many of our competitions. To Liam Dewberry & Willie Dempsey who are always available and have been a great help, even when sometimes, things were a little less than complicated.
I would like to commend and thank all of our club referees who continue to jump in the middle and truly believe all clubs should have at least one referee. Congratulations to Gavin Quilty Slieverue, Michael O Sullivan Ballyhale and Ray Byrne Glenmore on their appointment as Senior, Junior and Minor A hurling county final referees respectively. Many referees perform linesman duties also and give of their time for the benefit of the association guaranteeing the playing of our games. Well done and thanks also to the many people that give of their time to umpiring duties.
Huge thanks to all clubs who have hosted games for the Board throughout the year, the grounds men and officials on gates who have pitches and facilities in excellent condition. We have many high quality pitches, facilities and coaches throughout county and clubs can be proud of their work in providing such people & facilities. These facilities are not easy to fund, produce and maintain. I wish continued success to the men and women in all of our club's, they are the grassroots of the association and one main reason why our county is so successful.
We continue to produce many hurlers for successful county teams however the inter county U-21 Leinster & All Ireland titles have eluded us for some time now and it is also a concern in the upcoming 2015 Junior hurling championship, 8 out of the 12 first team junior clubs will be from south Kilkenny. Glenmore, Graignamanagh, John Lockes, Kilmacow, Mooncoin, Piltown, Slieverue & Windgap. The other 4 North clubs being Barrow Rangers, Blacks & Whites, Cloneen & Galmoy.
On the positive side, the new format of county Junior hurling championship has proven to be a stronger platform for promoted teams to the Intermediate grade, helping to make this an even stronger grade.
2011 Junior winners St Patricks Ballyraggett captured Leinster and All Ireland club honours and competed in the 2012 and 2014 Intermediate Kilkenny county hurling finals. 2012 Junior winners Thomastown also captured Leinster and All Ireland club titles. 2013 Junior winners Lisdowney reached the semi finals of the Intermediate league in 2014, in fact St Patricks, Thomastown & Lisdowney were 3 of the top 4 finishing league/championship Intermediate clubs in 2014. Mullinavat county champions being the other. 2014 Junior winners Bennettsbridge are currently competing in the all Ireland junior club championship. As the Junior format is now very similar to intermediate, the Junior winners are also better prepared entering the intermediate grade. None of the Junior hurling championship winners from the format since 2011 have been in a relegation playoff game and none of the relegated Intermediate clubs have returned to the Intermediate grade in this same period.
I truly believe there are many ways to improve our club competitions and structures even more. Some will say keep the status quo, we are doing well enough with our current systems, why change for the sake of change, however others will say we can do even better. I believe we need to challenge ourselves and challenge one another with new ideas and debate. Just like on the field of play, the more we challenge one another, the better we will become.
To our loyal sponsors of the Southern Board, I would like to thank them sincerely for their financial assistance throughout the year. These companies continue to fund and sponsor our games throughout good and not so good times. These sponsors are Iverk Produce, Country Style Foods and JJ Kavanagh and Sons. I urge all clubs to support these companies at every opportunity. I would also like to pay a huge compliment to JJ Kavanagh & Sons on their inaugural Junior club team of the year competition with Dan Kenny taking up the mantle of looking after this competition.
I would like to thank the media for all their support in the promotion and development of our championships and leagues. Huge thanks to Barrie Henriques of the Kilkenny People for the Southern Scene contribution every week and thanks to KCLR for their continued support to the hurling championships.
I wish to thank my fellow board officers for all their work. Thanks to Pat Dunphy South board chairman, Pat is a hardworking Chairman who has and continues to give his best to the divisional board. Thanks to board treasurer Andy Alyward for his continuous dedication to the board, P.R.O. John Stapelton, assistant secretary Fidelis Doherty and vice chairman Maurice Flynn.
Congratulations and well done to our fellow south men Ned Quinn, Jimmy Walsh and Barry Hickey and all officers of the county board, county management and supporters club. The success that Kilkenny GAA enjoys, and continues to enjoy, just doesn't happen. It is made happen through hard work and dedication at all levels.
I wish the incoming officers and board continued success and look forward to being involved in Kilkenny GAA in the future.
Go raimh maith agaibh.
Paul Long Runai
Bord Na nOg Cill Chainnigh Convention 2014 There was a large crowd in attendance for the 2014 Bord Na nOg AGM in Nowlan Pk. Chairman Willie Dempsey opened the meeting where all in attendance heaped praise on the victorious Kilkenny Minor All Ireland hurling team.
Tommy Bawle Secretary gave a full account of the year's events. He called on a full review of all fixtures at Bord Na nOg level as he felt that at times during the year it was almost impossible to get games played.
However through co-operation of all clubs only two competitions will be unfinished come year end and even at that they'll be at semi final & final level.
The Dicksboro Clubman praised the work of the development squads and highlighted their success on national hurling and praised St Kieran's College on winning the All Ireland Colleges Title on a memorable day in Nowlan Pk.
He congratulated all winners in his comprehensive report & thanked John Wemyss Vice Chairman for his years of service who was stepping down.
Chairman Wille Dempsey then addressed the meeting. He went for the jugular from the off with the issue of clubs seeking posponements. The Thomastown man felt that clubs were playing second fiddle to other sports for the sake of one or two sports & also taking the easy option of "fitting it in later on in the year". This would not be an option next year as there was way too much fixture congestion with one county final called off 6 times this year.
He also praised the minors and was full of pride with the way the minors turned things around from the ashes of the defeat to dublin.
Mr Dempsey also was delighted with the greatest team of all time landing the Liam McCarthy Cup again with the great Brian Cody.
The Chairman entering his 5th term also praised his fellow officers and looked forward to 2015. He also congratulated O'Loughlin Gaels winning all the Roinn A hurling titles at Minor A, U-16 A & U-14 A.
Out going Vice Chairman John Wemyss hoped that the new online postponement form would be implemented.
All Officers praised Treasurers Joe Pyke for his efforts in Bord Na nOg and he thanked all clubs for collecting on gates and PRO Pado Flynn for producing programmes.
Guest Speakers included County Chairman Ned Quinn, Coaching Officer Brendan O'Sullivan, Secretary Jimmy Walsh, Vice Chairman Conor Deniffe & Treasurer Barry Hickey.
There was nine motions down for debate with four of them centred on football. It was agreed to bring them to the next Bord meeting to discuss further.