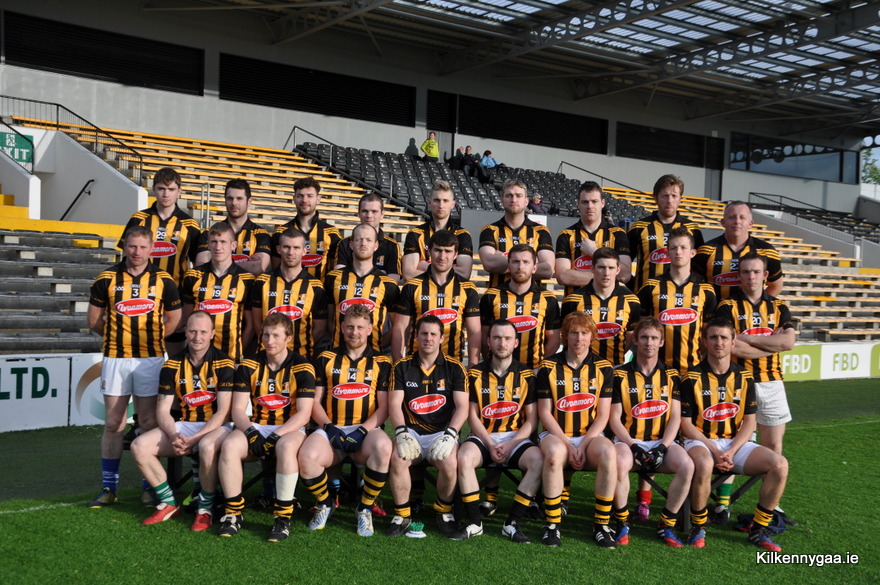 The Kilkenny team pictured before their first game in Nowlan Park
Early on Saturday morning last the Kilkenny football team and team management boarded their flight for Edinburgh where they would make history by becoming the first Kilkenny team to play in the final of the British Junior Football championship in which the home team Scotland would be their opponents.
Credit is due to Iar Uachtaran Liam O Neill who saw the similarity between the plight of those wishing to play football for Kilkenny with the plight of those who wish to play hurling in some other counties and so opened the way for our participation in this championship. The welcome and cooperation of the British GAA Board together with that of the other competing counties across the Irish Sea must also be acknowledged.
With our participation approved Kilkenny County Board turned to a Kerry native long domiciled in our own County and invited him to take on the task of Team Manager or perhaps more correctly tasked him with the job of finding a team to manage. Christy Walsh took on the challenge in his own inimitable way and charmed/persuaded the players he required to make what would be a significant commitment as initially all games were scheduled to be played away. The greatest tribute that can be paid to Christy is to say that without the enthusiasm of the affable Kerry man it is unlikely that this project would have succeeded in the manner that it has.
In the first year it was Malachy Hogan, Eugene Dunphy Frank O Meara and Pat Mulrooney who were his selectors, Subsequently Peter Dukalow and Pat O Hanlon came on board to lend their experience. Ned Lawlor played his part at training every night also.
With the County Board funding the costs involved responsibility for the day to day running of the team was devolved to the Football Board and in particular to Chairman Tom Brennan, Vice Chairman Tommy Duggan and Secretary Tom O Reilly who arranged the flights and accommodation for each trip away and additionally transported each players individual gear bag and all other team gear by Sea to the venue for each game.
Of course it is the Players who are the life blood of all teams club or county and sincere thanks is due to each player who made himself available for selection over the past three years, it required a considerable commitment to do so but as they reflect on what has transpired they will undoubtedly agree that it was very much worthwhile.
Kilkenny 2-7 Scotland 0-8
The Final itself took place in Broughton Park in Scotland's capital city. Kilkenny opened backed by a strong breeze and had three points on the board courtesy of free taker Michael Bolger ( Graignamanagh) before the home team registered their first score. In the eighteenth minute Railyard's Cormac McDonald rose highest to finish to the net for a great goal. However it was Scotland who finished the half the stronger scoring three points in succession and a two point interval lead looked less than adequate as Kilkenny turned to face the elements. Tremendous defending most notably by full back Thomas Keogh (James Stephens) centre back Paddy McConigley (Railyard) and wing backs Joe Fennelly (Mullinavat) and Philip Roche (Railyard) made Scotland fight hard for every score in the new half and with substitute Michael Malone (Mullinavat) storming into the game at midfield the score was tied with some twelve minutes remaining. A pointed free by Michael Bolger and one from play by full forward Paul Donnelly (Railyard) gave Kilkenny back the lead and then came the clinching score when team captain Caleb Roche(Railyard) passed to Michael Malone who broke through the Scottish defence before unleashing a powerful drive to the back of the net. Dan McCormack (John Locke's) slotted another point and try as Scotland did their only reply was a point from a free leaving Kilkenny five points to the good at the final whistle. Full time score Kilkenny 2-7 Scotland 0-8
Team: JJ.O Sullivan (St Patrick's);Stephen Duncan (Danesfort) Tomas Keogh (James Stephens) Noel Darcy (Muckalee);Joe Fennelly (Mullinavat) Paddy McConigley (Railyard); Philip Roche (Railyard); David Lyng (Rower/Inistioge) James Culleton (Mullinavat) ; David Herity (Kilmoganny) Caleb Roche (Capt) (Railyard), Cormac McDonald (Railyard);Brian Egan (Dicksboro) Paul Donnelly (Railyard) Michael Bolger (Graiguenamanagh);
Subs Michael Malone (Mullinavat) Dan McCormack (John Lockes).