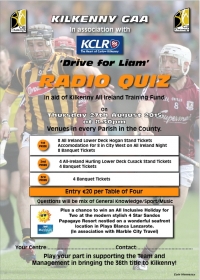 Drive for Liam Quiz. KCLR
1st Prize: James Stephens Table 8 (78 Points): Tom O'Shea, Mark Dowling, Gerard O'Reilly, Gerry Kirby.
Tie 2nd and 3rd Prize, between Table 1 The Rock, Threecastles and Table 5 Fenians (Ryans of the Cross) both on 77 Points. Tie Breaker on air.
2nd: Table 1 The Rock, Threecastles James Murphy, Brendan Brophy, Tom Mullins, Paddy Mullins
3rd: Fenians (Ryans of the Cross) Eddie Kelly, Paul O'Donovan, Michael Ryan, Fintan Garret
Raffle Prize Winner: Louise Hayes O'Donnells Bar Bennettsbridge
Many Thanks 2 all at the 43 venues County Wide, also NaFianna, Kilmacud Crokes, RedNeds in Armagh. 417 Teams Supporting Hurlers Quiz all info below
This is the News page for the Drive for Liam Quiz. KCLR radio programme commences at 8.30pm with Round 1 at 9pm sharp.
Co-ordinators please Click on READ MORE below for Answers which will be published as they evening progresses.
Good luck to all participants at 43 venues County Wide and also in Na Fianna and Kilmacud Crokes GAA Clubs in Dublin and in Red Ned's in Armagh
Answers will be published here from 9.10 this evening.
Round 1:
1.Daniel O Donnell; 2.Tiernan Mc Cann; 3.Drone; 4.Nicola Sturgeon; 5.Jeb; 6.Justin Gatlin; 7.Colours (Maroon & White); 8.Cheers.
Round 2:
1. Shane Moloney; 2.Kim Jong Un; 3. Out; 4.Jackie Tyrrell; 5.The Dish; 6. Shamrock Rovers; 7. Paschal Donohue; 8.Brian O Driscoll.
Round 3:
1.Dicksboro; 2.The Bloody Irish; 3.Four; 4.Wexford; 5.Five; 6.Galway; 7.Finland; 8.Grease.
Round 4: 1.Augusta Golf Club; 2.LE Eithne/LE Niamh; 3.Kerry; 4.Scythe; 5.Cork; 6.Planet of the Apes; 7.Canada; 8.The Sopranos
Round 5: 1.Seven; 2.Margaret Thatcher; 3.Foxtrot; 4.Kentucky; 5.Ten feet; 6.Elysha Brennan(Meath); 7.New England Patriots; 8.Katie Taylor.
Round 6:
1.Tr20/Tr17/Bullseye; Will also accept Tr19/TR18 and Bullseye. 2.1975; 3.Show Jumping; 4.Bob the Builder; 5.Corofin; 6.Pretoria; 7.Health Information & Quality Authority; 8.2014
Round 7:
1.Boston; 2.Whistling Straits; 3.Short; 4.Westport; 5.Kildare; 6.New Horizons; 7.Colin Fennelly or TJ Reid; 8.The X Files
Round 8:
1. Eddie Kinsella; 2. Birdman; 3.Brendan Kealy; 4.Roy Keane; 5.Sligo; 6.George; 7.Andy Murray; 8.The Troggs
Round 9:
The Woolpack(Woolies); 2.Lady Desart Bridge; 3.Aintree; 4.Seven; 5.Carlow; 6.London; 7.Three; 8.Padraig Harrington.
Round 10:
1. John Kiely. 2. Better Call Saul; 3.Urlingford; 4.Askamore; 5.Angela Merkel; 6.Dawn French; 7.Cork (1970); 8.The Sugarbabes
Tie Breakers: 1. Julianne Moore (Still Alice); 2.Nobel Peace Prize; 3.Stuart Bingham; 4. (58,495); 5. (82,184); 6.Hedgehog; 7.Nothing
Sudden Death Answer 53,044
| | | | | |
| --- | --- | --- | --- | --- |
| | | | | |
| | | | Tables | |
| Ballyhale Shamrocks | Irish's of Knocktopher | 1 | 7 | |
| Barrow Rangers | The Shamrock Inn | 2 | 5 | |
| Bennettsbridge | O Donnells | 3 | 6 | |
| Blacks & Whites | Blacks & Whites GAA Club House | 4 | 15 | |
| Carrickshock | Irish's of Hugginstown | 5 | 11 | |
| | Malzards of Stoneyford | 6 | 2 | |
| Carrigeen | The Royal Oak Pub | 7 | 6 | |
| Clara | Connollys of Dunbell | 8 | 11 | |
| Cloneen/Railyard | Cloney Brennans Mooneenroe | 9 | 4 | |
| Conahy Shamrocks | Conahy Shamrocks GAA Club | 10 | 7 | |
| Danesfort | Sheridans of Ennisnag | 11 | 13 | |
| Dicksboro | Dicksboro GAA Club | 12 | 17 | |
| Dunnamaggin/Kilmoganny | Townsends | 13 | 4 | |
| Emeralds (Urlingford) | Richard Hayes, Urlingford | 14 | 10 | |
| | Delaneys Bar, Barna | 15 | 6 | |
| Erins Own (Castlecomer) | Dillons | 16 | 4 | |
| Fenians (Johnstown) | Paschal's Johnstown | 17 | 7 | |
| | Ryans of Crosspatrick | 18 | 7 | |
| Galmoy | Maguire's Bar | 19 | 11 | |
| Glenmore | The Glen Bar | 20 | 13 | |
| Graignamanagh | O Sheas | 21 | 12 | |
| Graigue Ballycallan | Brennans Kilmanagh | 22 | 12 | |
| James Stephens | James Stephens GAA Club | 23 | 22 | |
| John Lockes (Callan) | John Locke Park | 24 | 9 | |
| Kilmacow | Irish's Bar | 25 | 3 | |
| Lisdowney | Mackeys of Gathabawn | 26 | 11 | |
| Mooncoin | Mooncoin GAA Complex | 27 | 6 | |
| Mullinavat | Rod Iron Pub | 28 | 7 | |
| O Loughlin Gaels | O'Loughlin Gaels GAA Club | 29 | 11 | |
| Piltown | Piltown GAA Complex | 30 | 8 | |
| Rower Inistioge | Inistioge GAA Community Centre | 31 | 22 | |
| Slieverue | Stapleton's Pub | 32 | 7 | |
| St Lactains (Freshford) | Kavanaghs Freshford | 33 | 8 | |
| St Martins/Muckalee | The Ranchers Return Coon | 34 | 4 | |
| | The Cave Bar Corbettstown | 35 | 2 | |
| St Patricks Ballyraggett | The Wheel Inn Ballyouskill | 36 | 9 | |
| Thomastown | The Salmon Pool | 37 | 10 | |
| Threecastles | The Rock Bar | 38 | 2 | |
| Tullaroan | Connollys | 39 | 13 | |
| Tullogher Rosbercon | Paddy Ryans Pub | 40 | 7 | |
| Windgap | Powers of Tullahought | 41 | 12 | |
| Young Irelands (Gowran) | The Ouncel – Dungarvan | 42 | 7 | |
| Kilkenny City | O Riadas, Parliament St | 43 | 4 | |
| Dublin | Na Fianna GAA Club | 44 | 14 | |
| | Kilmacud Crokes GAA Club | 45 | 20 | |
| Northen Ireland | Red Ned's, Ogle St, Armagh | 46 | 5 | |