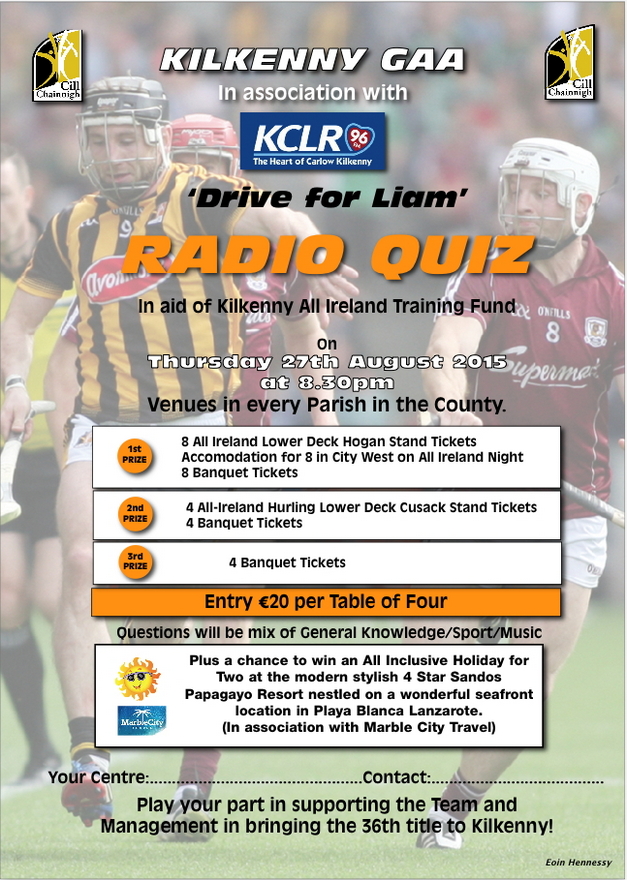 The committee has taken on board some recommendations from last years event and would like to emphasise the following:
Questions, especially in the early rounds, will be much simpler and we can assure all participants that they will feel very much engaged in the quiz this year. We are also adding a second audio round as they proved very popular last year.
We are also very conscious that the quiz dragged a bit in places last year, We have scheduled each round on 10 minute intervals – see below.
We believe this two initiatives will make the quiz more enjoyable to all concerned this year.
Programme
8.30 Radio programme commences
9.00 Round 1
9.10 Round 2
9.20 Round 3 (Audio round)
9.30 Round 4
9.40 Round 5
9.50 Break
10.00 Round 6
10.10 Round 7
10.20 Round 8 (Audio Round)
10.30 Round 9
10.40 Round 10
| | | |
| --- | --- | --- |
| Drive for Liam Quiz – Venues 2015 | | |
| | | |
| Ballyhale Shamrocks | Irish's of Knocktopher | 1 |
| Barrow Rangers | The Shamrock Inn | 2 |
| Bennettsbridge | O Donnells | 3 |
| Blacks & Whites | Blacks & Whites GAA Club House | 4 |
| Carrickshock | Irish's of Hugginstown | 5 |
| | Malzards of Stoneyford | 6 |
| Carrigeen | The Royal Oak Pub | 7 |
| Clara | Connollys of Dunbell | 8 |
| Cloneen/Railyard | Cloney Brennans Mooneenroe | 9 |
| Conahy Shamrocks | Conahy Shamrocks GAA Club | 10 |
| Danesfort | Sheridans of Ennisnag | 11 |
| Dicksboro | Dicksboro GAA Club | 12 |
| Dunnamaggin/Kilmoganny | Townsends | 13 |
| Emeralds (Urlingford) | Richard Hayes, Urlingford | 14 |
| | Delaneys Bar, Barna | 15 |
| Erins Own (Castlecomer) | Dillons | 16 |
| Fenians (Johnstown) | Paschal's Johnstown | 17 |
| | Ryans of Crosspatrick | 18 |
| Galmoy | Maguire's Bar | 19 |
| Glenmore | The Glen Bar | 20 |
| Graignamanagh | O Sheas | 21 |
| Graigue Ballycallan | Brennans Kilmanagh | 22 |
| James Stephens | James Stephens GAA Club | 23 |
| John Lockes (Callan) | John Locke Park | 24 |
| Kilmacow | Irish's Bar | 25 |
| Lisdowney | Mackeys of Gathabawn | 26 |
| Mooncoin | Mooncoin GAA Complex | 27 |
| Mullinavat | Rod Iron Pub | 28 |
| O Loughlin Gaels | O'Loughlin Gaels GAA Club | 29 |
| Piltown | Piltown GAA Complex | 30 |
| Rower Inistioge | Inistioge GAA Community Centre | 31 |
| Slieverue | Stapleton's Pub | 32 |
| St Lactains (Freshford) | Kavanaghs Freshford | 33 |
| St Martins/Muckalee | The Ranchers Return Coon | 34 |
| | The Cave Bar Corbettstown | 35 |
| St Patricks Ballyraggett | The Wheel Inn Ballyouskill | 36 |
| Thomastown | The Salmon Pool | 37 |
| Threecastles | The Rock Bar | 38 |
| Tullaroan | Connollys | 39 |
| Tullogher Rosbercon | Paddy Ryans Pub | 40 |
| Windgap | Powers of Tullahought | 41 |
| Young Irelands (Gowran) | The Ouncel – Dungarvan | 42 |
| Kilkenny City | O Riadas, Parliament St | 43 |
| Dublin | Na Fianna GAA Club | 44 |
| | Kilmacud Crokes GAA Club | 45 |
| Northen Ireland | Red Ned's, Ogle St, Armagh | 46 |