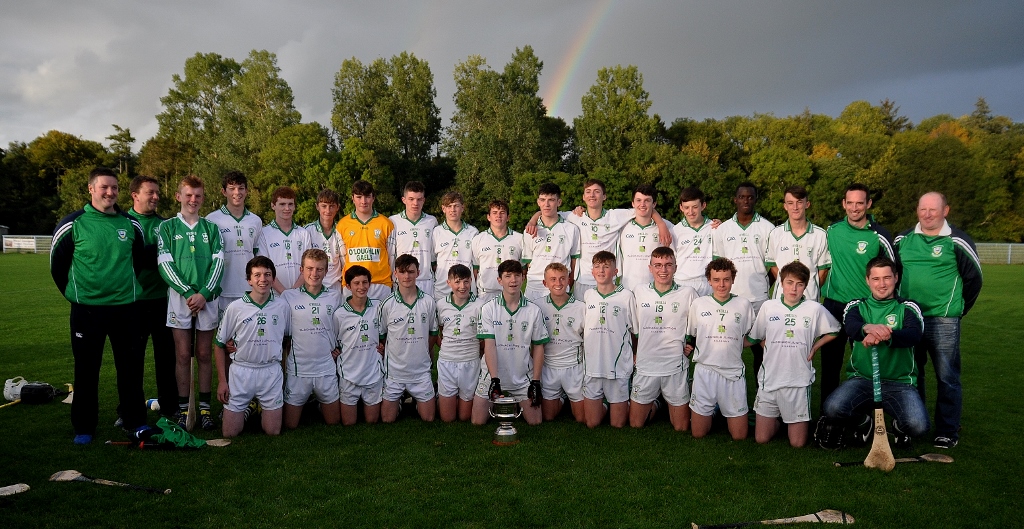 The O'Loughlin Gaels Team – Duggan Steel Under 16A Roinn A Hurling Champions 2015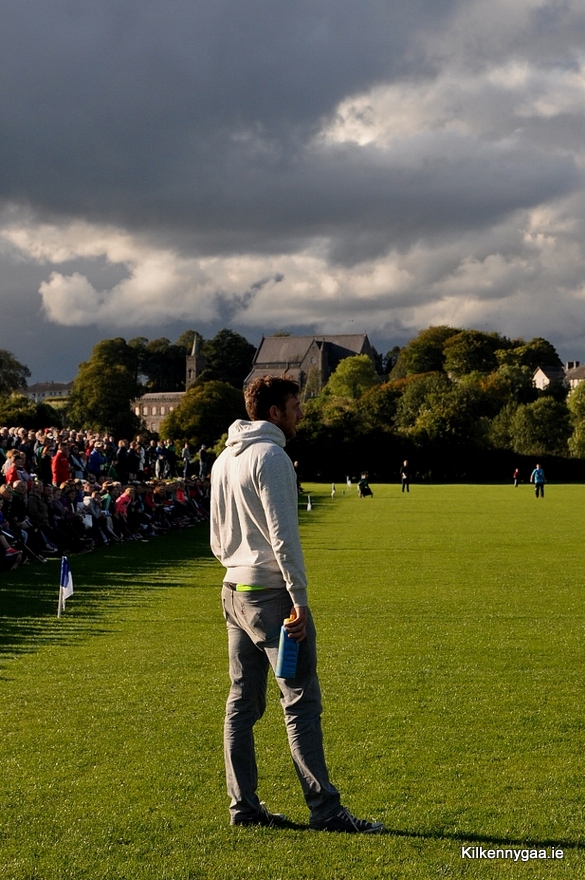 All Ireland Man of the Match Michael Fennelly encouraging the Ballyhale Under 16's in the Roinn A Final
O'Loughlin Gaels 1-21 Ballyhale Shamrocks 0-11
O'Loughlin Gaels completed a two in a row in the Duggan Steel U-16 Roinn Chamionship Roinn A Hurling Final played before a large attendance at Thomastown. Whilst the St Johns outfit were the warm favourites they didn't have it all their own way and were lucky to be ahead at half time as both sides some wonderful touches but they powered on in the second half with Captain Jordan Molloy leading the charge from full back whilst Eoin Wall was on fire scoring 1-5 from play & his partner in the other corner Ben Maher was just as effective contributing a tally of nine points to his sides cause.
The first half was a see saw bout with Adrian Mullen getting the shamrocks off to a flyer with a pointed which was soon followed by an Eoin Cody point. It took the eventual winners till the 10th minute to get on the score board with Sean Kenny grabbing a minor. Mullen & Eoin O'Shea swapped points. By the 21st minute Ballyhale held a two point lead after Martin Davis pointed. Ben Maher a free soon after. The Gaels were under pressure at this stage but the re-siting of Dacel Fwamba to centre forward proved vital and he duly pointed from his new surrounds. Ballyhale at this time missed 3 good goal chances at this time and drove a number of wides with only a Mullen free to show for their efforts. Adam Flynn matters soon after but the vital game change score arrived soon after Dean Mason had pulled off a top class save from Eoin Wall moments earlier but when the diminutive corner forward had a chance soon after he made no mistake hitting the ball to the roof of the net. Ballyhale did take the sting out of it with a Adham Masood point to leave it 0-6 to 1-5 at half time.

Flynn & Maher all pointed early on before Martin Davis grabbed his second of the afternoon. Further points by Eoin Wall & Maher (3) saw the St Johns outfit with Adrian Mullens converted free being the sole response. Wall & Maher again tagged on further points as they were now in a commanding position and in truth the game was over as contest by the 50th after Wall put O'Loughlins 1-16 to 0-10 ahead. To the victors go the spoils and despite Ballyhale showing some lovely hurling particularly in the first half they'll be the first to applaud and admire the sweet stick men of Loughlin Gaels.
Scorers: Ben Maher (0-9, 0-5 frees, 0-1 65), Eoin Wall (1-5), Sean Kenny & Adam Flynn(0-2 each), Ryan Pontz, Dacel Fwamba & Eoin O'Shea (0-1 each)
O'Loughlin Gaels: David McCormack, Luke Hogan, Jordan Molloy(Captain), Mikey Butler, Barry Lawlor, Conor Heary, Oisin Murphy, Ronan Buckley, Eoin O Shea, Ryan Poyntz, Adam Flynn, Sean Kenny, Eoin Wall, Dacel Fwamba, Ben Maher. Subs Eoin Neary, Ian Clifford, Joe Spudy Murphy, Robert Boyd & Jamie Ryan.
Ballyhale Shamrocks: Dean Mason, Conor Doyle, Patrick Hearne, Keelan O'Donoghue, Casey Corcoran, Evan Shefflin, Darragh Corcoran, Adham Masood, Jason Devereux, Martin Davis, Adrian Mullen, Eoin Kenneally, Ronan Hayes(captain), Stephen Barron, Eoin Cody. Sub: Eoin Walsh
Ref: Paul Cahill