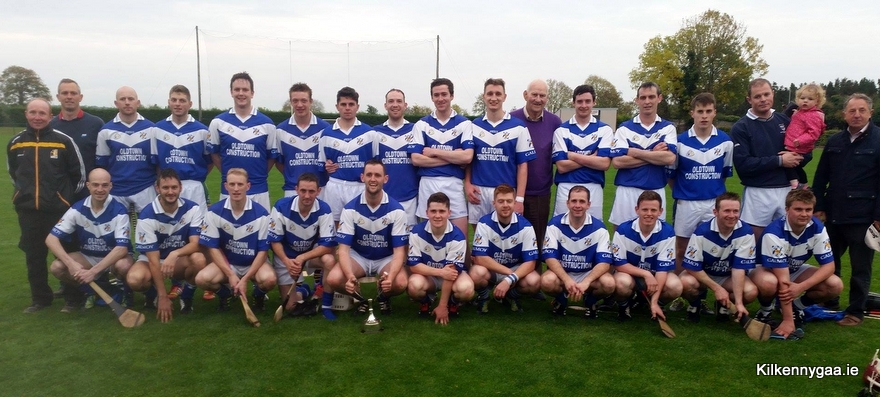 Galmoy – winners of the J J kavanagh and Sons Junior League 2015
J J Kavanagh & Sons Junior Hurling League Final 10-10-15
Galmoy 1-22 Blacks & Whites 0-21 (AET)
These two teams may have been out of the championship but that didn't stop them producing a cracking encounter in this Junior League final in Jenkinstown on Saturday.On ten occasions ,the teams were level, but a goal from a penalty by Phil Russell ,four minutes into extra time, proved to be the eventual game changer.The standard of hurling was top drawer from two teams who were disappointed with their respective championship performances.
Before the game started,Blacks & Whites manager Pat O Neill switched his corner backs,sending Joe Kelly on a mission to police Phil Russell who went on to have a good game.John Lennon drew first blood with a first minute point.Russell replied from a free.Jamie Byrne had a very profitable outing in the left corner for Blacks & Whites and he opened his account in the fifth minute,his first of five points from play.Tom Phelan (Bawn) ,operating in the forwards for the first time this year,made a bright start with two good points in the first quarter for Galmoy.Freetakers,Russell and young Patrick Nolan from Blacks & Whites exchanged a number of frees during that half,Russell hit four while Nolan hit six, with both showing 100% accuracy.
Brendan Phelan at full back for Galmoy had his best outing of the year fielding many high balls with assurance and long clearances throughout.At the other end, Peter (Chap) Cleere was a colossus at the heart of the Skeough defence as he cleared his lines time and time again off both sides.Galmoy goalkeeper Stephen Murphy also hit a mammoth free when Michael (Crow) Moloney had been penalised for picking the sliotar in the 17th minute. At the end of a tense first half Blacks & Whites lead 0-11 to 0-10.
For the second half, Galmoy brought Kevin Duggan back from corner forward to act as an extra half back and this move brought Duggan more into the game.Despite an early point from Jamie Byrne,Galmoy's Phil Russell levelled the sides for the sixth time ,0-12 each in the 36th minute.On two occasions during this half,Blacks & Whites managed to ease into a two point lead but Galmoy however, were able to gain parity each time.With four minutes remaining in the game,a Niall Kennedy point left the Blacks & Whites looking good 0-18 to 0-16.Galmoy then lost a player and it looked like it was curtains for them.
They never give up however and two late attacks yielded two more frees which Russell converted.The latter free was from all of 70 metres against the breeze.
And so we entered extra time with it all still to play for.
Tom Phelan Castletown was introduced to Galmoy's attack.Four minutes in and Phil Russell was grounded in the small square.Penalty! Russell gave John Murphy no chance with a screamer to the top left corner of the net.It was Galmoy's first time to lead in this encounter and it was the spur that Galmoy needed .With John Phelan and Nigel Stanley tearing into the game they drove on.Michael(Crow)Moloney put over one for Skeough and it was 1-18 to 0-19 at half time in extra time.
Niall Doherty had now gone to centre back for Galmoy and after playing very well up to this,he really dominated the final ten minutes as well as playing some exceptionally well placed ball to his forwards.Nigel Stanley scored a brace ,in addition to one each from Kevin Duggan and James Dunne.Blacks & Whites hit five wides in extra time and only had one scorer,Michael (Crow )Moloney, who finished really well with three points in that added period.Galmoy however, were in control and were intent on making amends for their championship exit as they added the League trophy to The Northern Championship Cup,both won against Blacks & Whites . Northern Board Chairman Donal Brennan, presented the trophy to Stephen Delaney.It was a pity that there was no match programme for either final.
Galmoy:Stephen Murphy(0-1),Paul Delaney,Brendan Phelan,Michael Murphy,Kieran Phelan,Jason Stanley,John Phelan,Donnacha Gray,Niall Doherty(0-1),Stephen Delaney(Capt.),Nigel Stanley(0-3),Tom Phelan(Bawn)(0-2),Kevin Duggan(0-1),James Dunne(0-2),Phil Russell(1-12,1-10frees).
Sub:Tom Phelan(Castletown) for Jason Stanley 60 mins.
Blacks & Whites:John Murphy,Joe Kelly,James Brennan,Padraig Joyce,Eddie Murphy,Peter(Chap)Cleere,John Lawlor,Paul Murphy,Martin Kelly,Patrick Nolan(0-9,0-8free),Aidan O Dowd,Niall Kennedy(0-1),John Lennon(0-2),Michael (Crow) Moloney(0-4),Jamie Byrne(0-5).
Subs: Charlie Ryan for Padraig Joyce 40 mins,Emmett Foley for John Lennon 48 mins and Michael (Mo) Moloney for Niall Kennedy 84 mins.
Referee: Eoin Hayes