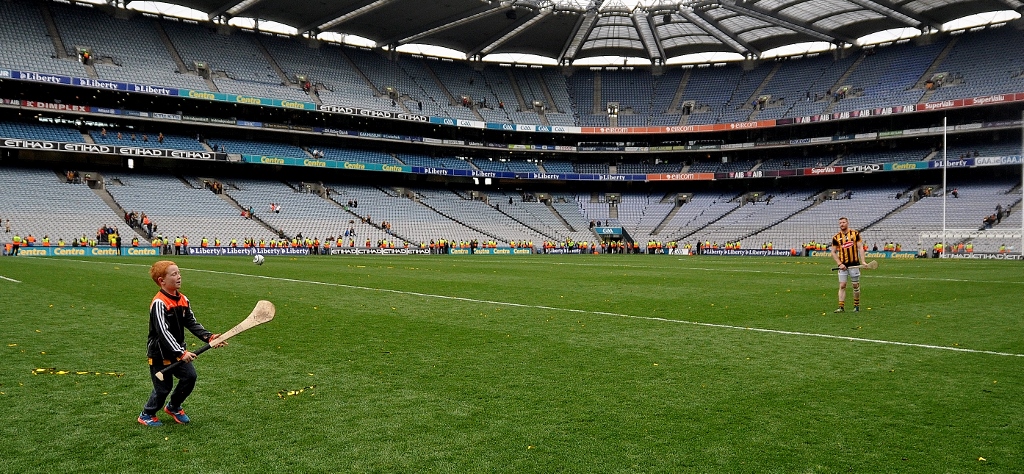 "Handing on the Mantle" – Richie pucks around with his son Rory following Kilkenny's win over Galway in the 2015 All Ireland Final
Retirement Announcement – Richie Power
"Following the most recent surgery to my knee I must sadly today announce my retirement from inter county hurling. Disappointing though this decision is I realise and appreciate the opportunity that I had to play alongside some of the greatest players ever to play the game of hurling and to be part of one of the greatest teams of all time all time managed by the greatest manager of all time Brian Cody.
I know also how fortunate I am to be able to look back on so many career highlights including the winning of 2 Colleges, 2 Minor, 2 u21 and 8 senior All Ireland medals as well as being chosen on the All Stars teams in 2010 and 2011. I am deeply grateful to all who helped me during my inter county career especially Brian, Michael Dempsey our fitness coach, Dr Tadgh Crowley and all the support team in Nowlan Park.
I extend a very special thank you to my Mum Ann and Dad Richie Snr for their support and encouragement at all times. It was very special for me to emulate Dad as a minor, u21 and senior All Ireland medal winner. I want to acknowledge and thank the teachers who coached me in Stoneyford National School and in Saint Kieran's College and all who helped me in my club Carrickshock. Finally I want to say a special word of thanks to Kilkenny Co Board, Kilkenny Supporters club and to all Kilkenny supporters who have been so good to me throughout my career.
It has been a truly wonderful journey and while I wouldn't choose for it to end like this I will forever cherish the memories of my time wearing the Black & Amber and I wish continued success to all who play for Kilkenny in the year and the years ahead.
Richie Power
Tuesday 19th Jan 2016
Statement from Kilkenny County Board
Kilkenny County Board expresses its thanks to Richie Power who has been forced to prematurely retire from inter county hurling due to an ongoing knee injury. Supremely talented, Richie has been one of our outstanding forwards over the past ten years and was on the winning team in 8 of the 9 senior All Ireland finals that he played in. He also won 2 Minor and 2 u21 All Ireland medals along with 9 Leinster & 6 National League awards and was chosen on the All Star teams of 2010 & 2011. By winning All Ireland Medals at Minor, u21 & Senior levels he emulated the achievements of his father Richie Snr making them one of the few father and son combinations to have won All Ireland Medals in all 3 grades. We wish Richie well for the future and hope to see him continue his involvement in the game at some other level in the years ahead.