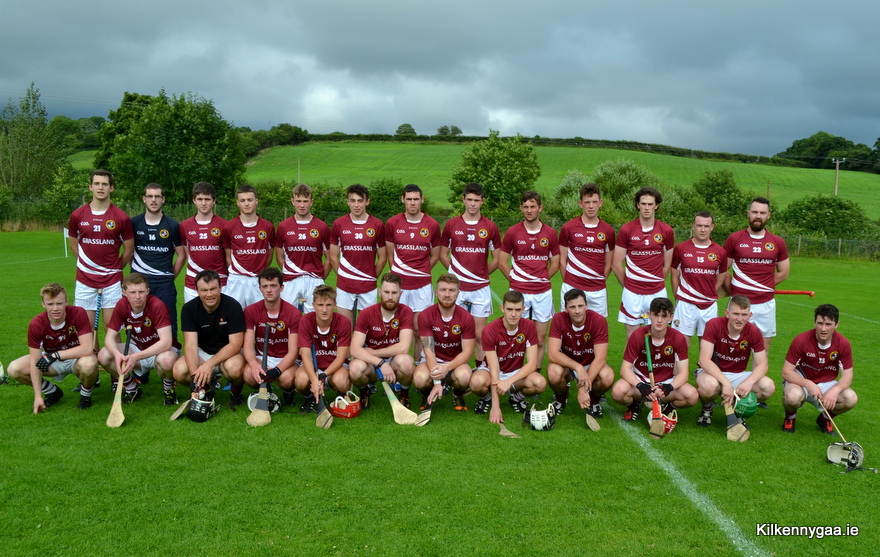 Dicksboro – Winners of the J J Kavanagh and Sons Cahill Cup 2016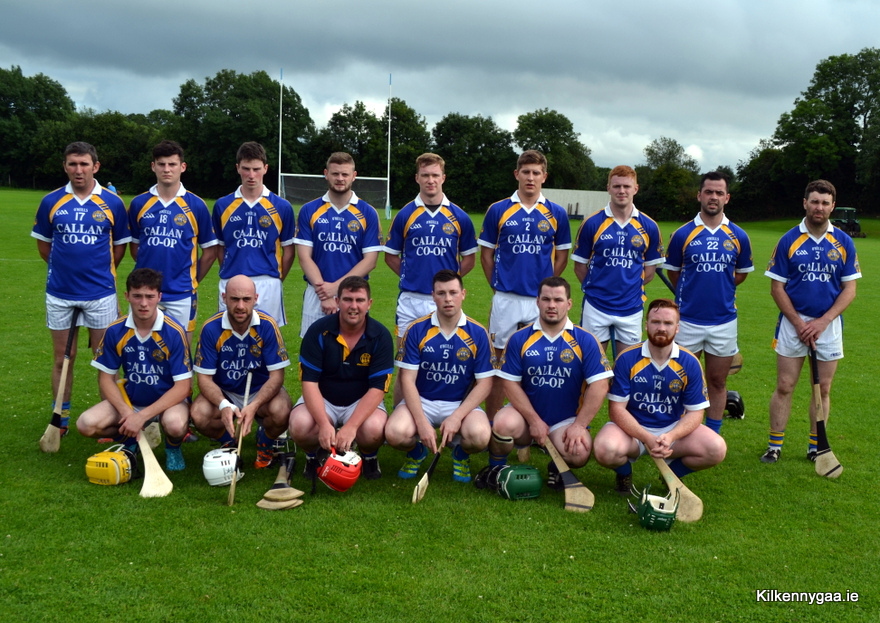 John Lockes – Finalists J J Kavanagh and Sons Cahill Cup 2016
DICKSBORO JUNIORS RETAIN PADDY CAHILL CUP
The Dicksboro junior team retained the Paddy Cahill Cup tonight (Sunday 17th July 2016) in Kilmanagh with a well earned victory against a John Lockes team that never gave up. The final score of 1-20 to 0-19 reflected the close nature of the contest.
There were tremendous performances all over the field for the Palmerstown Pumas but especially from Tomás Kenny up front who scored four points from play and from Mikey Hayes and Philly Hogan in defence.
This was a team effort and team captain, Jessie Waters played his part pitching in with a point from wing back. Goals win matches and it was a late first half strike from substitute Chris Kavanagh that found the back of the net after a kicked pass from marked man Bill Sheehan that left the half-time score 1-0 to 0-9 in favour of the 'Boro.
The 'Boro were behind for the first two minutes of the game and by the 11th minute they led and never relinquished that lead.
Cillian Breathnach was superb in goals and his puck outs were immense. The full back line were first to the ball and marshalled Callan's best line with aplomb. The half back line were a driving force behind this win and never gave up. The 'Boro won the midfield battle and upfront everyone played well and Enda O'Donoghue was having a great game before going over on his ankle before halftime. Every time Bill Sheehan got the ball he was fouled and referee Conor Everard, who had an excellent game, dished out three yellow cards for fouls on Sheehan. Michael Rafter took over the free taking in the second half and was impeccable.
Team: C Breathnach, A Phelan, M Hayes, J Gittens, J Waters, D. Kenny, E Malone, P Hogan, K Nolan, E Carroll, T Kenny, E Fennelly, E O'Donoghue, B Sheehan, M Rafter. Sub: C Kavanagh for E O'Donoghue (inj).
Scorers: M Rafter 0-6, T Kenny 0-4, C Kavanagh 1-0, E O'Donoghue 0-2, E Malone 0-2, E Fennelly 0-2, E Carroll 0-1, J Waters 0-1, P Hogan 0-1, K Nolan 0-1.
The pitch was in magnificent condition and everyone was treated well by the host club, Graigue-Ballycallan. Mick Byrne would have been proud.