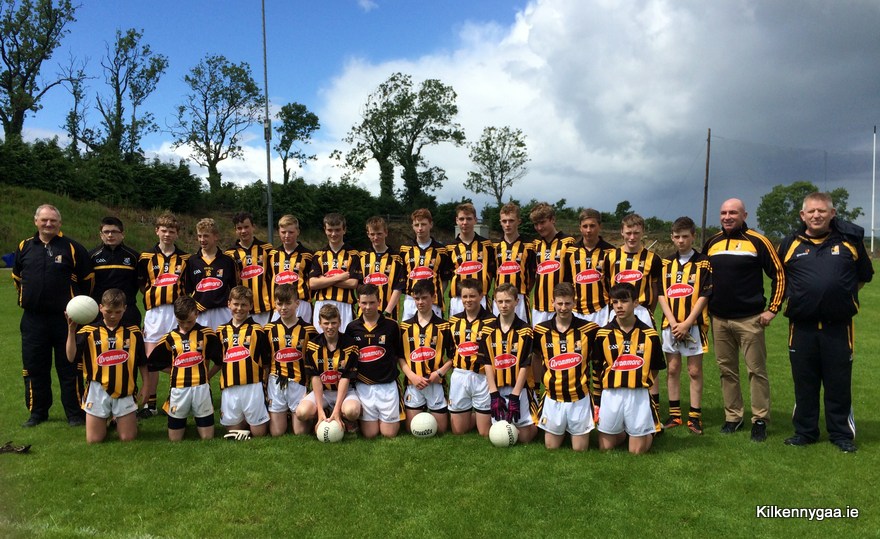 Kilkenny Under-14 football team with Management team of DJ Carey (Manager), Seamus Norris, Murt Flynn, Thomas Rossiter (Brian Ryan Missing from Photo)
Kilkenny played two Longford teams of equal ability at the Longford Slashers grounds in the cross-provincial blitz. Kilkenny started very well in first game and only trailed by a point at half time 1-6 to 3-1. Kilkenny lost the way a little in the second half and Longford won by 4-13 to 2-8. However, Kilkenny had nine different scorers of the ten scores.
Confidence was gained for the second game and Kilkenny went into it against a strong wind determined and a rush of goals helped Kilkenny lead 4-5 to 2-8. In the second period, the Kilkenny team was really settling, gelling together and playing some lovely football as a team, Carrying the ball when necessary and playing direct ball if required. Kilkenny were well on top defensively and worked tirelessly. They dominated the second period and coasted to a 6-13 to 2-10 victory to show progress can be made in a short period of time. Twelve clubs were represented on the squad and in the end eleven different players got on the scoresheet.
Squad; Jack Conway (Mooncoin), Aidan Walsh (Piltown), Cian Freaney (St. Lachtains), Conor Walsh (Mullinavat), Daryl Maye (Piltown), David Holland (Young Irelands), David Maher (Mullinavat), Eoin Crowley (Carrickshock), Fergal Suffin (Kilmacow), Francis Moore (Piltown), Ger Prentice (Thomastown), Harry Murphy (Bennetsbridge), Ian Kelly (Young Irelands), Jack Skehan (Thomastown), John McNamara (O'Loughlin Gaels), Liam Moore (Dicksboro), Liam Treacy (Thomastown), Luke Byrne Doyle (Mullinavat), Oísin Carroll (Carrickshock), Oísin Hennerbry (Mooncoin), Peter Connellan (Thomastown), Sean O'Neill (Piltown), Thomas Lawlor (St. Martins), Vincent O'Grady (O'Loughlin Gaels)