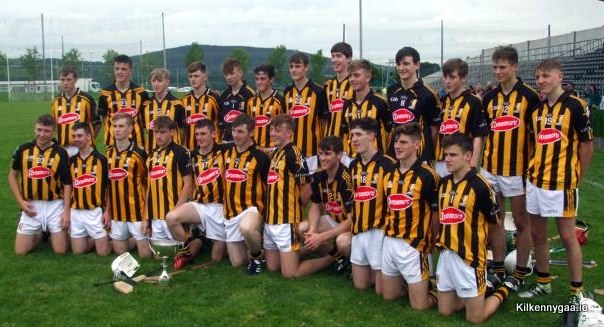 Kilkenny Under 17's – Winners Eugene Carey Tournament 2016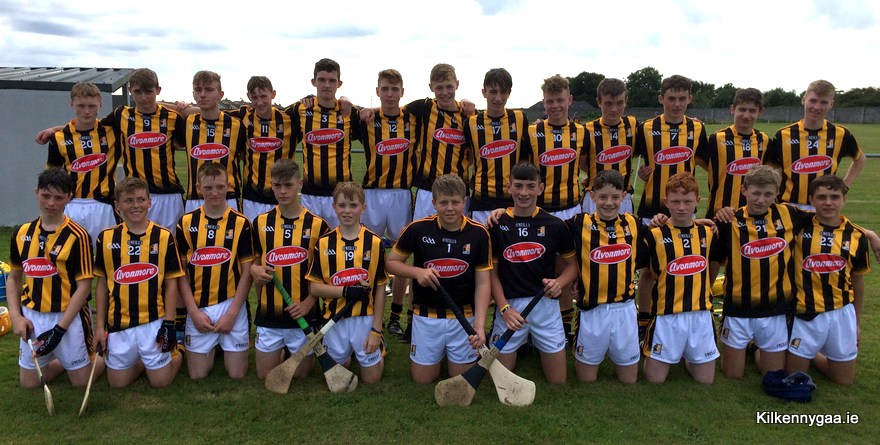 Kilkenny Under 14A Team who competed in Tony Forristal Tournament in Waterford
Kilkenny got the build up to the All-Ireland weekend off to the perfect start when they competed very well at all the inter county under age competitions at the weekend to show that the production line is still very much working.
Pride of place from the weekend must go to the Kilkenny U-17's who defeated Cork in an epic final by a point in what was the first time Kilkenny won this prestigious competition. After years of heart break Kilkenny showed huge determination to get the job done and despite a huge amount of injury time they got it across the line where an early burst of 5 points proved to be the tonic they needed. In the dying embers of the game Cork did lead by a point but Kilkenny were not to be denied and scored the last two points. This was a great achievement as Kilkenny used none of their eligible county minors for this competition.
In Wexford, Kilkenny defeated Dublin in the Michael Foley U-15 final by 5-6 to 0-7 where Dan Coogan's early double blast of goals set the tone. Just after half time Eoin Guilfoyles goal settled the matter to leave St Patrick's Jack Morrissey to lift the cup for the first team to do two in a row in this event.
Injury deprived the county U-16 A's of some of their star turns and they lost out to Cork in the semi-final 1-6 to 0-11. Cork went onto to win the final comfortably. The U-16 B's also lost early in the day as the injuries had a knock on effect on their preparations with the promotions of some of their star players to the A squad.
Again the U-14's were mightily competitive in the Tony Forristal and after an epic encounter against Tipp they had ran out of steam by the time Cork had met them in the semi final whilst U-14 B's also did well in the Sonny Walsh