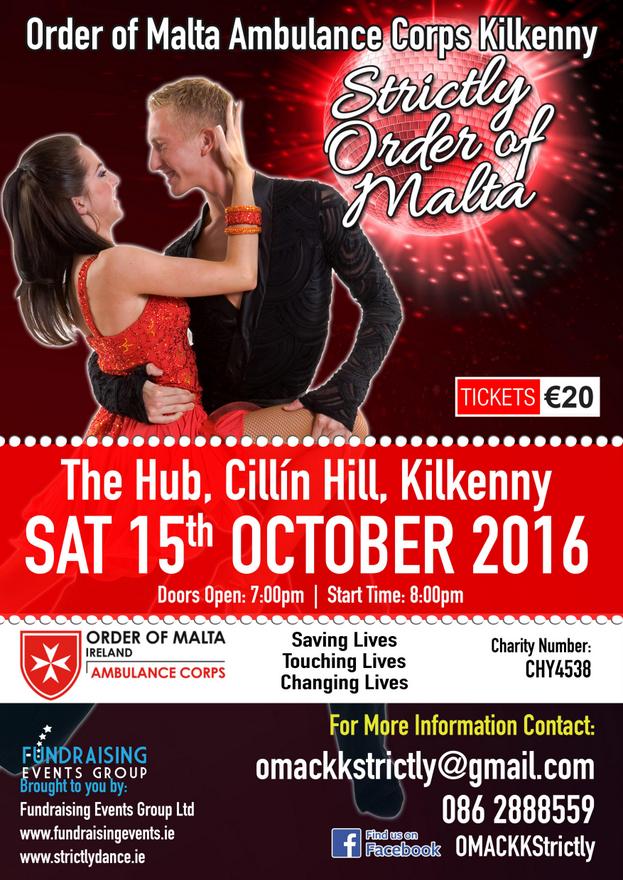 Strictly Come Dancing
October 15th 2016
The Hub, Cillin Hill, Kilkenny
In aid of the Kilkenny Unit of the Order of Malta Ambulance Corps
DANCER INFORMATION
Thank you so much for your interest in dancing for the Order of Malta in Cillin Hill on October 15th. Here are the details:
You will receive:
12 sessions of dance tuition from a professional choreographer. This will take place from the beginning of September, and will be either 2 short sessions or 1 double session per week.
Your individual couples dance will be choreographed to your taste and ability. No one will be made to perform a dance they are not comfortable with.
A group dance routine, performed at the start of the show,
A professional photo shoot and your picture displayed on your own poster displayed all over town!
The chance to learn a new skill, make new friends and enjoy a unique bonding experience.
Hair and make up done on the night.
A DVD of your performance and biography plus links to YouTube clips of same.
The chance to perform on stage in front of a large audience – this is either a good thing or a bad thing depending on how you look at it!
Please Note:
All dancers must raise an entrance fee of €500. This can be from corporate sponsorship, individual sponsorship, or a combination of both!
The more money you raise, the more chances you have to win! Any money raised over €500 will be converted into bought votes on the night. The number of votes you have is multiplied by the judges score that you receive on the night.
Please contact Rebecca on 0862888559 or omackkstrictly@gmail.com