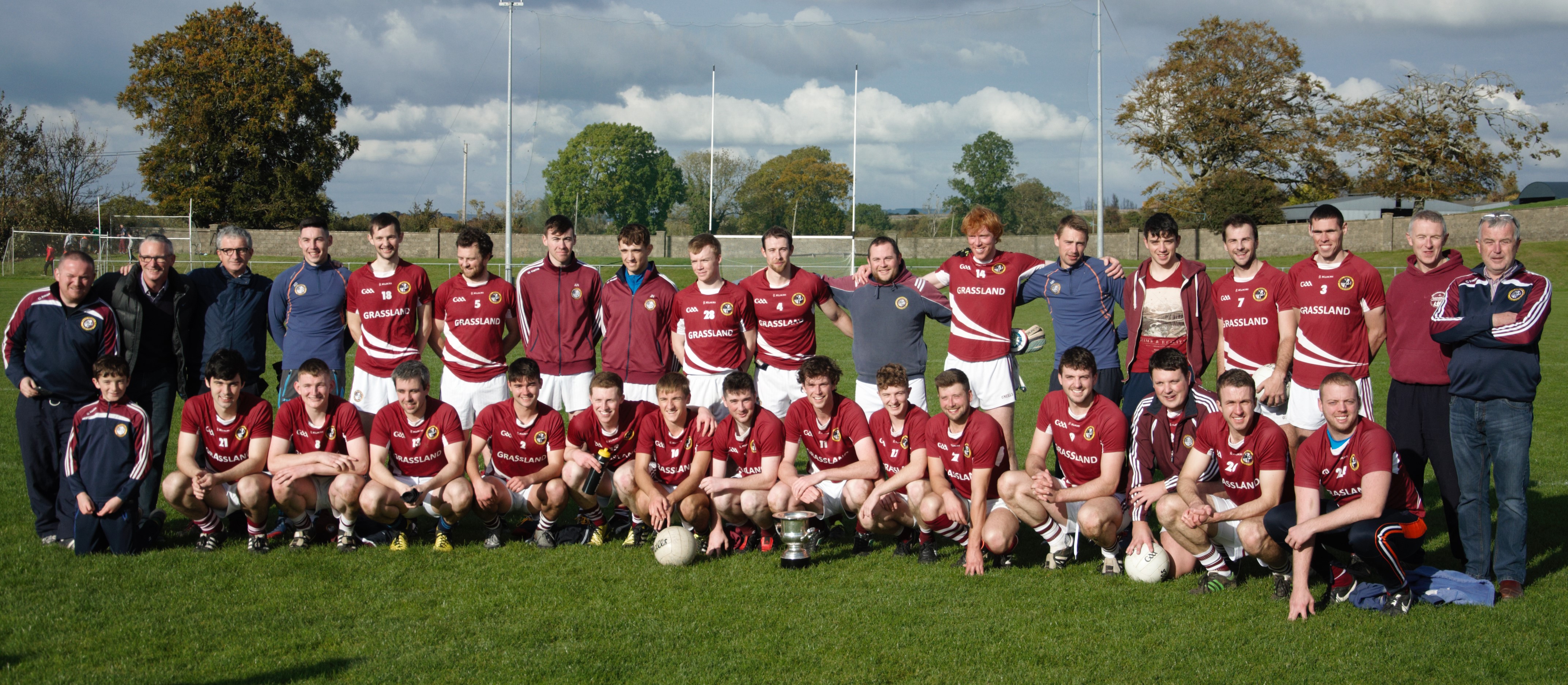 Dicksboro – J J Kavanagh & Sons Intermediate Champions 2016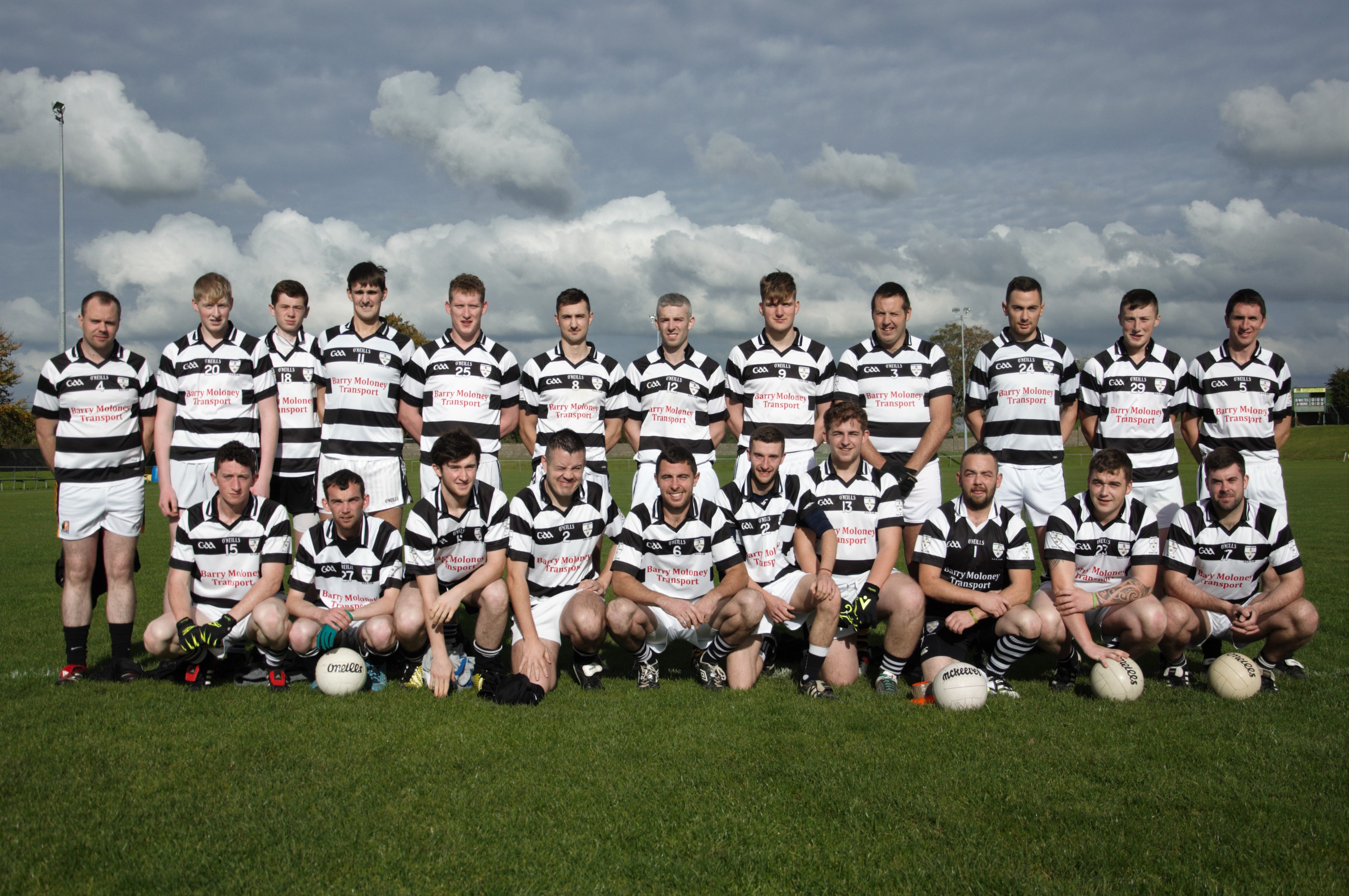 Blacks and Whites – J J Kavanagh & Sons Intermediate Football Finalists 2016
Dicksboro – County Intermediate football Champions 2016
While the sporting world was paying homage to Anthony Axel Foley in Thomond Park, Limerick on Saturday, the Dicksboro footballers paid their own tribute to the fallen hero when they dedicated their win in the intermediate county final to Axel, his wife Olive and his two boys, Tony and Dan.
A group of die-hard 'Boro supporters were in Bennettsbridge for the match and they were not disappointed by what they saw.
Facing Blacks & Whites, who drew with the 'Boro earlier in the year during the League, the Palmerstown Pumas got off to the perfect start with two well taken goals and were eight points up before Blacks and Whites had their first score. Skeoughvosteen got back into in the game in the 17th minute with a goal against the run of play. The 'Boro responded well and by half time were six points clear, 2-4 to 1-1.
Blacks and Whites had the aid of a slight breeze in the second half but never threatened and it was the 'Boro who were first to score. They ran out comfortable winners in the end 3-8 to 1-3.
Every player showed great heart and character and while many turn their noses up at Gaelic football, this group of players did their club proud and had a great time doing it and are ready to go back up senior next year.
D.D. Molloy in goals is the rock on which the team is built, while our full back line of Conor Doheny, Kevin Nolan and Eoin McCormick were stingy, denying their men any posession. Equally so the half back line of Eddie O'Donoghue, Philly Hogan and the ciotóg Cillian Starr. Midfield were powerful – Eoin Fennelly and Martin Gaffney did trojan work.
The forwards were always ahead of their men with the half forward line leading the attack with some dazzling footwork – Bill Sheehan could turn on a euro coin while team captain Mikey Hayes and Enda O'Donoghue worked tirelessly. The full forward line has been our real weapon this year and the three lads, Edward Moylan, Mick McAdden and Paul O'Flynn scored 2-6 of our total.
We won't mention the 18 wides or who contributed seven of them.
Aaron Duggan who was centre back all year, was injured and couldn't play although he did help with the celebrations afterwards. Robbie Murphy came on for Enda O'Donogue and got a great point while the Prince of full backs, Kevin Nolan got a cut on the temple (from one of his own players) and had to go off. William (three goals) Cuddihy came on in his place and played really well. Darragh Holohan replaced Paul O'Flynn and scored a goal with his first touch to put the game out of reach of Blacks and Whites. Shane O'Brien came on for Conor Dohney and was fantastic up and down the right wing.
The management did a great job and it is great to see men like Niall Morrissey, Frank Morrissey, Liam Scott and Mick Byrne commit to the fray. Declan Lacey was a fantastic addition as logistics manager and Johhny Keane was the ever dependable water carrier.
Club secretary, Ed Nolan, an unsung hero of this club, did the tweets and the match statistics.
Scorers: Mick McAdden 1-2, Edward Moylan 0-4, Darragh Holohan 1-0, Paul O'Flynn 1-0, Bill Sheehan 0-1 and Robbie Murphy 0-1.