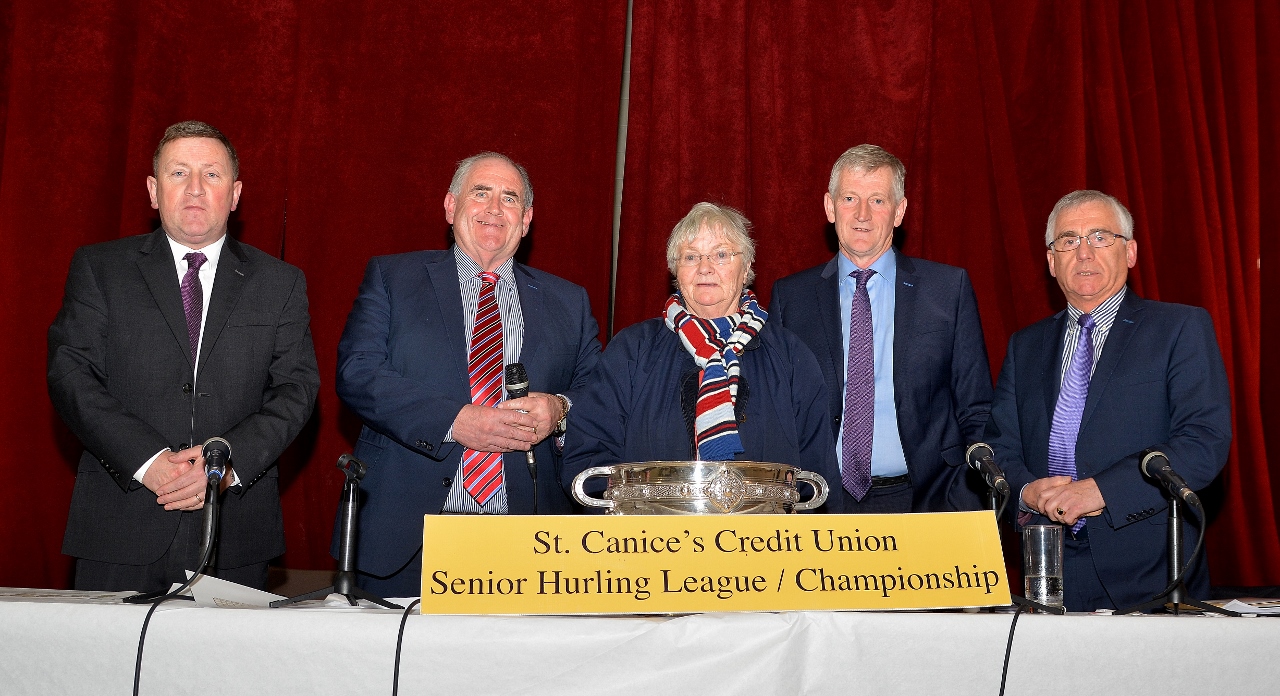 Pictured at the draw for St Canices Credit Union Senior Hurling League 2017 L to R: Conor Denieffe(Vice Chairperson), Ned Quinn (Chairperson), Teasie Brennan (St Canices Kilkenny Credit Union), Jimmy Walsh (Secretary) & Barry Hickey (Treasurer)
St Canices Credit Union Senior Hurling League 2017
Group A
O'Loughlin Gaels v St Martins
Carrickshock v Rower Inistioge
Erins Own v Mullinavat
Group B
Clara v Danesfort
Bennettsbridge v James Stephens
Dicksboro v Ballyhale Shamrocks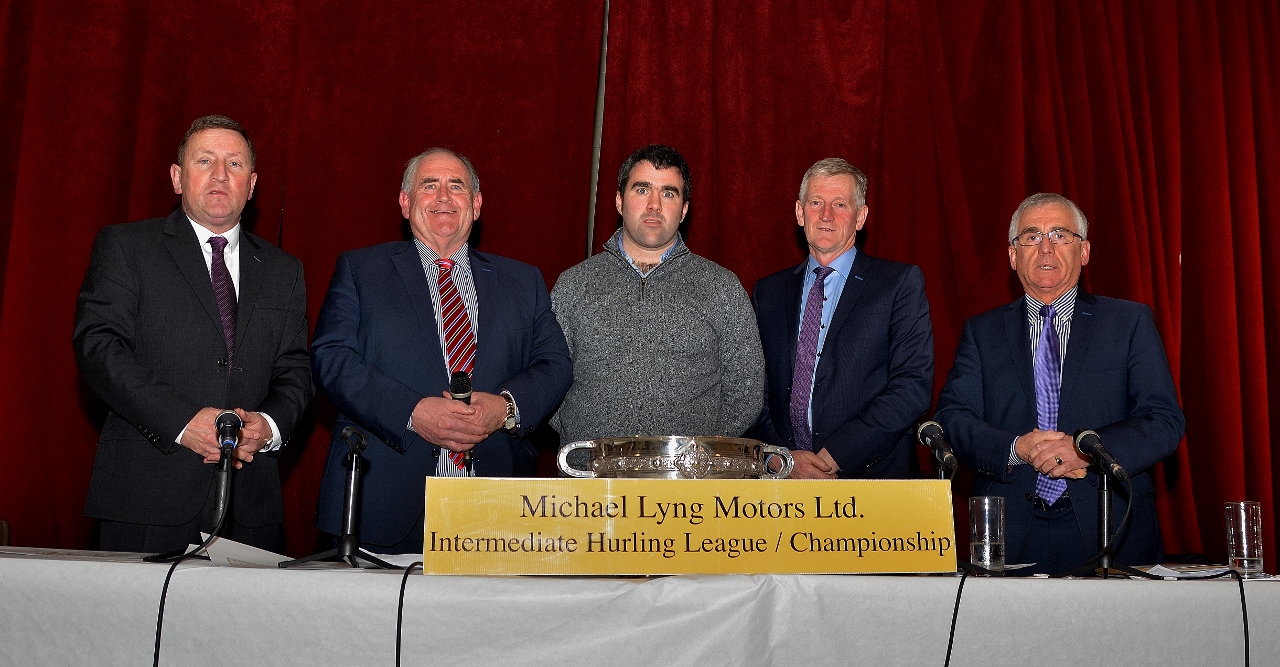 Pictured at the draw for Michael Lyng Motors Intermediate Hurling League 2017 L to R: Conor Denieffe(Vice Chairperson), Ned Quinn (Chairperson), Conor Lyng (Michael Lyng Motors Ltd), Jimmy Walsh (Secretary) & Barry Hickey (Treasurer)
Michael Lyng Motors Intermediate Hurling League 2017
Group A
Dunnamaggin v Glenmore
Graigue Ballycallan v Fenians
Tullaroan v Tullogher Rosbercon
Group B
St Patricks v St Lachtains
Thomastown v Mooncoin
Young Irelands v Lisdowney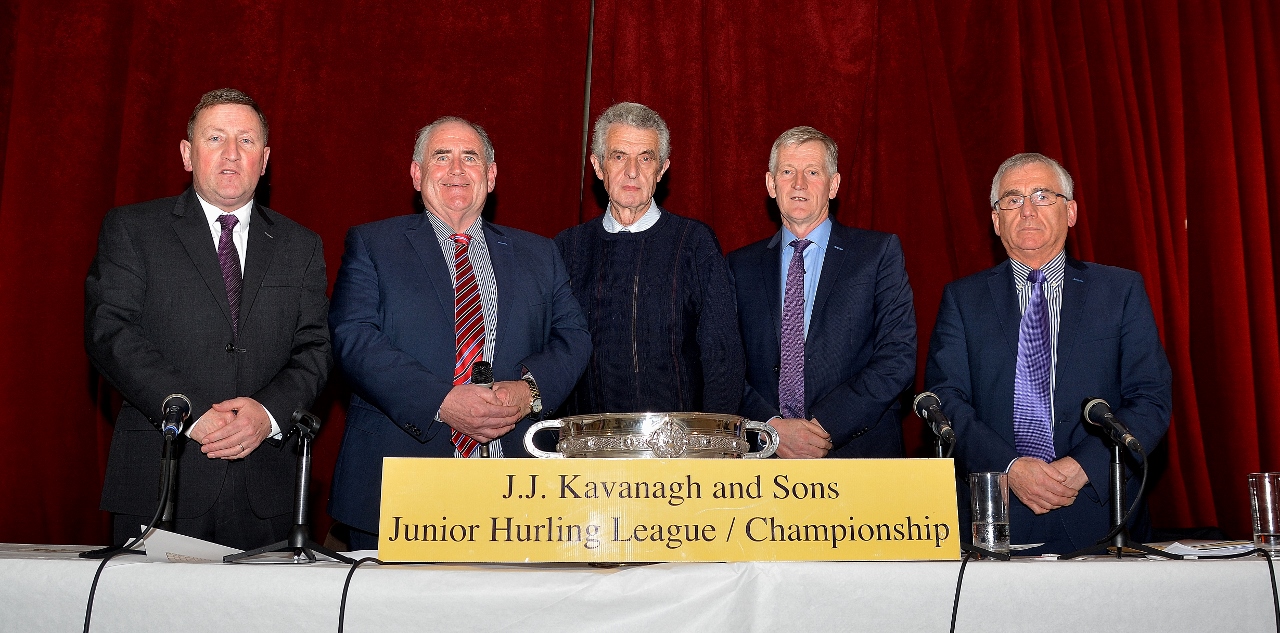 Pictured at the draw for J J Kavanagh & Sons Junior Hurling League 2017 L to R: Conor Denieffe(Vice Chairperson), Ned Quinn (Chairperson), Ned Buggy (Secretary Northern Board), Jimmy Walsh (Secretary) & Barry Hickey (Treasurer)
J J Kavanagh & Sons Junior Hurling League 2017
Section A – Group A
Barrow Rangers v Windgap
Conahy Shamrocks v Piltown
Kilmacow v Emeralds
Section A – Group B
Slieverue v Blacks & Whites
John Lockes v Graignamanagh
Galmoy v Cloneen
Section B
Clara v Tullaroan
James Stephens v Dicksboro
O'Loughlin Gaels v Ballyhale Shamrocks
Rower Inistioge v Erins Own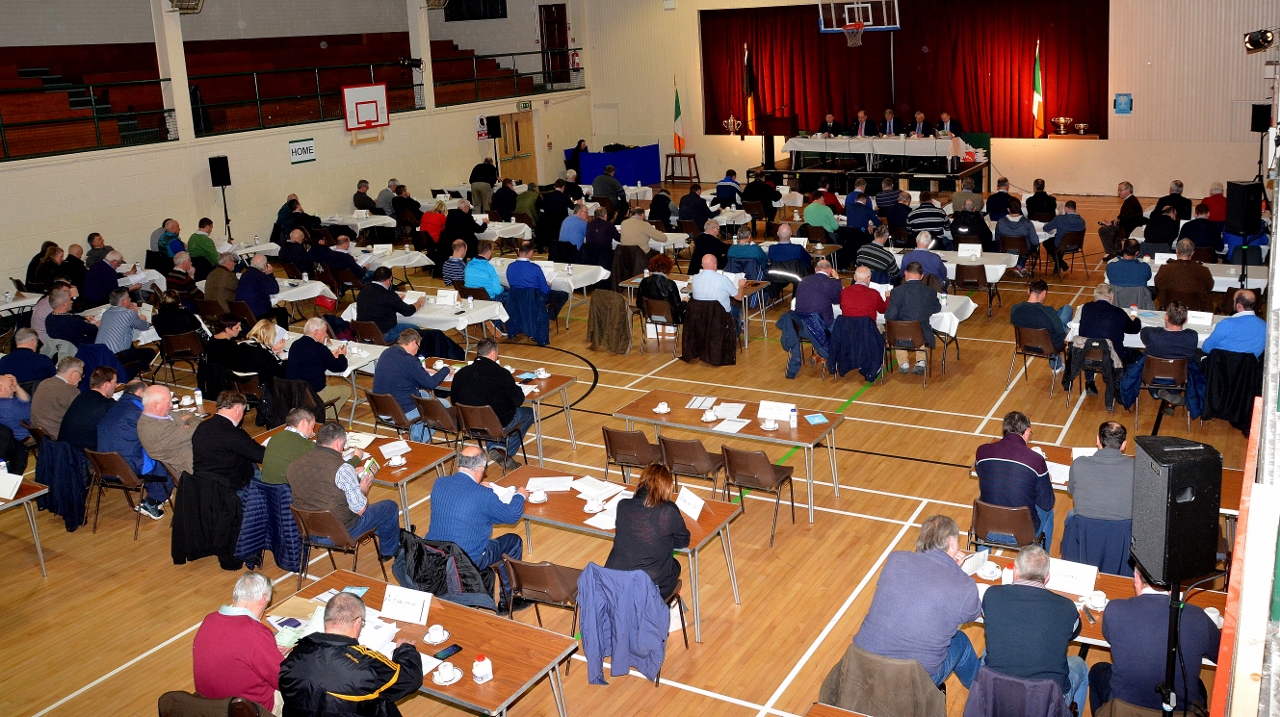 Click HERE for Secretary's Report
Treasurer Barry Hickey gave a detailed report on the county finances in a comprehensive 34 page report. The main highlights were:
Surplus of 180,000 – down 83,000 on previous year. The reason for reduction was due mainly to the fact that some county final gates from 2014 were incuded in 2015 figures thereby inflating the surplus that year.

The Boards borrowing currently stands at just over 307,000 and, with annual repayments of 120,000, will be cleared in three years.
769,000 was spent on Nowlan Park development and 9,500 on MW Hire Training Centre during the year. The developments were funded without recourse to borrowing using reserves and grants.
5 Year review shows net asset increase from 9.2 million in 2012 to 12.5 million in 2016
Officers Elected for 2017
Chairperson: Ned Quinn
Vice-Chairperson: Conor Denieffe
Secretary: Jimmy Walsh
Treasurer: Barry Hickey
Development Officer: Vala Malone
PRO: Seamus Reade
Coaching Officer: Pat Tynan
Oifigeach Gaelige: Paul Fitzgerald
Central Council Rep: Paul Kinsella
Leinster Council Reps: Jim Fennelly & P J Kenny
Delegates to Leinster Convention: Barry Hickey & Pat Henderson
Delegates to Congress: Conor Denieffe & Barry Hickey
Motions:
Rúin 1:
That Rule 6.17 as per GAA Official Guide 2016 be amended to read:
To be eligible for the Grades listed hereunder, a player shall meet the respective stated age criteria:
Adult: Club Be over 16 years
U-21: Club Be under 21 and over 15 years
This motion, proposed by Young Irelands, was carried unanimously.
Rúin 2:
That a modern, time saving, cost effective Membership management and Communications System be provided for club and county officers.
The motion, proposed by Windgap Club, was carried unanimously.
Recommendations:
Bye-Law Section 1.2: Re Composition of County Board
" That Bord na nÓg be allowed the same representation on County Board as Football Board, Northern Board and Southern Board, i.e. Chairperson and Secretary to hold positions with voting rights".
The recommendation, proposed by Bord na nÓg, was carried unanimously.
Convention 2016 – Chairman's Address (Ned Quinn)
A dhaoine uaisle, is mór an onoir domsa mar Cathaoirleach Choiste Chontae Chill Chainnigh bheith I lathair anseo anocht. Ba mhaith liom failte is fiche a chur roimh gach einne go dthi an Comhdail bliantuil seo. Iaraim oraibh tamall a thabhairt dom mo thuairimi a chur os bhur gcomhair.
As Chairman of Kilkenny GAA County Board I'm delighted to welcome all delegates to our annual Convention here in O'Loughlin Gaels GAA Club in this the 132nd year since foundation of our Association. Tonight we reflect on another year of activity across all levels and we also look ahead to the future and the obligations and the demands it will put on us.
2016 will not be remembered as being amongst our most successful years on the playing field. Credit is due to our Intermediate team on their success in capturing the All Ireland title in that grade and to our senior team who retained their Leinster title before qualifying for a fifteenth All Ireland final appearance during the past eighteen years. On the flip side the early exit of our minor and u twenty one teams from their respective championships was a major disappointment and the lesson to be learned from these defeats is that we must adapt and change our approach to preparing both these teams if we are to successful compete at these levels in the future.
Off the field further extensive redevelopment work was carried out in Nowlan Park by way of upgrading facilities for spectators at the Terrace end and extending and refurbishing our County Board Office Building together with other ancillary work. The overall cost of the work involved was in excess of three quarters of a million euro and it is pleasing to report that it was financed without recourse to borrowing.
Setting out on their championship campaign this year it was the ambition of our senior hurling team to complete the three in a row and in the process add a ninth All Ireland title to the record eight successes achieved in the previous ten year period. Victories over Dublin and Galway saw them retain their Provincial title and so progress to the All-Ireland semi-final in which League finalists Waterford were our opponents. It took two games to decide the outcome of this one. In the first game our team had to call on all their experience to come from behind and earn a second chance. The replay in Thurles was an enthralling affair that seemed to drain the supporters of both teams almost as much as it did the players. When the final whistle went we were two points to the good and on our way to Croke Park for yet another All Ireland Final appearance. Hard though they tried our team couldn't replicate their semi-final form in the final against a Tipperary team who produced an outstanding display on the day to record a well merited victory. Although disappointed Kilkenny followers turned out in huge numbers to welcome the team home the following evening reflecting the level of appreciation that exists amongst our supporters for all that our players and team management have achieved. Such a reception will no doubt serve to inspire them as they attempt to recapture All Ireland honours again next year. On your behalf I extend thanks to both players and team management and look forward to their renewed efforts in the year ahead.
Four of our players were subsequently chosen on this year's All Stars team and I extend congratulations to Eoin Murphy, Padraig Walsh, Walter Walsh and Richie Hogan on their selection. Congratulations also to John Joe Farrell who was the recipient of the Pearse medal having been chosen as the outstanding player in this year's Leinster Hurling championship.
Tonight also I want to pay tribute to four players who collectively are the holders of 33 All Ireland senior medals who will not be lining out for our county in the year ahead. In January Richie Power was forced through injury to call time on his inter county career during which he had won all the games honours. Richie won two minor All Ireland medals, the second as team captain and was also a member of two All-Ireland u21 winning teams before going on to win 8 senior All Ireland medals. In addition he was twice chosen on All Stars teams. This year also his fellow Carrickshock clubman Michael Rice whose career was badly affected by injury departed the intercounty scene. Michael was an outstanding underage player and having captained us to All-Ireland minor success went on to play on two u21 All Ireland winning teams and was part of eight senior successes and was also honoured on two occasions by the All Stars selectors. Given the resolve and commitment that Michael showed when fighting back from so many career threatening injuries one is left to wonder just how much more he might have achieved but for these setbacks. Jackie Tyrell one of the greatest defenders ever to represent our county also announced his inter county retirement. Jackie enjoyed an honours laden career at both Club and County level. As a fourteen year old he was an All-Ireland Feile na Gael medal winner with his club James Stephens with whom he went on to win County Championship , Leinster and All Ireland Senior Club medals. With Kilkenny he won virtually every honour in the game including 9 All Ireland, one as captain, 11Leinster and 6 National League medals and he was selected on the All Star team on four occasions. Just recently his fellow James Stephens clubman Eoin Larkin decided to end his time lining out with our county. Eoin too enjoyed an honours laden career at club and county level winning county, Leinster and All Ireland club medals with the Village and winning 8 senior, one as captain, and 6 national league medals with Kilkenny and was twice honoured by the All Star selectors. I am sure that all Kilkenny followers will join with me in expressing thanks to Richie, Michael, Jackie and Eoin for their contributions to the many successes achieved during their time wearing the Black and Amber.
Benefiting from a change of rule that allowed us to select players from our senior clubs our Intermediate team regained the Leinster title when overcoming a strong Wexford team in Wexford Park before producing a goal fest in Thurles to defeat a highly fancied Clare team in the All-Ireland Final. Congratulations to captain Nicky Cleere and to each of the players involved and to team manager Pat O Grady and his management team on their victory. Is it a coincidence that following our victory Central Council has decided that only players from junior and intermediate clubs will be eligible to play in this championship next year?
As I've already indicated results at both minor and u21 levels were disappointing. Matching and indeed exceeding the level of preparation now being undertaken by opposing teams in these competitions is a requirement if we wish to return to winning ways and the cooperation of all regarding the level of preparation required will be necessary if we are achieve the success we desire at these levels. I extend thanks to the players and team managements of both teams for their efforts and I look forward to better outcomes in both grades in the year ahead.
The substantial list of achievements by clubs from our county in the Intermediate and Junior All Ireland club championships continued this year and I extend heartiest congratulations to Bennetsbridge and Glenmore on their All Ireland successes.
Our junior football team again participated in the British junior championship this year and while preparations went well they were unable to match the achievements of last year. I wish to place on record my thanks to each of the players involved for the commitment shown and to team manger Christy Walsh and his management team for their efforts on our behalf. I extend thanks also to the officials of the Football Board and in particular to Chairman Tom O Reilly for their work in looking after the logistics involved in competing in this championship. The format of this championship has been changed for 2017 and we are asking clubs for their full cooperation to ensure that we can again both fulfil our obligations and compete successfully in it.
Following the heavy defeat of our minor footballers this year , the decision was taken to withdraw from this championship next year and to try and put in place a development programme at younger age levels with a view to producing a team capable of competing in the minor grade in future years. We are fortunate to have people at this time who are prepared to work with our young footballers and to coach and encourage them. Ensuring the availability of players when selected is of course vital to any progress being achieved.
Personally I believe the continuation with a football board is not in the best interest of developing football and that responsibility for that should rest with our county board with our ccc committee having full responsibility for football fixtures. In addition a subcommittee should be put in place to liaise with our county teams and oversee arrangement for inter county games.
Kilkenny County Board again expresses its thanks to Glanbia PLC for their continuing sponsorship of all our County teams. The value of their support both financial and by way of product provided cannot be overestimated and we look forward to their support for our teams continuing for many years to come.
Our Development Squad teams enjoyed success this year winning the under seventeen competition in Cork and the under fifteen competition in Wexford. The performance of the South under seventeen team in reaching the A final of the inaugural Celtic Challenge league was also noteworthy. I extend sincere thanks to all who gave of their time to coach our underage teams. Thanks also to Brendan O Sullivan and Pat Henderson for their work in coordinating our development squads and to Joe Pyke who acts as liaison officer with all our underage teams.
As a result of a recent review of our Development Squad programme a new format put forward by Seamus Norris re the selection of players for our u14 squads was presented to clubs at the recent Bord na nOg Convention. Following a number of contributions by the delegates present the format as proposed was approved. Further changes to the way our Squads are organised are also planned for next year. The changes envisaged are deemed necessary if we are to continue to enjoy underage success and more importantly to ensure that suitably developed players continue to come through to plays at senior inter- county level. We are fortunate that so many excellent people are prepared to work with our Squads and I am confident that if we embrace the changes being proposed our county will continue to enjoy the level of success that we have become accustomed to.
It has been another year of great activity for our coaching and games committee. As part of that activity four foundation level coaching courses were provided as well as an Award one Youth /Adult course. In addition three coaching workshops for club coaches were also organised. One of the interesting new initiatives was that of having some 750 young players skills tested and it is hoped to increase this number in the year ahead. The number of clubs who applied for the Club Kilkenny Flag Award increased from 7 just four years ago, to 32 this year. The aim of this award scheme is to acknowledge the ongoing development of the next generation of players carried out by our Clubs each year. Plans already in place for the coming year include the hosting of coaching workshops for clubs at 6 venues across the county together with the hosting of an Award two Hurling Coaching Course which will take place both in MWHire Park Dunmore and Nowlan Park. This course will consist of ten sessions for those who wish to avail of it. I look forward to an extensive take up by club coaches for each of these initiatives. On behalf of the Board I extend sincere thanks to our two full- time Coaches Brian Ryan and James Meagher for their continuing outstanding work on our behalf. Thanks to Sean Kelly for his increasing contribution also.
Our summer camps proved very successful again this year with numbers up again on the previous year. As a result additional venues had to be procured at the last minute to accommodate all that wished to attend. If this upward trend continues then registering for these camps online only will have to be insisted upon. I'd also suggest it should be the responsibility of the National Summer Camp Committee to ensure that the gear being provided is delivered directly to all who sign up on line prior to the commencement of the camps. Such a change would substantially reduce the workload of the personnel working at the various venues. I extend thanks to each of the coaches involved in our camps for their efforts.
Our County Coaching Officer and Chairman of our Development Squads Brendan O Sullivan vacated both these positions towards the end of the year. Brendan has made an outstanding contribution to both hurling and football over a long number of years, in his School in Thomastown and in the Thomastown Club, as well as at County and Provincial level. On behalf of all in Kilkenny GAA I extend sincere thanks to Brendan for his contribution and I look forward with anticipation to seeing him resume his involvement with us in the New Year.
Pat Tynan who has experience of coaching in his club Danesfort and in Castlecomer Community School and who has been coaching in our Development Squads for the past ten years has taken over Brendan's role with our Squads and as a result of being the only person nominated for the position of Coaching Officer tonight he will also assume that position for the coming year. I wish Pat every success in both positions in the year ahead.
The concluding stages of our club competitions enjoyed summer like weather conditions and attracted many large attendances. As usual predicting the eventual winners proved difficult with unexpected results the order of the day in each of our championships. In the senior final O'Loughlin Gaels finished the stronger to overcome Shamrocks and win their fourth Title. Carrickshock returned to senior ranks at the first time of asking by defeating Tullogher Rosbercon in the Intermediate final while Mooncoin proved too strong for John Locke's in the junior decider. Both The Rower Inistioge and Tullaroan proved the old adage that goals win games in their victories in the u21 'A' and 'B' Finals. In football Railyard retained their Senior title while Dicksboro captured Intermediate honours. Congratulations to each of these clubs on their victories. Since their victories in our Intermediate and Junior County Finals Carrickshock and Mooncoin have gone on to annex Leinster honours and we wish both clubs every success in their forthcoming All Ireland semi-finals.
Much credit is due to our CCC Committee for ensuring that our fixtures programme although interrupted by the replayed All Ireland semi-final was completed on time this year. I believe our current championship format at senior, intermediate and junior level would be difficult if not impossible to improve on particularly in view of the changes now being proposed at inter county level. The new format and timescale for the playing of our junior A and B championships and other subsidiary competitions came into force this year and achieved the twin objective of having these competitions completed on time and of providing a much greater spread of winning teams. While some tweaking may be required in one subsidiary competition a coherent programme of games is now being provided for the teams participating in these competitions. I wish to acknowledge the importance of the cooperation of our North and South Divisional Boards to the smooth operation of our extensive fixture programme. I extend my thanks to the members of the CCC Committee and to the Officers of the North, South Boards for their cooperation and for their work on our behalf throughout the year.
Of course providing such an extensive programme of games would not be possible without the commitment and loyalty of our referees. On your behalf I extend thanks to all who officiated at our games this year. Congratulations to all who were chosen to officiate at our various finals and especially to Sean Cleere on his appointment to take charge of this year's u21 All Ireland hurling final. Thanks also to our Notification Officer for his work on our behalf and to our referee co coordinator Sean Breathnach. Our objective that each club supply a minimum of one referee to take charge of games remains in place and discussions with the relatively small number of clubs failing to do so will take place early next year.
Sincere thanks also the members of our Hearings Committee for the efficient and fair manner by which they carried out their duties on our behalf.
Communicating our fixtures and other events to our clubs and to the general public is now a seven days a week requirement. Our County Website which received more than ten million hits this year plays a key role in disseminating this information for us and on behalf of the Board I extend thanks to webmaster Liam Dewberry and to PRO Seamus Reade and others who contribute to this important work. In this regard also I express thanks to our local radio stations and newspapers for their coverage of our games and for their support and cooperation at all times.
There is proposal now that if implemented would see all officially approved challenge games included as part of our weekly fixtures programme on our website. The benefit of this would be twofold; it would inform each club of their officially approved challenge games and would serve as a record of such games in the event of injury to a player participating in such games.
The commitment of our clubs to providing top class facilities for the promotion and playing of our games continued again this year. The investment involved in the upgrading of existing facilities and in at least one case of relocating to an entirely new venue represents a huge vote of confidence in both present and future generations. Tonight I want to pay tribute to all our club officers both men and women whose efforts ensure that our Association continues to enjoy the status that it does in all our communities. I would make one request that where possible clubs would look at providing a public address system at their grounds.
Insurance both in terms of Property, Public Liability and the Players Injury Fund continues to be both costly and necessary. All Clubs have been advised of the precautions that need to be taken to counteract the impact of any extremes of weather that can occur at this time of the year. It is important also that clubs realise that the Injury Fund does not provide cover for anyone participating in fun games such as Married versus Singles which are popular in some clubs around Christmas time.
The sponsorship of all our club competitions remains hugely important. On behalf of our Board I wish to again express our appreciation and thanks to the sponsors of our competitions namely Saint Canices Kilkenny Credit Union, Michael Lyng Motors, JJ Kavanagh and Sons, Iverk Produce, Countrystyle Foods, Honda Citroen Centre, Duggan Steel for their support. Thanks also to MWHire for their sponsorship of our training pitches in Dunmore. We ask all GAA members to support our sponsors whenever possible.
The fundraising activities of our Supporter Clubs here in Kilkenny, in Dublin and in Kildare continued again this year. In addition a new branch has been organised in London and we look forward to assisting with the further development of this Branch in the year ahead. On behalf of the Board I extend thanks to the Officers of our Supporters club for their contributions to teams across all levels and again I encourage all Kilkenny followers to become members of our Supporters club in 2017.
Board na Nog enjoyed another busy year and almost all competitions were completed on schedule. As evidenced by the large attendance present the playing of the minor hurling 'A' and 'B' Finals together in Nowlan Park proved very successful. Congratulations to the Shamrocks and to Erin Own on their victories in these Finals and to all clubs who were successful in other grades. The hosting of Feile na Gael with our neighbouring counties of Wexford and Carlow will present additional challenges to the Board next year and the full cooperation of all clubs will be required to overcome these. I would ask to all our clubs to make welcome the clubs that visit our county during Feile and to ensure that when they leave they do so with good memories of their stay in Kilkenny. Clubs should note also that 11, 12, 13, and 14 year old players are eligible for selection to play in Feile. I extend thanks to the Officers of Bord na nOg for their work throughout the year and wish them well for 2017.
Cumann na Bunscoil continued their great work of promoting our games of hurling and Gaelic football again this year. Through their under eleven and under thirteen competitions they deliver a well organised series of games in both codes which provide our young players with an ideal opportunity to develop their skills and I would be strongly opposed to the introduction of any club competition in these age groups that would conflict in any way whatsoever with the work ongoing in our Primary Schools. Their now annual four county Gaelic football competition in Nowlan Park was a great success again this year. Two teams from each of the counties involved, Kilkenny, Laois, Offaly and Wexford competed and once again it was the two Kilkenny teams that reached the final. Sincere thanks to the Officers of Cumann na Bunscoil and all who work with our Primary School teams.
Likewise we are deeply indebted to the teachers in our second level schools for their outstanding commitment to the promotion of our games. The standard of performance in each of the participating schools is on an upward curve and we look forward to this continuing in the coming year. Congratulations to Saint Kieran's on completing the three in a row in the Senior 'A' Colleges championship and on their recent success in the All Ireland Junior hurling final. Congratulations also to Kilkenny CBS on their recent Leinster Senior League victory. I wish each of each of our second level schools every success in their forthcoming championship campaigns.
Last year at Convention I expressed the hope that incoming Camogie President our own Catherine Neary would have the privilege of presenting the O'Duffy cup to a Kilkenny captain during her term in office. Well we didn't have long to wait for that to happen as the Kilkenny Senior Camogie team swept all before them in winning the League and All Ireland double this year. Not to be outdone the Intermediate team captured All Ireland honours as well making 2016 one of the most successful years ever for Kilkenny Camogie. Congratulations to both teams, to their management teams and to the Officers of Kilkenny Camogie Board on these outstanding achievements.
Kilkenny Handball enjoyed many success at various levels both in the 40x20and 60×30 championships this year with special congratulations due to the Barry twins from the Clogh club who became the first players from Kilkenny to win the under seventeen 40x20and 60×30 All Ireland doubles titles. The inaugural U13 'B' Boys and Girls 60×30 doubles tournament sponsored by Kilkenny GAA County Board which is aimed at increasing participation in the 60×30 game took place this year and it is hoped that this competition will become a permanent feature in the years ahead. I extend thanks to the Officers of our Handball Board for their efforts during the year with special thanks to County Board rep Gerry Murphy for his contribution.
The untimely passing of the legendary Michael Ducksie Walsh rated the greatest handballer of all time overshadowed all activity this year and cast a pall of gloom over everyone involved in sport in our county. Playing out of the renowned Talbots Inch club Ducksie won all the honours possible in the game at home and abroad and indeed had won his most recent senior singles title just a couple of weeks prior to his death. We will not see his likes again. Ar Dheis De gur raibh a anam dilis.
The financial report before Convention tonight records a healthy surplus of income over expenditure for the eighteenth successive year and I extend thanks to our outstanding Cisteoir Barry Hickey and to the members of our finance committee for their work both in preparing our yearly budgets and for achieving the financial targets as set out in them. As you will have seen in tonight's report Sponsorship income along with that from our Championship gates, the Hurlers Co Op Draw, our County Board Lotto and our Race Day remain vital to the solvency of the Board .Sourcing additional income streams remains a real challenge for us. This year we did come to an arrangement with a local company to provide car parking for their employees in Nowlan Park on non-match days and this may have potential for further expansion. I must also refer to the unquantifiable contribution to our bottom line that emanates from the huge amount of volunteerism that underpins the workings of the GAA at all levels throughout our county. Long may such commitment to the voluntary ethos continue amongst those who serve the GAA in County Kilkenny?
The inclusion of Nowlan Park in the list of potential venues for Irelands bid to host the 2023 Rugby World Cup is an endorsement of the decisions taken by our Board in recent years regarding the upgrading of facilities for players, spectators and media alike. The two events that attracted the largest attendances this year were the Leinster football quarter final game featuring All Ireland champions Dublin and Laois and the Rod Steward Concert. In addition to the income we ourselves received it should be noted that both events contributed substantially to the local economy and to our City's reputation as a tourist destination.
Our groundsman for the past twenty two years Timmy Grogan stepped down from his position this year. It would not be an overstatement to say that he lavished care and attention on the Park during that long period of time. On behalf of the Board I extend thanks to Timmy for his outstanding work for us and wish him well in his retirement.
MW Hire Park in Dunmore continued to prove itself an invaluable additional venue for the playing of games and for team training. Future plans for the venue include the provision of a modern fully equipped gymnasium together with the installation of floodlighting on the second pitch. We have joined with Saint Kieran's college who are seeking to develop a full size floodlight artificial grass pitch which our teams would also have access to, in organising number of corporate fundraising events to help finance these projects. The first of these events takes place in Dublin on the January 26th next and it is anticipated that another similar event will take place elsewhere during the coming year also.
Our annual year book publication is now established as the official end of year review of all activities at club, school and county level and its publication represents another example of the volunteerism I mentioned earlier. This year's year book which is another very colourful production will I know be enjoyed by Kilkenny followers both at home and abroad. Sincere thanks to all of the volunteers who make its publication possible.
Sadly this year also saw the passing of many men and women who had contributed so much to our games throughout their lives both at both club and county level. In addition two former GAA Presidents Jack Boothman and Joe MacDonagh also went to their eternal reward. I extend deepest sympathy to the families of all who suffered bereavement since our last Convention.
Ar dheis De go raibh a n-anamacha
Following a vote at Congress it was decided to reduce the age of the intercounty minor grade from u18 to u17 from 2018 onwards. Subsequently it was decided to hold an u17 All Ireland championship as well next year and that seventeen year olds would be entitled to play in both. In addition it was decided to continue with the Celtic Challenge as an u17 competition also. It seems to me that these decisions were made in isolation from each other without any consideration of the potential effect they will have on other age grades. I'd suggest that a review of the age grades of inter county competitions is urgently needed to put in place a coherent pathway for all underage county teams.
There is also a need for a review of the age grades of our own club competitions to take account of the changes at inter county level and to address the haemorrhage of players that is now taking place after the minor grade. This became particularly noticeable at u21 level this year with a number of clubs either fielding teams all of which are under age again next year together with others having as few as two players ineligible for that grade year. Our objective should be to ensure that the age grades of our competitions offer the best possible opportunity to all the players who populate our teams at the youngest ages to progress through to adult level.
We are justifiably proud of the fact there is at least one active club promoting Gaelic Games in every parish in our County. However the ban on players over 16 years of age but u17 playing on their club adult teams is having a seriously negative effect on clubs in our smaller rural parishes. As someone who is strongly opposed to amalgamations which have the propensity to see one of the clubs involved go out of existence I would call for the reversal of that ban before the clubs most affected by it give up the struggle to fulfil their obligations.
One of the motions due to be debated at Annual Congress next year is proposing a change to the concluding stages of the All Ireland football championship which if successful will require the bringing forward of the date of the All Ireland football Final. As a consequence the dates of the All Ireland Hurling semi-finals and final would also have to be brought forward. While there has been much media focus on the proposed football changes little or no attention is being paid to the effect that these changes might have on hurling and the profile of the game. I am aware that there is a view that condensing the existing inter- county season into a shorter period of time will solve the problems with club fixtures. That is a proposition that I don't subscribe to. At the moment we decry the unavailability of dates in the summer months for the playing of club championship games and criticise counties for playing of them in late October and November. If this motion is successful it would seem to me that it will exacerbate that problem and that these will be the only months that will be available for the playing of meaningful club championship games. It is important that the full consequences of this motion are discussed and teased out before a decision for or against is taken.
With the exception of our Cisteoir all other elected Board Officers will be obliged to vacate their current positions at next year's County Convention. It is important that clubs discuss and debate the consequences of this level of change during the year ahead and ensure that people of the required calibre are available to take over the administration of both our games programme and the business side of the Boards activities. I am certain that there are people in our overall membership who are more than capable of filling these roles and I appeal to them to make themselves available to do so. The time for being the hurler on the ditch is over.
I want to thank my fellow officers and those who work with us for their contribution during the year. I extend thanks to vice chairman Conor Denieffe both for overseeing our extensive fixtures programme and for deputising for me when necessary, Thanks also to our Secretary Jimmy Walsh for his commitment to our clubs and to our County Board. Thanks to our Treasurer Barry Hickey for the very efficient manner that he carries out his duties as together with his role as our county player's insurance officer. Thanks also to Seamus Reade for his work as PRO and Event Controller in Nowlan Park, to Central Council delegate Paul Kinsella, Leinster Council delegates PJ Kenny and Jim Fennelly, Development Officer Val Malone, Safety Officer Eddie Blackmore, to Pat Henderson who fills a variety of rolls to Caroline Morrissey for her work and courtesy in the Office in Nowlan Park. Thanks also Mick O' Neil who is an inspirational figure around Nowlan Park. Finally I want to thank my wife Lucy for her support and understanding at all times.
The draws for next year's Inter County Competitions have already taken place and tonight we ourselves will make the draws for next year hurling competitions. Immediately after the draws are made clubs and county's begin making plans to prepare themselves for the challenges ahead. Supporters too immediately begin to discuss sometimes animatedly the likely prospects of their own team. This level of interest and anticipation should serve as a reminder to us all that whatever other activities that we get drawn to we must ensure that our focus never strays from the importance of what happens on the field, for be it the joy or the heartbreak that they bring, our games are pivotal to the wellbeing of our Association both here at home and across the World.
Bhuiochas aris do gach duine a cabraigh linn i rith an blian seo caite. Ta a lan le deanamh again san bhlian seo chughan. Ar agaidh linn le cheile chun an obair sinn a dheanamh.