The 2017 Hurlers Co-Op Draw was launched at the March County Board meeting in Nowlan Park this Monday evening. Representatives from James Stephens and John Lockes, who are two of the most successful beneficiaries of the draw, spoke to the delegates about the value of the draw for their clubs. Draw Co-Ordinator Gerri Hickey also addressed the meeting and offered her support to all the clubs in this year's camapaign.
The prize fund in 2017 will be €110,000 with the first of 5 draws taking place on 13th June. The 2017 draw tickets are now with the clubs and will be on sale over the coming weeks. They are also available on line. Click on the special icon on the right hand side of this page.
County Board Chairman appealed to all supporters in Kilkenny to take part in the draw for the benefit of clubs and Kilkenny GAA.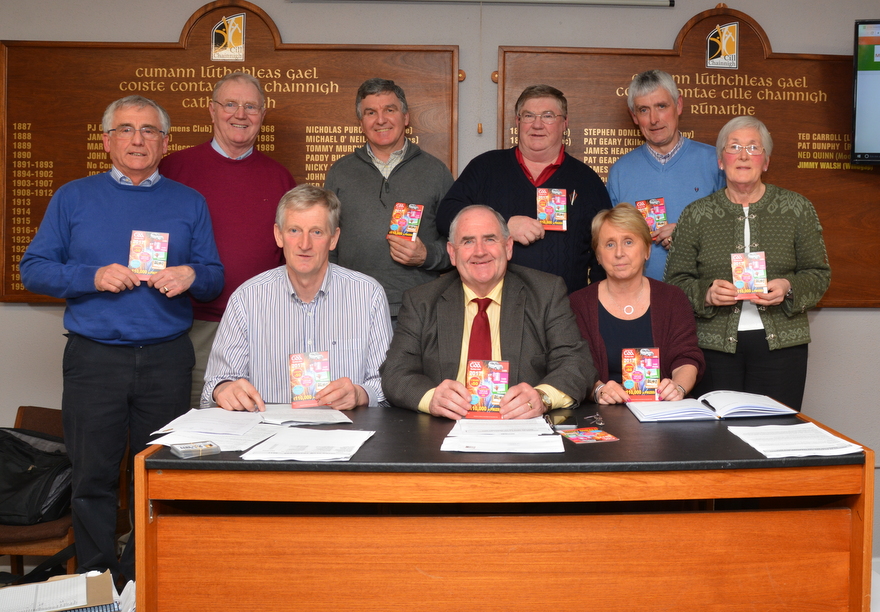 Pictured at the Launch of the 2017 Hurler's Co-Op Draw in Nowlan Park: Front Row L to R: Jimmy Walsh(Secretary), Ned Quinn(Chairperson), Gerri Hickey (Draw Co-Ordinator); Back Row: L to R: Barry Hickey(Treasurer), Sean Doherty(Galmoy), Pat Hayes(Graigue Ballycallan); Eugene Dunphy(Mooncoin); Tom Keane and Catherine Kinsella(James Stephens)