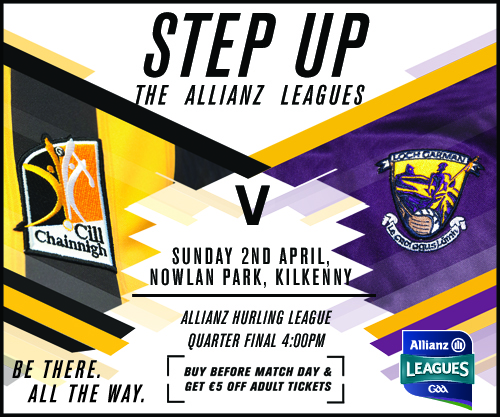 Match Day Information – All You Need To Know
Admission is by ticket only on an "Unreserved Basis" i.e "First Come First Served"
All Sections of the Ground will be open.
Season Ticket Holders can use their Season Ticket Cards to access the venue via Stiles 14-17 on Hebron Road only.
Tickets will be on sale outside the Ground at 6 Sales Kiosks.
Under 16's are free of charge and do not require tickets. There will be designated Under 16 Stiles at each Stile Block.
Juvenile Groups should enter the Stadium via Stile 28 at Ardan O Cearbhaill.
Wheelchair entrance to Ardan de Gras is via Gate No 9 on Hebron Road.
Ticket Prices at the Ground on Sunday will be: Adults €20; Students/OAP's €15; Under 16's Free
Tickets can be purchased at the usual Supermarket outlets before Sunday at the discounted cost of €15.
Parking will be available immediately beside Nowlan Park at O'Loughlin Gaels GAA Club and Mac Donagh Junction Shopping Centre. [See display notices below]. Parking also at St Canices Hospital on Carlow Road – 5 minutes walk from Nowlan Park.Please follow "Match Traffic" signs from Ring Road to access Parking facilities.
Sales Kiosks and Stiles will be open from 2,30pm.
The Game is being televised on a "Deferred Basis" by TG4 and will be shown after the Galway v Waterford Game..
We strongly recommend that supporters purchase tickets in advance to avail of discount and to avoid possible queues on Sunday.
We look forward to welcoming both Kilkenny and Wexford supporters to Nowlan Park on Sunday and hope you have a very enjoyable day in Kilkenny.