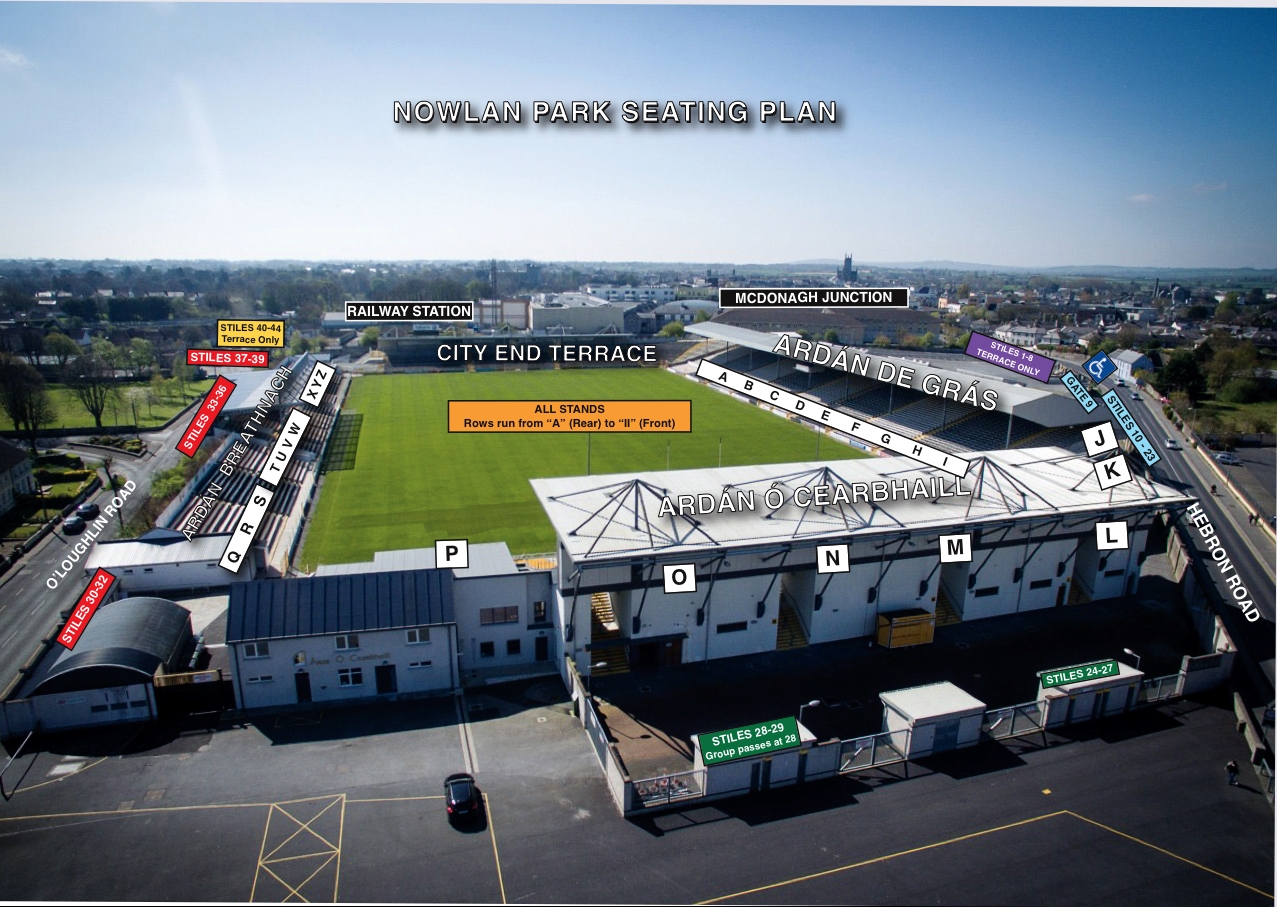 Match Information.
Game is all ticket and every individual entering the Ground, including children, will require a ticket.
Ticket Prices: Adults €20 [€15 if purchased before midnight on Saturday 15th April]; Students/Pensioners €15; Children €5.
Season Ticket Holders can gain admittance through Stile 14-17 on Hebron Road with their Season Ticket Cards.
Wheelchair users should apply to their own county boards for tickets for this game. Entry for wheelchair users is via Gate 9 on Hebron Road.
Group Passes – €3 per Juvenile – 1 Free Adult for every 10 juveniles – available by application to Croke Park. Entry to the Ground for Groups will be Stile 28 Ardan O Cearbhaill.
The stands are un-reserved but Stand Specific. There will be no facility to transfer between stands once you enter the Ground. See names of stands from picture above. Please note that 6 sections – Q R S Z Y Z – in Ardan Breathnach are uncovered.
We are presently arranging Car Parking facilities and at this stage can confirm that O'Loughhlin Gaels Ground right beside Nowlan Park will be open for parking and indeed refreshments right throughout the day. Car Parks also available at St Canices Hospital and at The Orchard House New Orchard Roundabout(Ring Road). Please follow Match Traffic signs from Ring Road on Match Day. Please note that Mac Donagh Junction Shopping Centre and Car Parks are closed on Easter Sunday. Supporters are asked to be conscious that Nowlan Park is in a residential area and care should be taken when parking cars. Private driveways, footpaths and cycle paths should all be avoided.
Supporters travelling from the Clonmel/Callan direction are advised to be aware of Road Works close to Kilkenny City. Alternative routes, to avoid possible hold-ups, will be signposted on match day.
We will continue to update details here as they become available. All supporters are strongly advised to purchase tickets in advance to avail of discounts and to avoid queues on match day.