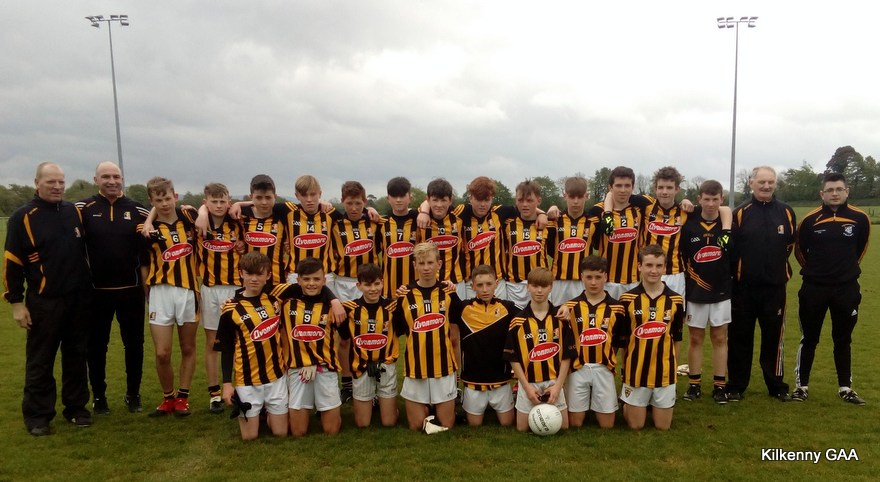 Under 14 Football Team – Winners over Wexford in Leinster Under 14 Football League
Under-14 Football
Kilkenny's Gaelic Football revival continued when the Under-14 team travelled to the Carlow Training Centre in Fenagh to play Wexford in a Leinster League game. Despite a slow start which saw Kilkenny concede 1-1 without reply early on, they recovered with a flurry of goals to lead 4-1 to 1-4 at half time. Kilkenny dominated the second half playing with the breeze to run out winners by 10-3 to 4-6. Kilkenny's next opponents will be Meath.
Scorers: Jack Kennedy & Conor Fitzpatrick (3-0 each), Simon Connolly (2-0, 1p), Braedon Wheeler (1-1), Callum Arthurs (1-0), John Canny (0-2)
Squad: Jack Kennedy, James Whitty (Blacks & Whites), Conor Brennan, John Canny (Danesfort), Luca Loli (Dicksboro), Sam O'Brien, Simon Connolly, Stephen Foley (Graignamanagh), Ben Canavan (John Lockes), Sean O'Dwyer (Mooncoin), Braedon Wheeler, Neil Moriarty, Tom Reid (Piltown), Ruaidhri Delaney (Rower Inistioge), Oísin Kelly (St. Martins), Callum Arthurs (Tullogher Rosbercon), Brogan McAviney, Cathal Darcy, Conor Fitzpatrick, Tommy Phelan (Young Irelands)
Management: DJ Carey, Seamus Norris, Angelo Cullen, Thomas Rossiter.
This Week's Development Squad Sessions (all Wednesday 17th at 6:30pm)
Under-14 South – Thomastown
Under-14 Central – Clara
Under-14 North – Castlecomer
Under-15 South – Piltown
Please note: There is no North Kilkenny U-15 squad session this Wednesday night. There is a game v Dublin Saturday morning at 11.
U 15 Squad North
The following players are to attend V Dublin, be at Kells Road for 9.15, Saturday May 20th Kilkenny gear required-socks, togs and squad top.
Any problems, call Liam Smith 0862206442
Kevin O'Neill (Barrow Rangers), Adam Byrne, Brian MacDonald, Tomas Leahy (Danesfort), Aaron Murphy, Liam Moore, Pauric Moylan (Dicksboro), Kevin Holland, Lee Holden (Erin's Own), Eoin Delahunty, Oisin Egan, Paddy Brennan (Graigue Ballycallan), Jamie O'Keefe, Sean Ruth (James Stephens), Aidan Tallis (Lisdowney), John McNamara, Vincent O'Grady (O'Loughlin Gaels), Alan Rafter, Jack Hickey (St Lachtain's), Bill Dowling, Matthew Shorthall, Tristan Roche (St Martin's), Kieran Walsh (St Patrick's), Brendan Walsh, Richard Cash (Tullaroan), Patrick Brennan (Young Irelands).
Under-14 Matches on Sunday 21st May (all 11am)
Kilkenny South v Dublin Mid (MW Hire Training Centre, Dunmore)
Kilkenny Central v Dublin North (Castlecomer)
Kilkenny North v Dublin South (Castlecomer)
Under-14 Panels v Dublin on Sunday. All players to be at venue for 10:15am
South (MW Hire Training Centre)
Sam Byrne (Blacks & Whites), Oísin Doyle, Padraig Lennon, Shane Fennelly (Carrickshock), Denis Walsh, Shaun O'Keeffe (Dunnamaggin), Billy Reid, Michael Kirwan (Glenmore), Harry Twomey (Kilmacow), James Aylward, Sean O'Dwyer (Mooncoin), George O'Connor (Mullinavat), Braedon Wheeler, Tom Reid (Piltown), Rory Flanagan, Ruaidhri Delaney (Rower Inistioge), Ian Ahern (Slieverue), Brian O'Shea, Eoin Kennedy (Tullogher Rosbercon), Adam O'Shea, Sean Purcell, Zak Kennedy (Windgap)
Contact: Seamus Norris 087-9230283
Central (Castlecomer)
Conor Dermody (Barrow Rangers), Dylan Kenny, Ivan Kelly, John Doyle (Bennettsbridge), Adam Harding, Noel O'Brien (Clara), John Canny, Stephen Doheny (Danesfort), Cian Murphy, Jack Dunne (Graignamanagh), Tom Brennan (Graigue Ballycallan), Dylan O'Brien, Evan Buggy (James Stephens), Adam O'Sullivan, Ciaran Phelan (John Lockes), Conor Cody, Luke Connellan, Luke McNena, Naoise Dempsey (Thomastown), Cathal Darcy, Conor Fitzpatrick, Tommy Phelan (Young Irelands)
Contact: Brian Young 086-2118553
North (Castlecomer)
Jack Murphy, Mark Gunner (Conahy Shamrocks), Brian Minogue, Charlie Delahunty, Charlie Nolan, Nick Doheny, Rory O'Connor, Sean Maher, Stephen Dermody, Zach McHardy (Dicksboro), Shane Coogan (Erins Own), Billy Drennan (Galmoy), Richard McEvoy (Lisdowney), John Comerford (O'Loughlin Gaels), Jack Bergin, Mark Donnelly (St. Lachtains), Oísin Kelly (St. Martins), Adam Duggan, Alex Lawlor, John Doheny (The Fenians), Billy Walton (Tullaroan)
Contact: Gavin Nolan 085-1526403