Following this morning's draw the GAA has just announced that the two games will be played in Semple Stadium on Saturday evening – Tipperary v Dublin at 5pm followed by Kilkenny v Waterford at 7pm. The game will be all ticket with designated seating.
As with the Round One game we will be initially accepting ticket orders from our clubs and will announce details of any public sales as soon as arrangements are in place. Tickets will also be available on line and at the usual Supermarket outlets from this Monday afternoon. Tickets will cost €25 for adults and €5 for under 16's. Refunds of €5 will be available at designated stiles for students and Pensioners.
Season Ticket holders will be accommodated in Ardan O Coinneain (Old Stand) and on this occasion they will need to print off tickets for the game. Croke Park will be emailing all Season Ticket holders this week.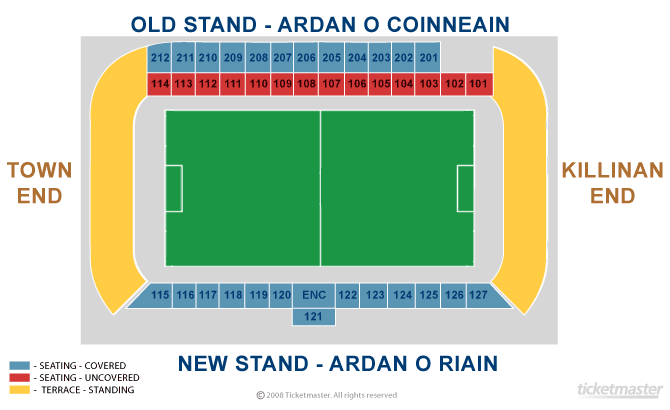 | | |
| --- | --- |
| Centra Ardnore | Address: Nolan's, Ardnore, Co. Kilkenny |
| Centra Bennettsbridge | Address: Cullens Centra, Bennettsbridge |
| Centra Johnsgreen | Address:John's Green, Co Kilkenny |
| Centra Knocktopher | Address: Knocktopher, Co. Kilkenny |
| Centra Mooncoin | Address: Main Street, Mooncoin, Co. Kilkenny |
| Centra Mullinavat | Address: Mullinavat, Co.Kilkenny |
| Centra Urlingford | Address: Deegan's, Main Street, Urlingford, Co. Kilkenny |
| SuperValu Ballyragget | Address: Dick's, Castle St, Ballyragget, Co. Kilkenny |
| SuperValu Callan | Address: Green Street, Callan, Co. Kilkenny |
| Supervalu Graiguenamanagh | Address: Doran's, Main Street, Graiguenamanagh, Co. Kilkenny |
| SuperValu Kilkenny | Address: Market Cross Centre, James Street, Co. Kilkenny |
| SuperValu Loughboy | Address: Caulfield's, Loughboy, Co. Kilkenny |
| SuperValu Thomastown | Address: Taite's, Dublin Road, Thomastown, Co. Kilkenny |