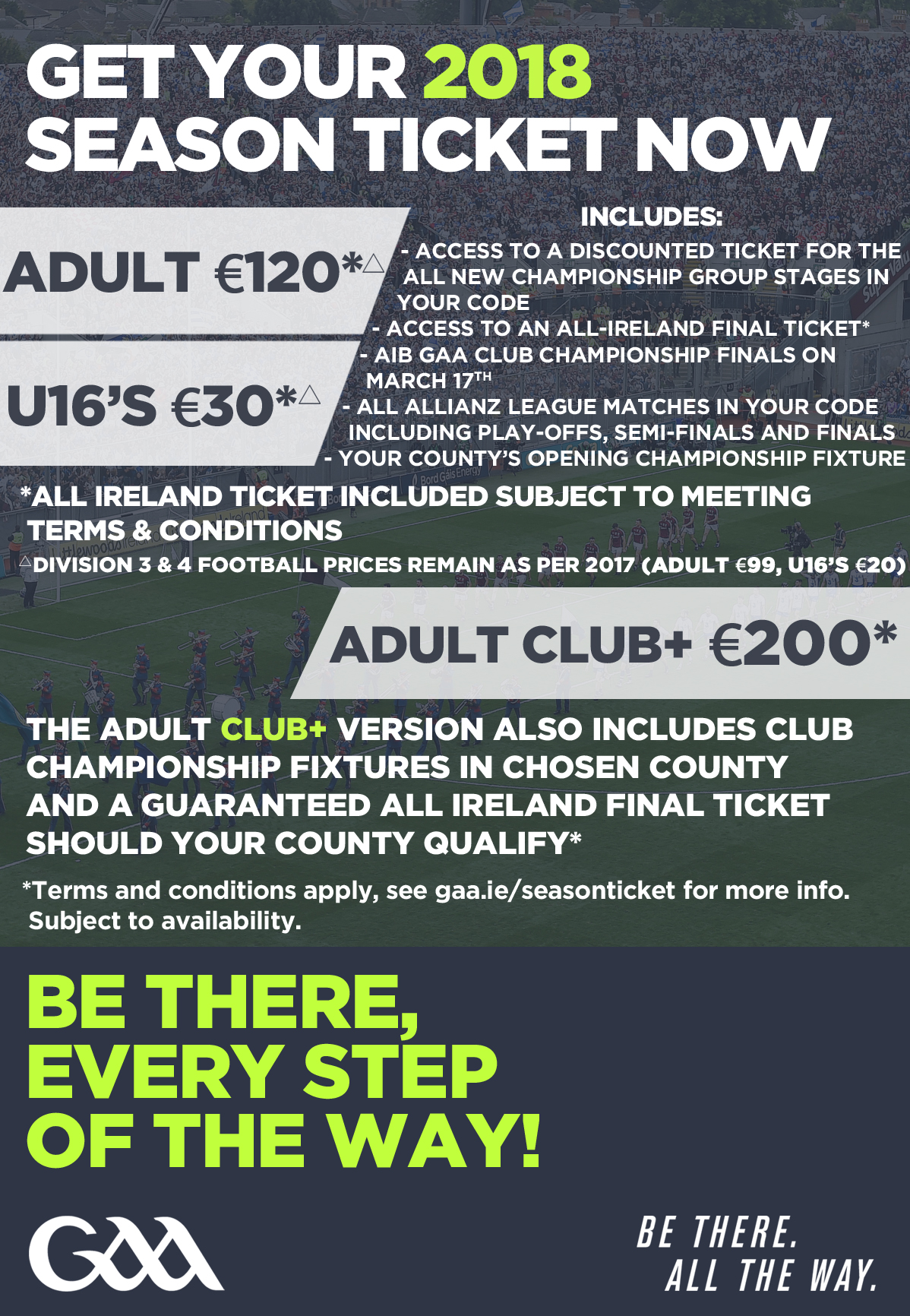 GAA Season Ticket
GAA Season Tickets for 2018 are now on sale and open for renewals!
(Dublin Football and Mayo Football Season Tickets will be available for renewal only)
To renew or purchase simply click HERE
2018 GAA Season Ticket:
– Adult €120*
– Juvenile (U16) €30*
– Adult Club+ €200
*GAA Season Ticket for teams in Division 3 and 4 of the Allianz Football Leagues will remain at Adult €99, Juvenile (U16) €20 and Adult Club+ €200.
What's included?
– Access to a discounted ticket for the all new GAA Championship group stages in your selected code**
– Access to an all-ireland final ticket***
– AIB GAA Club Championship finals on march 17th
– All Allianz league matches in your selected code – including play-offs, semi-finals and finals.
– Your County's opening Championship fixture.
**access to Stand tickets will be subject to ground capacity
***subject to meeting the terms and conditions
What are the benefits?
– Loyalty rewarded – qualify for All-Ireland Final tickets. Click here for more information.
– Great value – great price plus more discounts throughout the Championship.
– Convenience – you have your ticket for your team for the entire season
– Exclusive Extras – including 'bring a friend' and special purchase options for other matches
Adult Club+ Version – includes club championship fixtures within chosen county and guaranteed All-Ireland Final ticket should your county qualify. (selected code only. Please note that there will not be a Club+ Upgrade option for 2018. If you wish to purchase a Club+ GAA Season Ticket this must be done at the time of purchase.)
Please note that as per Point No. 59 in the GAA Season Ticket Terms & Conditions, the significantly increased ticket demand for the All Ireland Finals means that the seats allocated to qualifying Season Ticket holders for the finals will not be located in the same section as seats allocated for prior championship games at Croke Park.
For any queries in relation to the GAA Season Ticket please contactseasonticket@gaa.ie