Nominations for 2018
Chairperson: Jimmy Walsh
Vice-Chairperson: P J Kenny
Secretary: Conor Denieffe
Treasurer: Barry Hickey
Development Officer: Seamus Reade
PRO: Paul Fitzgerald
Coaching Officer: Pat Tynan
Oifigeach Gaeilge: Seán Breathnach
Central Council Rep: Ned Quinn
Leinster Council Reps (2): Willie Dempsey, Jim Fennelly and Paul Kinsella **Election HERE
Delegates to Leinster Conv: Pat Henderson and Seamus Reade
Delegates to Congress: Barry Hickey and Ned Quinn
CUMANN LÚTHCHLEAS GAEL CILL CHAINNIGH
SECRETARY'S REPORT 2017
Is mór an onóir domsa mar Runaí Choiste Cill Channaigh tuairisc cinnbliana 2017 a chur i laithar ag an gComhdail Bliantúil anocht. Gabhaim buíochas ó chroí le gach duine a chothaigh agus a chabhraigh le cursaí Chumann Lúthcleas Gael i gContae Cill Channaigh le linn na bhliana.
In a year of change, making adjustments and creating new plans at all levels, County Final days in Nowlan Park brought us back to the basics, with an end of season buzz and excitement as the championships culminated. There we saw new teams, great individual skills and team performances in front of large crowds, that saw bags of goals and last-minute finishes.
To report for my fifth and final time on our GAA year, it is necessary to acknowledge how lucky I was to have had the opportunity to serve in this important role as the Kilkenny County Secretary We are so blessed that the Kilkenny Way of life has Hurling, Football, Camogie and Handball so deeply embedded in our DNA. It too, is essential to record the amazing solidarity and teamwork that we have across the clubs and county; Also to note the great pride and satisfaction that the games bring into every aspect of home and community life. Whilst some may say the Devil is dead in Kilkenny, with the lack of a Senior All-Ireland, Leinster or League Hurling Final appearance, it is far from true. On the ground, our teams remain competitive and dedicated personnel at all levels continue their great work with the future in mind.
The early days of the year saw Carrickshock take the All Ireland Club Intermediate title and Mooncoin come within a point at making it a double at Junior level. The Walsh Cup victory, the retention of the All-Ireland Intermediate hurling title, the winning of Provincial titles at under twenty one and minor level, and the success of our Footballers were all milestones celebrated at the medals presentation night. Elsewhere the Arrabawn win, the Senior Camogie League win, the Co-Hosting of Féile, and the success of our Handballers in all grades and codes, were amongst the many highlights. Currently the under twenty one championship is throwing up weekly gems as the season draws to a close.
On the playing fields, best wishes are extended to the new County Management teams, to St Patrick's in hurling, and Thomastown in Camogie, in their respective All Ireland campaigns. Also to all involved in any way at club and county level.
Senior Hurling:
Bord na Mona Walsh Cup:
The annual (Players Accident Fund Tournament) saw Kilkenny win their first round against DCU in MW Hire Park in Dunmore when the side was led by under twenty one team manager Eddie Brennan. In the second game the side had a good win over Antrim, with Brian Cody in charge, at the new GAA Centre of Excellence in Abbotstown. It was followed by a fine win over Westmeath in Mullingar and a hard-won, one point victory over a rejuvenated Wexford side in New Ross. The final in Nowlan Park saw an attendance of 4,000 observe a home win over Galway by 0-20 to 0-18. On the day Richie Hogan collected the Walsh Cup and over forty players had worn the black and amber.
Allianz National Hurling League:
Kilkenny opened their league campaign in Nowlan Park when a crowd of 9,000 saw an early Deise goal give Waterford their second successive league win. This was despite a battling home finish on a very tight 1-15 to 0-17 scoreline. A trip to Ennis saw a heavy defeat before the tide was turned with a fine 0-22 to 0-15 win over Cork in Nowlan Park. In the next game almost fifteen thousand spectators turned out for the meeting of the most recent All-Ireland Champions, The game was held under lights in Thurles. With one side apparently on the top plateau, and the other on the slide, Semple Stadium buzzed throughout a thrilling game. Two TJ Reid penalties and a four minute spell of end-to-end play enthralled spectator's as Cillian Buckley and Eoin Murphy excelled in a 3-14 to 2-17 draw. In the final game in Parnell Park, a seven point victory was achieved over a Dublin side that was down to fourteen men in the second half. The win saw Kilkenny qualify for a quarter final place with Wexford. In a game that attracted increased media attention to Nowlan Park, the sides were level 2-8 at half time. By the end, the joy and emotion bottled by the Wexford supporters since 1957, flowed as their side fashioned a rare and well deserved 2-18 to 0-19 league win. Out of contention for the remaining stages, the result gave Kilkenny the opportunity to host the Allianz League Semi Final between Tipperary and the Davy Fitzgerald-led Wexford, where the Premier side took the honours.
Leinster Championship:
Media and disciplinary drama surrounded Kilkenny's visit to Wexford Park for the Leinster semi-final. In a game where Colin Fennelly's touch was immaculate, the side were an early goal up. Level eight minutes before the break, Kilkenny found themselves eight points behind shortly into the new half. A spirited comeback saw the them come within a point as they battled back right up to a potential last minute draw opportunity. With the four-in-a-row Bob O'Keeffe dream disposed of, it was the purple and gold supporters who celebrated a long awaited championship victory on a 3-11 to 1-20 scoreline
All Ireland Campaign:
On the championship route, Limerick were drawn to play Kilkenny in Nowlan Park. With Kilkenny ahead 0-10 to 0-8 at the break, the sides were tied early in the second half. On the day Kilkenny made best use of their scoring chances to win out by 0-20 to 0-17.
A week later in Thurles Waterford provided the Round Two Qualifier opposition. Having been outscored 1-10 to 1-5 in the first half, Kilkenny were eight points down with eleven minutes to go. In an almost miraculous comeback that saw over 33,000 supporters almost afraid to breathe, they brought the game to extra time at 2-15 apiece. In the extra time Waterford took the initiative early and went on to add two goals. It saw them record a 4-23 to 2-22 victory that ended a championship famine period with Kilkenny that stretched back to 1959
In a year when the side was committed and competitive and so often so close to crossing the winning line, sincere thanks are extended to all of the panel members and to team manager Brian Cody, Michael Dempsey, James McGarry and Derek Lyng for their time and passion. Also to the background team led by Dr. Tadhg Crowley, Physios Kevin Curran, John Kearns, Neal Byrne and Alison Holmes, Nutritionist Noreen Roche, Statistician's Emma and Louise Byrne, Chris Coburn and Denis ''Rackard'' Cody.
The end of season news that Brian Cody and his Management team are back in charge was universally welcomed, though the new championship format was not the county's first choice. However the experience of having being there and knowing what it takes to win via any route provides an immeasurable bonus to the ever-changing faces on the panel.
Intermediate Hurling:
With Kilkenny the holders and required to field a brand new team, the expectations for the grade were more developmental than victorious. After Anthony McCormack was appointed as the new manager with a second string senior team, the goalposts were changed for Kilkenny to go back to using Intermediate and Junior players. Unfazed by the change, Anthony and his selectors scoured the club games and built a team with players that were not being used on any other county panel. In their championship debut a fine performance saw them record a 1-26 to 0-18 win over Wexford in the Leinster Final in Nowlan Park. This occurred after Galway had given the Slaneysiders a walk over and saw Kilkenny qualify to face Cork in the All Ireland Final. Scheduled to be played at a neutral venue, the option arose to play the Rebels at home in the opening weekend of their new state of the art stronghold in Páirc Ui Chaoimh. For the team the decision was both brave and historic when they took the opportunity to participate in the first All-Ireland being played there. In a titanic game the battling nature of Noel Doherty, the oldest player on view, inspired his side. Facing a four point deficit midway through the second half, goals by Robbie Donnelly and Tom Phelan saw them go on to win by 2-23 to 2-18. For all involved it was a welcome and unexpected second successive All Ireland victory and saw Darragh Brennan presented with the Michael Cusack Cup by an tUachtarán Aogán Ó Fearghail. Great credit and thanks is extended to team manager Anthony McCormack and selectors Dave O'Neill, John Brennan, Pat O'Dwyer, Declan Gahan and trainer Nigel Skehan. Also to JP O'Neill and Teresa McGinn on the backroom team.
Seen as the poor relation of All Ireland Hurling Championships, it may soon follow the Inter Provincial competition into oblivion through a lack of interest in other counties. The post-match words of team manager Anthony McCormack still ring, as he urged his players to "push on" for Kilkenny. Its importance as a development competition was proved when seven of the 2016 champions featured in the Allianz Hurling League and Martin Keoghan, a substitute in this year's final, spring-boarded on to the under twenty one and senior panels.
Bord Gais Under 21 Hurling:
The first game against Westmeath saw Eddie Brennan's side return to Mullingar to erase the memory of Kilkenny's defeat the previous year. In the end the 1-21 to 1-11 scoreline did not reflect the closeness of the tie. The next game against the holders Dublin saw the side play with abandon to record a 0-26 to 0-16 win. The result saw an opportunity to reverse the recent three successive defeats by Wexford. The Final, played in Nowlan Park, saw Kilkenny lead by 0-17 to 1-6 at the break after Wexford were reduced to fourteen men. The final score of 0-30 to 1-14 saw Pat Lyng collect the Leinster Cup as his side regained the title after a five year break. The All Ireland semi-final opposition was provided by Derry who had defeated Antrim and then Down, to bridge a nine-year gap for their sixth Ulster title. Played in Thurles the Oak Leaf side included thirteen senior county and ten Slaughtneil panellists who had earlier qualified for the All-Ireland club hurling semi-final. On an August evening, early goals enabled Kilkenny to qualify easily for the final as Limerick pipped Galway in the other. A week after the senior All Ireland, Kilkenny returned to Thurles to play the adversaries of their minor days in the final. Now, the kings of the grade, the Shannon siders were warm favourites following a winning run through Munster and against Galway in the semi-final. Playing into the breeze, Kilkenny found themselves 0-7 to 0-1 behind midway through the first half and then 0-11 to 0-4 at the break. Played before 15.500 spectators, a Kilkenny rally brought the deficit back to four points before Limerick took the first final between the sides by 0-17 to 0-11.
Following their great efforts over the past two years that yielded a Leinster title, sincere thanks are extended to team manager, Eddie Brennan, Richie Doyle Bobby Aylward and Richie O'Neill. Also to the backroom team of Dr. Cormac Behan, Sean Manton, Alan Kavanagh, Alison Comis, Luke Leyden and Joe Pyke
The retirement of Eddie as the team manager sees the manager's mantle pass to his former teammate DJ Carey.
Minors:
A unique season saw the old under eighteen level Minor played for the last time. Also, a special new Minor transition competition was organised to facilitate the players in their last year at under seventeen level. Players from this age group were also involved with both the Black and Amber teams in the under seventeen Celtic league, and the various second level college competitions that extended to the penultimate stages. The plethora of competitions helped to clog up the local championship fixture dates for ordinary club players.
The minor sides were managed by newly appointed Pat O'Grady and Coaching Officer Pat Tynan. In the championship, the under eighteen minors recorded a fine away win over Westmeath. It was followed by a 1-20 to 0-11 win over Wexford in Nowlan Park and a semi-final win against the Christy Walsh trained Laois side in O'Moore Park. In the Leinster Final two early goals against Dublin in Croke Park provided a valuable cushion as the side led by 2-7 to 0-10 at half time. Another goal early into the second half put Kilkenny into a commanding lead and saw them run out 3-15 to 1-17 winners. In a low-scoring and highly competitive game against Galway in the All Ireland semi-final, Kilkenny created the best of the goalscoring chances to lead 1-6 to 0-6 at the break. After being four points to the good early in the second half they were still head by a point with three minutes to go. However it was not to be, as a third minute injury time point saw the Tribesmen book a final place on a 1-12 to 2-8 win.
In the first game of the new under seventeen minor level Kilkenny travelled to Taghmon where they overcame Welford by 0-22 to 0-14. It was followed by a 2-17 to 0-11 semi-final win over Offaly in Birr. In the Leinster final played in O'Moore Park, Dublin provided the opposition and with a more developed and competitive side ran out 3-17 to 2-10 winners.
For both campaigns thanks are extended to Pat O'Grady, Peter O'Donovan, Pat Power, Declan Wall, Tom Doheny and the backroom team of Dr Kieran Aylmer, Teresa McGinn and Joe Pyke at minor level; and Pat Tynan, Pat Nolan, and Patsy Brophy at under seventeen level. The Celtic League teams of sixteen and seventeen year olds were managed by Richie Mulrooney and Niall Bergin, with Martin Carey, Stephen Dormer and Adrian Finan
Retirements:
The on-going changes and passing of time saw the retirement of five times All Ireland Medal winner Kieran Joyce, former captains Shane Prendergast and Mark Bergin, and former Leinster player of the year Jonjo Farrell amongst the list. We look forward to seeing them continue as the inspirational leaders and go to men for their clubs and sincerely thank them for playing their part in Kilkenny's great run of success.
Football:
The years goal was to regain the Sam Maguire Cup by winning the British Junior Football title. The campaign opened with a surprisingly easy 4-20 to 0-8 win over Scotland in Glasgow. It was followed by a hard fought 1-11 to 0-11 win over Warwickshire in Birmingham. In the new league format, the two league wins saw the side travel to Manchester for a semi-final tie with the holders Lancashire. Having been six points behind at the break, the side fashioned a 2-11 to 1-13 win. In the final in Páirc na hÉireann, the Sam Maguire Cup was regained with a 3-16 to 1-6 win over Warwickshire. The reward was an All-Ireland Junior Football semi-final tie against Meath that was played after an entertaining and high scoring under fourteen football tie with Carlow in Nowlan Park. After a slow start when the Royal County men were the more accurate finishers and established a strong foothold, a fine JJ O'Sullivan save, and a Michael Malone goal in the second half, gave the home side hope before Meath moved away for a final meeting with Kerry on a 2-21 to 2-8 scoreline
During the year there was a renewed energy in the side that showed great dedication, skill and commitment and moved well along the learning curve. The on-going success is thanks to the dedication of the players, team manager Christy Walsh, trainer JJ Grace and his selectors, John Dowd, and Noel Prendergast, and the backroom team of Coiste Peil secretary and travel co-ordinator Pat Mulrooney and Chairperson Tom O'Reilly.
At underage level, the county's focus on bringing the current under fourteen side through to minor level, saw them win in Wexford and the under fifteens win in Antrim. In addition there were fine turnouts for training under DJ Carey, Séamus Norris Murt Flynn, Angelo Cullen and Donal Carroll.
Presentations:
This year the 1969 All Ireland Senior Hurling team were presented and honoured at the Senior County Finals in Nowlan Park. After the game, they were hosted with their partners by the Springhill Hotel. Thanks are extended to Ned Buggy and Gerry O'Neill for creating a beautiful memorial programme for all involved. Elsewhere, Eddie Keher was the recipient of the GAA GPA Hall of Fame award
Club Championships:
St Canices Credit Union Senior Hurling Championship:
In a unique coincidence, three of the quarter finals were drawn as Ballyhale Shamrocks (after extra time), Dicksboro and James Stephens all came through the replays by narrow margins at well attended championship games. They were joined by O'Loughlin Gaels who had overcome Erin's Own. For the respective teams Clara, Mullinavat and Carrickshock it was a close call and provided a story of what could have been, to build on. In the first semi-final Ballyhale Shamrocks appeared to be well in control when they were six points 1-8 to 0-5 ahead at the break before a late James Stephens rally gave them a 3-16 to 1-14 win. In the second, League champions Dicksboro led the holders O'Loughlin Gaels by 1-9 to 0-8 before they had to defend valiantly to record a 1-14 to 0-14 win.
The first all-city final since 1950 attracted a crowd of 7,500 with the game also going out live on TG4. Some favoured the Village with a long tradition of success. Others hoped the Boro's season-long winning run would continue and bring the ultimate award, whilst most neutrals were there for a good game and to see what it would offer for the future. On a perfect day, on an immaculate sod, the teams were sprinkled with legends, warriors and rising stars. However not one person present could have written the script of what was to follow in a free-flowing encounter. Six great goals before half time, that were evenly divided had seen Dicksboro go twelve points up, 3-10 to 1-4 and still only lead 3-11 to 3-5 at the break. Ten minutes into the new half a goal chance for the Village looked to have the lead down to a single score before goalkeeper Darragh Holohan ensured it was not to be. At the other end a goal seemed to have the Boro home and dried and again it was not to be as the Village never gave in. Their fourth goal ten minutes from the end had the lead back to six points and just anything could happen. In the stands, every supporter sat it out to the final whistle, afraid or hoping that another scoring frenzy would erupt as Dicksboro held out for a famous 4-15 to 4-10 win. The result saw Ollie Walsh collect the Tom Walsh Cup for his club for the first time in twenty four years while Cillian Buckley, one of the championship stars looks like being the popular choice for the County team captain. In the League section Dicksboro, the only team with full points, added the League Crown with a point win over O'Loughlin Gaels, with Carrickshock taking the Shield. In the relegation final St Martins made the drop to the intermediate grade when they went down to Bennettsbridge in the final.
Michael Lyng Motors Intermediate Hurling Championship:
In the Intermediate Hurling semi-finals an amazing ten goals and sixty nine points were scored without a semblance of a one sided result. In one, the League champions St. Patricks, with a star performance from Kevin Kelly, outscored Tullaroan by two points. The second saw Graigue Ballycallan, with a second half blitz, finish with six points to spare over a Glenmore side who had led them by seven points at half time. In the final St. Patricks, who had been the bridesmaids in three recent finals, were seeking the ultimate prize when they faced Graigue Ballycallan. Often appearing to struggle in the earlier rounds, the Kilmanagh men had perfected their second half sprint to the winner's rostrum. In an intriguing final they appeared to realign their troops, and, wind assisted, created plenty of chances and led by 1-3 to 0-1 early on. At the break the sides were tied 0-8 to 1-5 as St Patricks settled in slowly. Within minutes of the restart they were five points ahead as long serving Brian "Brook" Phelan, with a man-of-the-match performance goaled. Following an Eamon Egan goal and an Eddie Brennan point, just two points separated the sides with ten minutes to go. Looking at another possible final defeat, the Ballyragget men took remedial action and added four points to see them run out 1-19 to 2-10 winners. The popular win saw them take the Hanrahan Cup and promotion to the senior grade.
In a competitive league every team recorded points with no side recording five straight wins. In the League Final in Callan, Thomastown needed extra time to overcome Tullaroan as St. Patricks had an easy win in the Shield final over the holders Glenmore. In the relegation Final Dunnamaggin made a last minute drop to the junior grade after a last puck St. Lachtains goal in the replay in Nowlan Park.
J.J. Kavanagh and Sons Junior Hurling Championship:
After John Lockes took the A section league title for the Junior Clubs, and O'Loughlin Gaels the B section league title, for the bigger clubs second teams, Galmoy, Clara, Emeralds and the Blacks and Whites bowed out at the quarter final stages. It saw Slieverue and Piltown join O'Loughlin Gaels and John Lockes for the semi-finals. In Nowlan Park, a ground-breaking Slieverue side went down to John Lockes, as O'Loughlin Gaels overcame Piltown. In the final, John Lockes, the runners up in 2016, faced a strong O'Loughlin Gaels second team. After a slow start they were 0-8 to 0-3 behind as the clock approached twenty minutes. Following a Dan McCormack goal, the Lockes moved ahead as the game became so close that the sides were level on twelve occasions. Still a point up at the break, the sides were level 1-14 to 0-17 as the clock ticked down. It was still the same going into injury time as both sides strove valiantly for victory. In an instant, an O'Loughlin Gaels attack towards the Johns Park goal saw Callan hearts fluttering. However the ball was scrambled clear off the goal line to safety! Within seconds they fluttered again as the ball was cleared down the field and a half chance to score the winner went wide and the advantage swung back to O'Loughlin Gaels on the puck out. For the Callan men another chance arrived and the resultant late point saw Owen McGrath lift the Bob Aylward Cup for the fifth time.
Junior Leagues; In the JJ Kavanagh and Sons All County League, Slieverue and the Emeralds made the semi-finals as their conquerors saw Mount Leinster Rangers the eventual Carlow Senior Champions with three points to spare over O'Loughlin Gaels in the final. Amongst the many fine junior games that were seen was the Paddy Cahill Cup final. It went to extra time and a replay, before Conahy Shamrocks eventually got the best of Barrow Rangers by three points. A similar result saw Barrow Rangers go down to Piltown in the Martin Treacy Cup with Naomh Eoin going on to win the Kevin Fennelly Cup.
AIB Provincial Championships
The early days of the year saw a great crowd travel to Croke Park to see a Richie Power led Carrickshock side take the All-Ireland Club Intermediate hurling title with a win over Galway's Ahascragh Feohenagh by 2-15 to 0-6. In the Junior Final a Mooncoin comeback almost saw a Kilkenny double as they came within an injury time point of Mayfield of Cork. The final score was 2-16 to 1-18. In the changing balance of power at Leinster club level, All Ireland Champions Cuala proved too strong in their senior tie against Dicksboro as did St Mogue's of Wexford against John Lockes in the Junior Provincial Final. Elsewhere St. Patricks run at Provincial level continues as they face Wicklow's Glenealy in the final as we go to print. In the Intermediate football, Mullinavat after scoring 3-5, went down away to Offaly's Durrow in the Faithful Field in Kilcormac. In the Junior grade, Louth's Glenn Emmets overcame Conahy Shamrocks on their memorable visit to Jenkinstown.
J.J. Kavanagh and Sons U21 Hurling Championship:
Following recent decisions, this year's campaign will be the last one decided along the old North/South divisional format. The Rower Inistioge the 2016 "A" winners, set out to defend their last minute win over Dicksboro. They were joined in the "A" grade by both Tullaroan, the 2016 "B" victors, and the runners up, Dunnamaggin. At the time of going to press, all three were eliminated from the "A" campaign which will now be decided between James Stephens and the winners of the Ballyhale Shamrocks/John Lockes tie. In the B championship, the final will see the champions come from the Northern representatives Clara or Barrow Rangers, and the Southern Champions Piltown or Galmoy-Windgap. In an effort to run a shorter, sharper and more streamlined campaign in 2018 the draws will be on a seeded basis based on a clubs progress at adult championship level. The appearance of new County team manager DJ Carey and his selectors at all of the games has been widely appreciated and has added both recognition and a bit of bite.
Honda Citroen Centre Minor Hurling Championship:
After Ballyhale, Graigue Ballycallan O'Loughlin Gaels and James Stephens blazed a trail through the quarter finals it was the City Sides who made the County "A" Final. To do so the Village reversed last year's County Final result against Ballyhale Shamrocks, and O'Loughlin Gaels defeated Graigue Ballycallan in front of a huge crowd under lights in MWH Park Dunmore. Played before the senior final, it set the tone for a great day's hurling as O'Loughlin Gaels continued their unbeaten run through the grades with a 3-15 to 0-17 win in a thoroughly enjoyable and competitive tie
Eighteen teams contested the "B" Championship in many high-scoring close games that included two drawn ties. In the semis, Dunnamaggin defeated Young Irelands and Mullinavat had three points to spare over Galmoy Windgap. In the final, Mullinavat got off to a flying start before being overtaken by Dunnamaggin who won on a 3-16 to 2-11 scoreline. In the "C" Competition St. Patricks required a replay to overcome a gallant and surprise Slieverue side after they defeated Carrickshock and Conahy Shamrocks respectively in the semi-finals.
J.J. Kavanagh and Sons Football Championships
This year's senior championship saw Mullinavat make a breakthrough with a fluent style of football as they overcame the four in a row champions Railyard. On their way Mullinavat were taken to a replay by Clara before they defeated Kilmoganny in the Semi Final. In the other side of the draw Railyard defeated O'Loughlin Gaels before James Stephens conceded their semi-final tie. With the Railyard having two adult sides playing competitively in the Carlow leagues, it was the Mullinavat men who got off to flying start to lead 2-6 to 0-1 at the break. However, a ten minute rally on the restart yielded 2-3 for the Railyard to leave just three points between the sides before a third Mullinavat goal ended the comeback. The result saw Tom Aylward collect the Ned Langton Cup on a 3-12 to 2-5 scoreline.
In the intermediate championship Conahy Shamrocks made an instant return to the senior grade when they took the honours with a 1-8 to 0-8 win over the Rower Inistioge as Andy O'Keeffe lifted the trophy. At the other end, Piltown or Graiguenamanagh face the guillotine to the Junior Grade
At junior level Tullogher Rosbercon remain the holders as their end of season under lights win in MWH Park in Dunmore was part of the Carrickshocks match programme in the All-Ireland Hurling Club series. This year's race for a junior title win and promotion is still open as the semi-finalists are awaited.
County Championship Results – 2017:
Grade: Teams/Results:
Senior Hurling Dicksboro 4-15 James Stephens 4-10
Intermediate Hurling St. Patricks 1-19 Graigue Ballycallan 2-10
Junior Hurling John Lockes 1-17 O'Loughlin Gaels 0-19
Junior 'A' Hurling St. Patricks 2-10 Mooncoin 0-15
Junior 'B' Hurling John Lockes 2-17 Galmoy 1-18
Minor 'A' Hurling O'Loughlin Gaels 3-15 James Stephens 0-17
Minor 'B' Hurling Dunnamaggin 3-16 Mullinavat 2-11
Minor 'C' Hurling St. Patricks 4-13 Slieverue 0-9
U.16 'A' Hurling O'Loughlin Gaels 4-9 James Stephens 1-17
U.16 'B' Hurling Ballyhales Shamrocks 2-13 St. Patricks 2-10
U.16 'C' Hurling Conahy Shamrocks 1-14 James Stephens 0-12
U.14 'A' Hurling Dicksboro 4-23 Thomastown 1-5
U.14 'B' Hurling Piltown 2-10 St. Martins 0-8
U.14 'C' Hurling Tullaroan 0-11 Conahy Shamrocks 0-9
Senior Football Mullinavat 3-12 Railyard 2-5
Intermediate Football Conahy Shamrocks 1-8 Rower Inistioge 0-8
Championship Sponsors:
Sincere thanks are once again extended to St. Canices Credit, Union, Michael Lyng Motors, J.J. Kavanagh & Sons, Iverk Produce, Country style Foods, The Citroen-Honda Centre and Duggan Steel for their on-going sponsorship and commitment to the various Hurling and Football competitions and to Kilkenny GAA. This year saw dedicated launch nights for the adult championships in Nowlan Park.
Spiritual Home:
Having taken the County Board meetings to the highways and Byways during the redevelopment of Aras Cearbhaill its completion has seen it become the county's spiritual home for all meetings where the pictures on the walls tell the story and give the motivation. It has hosted various launches and receptions and the meetings of the Camogie, Handball and Ladies Football organisations
Ted Carroll:
The official opening of Aras and Ardán O'Cearbhaill in the memory of the former County secretary Ted Carroll took place in June. Amongst the invited guests were Ted's wife Angela, their family members Helen, Donal, Ted, Pat and David the extended generations of the Carroll family and Lisdowney club and county board Officers. The event consisted of a tour of the facilities, a blessing by Fr. Tommy Murphy a meal and a presentation to Angela. Set in the meeting and new reception rooms with a backdrop of the stands and pitch, the occasion oozed history and memories as the life and times of the Texaco player of the Year and innovative county secretary from 1984 to 1995 were recalled.
Glanbia PLC:
Once again a mile Buiochas is extended to the Glanbia group for their on-going valuable sponsorship of all Kilkenny GAA teams. Special thanks to the Groups CEO Siobhan Talbot, Brian Phelan CEO of the Global Ingredients Division, and also Kieran O'Connor and Patricia Barry for their on-going support and liaison work.
Supporters Clubs:
An integral part of the County Board, the work of the Supporters Club committees led by John Mackey, Jim Freeman and Eddie Keher in Kilkenny, Eddie Nolan in, Dublin and Dr. Sean Dunne in Kildare is crucial to the funding every year. Their efforts through collecting individual and Business membership and the promotion of the Race Day, Golf Classics and the mobile shop selling Kilkenny gear, wallets, mugs and calendars is crucial to the county's success at all levels. The funds raised benefit the teams representing the county, schools, coaching and also provide meals for the county teams when they are competing in Dublin. As a result, it is necessary for us all to keep reaching out for new members to join and bring new ideas to support their great work.
Coiste na nÓg:
Thanks are extended to the Coiste Officers John Byrne, Willie Dempsey John O'Reid, Ray Byrne, Mary Fitzgerald, and their hard working committee for dealing with the unenviable task of Fixtures for the year. Handicapped with the crossover of players with Colleges, Celtic Leagues, hurling and football squads and the new and old inter county minor grades, the resultant late start to club games was impossible to recover. The issues outside the control of the board frustrated players, parents and clubs alike and cannot be allowed to occur again. However the new U17, 15 and 13 grades in the county offers an opportunity for a fresh start where the constant tweaking of the grading with the changing demographics will still be required. To maximise the benefits for all will require an adherence to the fixtures and postponements being only allowed as at adult level. The playing of under seventeen games on adult championship weekends will also be a help. However a shorter season for under thirteen's to fit in the school holidays will provide the young players with a year round season. It will see the school hurling season finishing in May then moving onto club championship and back to schools football season in September. It too may help to combat the loss of players coming through the sixth classes in National Schools. In addition it should be used to ensure additional football playing opportunities at more suitable times of the year.
Compliments are extended to all involved in Féile at any level organising fixtures; hosting families, upgrading club facilities, and ensuring Garda Vetting was correct. It increased the workload and was run in a thoroughly professional manner. To all I extend best wishes for the year ahead in the most important work of providing games for all at this important stage on every young players pathway.
Féile:
The triangular hosting of Féile in Kilkenny Carlow and Wexford became one of this year's great success stories. It gave every club a rare opportunity to be involved by hosting visiting clubs and playing in the various hurling, camogie and handball competitions. From the off it brought many changes, with new Garda Vetting and hosting procedures, Health and Safety and School visits. In addition, Seamus Norris' proposal for a new format for the Paddy Grace Pre Féile tournament and linking it to the under fourteen squads was innovative as was playing the handball on a separate weekend. For others, the playing of Rounder's for the first time was a huge step. On the ground tremendous work was done in every club in upgrading the facilities and providing catering and entertainment to a professional level. This year's hurling competitions saw Divisional trophies for Dicksboro, Bennettsbridge and Galmoy Windgap, with James Stephens, Dunnamaggin, Lisdowney and Slieverue taking the Shields, Streamlining the whole event from the Dolmen Hotel headquarters were Willie Dempsey and PJ Kenny with Liam Dewberry looking after the results and fixtures. Next year's Féile na nGael competition has moved to Connacht and will not involve as many from the county. However the experience and memories gained by every person in each club who participated in Féile will not be forgotten. On reflection it is felt that the competition in its current format has become too big and cumbersome and spread out with long journeys between the games reducing the social aspect and it will have to be reviewed
Divisional Boards:
Once again the Divisional Boards looked after many of the Junior and the entire Junior A, Junior B and the under twenty one competitions, organised meetings and match programmes whilst also catering for the Carlow clubs in the All County League. This year they encompassed the changes in PJ Kenny's league proposals and have monitored how they fitted the match requirements for the various teams. The season saw the return of the Farrell Cup competition that saw the Northern selection led by Richie Doyle capturing the Silverware in the final that took place under lights in MWH Park Dunmore. In addition they recognised the memory through Ned Buggy of former county chairman Michael O'Neill by providing a cup for a final between the North and South Divisional champions at junior level. Once again special thanks are extended to the respective Committees under new northern Chairpersons John Lacey who replaced Donal Brennan, his Southern colleague Pat Dunphy and respective Secretaries Ned Buggy and Dan Kenny, treasurers Paul Kavanagh and Andy Aylward and Southern Board PRO John Stapleton.
End of an Era, New Beginning:
With the Clubs decision for the remaining competitions to go All County, the Northern and Southern boards will now amalgamate to form a County Junior Board. When the Southern Board was founded in 1919 and the Northern one seven years later, their work was crucial to the development and nurturing of the games and competitions. It all started when James Aylward of Mullinavat John Ryan Knockmoylan and Peter Walsh Templeroum became the Chairman, vice chairman and secretary/treasurer respectively of the new Southern Board. It was replicated in 1926 when Sean Gibbons, Clomanto, John Dowling of Danesfort and Liam Mac Oda Clomanto took up the respective Northern Board posts. Their stories and those of their successors and the club representatives would fill a book or make a fine documentary. It would include the lifelong dedication of Seamus McKenna and Joe Walsh and Johnny Ivory for over one hundred years as secretaries and Martin Egan who served thirty five years as the longest serving Chairman. In that time, many of the officers also featured as hurling and football referees. The boards predated the Handball Board founded in 1922, and the Football Board founded in 1937. Over the years they rolled out the Junior A in 1959, Junior B in 1983 with the under twenty one A, B and C commencing in 1967, 78 and 92 respectively. The next step was welcoming the Carlow Clubs and going all-county at Junior level. Their history, thanks to the Kilkenny GAA Bible, includes a list of the now defunct clubs of their officers in Clomanto, Foulkstown, Urlingford, St. Johns, and St. Fiacres, Knocktopher, Hugginstown, St. Senan's, Templeroum, Knockmoylan. Unknown are the many other clubs that came and went or amalgamated into area teams and then transited to parish teams, as we now know them, in 1954. In addition, they were the link to county matters through the representation of a handful of delegates. Looking back to an era without telephones, email, and transport, that saw the population face a world war, rations, economic hardships, unemployment, emigration their work was a tough task. Then the bicycle was the Boeing Jet, farmers' fields with undulations and cowpats were county grounds whilst sheltered ditches made fine dressing rooms.
In a couple of weeks a new era of organisation and officers will set to meet the challenges that will require the same dedication to continue promoting the games and competitions in an ever-changing world.
Coiste Peil:
Changing times in football saw Pat Mulrooney become the new secretary to join Chairperson Tom O'Reilly and vice chairperson Tom Brennan. Here he played a crucial role in the organisation of the British Junior championship games. With definite calendar slots for the club and Intercounty games suiting the vast majority of clubs, the fixture dates still need to be micromanaged to ensure the maximum benefits for the code. The changes have seen a stabilization and reversal of the trajectory of the game at inter county level. However, much more needs to be done at club level where the benefits of being a dual player in fitness, stamina and strength are becoming more obvious in other counties. The reciprocal arrangements that see additional football options being provided in Carlow and Laois at adult and juvenile level are to be complimented
Competitions Control Committee:
By far the busiest of the County Committees the CCC has achieved a unique balance in running so many competitions at all grades and in providing so many games. This is done in conjunction with National and Provincial CCC's, the Northern and Southern Boards, Coiste na nÓg, the County management teams and club officers and groundsmen. Led by vice chairperson Conor Denieffe and Secretary Ned Buggy, the agenda included special requests, grading, transfers and thankfully a limited amount of referee's reports. A lack of interest in some leagues and late walkovers are problems that are continually under review. This led to PJ Kenny compiling the recently agreed fixtures proposals that will be put in place in 2018. The new Under 19 grade should fill a void on the path from minor to adult and its games help to retain players at a crucial transition stage in their lives. The redefinition of the minor grade with no overlap with adult grades should be of a great help to all involved. Once again February 15th will be the date for player, team regarding and inter club transfers in the county. Following the work of the CCC, the notifications of referees and venues and updating the fixtures and results system is crucial. Here Liam Dewberry, Willie Dempsey and Jim Fennelly play an enormous role at the various levels with Liam managing the Servasport Database. Whilst Kilkenny's choice was to go slowly and learn from the Football changes at National level, a new hand has been dealt with the new Hurling proposals. Following the Club Officers meeting we can all see the negative effect on our traditional spread of league championship club games throughout the summer. This year the imperative is to make the non-championship league ties more attractive and meaningful. As always, sincere thanks is extended to all involved in organising so many aspects of the games so successfully.
Referees:
Once again thanks are extended to our many referees for their dedication in officiating at all games in all weathers.
This year their programme included the additional Féile games that required forty five referees on the festival weekend. Thanks also to the work of Referees Administrator Sean Breathnach and his committee of Martin Gordon, Pat Hayes and Sean Cleere, for organising the annual In-Service Day and the training of nine new referees. Congratulations are extended to Sean Cleere and Trish Dempsey for their handling of the all-Ireland minor hurling and Intermediate Camogie All Irelands. With Sean having completed his term, a new appointee will be made to the role of Administrator
Hearings Committee:
Thanks are extended to the County Hearings Committee under Chairman Jim Walsh and Secretary Tom Egan along with Liam Tyrell, John Comerford, Paddy Butler, John Joe Kinsella and Eamon Doyle who once again dealt with the appeals in a thorough and professional manner. Their work often at very short notice has ensured no delays were incurred in the games programme.
Year Book:
The much awaited annual production is much more than a historical and photographic history of the activities in the Club and County. Each year the profits are invested in the further enhancement of Nowlan Park. This year they will provide two custom built stats areas for the backroom teams in the rear of Ardán De Grás. The units with power supplies, facilities for videoing and laptops will also be provided with a live TV feed on the big match days. In addition the funds will provide a new recessed area on the side-line for the TV Cameras and the Fourth Official. As always thanks are extended to the committee of editor Barrie Henriques, creator Gerry O'Neill, compiler Pat Henderson and contributors Ned Buggy, Conor Denieffe, Seamus Reade, Jimmy Walsh, Tommy Lanigan and Conor Brennan for their work. Also to the many advertisers, supporters, guest writers, photographers and regular readers for their on-going support. With all the old editions available on line on kilkennygaa.ie this year's edition is set to be another best seller.
Cumann na mBunscoileanna:
The first real contact for many young players outside of the Club grounds is the Primary Schools team where the games are nurtured often on a daily basis. Led by Secretary Jim Fennelly and Noel Power, Cumann na mBunscoileanna with an active teacher promoting the games in almost every school provides almost six hundred games for three thousand pupils. These are played in separate terms for hurling football and 40×20 handball. Played between September and June, the benefit to the games is irreplaceable with most of the Schools finals held in Nowlan Park or Dunmore.
In addition the schools hosted the Féile visits and provided colour and entertainment where the GAA, Camogie, and Handball presidents were in attendance. Once again two teams participated in the fourth Primary Schools inter county Football tournament. In addition the Board also runs the Cúl camps across the county where the attendance figures continue to increase and a large number of coaches get great experience in being involved in running them. Jim also runs the Helmet and Hurling Subsidy scheme that reduces the cost to players and parents and benefits the clubs to well over €21,000.
Second Level Schools;
Having had three competitive Senior Colleges teams, Kilkenny's player's dominance at Senior level continued with St Kierans following the holy grail of four All Irelands and Croke Cups. With a Leinster League win over the CBS their efforts ran three points short against Our Lady's of Templemore in Thurles.
Thanks are extended to the teachers in each of the schools who act as trainers and coaches for the great work being carried out as the link between the primary school and the minor, under twenty one club and county teams. It is an area where the ordinary club player, if not nurtured and catered for with games, can start to slip through the cracks. Thanks also to Pat Henderson as the South Leinster co-ordinator and Martin Gordon the group's representative on the County Board.
Coaching and Games Development:
The New Year saw Pat Tynan settle in as the Counties Coaching Officer. The appointment of Sean Kelly to the county coaching staff where he will focus on secondary schools and squads has the potential to be a great success. He joins Brian Ryan on the coaching team that lost James Meagher to the Clare County Board coaching staff. Over a period of twelve years James had planted the seed and nurtured the games with so many players in such an enthusiastic manner that his loss will be widely felt. On his new journey he carries the thanks and best wishes of all involved in the game in Kilkenny. Currently a shortlist has been drawn up and it is hoped to have a new coach in place for the southern region in early January. Their work load covers the games activities in the schools and clubs and includes organising Summer Camps, Go Games, Coaching, Development Squads, Club Flag and the provision of Foundation and Award 1 and 2 Coaching courses.
The year saw a renewed focus on the Development Squads with many new top class coaches being recruited and former stars acting as ambassadors. Attempts to streamline the players' pathway through the various grades received a huge boost with the attendance and involvement of Michael Dempsey. This involved both parents and the players who are currently attending balancing and co-ordination sessions. Thanks are extended to Pat and his team. An action point from them for every Club, should be the attendance of a member at the National Games Conference that takes place in Croke Park in January.
Handball:
Once again Kilkenny hand ballers participated in a myriad of 60 x 30, 40 x 20, hardball and one -wall competitions at Provincial and National level where they recorded notable victories at all levels. Amongst the good news for the game was Galmoy, a relatively new club, winning the Division 1 Boys Féile competition and Glenmore's debut in the annual tournament held in Wexford. The success of the once-off Ducksie Walsh Memorial tournament in Clogh, Mullinavat, and Kilfane that saw a packed house attend the finals in Talbots Inch was a great memory. On the day it attracted the top players and spectators from across the country who witnessed top class games. At National level the plans have progressed for the new National Handball Centre in Croke Park. Its completion will strengthen the game and give it a higher profile when the Finals will return to being held on the All-Ireland Final weekends. Garda vetting, coaching and safety add to the workload of the Handball clubs where the scarcity and aging of club officers and coaches is causing some concern. On the plus side the skills learned playing handball are easily transferable. Slick footwork and hand-eye co- ordination have often being used to turn a hurling and football game. Once again thanks are extended to the Handball Board led by Martin Lawlor and Liam Mahon and their County Board representative Gerry Murphy. Also to the many club officials and players for their work in promoting and playing the games.
Camogie:
At county level the All-Ireland senior champions were struck by a series of early season injuries and, despite the loss, the side recovered to take the League title and go narrowly down against Cork in the All Ireland Final. A highlight for all involved was the All Stars won by Catherine Foley, Meighan Farrell, Katie Power and Anne Dalton. At home, Thomaston retained the senior county title against the rising stars from Dicksboro and went on to retain their provincial title. In the intermediate grade, St Brigid's defeated Clara by two points as Conahy Shamrocks captured the junior title with Dicksboro, John Lockes and Windgap taking Féile titles. Pride of place goes to the Loreto team that continues to dominate the secondary schools when they won the senior All Ireland for the fifth time in eight years and completed a three in a row at Junior All Ireland level making it ten out of the last twelve titles. The association of the county under seventeen team as young ambassadors for the Samaritans is a notable achievement in these times. Once again thanks are extended to Chairperson Martin Quilty and his officer board of Joan Gaule, Theresa Aylward, Michael Ryan and Aoife Lanigan for their work and co-operation.
Ladies Gaelic Football:
2017 was a good year for Ladies Gaelic Football with a reformed County Board and a return to Division 4 of the LGF National league where they played Wicklow. On the local front, Kilkenny City made it a treble when they defeated Thomastown to take their third senior title. Best wishes are extended to acting Chairperson Brendan Healy, Secretary Brendan Cooke the County Board and clubs for the year.
The hosting of the All Ireland Senior Football quarter finals in Nowlan Park saw eventual Champions Dublin, Kerry, Waterford and Laois play in front of a crowd of one thousand spectators.
Fixtures Book:
The annual Fixtures Book has become the foundation stone Gospel and Guide for players, their families, and club officials planning their year's activities. Containing the vast majority of the adult and juvenile fixtures, it provides certainty for everyone. Its compilation by the County Northern, Southern, Coiste Peil, and Coiste na nÓg committees in fitting their games programme around the National and Provincial fixtures is both painstaking and rewarding and deserves the highest plaudits. It contains the Sponsors details, match regulations, pitch markings, ticket plans for various stadiums, Development Squad dates and all the relevant County and Club Officers in Hurling, Football, Camogie, Ladies Football and Handball and Referees and Supporters Clubs contact details. With so many new fixtures in the year ahead it is essential that it is out early and is accurate. Once again thanks are extended to the Liam Dewberry, Gerry O'Neill for its compilation and the Year Book Committee who sponsored the production.
Nowlan Park:
An invaluable asset and a flagship for Kilkenny, Nowlan Park is an almost invisible economic asset to the City and County. During the year it attracted a huge number of spectators and visitors who attended The Allianz National Hurling League, inter county championships and Club games.
Once again thanks are extended Event Controller Seamus Reade, to the clubs who provided over two hundred volunteer Stewards for the big games and who operate and key areas at every game. Thanks are also extended Doctors Mary O'Gorman and Sean Dunne, and also the Local Authorities, Gardaí, state bodies, Order of Malta and the Red Cross.
With an immaculate and ever improving playing surface that has been stitched and sanded on four occasions, it now requires some urgent remedial drainage works particularly as the inter county season commences earlier in the year. Having made great strides under the watchful eye of groundsman John Coogan and Kevin McGarry, it is constantly in demand as a venue for National hurling, Ladies and men's football and Camogie games at all levels. The Student Summer Jobs scheme has also helped the appearance of the grounds and it is ever-ready for the hosting of big games or a concert. Thanks are also extended to the growing number of valuable pitch side sponsors.
Michael O'Neill
To mention Nowlan Park without acknowledging the Trojan work of Michael O'Neill would be unforgivable. Always available, almost 24/7, he coordinates the ever-increasing opening of the Gym/Physio Rooms and is ever present with a tool of some type maintaining or improving something in the stadium. Often first in, and definitely last home, he ensures everything is locked up and turned off after each event and meeting. His attention to detail, knowledge of the facilities and attention to the journalists after the games makes their visit to Nowlan Park a unique experience .
Rugby World Cup:
November brought the news that Ireland's bid to host Rugby World Cup 2023 was not to be. It also ended Nowlan Park's current profile as an international multi-sports venue. It too altered budding plans for the long term development of the pitch surface, lighting and facilities. As one of eight GAA grounds involved nationwide, it brought a wealth of knowledge on the workings of stadia, of what we have and what is required, also of the bid process and the great levels of co-operation that came together between the national sports bodies and the local authorities. As a result the provision of broadband is now planned for all turnstiles and ticket sales booths. For their great efforts in attempting to secure the games, thanks are extended to Ned Quinn, Seamus Reade, Barry Hickey, Pat and Patrick Henderson, Brian Tyrell in Kilkenny County Council and Olly Hodges who was the IRFU World Cup Bid Manager.
MW Hire Dunmore:
Well embedded into the local GAA scene, the MW Hire Training Centre in Dunmore grounds host the Seniors winter training programme, the under twenty ones, footballers, and club teams representing Kilkenny. This year it will become the home of all of our county squads. To do so, and maximise its use, required a delicate touch in pitch management and maintenance and ongoing remedial work. Thanks are extended to John Coogan, Kevin McGarry and Pat Henderson and also the volunteers who open and close and stay for the duration of each event. The receipt of planning permission for lights, the application for permission to build a Gym, and plans to provide lighting in the car park and the provision of dugouts will be great additions. Despite its benefits, the continuous availability of St Kieran's where the pitch was named in honour of Fr Tommy Maher, and so many club grounds for our county activities is greatly appreciated.
Hurlers Co-Op Draw:
Once again, the Hurlers Co-Op Draw was launched by passionate speakers and organisers from the participating clubs. Over a couple of months it delivered almost a quarter of a million euro to the clubs and over ninety thousand more to the county Board. As always there is scope for all to further improve their returns. All this is thanks to the club co-ordinators, individual promoters and supporters and the work of Geri Hickey and her team who coordinate the draw. In addition best wishes are extended to the teams CEO Johnny O'Shea for a speedy recovery.
Hurlers Co-Op Draw:
Hurlers Co-Op Draw Results:
Draw No. 1: 1st Prize: Car or cash €11,000 Seamus McDonald, Tallaght, Dublin.
2nd Prize: Holiday or cash €2,000 Michael & Finola Barron, Glenmore, Kilkenny.
3rd Prize: €600 Milo McLaughlin, Hollyford, Tipperary.
Draw No. 2: 1st Prize: Cash €1.000 Seamus Crowley, Mooncoin, Kilkenny.
2nd Prize: Cash €1,000 Liam Corcoran, Galmoy, Kilkenny.
3rd Prize: €1,000 Neil Lyng, The Rower, Kilkenny.
Draw No. 3: 1st Prize: Car or cash €11,000 Paudge Gill, Demense, Gowran, Kilkenny. 2nd Prize: Holiday or cash €2,000 Shane & Sarah Doherty, Graignamanagh.
3rd Prize: €600 Dee Mackey, Mooncoin, Kilkenny.
Draw No. 4: 1st Prize: €1,000 Liam & Mary Brophy, Jenkinstown, Kilkenny.
2nd Prize: €1,000 Saoirse Power, Cuffesgrange, Kilkenny.
3rd Prize: €1,000 Glenmore G.A.A. Club.
Draw No. 5: 1st Prize: Car or cash €11,000 Ian & Paige Foley, Skeoughvasteen, Kilkenny. 2nd Prize: Holiday or cash €2,000 Shane Byrne, 12 Parkmore, Kilkenny.
3rd Prize: €600 Caoimhe Doyle, Graignamanagh, Kilkenny.
County Board Lotto:
During the year the weekly lotto held its 1,000th draw and continues to be a silent earner delivering well over one hundred thousand euros to the clubs with over twenty more going to the board's funds. It too has scope for the clubs to make more by reviewing their sales and getting their new members involved. Currently an App has been developed to assist mobile sales. Once again thanks are extended to the club co-ordinators, the sellers and buyers and to Sheila and Ailehs Molloy, Ned Buggy from the County Board and their dedicated team of volunteers who run the draw in Nowlan Park every Tuesday evening.
A Day at the Races:
A new date in June saw the biggest turnout at the annual Race Day in Gowran Park to date where it continues to be an important social gathering and a very valuable fundraiser. This year among the highlights was the ladies day and the presentation to All Ireland Senior Players of the year that was sponsored by Pat McCorry. Once again thanks are extended to the local businesses and clubs for their support. Also the players who presented the race prizes and the sterling work of the organising committee
Media, Communications IT Committee:
Congratulations are extended to Seamus Reade the County PRO and Leader of the IT committee on a double recognition by Leinster Council and by the National Gaelic Writers as the PRO of the year. The awards reflected the work done by Seamus on match build ups press releases, press nights, match programmes, radio shows and all the support on match days. In addition his role included updating the Kilkenny GAA website providing results and fixture feeds to the press and driving Facebook and twitter from almost zero to thirty six thousand followers. Other work of the committee included promoting the new club websites and providing support on all of the IT Systems. In addition thanks are extended to a large group of voluntary photographers led by Willie Dempsey Martin Rowe and Donal Foley who provide pictorial coverage for programs, the website and the yearbook. Match Streaming for our diaspora is one of the next new challenges.
Health and Wellbeing:
The Year saw Joan Murphy take over from the inaugural Health and Welfare committee Chairperson Adrian O'Keeffe. The wide brief which commenced with suicide awareness now deals with concussion and Health and Wellbeing. The committee is very active and held a very well attended meeting for all clubs. The members are also involved with Leinster and Croke Park gatherings. Great progress is being made in rolling out the Health and Wellbeing message with a seminar being held in St Kierans and St Lachtains hosting another and other club ones being organised. In addition to the work the support given through listening and advising is immeasurable. Another Croke Park initiative is the Healthy Club where Clara are our only participants. Sincere thanks are extended to Joan, Caroline Clifford, Louise Proctor, Breda Gardner, Fr. Paschal Moore and County Board delegates John Lacey and. John Lanigan
Child Welfare:
Early in the year Caroline Clifford took over from Conor Brennan as the County's Child Welfare Officer. It suddenly became a baptism of fire as it included being the online Clerical Officer for Garda Vetting for the County and Féile was bearing down with a huge number of applications for vetting in a very short space of time. As the GAA was the only one available online it became the only way for most of the application for the other sports. In all cases accuracy of the detail was essential as any who failed auditing would be delayed. In the end everyone got over the line.
Other items included the delivery of the Code of Best Practice course. Next year the new Children's Act will require all coaches to be vetted and have a Code of Best Practice and a foundation level course carried out. Thanks to Caroline for all the great work and to Connor Brennan for the support and maintaining the records of all who have a foundation level completed. This will reduce the initial work load under the Children's Act.
Looking After Each Other
On the intermediate hurling county final day Seamus Butler left his hospital bed of two years to watch his club fulfil their dream and cross the line to the senior grade. Afterwards the players celebrated with him and his carers and family in the rear of Ardán De Gras. It was a real example of his respect for the club and their respect for his long lifetime with them.
Every club has similar people and opportunities and also a "Give Respect Get Respect" plaque erected at their grounds. It covers racial abuse, social inclusion and integration of minorities, travellers and respect for match officials, players, and club officials. It includes those who might like to play and are not deemed good enough. And also their older neighbours who may have little opportunities of social activity except for an interest in our games. Seamus and his friends had attempted to make that same journey for other games in the recent past and it was not possible. Respect is not always as honoured as it was that day in Nowlan Park and it was a joy to behold. It can be destroyed in so many ways in an instant!.
Croke Park and Leinster:
The recently announced club grants from Croke Park and Leinster that have assisted clubs over the years have now surpassed €1,800,000. That's one point eight million euro, a lot of money and a lot of work done. It excludes the central funding of county grounds, league returns and support for our coaches etc. etc. Thanks are also extended to the staff in Jones Road and Aras Laighean that are always on hand to give advice and support on almost any subject to our club officials and county board officers.
Dublin Event
The organisation of a conference supporting Kilkenny GAA and St Kierans College Development Programmes in Dublin was a huge success. Led by Rev. Dr Dermot Ryan it brought a new dimension as Siobhan Talbot, Aidan O'Brien, Ross White and Brian Cody were the main speakers on the theme of Leadership in Sport and Lessons for Business with Henry Shefflin Tommy Walsh, David Herrity JJ Delaney and Michael Rice being the distinguished panellists. This year's event on January 18th will have Pat Kenny as the MC, and Brian Cody, Terry Clune, Jim Bolger and Jim Gavin as the main speakers on Resilience in Sport and Lessons for Business
Insurance and Facilities:
Once again Property, Public Liability Hirers and Players Injury Benefit premium costs have continued to increase. They are driven by a deteriorating claims experience and increases in the number of claims being pursued against GAA Units and the costs associated with managing them. Managing the day to day activities of club events and ensuing third parties users have their own cover insurance cover will be a help. It is essential that all club members are tuned into safety and implement best practice in managing their properties and club activities. At the end of the day the prevention of accidents is by far the cheaper way when insurance is involved. In addition to the normal challenges, each year has something different, 2016 brought flood damage, 2017 storm damage and 2018 it could be frost or a continuation of break ins, so we must be alert at all times.
Currently the GAA National Risk and Insurance Committee through Sinead Leavey are requesting that all clubs complete an online survey on their facilities. The data requested is vital to the continued provision of cover for all units and it is envisaged that this data with the claims experience will be utilised to implement a system to reward clubs. Thanks to the work of Pat Henderson and a club survey carried out a number of years ago a system that gives a pro rata spread of the premium based on facilities and risks is already working in each club in Kilkenny. This work was supplemented by our Safety Officer Eddie Blackmore who is always available to assist clubs. As always Sinead Leavy and Ciara Clarke in Croke Park or Willis are the first contact for events and one off activities
This year the Player Injury Benefit premium was based on each clubs claims experience over the past three years and for most it involved reductions with a small number having additional loadings.
Clubs:
The work of volunteers across so many diverse areas in clubs continues to amaze as they continue to be the rock the games are built on. Each and every club enhanced their facilities and put on their best display for all aspects of Féile. This was widely acknowledged by all the visiting teams. Elsewhere many new major developments were being planned, are in progress and being completed with Muckalee and Young Irelands being amongst them.
However, it is becoming a more recurring problem for clubs to attract their members to their AGM's and with smaller numbers attending to fill all of the officer positions. Working smarter is a great idea however clubs range from communities of hundreds to many thousands and the same cap is designed for all. Each club would like to adhere in full to every change, however many items although essential are moving away from our core activities of organising and playing the games. Therefore, it is important that we as an organisation, from Croke Park to Leinster, and in Nowlan Park, provide as much support to them as possible. This year new initiatives being rolled out include Corporate Trustees, the changeover to Online Player Injury Benefit claims, Data Protection and Compulsory Coaching Courses, Health and Wellbeing and the new Children's Act.
Whilst some progress has been made on improving the IT Systems to streamline and reduce the workloads of officers it may be well into 2018 before we see the benefits of them. The first steps will enhance the registering of Members and allow them pay their membership fees online. However it is disappointing that the planned free texting system within the Membership System that would instantly same money, and improve governance is not available to date. Elsewhere, the promised more user friendly way for recording Challenge Games has not been delivered. Such time-management improvements would be beneficial to all involved in our forty one clubs and all those nationwide.
Elsewhere practical support can be got through Tús, Fás and RSS Schemes whilst there is more financial potential through additional participation in the weekly Lotto and Hurlers Co Op Draw.
Once again I wish to thank all of the club officers and members for their help, courtesy and support at county level particularly with stewarding, attending meetings, distributing match tickets, supporting our teams, and providing pitches for fixtures. Also included are outgoing Development Officer Val Malone for his great work for the County Board in a range of roles over many years and for looking after the long Poc and Club grants.
Income and Expenditure:
Once again the good news in Treasurer Barry Hickey's Financial Report to Convention is that it again shows an end of Year surplus. The total turnover in excess of two million euros was well down owing to an early championship exit and reduced ticket transactions. Working with annual repayments of €120,000 a year it requires a tight disciplined hand on day to day spending. Also finding innovative fundraising efforts to support the Lotto, Hurlers Co- Op Draw, Season Tickets National League returns in order to meet increasing costs and on-going maintenance before the planned development works are put in place.
Thanks goes to the Treasurer Barry Hickey, book keeper Pat Henderson and Caroline Morrissey for all their great work in recording and micro managing the accounts and the board finances. Also the support given by Glanbia, O'Neill's, Lucozade and Elverys
Major Contributors
Recognised as a major contributor to the Kilkenny Brand, Kilkenny GAA and Hurling was most comfortable on the world stage as Nowlan Park already a well-known Concert Venue became known as a potential Rugby World Cup venue. The goal scored by Prince Charles on the pitch in the Castle also saw the Kilkenny name travel around the globe.
During the year the clubs were to the forefront in the trenches when the Boundary Commission realignment and identity changes and major financial implications for the county was fought successfully.
Also recognised is the contribution of the GAA through its clubs to the social recreational sporting and life of the County. As demographic changes and urbanisation increase the ability to be able to retain and regenerate the population in rural areas is dependent on receiving Planning permission for new homes.
Valuation
Working on a financial knife edge a dark shadow has been cast over the long term liquidity of the accounts with the new valuation figures for County Grounds based mainly on seating capacity. With spectator comfort being a driver in Nowlan Park the new rates will be draconian if implemented. Currently two separate areas are being pursued to seek a change to get relief under the act 2001 Valuation and to lodge an appeal of the new valuation with the Tribunal that commences dealing with appeals in January. If both fail it could affect seeking big games and the occasional concert and its subsequent effect on the local economy. Otherwise the increase in rates will have co-funded or shared
Cultúr:
Once again thanks are extended to Irish Officer Paul Fitzgerald for his great work in organising both adult and juvenile Scór competitions where the representatives went on to participate in Leinster and Belfast. Also for organising the annual scholarships to Colláiste na Rinne. It is an area with huge potential to build on the resurgence in interest in our national music language and traditions. The recent work in the Clara club is a beacon for all.
Match Tickets:
One of the great success stories for Kilkenny supporter's has been the Croke Park Season Ticket package. Last year the figure rose to 1,740 tickets that cater for all the league games with added championship benefits. The tickets for 2018 are now available on gaa.ie. In addition online sales for National Leagues Leinster and All Ireland Championship with discounts and adult County finals are available through a growing number of Centra and SuperValu stores.
Georgie Leahy (1938-2017):
Georgie Leahy had many hurling lives and he spent them spreading the Hurling Gospel in schools and across parish, county and provincial boundaries. Georgie lived for the game and was successful with both club and county teams in so many ways. Successful with Kilkenny teams at all levels he brought Laois to a Leinster Senior final and assisted with Welford, Waterford, Carlow, Westmeath and Offaly. In clubs he was a role breaker starting with his beloved James Stephens who he brought to an All-Ireland Club title, a feat he repeated with Glenmore and St Pauls in Camogie. Elsewhere, Barrow Rangers, Tullaroan, Mooncoin, Conahy Shamrocks, Galmoy and Castletown in Laois al benefited from Georgie easy way and hurling wisdom. A Posts and Telegraphs employee he was involved in the business house/factory league competitions before becoming the counties games development manager. The winner of county junior and senior medals with the village in 1955 and 69 Georgie also chaired the county's Coiste na nÓg and the Leinster Hurling Development Committee. The display of club and county tops in the huge gathering at his waking reflected his stature and huge success. His loss will be felt by his family, friends and opponents alike and we extend our sympathies to his wife Rita, his children John, Antoinette, Thomas, Murty, and Niall and his brother Martin, sisters Eileen and Kathleen extended families neighbours and friends.
Bereavements:
The sympathies of the entire GAA family are extended to our County, and Divisional Board Members, Club Officers, referees, supporters and players who were bereaved by a parent, wife, family member, or friend during the year. Amongst them was Mary McGrath the wife of St Patricks delegate Martin. Roddy Butler the brother of St Lachtains delegate Paddy. Michael Frisby father of Slieverue Chairman Ger. Jim Conway brother of Tullougher Rosbercon delegate Joe. Sean O'Grady father of minor trainer Pat. Marie Murphy wife of long time Muckalee delegate Patsy. Pat Phelan brother of Emeralds chairman Tom, Johnsie Harte GAA stalwart in Galmoy. Michael Walsh brother of former Erin's Own delegate Martin. Margaret Dowling mother of St Lachtains secretary Shelia. Marie Herbert sister of Danesfort chairperson Finbar. Tom Walsh a member of Kildare Branch of the Kilkenny Supporters Club. Regular gateman Tom Hogan of Gowran. Michael Ryan nephew of Blacks and Whites delegate Pat Nolan, John Kavanagh father of former player Michael. Sally Kelly Freshford wife of former delegate Eamon. Jim Bawle father of former Coiste na nÓg secretary Tommy. Michael Treacy brother of Bennettsbridge hurler Jim. Richard Lanigan father of Thomastown delegate John. Bridget Kennedy mother of referee John. Bridget Dunphy and Margaret Bergin sisters of Galmoy delegate Sean Doherty. Former Kilkenny Hurlers, Tony Kelly Bennettsbridge Senior Hurling medal winner. Seanie O Brien, Tom Bowe and Richie Walsh minor medal winners.
Elsewhere a rare link with a turning point in the history Kilkenny GAA was broken when Dan Phelan Windgap one of the few surviving founding club members when the Parish Rule was introduced in 1954 passed away.
Their names will be long remembered. Ar dheis De go raimh a nAmanacha.
Best Wishes for a full recovery are extended to this year's County Board delegates Michael Shortall of Barrow Rangers who looked after the Wheelchair area on match days and intricacies of the PR Vote at last year's convention. Also Jim Ryan the Tullogher Rosbercon delegate and steward for many years and to all who are ill and those who are on the mend.
Changing Faces:
Last year this heading was called "Facing Changes" it now becomes "Changing Faces" as the County Board Officers in the Chairperson, Secretary Vice Chairperson, PRO, Development Officer, Irish Officer and Central Council delegate all come to the end of their five year term. During the past five years each and every one has raised the bar and left their own individual stamp on each position. The coming weeks and months will see the transfer of knowledge and experiences to the new office holders. It is an area, where there should not be so many changes at the same time in the future.
Reflection:
On reflection, I wonder where the past five years have flown. It has been the most enjoyable and rewarding time in a position that I never even dared to dream of being in. I am still in awe of the respect for the position and the advice, feedback, help and co-operation that was forthcoming at all times. During the term I have met so many people from every club, county and walk of life. In common they were all thoroughly immersed in the games and we shared in victories, disappointments, saw changes and made plans.
There are many great memories and the special one, is of being involved in the magic of the cut and thrust at the front line. Also never knowing, whatever the plan was what the next game, call or email would bring. It is a busy role and my only regret is, more could have been done and I apologise for the official and personal events that were missed. At home the gate the garden and the pump house door join the awaited post, I will get to them some day!.
If asked for advice, all I can say is to get involved in some small way in your club and community. There is a role for every-one no matter what skill or interest you have, the enjoyment and satisfaction received will surpass any other feeling. The health warning is, be careful, it can be addictive. However I am led to believe the withdrawal symptoms can be difficult and prolonged.
There was no hurling or pitch at my national school. It was in the home and in the locality and I thank all who guided and looked after me along the way.
Kilkenny County Board is almost unique in the way does so many things. It mirrors the club model of volunteerism and is a team effort in every sense. No one knows how many are on the panel, however to maintain the standards as others around us progress, it is essential that more become involved on the team and that as each of us strives to raise the bar we will all move ahead.
Many Thanks:
To conclude a sincere word of thanks is extended to each and every one that has contributed to Kilkenny GAA in the past year. In particular our Management Committee, to Chairperson Ned Quinn who has given so much for so long in so many ways developing and delivering for Kilkenny GAA. To Vice Chairperson Conor Denieffe for his dedication and professionalism as Vice Chairperson and Fixtures Chairman, To Treasurer Barry Hickey for looking after the complex finances. To Seamus Reade the multi tasked P.R.O, I.T. Officer and Event Controller who has excelled at all levels. To Pat Henderson for his time expertise, advice and physical work in so many different fields. Also to Paul Kinsella our Ard Comhairle delegate for his great knowledge of the association, P.J. Kenny and Jim Fennelly who serve on Comhairle Laighean and its committees, Safety Officer Eddie Blackmore for his attention to detail in Nowlan Park, Development Officer Val Malone, Coaching Officer Pat Tynan and Willie Dempsey. Also to the Officers of the Northern,
Southern and Handball Boards, Coiste na nÓg and Coiste Peil. So too the members of the County
Board and its sub committees and the officers of the, Cumann na mBunscoileanna,
Ladies Football and Camogie Boards for their great work for the games. Also to all of the former officers led by John Healy and Pat Dunphy and stewards who assist on big match days. A special word of thanks and best wishes are extended to the officer's members and players of our clubs. Also to our county management teams and players.
A special thanks is extended Caroline Morrissey who looks after us all from Nowlan Park with a smile a laugh and a knowledge of the timelines, tickets and the Association that is irreplaceable
Finally I wish to thank to my wife Therese for her support and patience the lads Julie and Shane, family members Pat, Dick, Joan and their families, my club members, neighbours and friends and all involved in any way
It has been a great honour to serve and with much done and more to do, the New Year brings, new roles, hopes, challenges and opportunities.
Let's give them all our best shot together.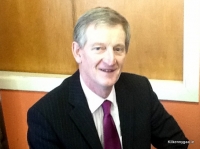 Seamus Breathnach (Jimmy Walsh),
Runaí Coiste Contae.