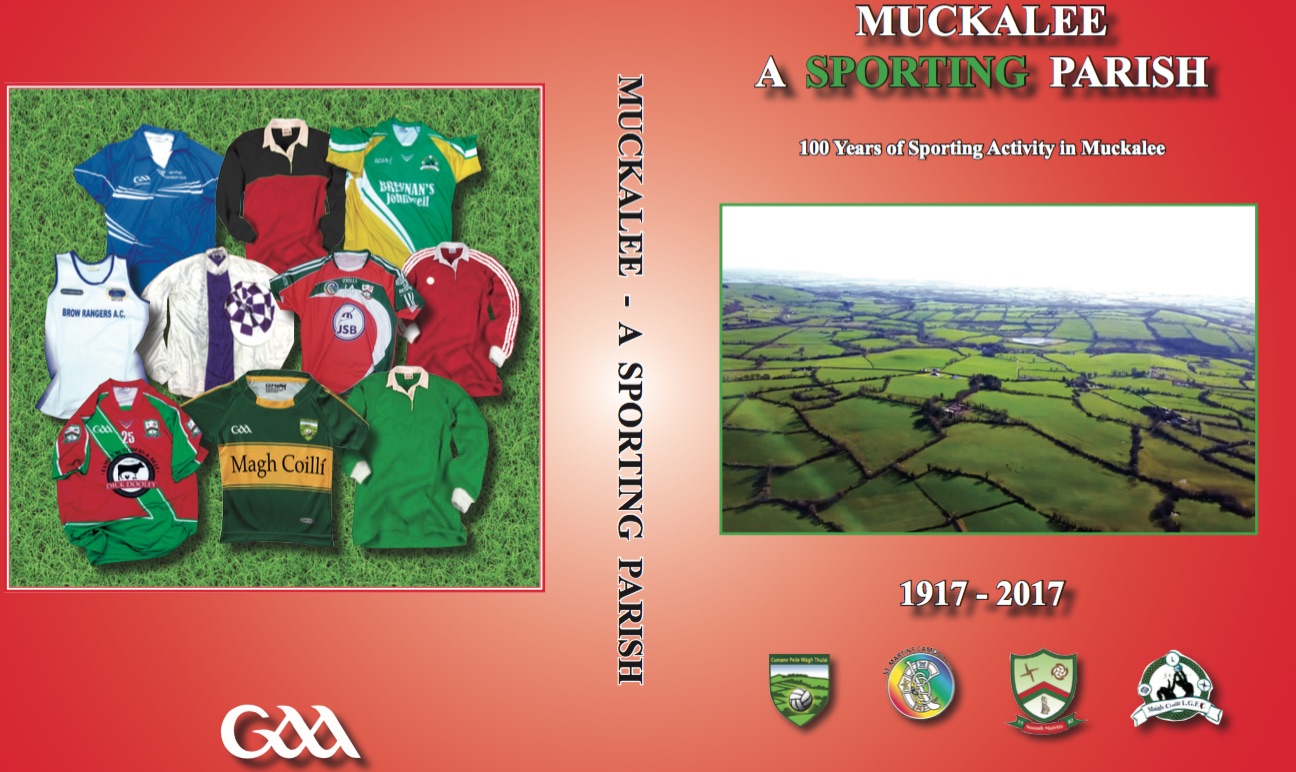 This Friday 9th November will see the culmination of an awful amount of hard work when Muckalee Gaelic Football Club will launch its Centenary Book – "Muckalee a Sporting Parish" in the new Club rooms at 8pm. It'll actually be the first official function which will take place at the venue with local legend, horse trainer Jim Bolger doing the honours in launching the book.
It sees all the sporting events that have taken place in the parish of Muckalee being covered from 1917 to 2017 to cover the hundred years of the club. The close to 400 page book sees the early stages of GAA within the area being covered and all county finals won by Muckalee GFC, St Martins GAA Club, Coon Hurling Club, Muckalee/Ballyfoyle Rangers, St Martins Camogie Club & Muckalee Ladies Football Club to name a few.
The book has being edited by former Headmaster of St Brendan's Muckalee National School, Gerry O'Neill who was also at the helm of the schools teams which won numerous titles during his time most notably the Roinn A Schools hurling in 2001.
Needless to say many landmark achievements are covered over the course of the book including the first football final victory, 1985 All Ireland victory, Minor A victories amongst many other things.
The history of athletics, handball, basketball & soccer are included along with features on notable people in the parish such as Jim Bolger, Eamon Morrissey & Edwina Keane – the club's only all stars amongst others.
Speaking ahead of the event Centenary Chairman Anthony Maher was hoping for a big turnout on the night –" A lot of work has gone into the book since we first meet back in 2016 to get the ball rolling on the project. The basis for the start of the research for this book was Fr Martin Ryan's autobiography and we hope in years to come this will be the starting point for other people to tell future generations of the great achievements of the past"
"I suppose this book shows how proud we should be of all the great work that has being done in the area of the years, not just in trophies but in deed and thought. Great tribute must go to all the people who helped in anyway in the production of the book – too many to name" continued Mr Maher.
The night will see a panel of present and past stars to discuss their memories of sport in the area with Jim Bolger being joined by Cyril Farrell, Colm O'Rourke, Johnny Brennan, Eamon Morrissey, Edwina Keane plus many more special guests with MC on the night being Nicky Brennan. Spaces are limited but it is free entry on the night with the book going on sale on the night for €20.
Centenary Committee: Anthony Maher (Chairman) Patrick O'Flynn (Secretary), Paddy Tynan, Paddy Morrissey, Richard Nolan, Nicky Morrissey, Martin Morrissey.