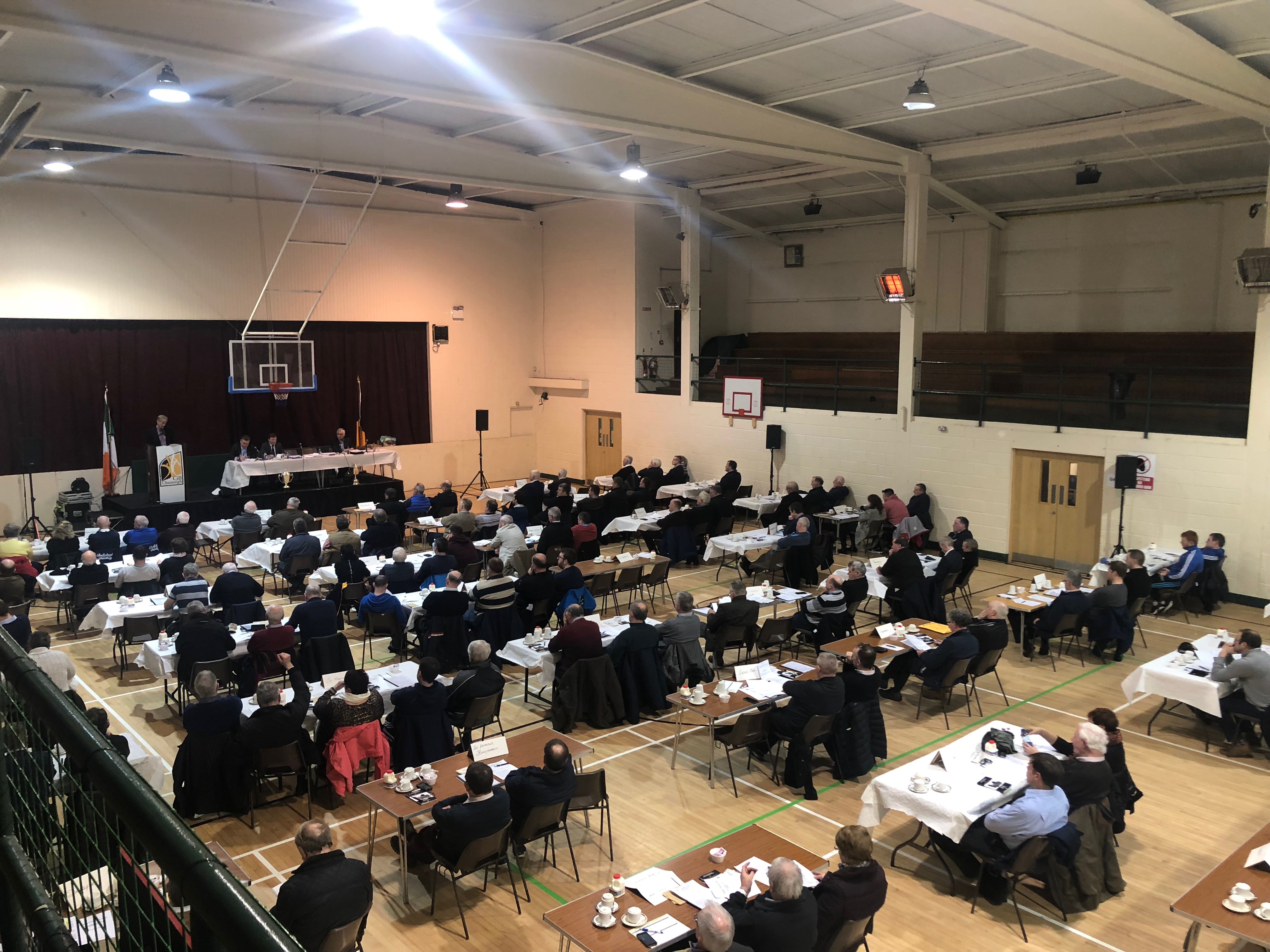 Address to Convention By Chairperson, Jimmy Walsh
A Chairde,
It is, truly an honour, to have this opportunity to welcome and address you the delegates and guests for the annual gathering of our clubs at our Comhdháil Bliantúil, Coiste Conndae Cill Chainnigh.
I have been on this stage before, in a mainly non speaking role and know that some stop watches may be set and I hope I will not disappoint the timekeepers. The advice is to keep it shorter than last year's secretary's report.
Our Runaí Conor Denieffe in his excellent report has extensively covered the year's activities, as has our Cisteoir Barry Hickey and also the contributors to the various committee reports that are included in the Leabhair eolas. As a result I am not going to restate their contributions and only wish to endorse them wholeheartedly and compliment all who were involved in the successful running of Kilkenny GAA in the past year.
Kilkenny
As we look back on the year, in a world where the measurement of success is taken off the top line. 2018 was a very good year for Kilkenny.
On the playing fields, our teams showed great resilience, as our senior hurlers rose Phoenix like, from the ashes of a forecasted long winter, to be involved at the top table when the spoils of battle were being distributed. The lead provided by Brain Cody, his management, and his young team with their ever improving performances, brought an unexpected and most welcome Allianz Hurling league title. In an outstanding year for hurling, it also brought the county within touching distance of the reigning All Ireland Champions Galway and the new and most worthy Champions Limerick.
This spirit saw our minor team overcome setbacks to reach the All Ireland Final, our Footballers win the Sam Maguire Cup of Great Britain, the Senior Camogie side and the intermediates hurlers reach the National finals and the Handballer's excelling at all levels.
Off the field, Nowlan Park and the MWH Centre in Dunmore have progressed with the further enhancment of the facilities and playing surfaces. The reward was the pitch of the Year for Nowlan Park and this was thanks to the on-going work of John, Mick and Kevin who were led wisely by Ned and Pat
Once again our Finances are in excellent condition and great work is being done at all levels in Coaching. The vision for a Gym in MWH Dunmore is awaiting a grant start-up date. The completion of the Irrigation works in Nowlan Park is scheduled, the Race Day is organised for June and the Concerts being held in July are great news for us and for the economy of the City and County.
Clubs
Firstly I wish to thank our forty one clubs who work tirelessly organising and providing games and facilities for all ages at local level. It was great to see the amount of work done throughout the Year, the pride in it, and I am delighted to see that there are so many progressive plans in the pipeline.
On the National Front, there is an unusual perception of what constitutes a successful GAA County. With 38 Clubs participating in adult Hurling, and 21 in football, along with 11 Handball Clubs, 31 Camogie Clubs and 10 burgeoning Ladies Gaelic Football clubs all catering for a population that was ranked 21st in the country at the last census.
As a result, I say, well done to each and everyone involved, it is an exceptional performance that is greatly appreciated across every corner of our county, in your communities, for your input to the County teams and the Kilkenny set up, and the national organisation.
At club level locally, we all have our dreams to be Mullinachta's or Slaughtneils, however we all know there can be only one winner in each grade. In the New Year we have Dunnamaggin, Graigueballycallan and Ballyhale Shamrocks flying the flag for us at National level and we wish them every success. Their progress in turn re-ignites the dream in each of our own clubs of winning an elusive County Title.
Our Runaí has noted the huge changeover in Club Officers and it is still continuing through our current AGM season. I personally believe there is a lack of recognition and technical time saving support for the key volunteers and the role they play in society.
To those Officers that have moved on we thank you most sincerely for your time, work and commitment and wish all the present and new officers our best wishes and continued support in the year ahead and that support is only a call away
County Board
It too, was a busy year for our County Board when 8 of the 11 electable officers on the Clár at last year's convention were new to the Board or took on new positions. Another (one) had one year served and Paul Kinsella and Jim Fennelly were finishing and entering their final year respectively. Tonight Jim ends his current role on Leinster Council and I wish to thank him and Paul for their tremendous service to Kilkenny GAA in so many ways. This includes their many years leading Cumann na mBunscoileanna and I wish them the very best in their existing roles and whatever path they will follow in the future.
For all the new faces involved it was a steep learning curve with the transfer of knowledge that took a lot of time whilst ensuring everything was covered and no ball was dropped.
It went extremely well and brought many learning's, the most important being that a succession or shadowing plan is a priority requirement for the incoming Board. There is also the need to look at a staggered process where so many positions are not all changing together in the one year and more anon.
Currently succession or linkage is being organised straight up the line between the management of the squads and the county teams and we will have to start putting it in place at board level as a matter of urgency.
Wearing the Jersey
I have always felt that holding some officer ship, role or position in any organisation, is akin, to wearing the team jersey. It is an honour and a privilege to be on any team or in any group and it has to be worked at in every position.
As we know our Clubs and our County are only as strong as its individual parts and Cumann, na mBunscoileanna, Coiste na nÓg, the Post Primary committee, Coiste Peil, the Junior and the County Board provide the links between both of them. This is to bring and take information to and from meetings and as a result full participation in them is crucial.
This year there are only two contests across all our groups and I am delighted to see some names coming forward. as it is imperative for the good of Kilkenny GAA that more volunteers seek to take on active leadership roles.
In recent times our Committee structure has slipped and is often being carried out by the group's chairperson and a small number of others. Amongst the aim of Committees is to bring in new ideas and personnel, allow them time to test the water, learn the ropes, get experience and deliver added value to each area.
They were high on the Agenda at the start of the year, and slipped with the changing of officers and then further as the Playing season got into full swing. Some excellent people were approached and showed an interest and I say "Mea Culpa" that I/we did not complete the tasks and I promise we will pick up on them next year.
Last year there was verbal report from every games subcommittee at our county board meetings. This year we must create space to develop and interact with Strong and active Sub committees
Fixtures
It has been a busy and difficult year for all involved in the organisation of games in Kilkenny and we are all well versed in the reasons why.
As a result, there has been much debate and reflection and I feel that when a thesis is done on Kilkenny's success on the hurling fields this century it will be found that the local fixtures programme that has been in place for a generation has played a huge part in it.
As the new playing season is just around the corner and many very thoughtful proposals have been made and consultations taken place. It is hoped, that the plans for the 3 early season games in April and May and playing some of the minor league games without the county players will go some way to go to give more regular games to all of our club players. With some fine tuning the draws for them will take place around the middle of next month.
Having seen fixtures struggle through 2018, I hope the decision makers were listening will take on the feedback or support the motions to give all club players the opportunity to have a regular Summer program of serious games. This is the very basic requirement to avoid a repeat of the club fixtures issues in the past year and also to keep all of our club players with us.
At this stage I want to extend sincere thanks to our CCC's Committees that met almost weekly, up to forty times in the year to ensure a smooth flow of games. In particular thanks to their Cathaoirleach PJ Kenny and the Runaí Dan Kenny and their committee who put in a colossal effort and worked almost 24/7 with the clubs,
Playing Resources
Another area that we must focus on is retaining and building on our playing resources where we have strong numbers at under thirteen with a fall off from there to U21. The current players journey after Cumann na mBunscoil and through Coiste na nÓg and the Post Primary schools and squads must be more co-ordinated as the new imposed inter county round robin delayed playing our minor games. This meant that the majority of players are expected to serve two masters in Club and Schools in September and October and are then inactive for the following six months.
Similarly plans must be put in place to look at keeping our young players, the U19 competition was a great success and needs to be fine tuned. However more needs to be done to ensure that all players and especially those who made underage county panels are not lost as they are the key to the continuation of all of our clubs into the 2020's and 30's
Looking around
Our main focus in Kilkenny is hurling and we are all thrilled to welcome the granting of Unesco Heritage status to the game. It is our heritage and it is something we are all aware of and are amazed at the reaction from visitors to the game. I am delighted too that the long term work of our handball personnel in the county has been recognised by the County Council and I congratulate them on their recent award it is truly well deserved.
I also welcome the provision of funding by the County council to assist with coaching as an acknowledgement of the work that is done for our youth and communities. It has been hard-earned and we will have to deliver on it, to ensure it can be continued into the future.
So too we congratulate Baile na Phoill in winning a Joe McDonough Foundation bronze medal for the promotion of our language in this year of Blian na Gaeilge. Also Barrow Rangers for qualifying for the Leinster Scór juvenile Rince Final. They are both areas where there is lots of room for more participation and promotion in our clubs
As a National organisation there are many common dominators that affect every club and its members, be it population, finances, facilities, planning permission, centralization, volunteers, local employment opportunities and the solution to many of them may be outside our core activities.
However the lack of quality broadband affects many of our members, their livelihoods and our own GAA communications structure that depends strongly on it. Its provision across the country should be supported and prioritised by Croke Park at National level.
Thanks
I wish to extend sincere Thatnks tothe members of the County Board, the Management Committee my fellow officers Conor, PJ, Barry, Paul, Seamus, Caroline in the office, the clubs and all that have been involved on what has being an amazing voyage. Also to our patient families and in my case Therese, Julie and Shane who at times may have difficulty figuring it, or me out.
Finally
Finally Convention too is a mark of the year's performance and is ever in the line for improvement. As a result, all feedback will be greatly appreciated. It may only be a little thing; however it will take lots of little improvements at every level for Kilkenny to make a greater impact in 2019
Report of County Secretary; Conor Denieffe
Mar Rúnaí Choiste Chontae Chill Chainnigh is mór an onóir dom fáilte a chuir roimh gach éinne anocht go dtí Comhdhail Bliaintúil 2018 agus tuarascáil don bhliain a chur ós bhúr gcomhair. Ba mhaith liom freisin mo bhuíochas a ghabháil do gach éinne a chabhraigh le obair Chumainn Lúthchleas Gael i gCill Chainnigh a chur chun tosaigh i rith na bliana seo.
It is my honour and privilege in my first report as County Secretary to try and encapsulate all of the work, activity and achievement that occurred in Kilkenny GAA in 2018. The dedication of our volunteers at club, school and county level continues to be the bedrock our successes in the past, present and future are built on. While the Mc Carthy Cup eluded our senior team this year, memories of the Allianz Hurling League campaign and final success over our great rivals Tipperary along with the games in the new Leinster round robin, the Leinster final and its replay against Galway and All Ireland quarter final against eventual champions, Limerick provided great excitement and entertainment for supporters and evidence that Kilkenny's future is bright. Our Minor and Intermediate teams both contested All Ireland finals while the Junior footballers retained the British Junior Football title.
Senior Hurling
Bord na Móna Walsh Cup:
Beginning in December 2017 the Walsh Cup saw victories for Kilkenny over Laois and Kildare in the group stage of the competition before a hard-fought semi-final win over Offaly saw Kilkenny reach the final against Wexford in Nowlan Park. With the sides level at the end of normal time and again after extra time (1-24 each) history was made when a free taking competition was used for the first time ever to decide the victors of an inter county hurling game. Wexford prevailed in this novel decider converting three frees to Kilkenny's two.
Allianz National Hurling League:
The road to Kilkenny's 18th League title began inauspiciously with a defeat to Cork on a 1-24 to 0-24 in a game played under lights in the new Pairc Uí Chaoimh before an attendance of over 16,000. The second-round game against Clare at home in Nowlan Park saw another three-point defeat but having trailed by eleven points after twenty minutes and by eight points at half time Kilkenny staged a spirited second half rally which just came up short. While Kilkenny's good work in their first two League games had yielded no points on the table it was a different story in the third-round game when they powered past Waterford in Walsh Park on a score line of 1-20 to 1-12. TJ Reid with 1-11 and Mossy Keoghan with five points were Kilkenny's top marksmen while goalkeeper Eoin Murphy also made a massive contribution. The fourth round saw Kilkenny edge a pulsating clash with Tipperary in front of over 10,000 supporters in Nowlan Park when a late Richie Leahy point helped his side to a 2-22 to 2-21 victory. Kilkenny's impressive momentum continued in their final game with Wexford. With a League quarter final place at stake Kilkenny led from early in the game and while Wexford pressed strongly Kilkenny saw it through to the end of an excellent game. Having played three home games in the League section Kilkenny travelled to O'Connor Park in Tullamore where they prevailed over Offaly in the quarter final by 0-24 to 1-19. The League semi-final saw a third meeting of the year with south east rivals Wexford in Wexford Park where a convincing nine point victory saw Kilkenny through to the League final.
The League final against Tipperary was the tenth meeting with our great rivals in a national final, League or Championship in ten years. A stunning second half performance saw Kilkenny capture the title winning by 2-13 to Tipperary's 2-17. It was a victory that did not seem likely at the interval when Kilkenny trailed by two points after an uneventful first half. Goals from Walter Walsh and Conor Fogarty and fifteen points from TJ Reid combined with excellent performances from players throughout the field ensured victory for Kilkenny. While reaching and winning the League was undoubtedly the highlight of the season for Kilkenny the fact that the final was played two weeks later than scheduled due to unprecedented weather, meant that two weekends of the month designated for club activity, April, were no longer available. As a result, only one round of our local League/Championship was played in April and this was extremely unsatisfactory for clubs and players, as it was August before the competition could be resumed.
On a separate but related note the decision by Central Council that the Allianz League return to two equal groups of six teams in 2020 is, in my opinion, a welcome one reducing the high intensity nature of all games in all rounds that currently pertains. The decision to retain League quarter finals is also a welcome one.
Leinster and All Ireland Championship:
The 2018 hurling championship saw the biggest change in format since the introduction of qualifiers in 2002. Kilkenny's first game in the round robin group of five teams was against Dublin in Parnell Park. A late 71st minute goal by Liam Blanchfield secured a dramatic win for Kilkenny just when it seemed Dublin were on the verge of victory. It was a precious win for a Kilkenny team featuring no fewer than seven championship debutants, whose never say die spirit saw them reel off 1-5 in the closing stages of the game. The second game saw Kilkenny secure a nine- point victory against Offaly in Nowlan Park. On to Salthill for the third round, an historic first ever Leinster Senior Championship game to be played in Galway. Playing against the breeze Kilkenny appeared to be in a good position when they trailed by just four points at the interval. However, the western team took control on the resumption and Kilkenny could have few complaints at the finish as Galway took the points with a 1-22 to 2-11 victory. The result meant that heading into the final round both Kilkenny and Wexford were level on points and effectively the game, in front of over 17,500 spectators in Nowlan Park, between the two, became a provincial semi-final. While Kilkenny struggled in the first half of the game, and trailed at the interval by seven points and by nine early in the second half, they conjured up a superb revival which saw them come back from the brink and claim a one-point win in a tremendously exciting finish. The result meant that Kilkenny had qualified for the Leinster final against Galway.
The Leinster final on July 4th was a gripping encounter and Kilkenny having led at the interval by a point and showing great grit went toe to toe with Galway throughout the second half. Finding themselves two points in arrears as the game entered stoppage time, they finished with a trademark Kilkenny rally and superb scores from Enda Morrissey and T.J. Reid ensured a replay, the first Leinster hurling final replay since 1993. As Croke Park was unavailable due to a concert the teams found themselves in Thurles a week later for the replay. It was the first time, as far as I am aware that the Leinster hurling final was played outside the province. A low start to the replay was to prove very costly for Kilkenny and they found themselves eleven points in arrears after just nineteen minutes. Goals from Ger Aylward, Colin Fennelly and Richie Hogan reduced the deficit to a single point by the 54th minute. However, the westerners finished the game the stronger side to retain their title and put Kilkenny into an All-Ireland quarter final against Limerick just a week later. Kilkenny were to come up just short against the eventual All Ireland champions in a thriller in Thurles. Kilkenny seemed to have taken the lead at a crucial stage when Richie Hogan goaled with five minutes remaining in the game. Limerick rallied and finished the stronger team edging the game by two points. To see them continue on in the championship and capture their first All-Ireland senior hurling title since 1973 was a sight welcomed by hurling followers everywhere and Limerick proved worthy and popular All Ireland champions. Sincere thanks are extended to team Manager Brian Cody, selectors Derek Lyng and James Mc Garry and coach Michael Dempsey and to the team and extended panel. Thanks also to the backroom team of Dr. Tadhg Crowley, physios Kevin Curran, John Kearns and Aaron Byrne and nutritionists Noreen Roche and Martin Murphy and to ever present kitman Denis 'Rackard' Cody along with statisticians Emma and Louise Byrne. Well done to all for their fabulous work throughout the season.
Wild Geese Trophy- Sydney Irish Festival:
As winners of the Allianz Hurling League 2018 the Kilkenny team was invited to Australia to compete against 2017 All Ireland winners Galway for the Wild Geese Trophy as part of the Sydney Irish Festival. Kilkenny having established a good first half lead were caught at the death by a late goal. With no extra time the game was decided by a free taking competition which Galway won by a single score. It was Kilkenny's second time this year to be involved in a free taking competition to decide the result of a game. Personally, I think 'result on the day' is not a good way to decide a game but if it has to be so, then a penalty taking competition would be better and more exciting than a free taking contest.
All Star:
Kilkenny supporters everywhere were delighted to see goalkeeper Eoin Murphy receive an All Star award for 2018. It was well deserved as the Glenmore custodian made some incredible saves in games in the Allianz League, Leinster campaign and All Ireland quarter final. Congratulations Eoin.
Intermediate Hurling:
It is disappointing to report that only two teams entered the 2018 inter-county Intermediate hurling championship. The expectation in Kilkenny was that the competition was unlikely to precede but once it was decided that it would, Manager Dave O' Neill and his selectors Nigel Skehan, Tom Phelan and John Brennan along with Micky Comerford, took on the task with a will. As Kilkenny had won the 2017 competition, they had to build a completely new team. The new look side put up a brave show in the final in Nowlan Park on July 28th and they were very much in the game until the 55th minute, but then a second Cork goal, decided the destination of the 2018 All-Ireland intermediate hurling championship title.
It is difficult to understand why this grade is not being used as a developmental competition for the advancement of fringe senior players in some counties and the real intermediate players in the stronger hurling counties. It will be a pity if this is to be the end of the competition. It has been one that Kilkenny have been proud to participate in and it has given the opportunity to many fine intermediate and junior club players to wear the black and amber and many have progressed to the county senior team through this route.
Bord Gáis Energy Under 21 Hurling;
The Kilkenny under 21's exited the Leinster championship at the hands of Galway at the semi-final stage in Tullamore on June 20th.It was the first time Galway had played in Leinster under 21 and it was always going to be a difficult first game in the championship for Kilkenny. Behind by 1-8 to 0-9 at the break with the strong wind to come Kilkenny appeared to be in a good position. However, the third quarter was all Galway and they led by nine points with 10 minutes remaining. Gradually Kilkenny worked their way back into the game however and four points in a row set up a tense finish – and John Donnelly was extremely unlucky at this stage of the game when he crashed a superb shot off the post after making a great catch on the 20m line. While the Thomastown man did eventually find the net for Kilkenny in the fifth minute of additional time it was too late and Galway prevailed by two points 3-13 to 1-17. There is no doubt that Galway had an advantage in playing a quarter final game beforehand and the involvement of so many of his under 21 players with the Kilkenny senior squad complicated manager D.J Carey's preparations.
This was the last playing of the under 21 competition as it will be replaced with an Under 20 competition in 2019.
Thanks go to D.J and his selectors Liam Smith, Nigel Skehan and Peter O'Donovan along with Dr. Cormac Behan, Physio Tom Manton and kitman Dick O'Neill with assistant Maurice Walsh for all of their work.
Electric Ireland Minor Hurling:
2018 was an historic year for the inter county minor hurling championship as it moved to become an Under 17 competition. Kilkenny played Laois, Dublin and Wexford in the group stage putting up a particularly impressive display in defeating Dublin in Parnell Park. Following this they registered big scores in the quarter final against Westmeath and the semi-final against Offaly. The Leinster final against Dublin proved to be a major upset when Kilkenny lost out to Dublin in a very high scoring 7-12 to 6-19 defeat. Credit to the Kilkenny management team they rebuilt their team and the player's confidence and progressed through the round 2 despite losing to Galway but defeating Limerick to reach the All-Ireland semi-final against Tipperary. While Kilkenny led by six points at the interval in this game, they were forced to show their resilience in the second half as Tipperary twice reduced the deficit to two points. Kilkenny held out for a well-deserved victory and set up an All-Ireland final against Galway on August 19th. In the final Kilkenny appeared to have their preparation well done and enjoyed the better of the first half against the warm favourites and led by 0-10 to 0-9 at the interval and by two points by the 33rd minute. However, Kilkenny were to ultimately rue hitting eight first half wides when they were on top and Galway aided by some very effective second half substitutions took control of the game and eventually finished 0-21 to 0-14 winners.
For Kilkenny the competition involved an unprecedented ten games at this level, as a three-game round robin in Leinster preceded a quarter final, semi-final and final at provincial level. This was followed by a further two game round robin to qualify for an All-Ireland semi-final followed by the final. It was a lot of games and when one considers how many times a team can be beaten and yet remain in the competition one wonders if there is not a better and more efficient way to run inter-county minor hurling.
Thanks again are due to Manager Richie Mulrooney, selectors Adrian Finan, Niall Bergin, Sean Kelly and Martin Carey for all of their work throughout the year. A word of thanks also to team doctor Conall Mac Conmara, Physio Theresa Mc Ginn and also to Joe Pyke for the invaluable work he did as liaison officer with the team.
One other point that should be noted was the questioning by some commentators of Under 17's playing in All-Ireland final curtain-raisers and the supposedly vulnerable position it puts the defeated team in playing in front of a large crowd in Croke Park. Having observed this at first hand I would be categoric that it was a fantastic experience for these young players to play in Croke Park on the biggest day of the hurling year and their disappointment afterwards was no different to any team which has lost an All-Ireland final.
Football:
It is great to report another success for the Kilkenny footballers in theBritish Junior Football Championship as they won the title for the third time in 2018. Participation in this competition has proved to be a very successful initiative for Kilkenny and credit is due to the British Board officers and counties for accommodating us. In this year's competition successes were recorded over Yorkshire in Leeds and Scotland in Glasgow enroute to a semi-final against Scotland again in a game played in Leeds and a victory over Warwickshire in the final played in Birmingham. Due to the nature of the competition travel arrangements could only be made on a week to week, round to round basis and it is to the credit of the players and team management along with Football Board officers that they made themselves available for these trips at such short notice. The warm welcome the team received by all those involved in the games from the GAA family in Britain was much appreciated.
As a result of the British success Kilkenny qualified for the Junior Football All Ireland semi-final against Galway. On a sun-drenched day in Nowlan Park Kilkenny put up a brave show but lost out to an impressive Galway team in the All-Ireland junior football semi-final. I would like to thank most sincerely all those who put their shoulder to the wheel for Kilkenny football especially team Manager Christy Walsh, trainer/selector J.J. Grace, and selector John Dowd along with Football Board Chairman Tom O' Reilly, Secretary Pat Mulrooney and Vice-Chairman Eugene Dunphy.
The welcome news from Britain is that Kilkenny are again invited to participate in their Junior Football Championship next year and that there will be a change of format for this competition in 2019. The new format will give all teams participating a guaranteed three fixed group games followed by semi-finals meaning teams management and players will know in advance when and where they are playing.
As a curtain raiser on the day of the All Ireland semi-final in Nowlan Park a Kilkenny Under-16 Gaelic Football Development Squad played a challenge game versus a Galway development squad. It was a wonderful sight to see forty young Kilkenny footballers togged out in the black and amber perform very competitively against a more experienced Galway side. Later in the year the same players participated in and gave some promising performances in the Fr. Manning Cup, a Leinster Under 16 football competition. All of this work is towards preparing a Kilkenny minor football team to participate in the Leinster Minor football championship in 2019. Great credit is due to DJ Carey, Seamus Norris, Angelo Cullen, Thomas Rossiter and Murt Flynn for their work with this group of players.
Club Championships:
St. Canice's Credit Union Senior Hurling Championship:
The makeup of the teams in the concluding stages of this year's senior hurling championship defied many people's earlier expectations as Ballyhale Shamrocks, Erin's Own, Clara and Bennettsbridge qualified for the semi-finals. In the first semi-final Bennettsbridge proved too strong for a Clara team who had made little of injuries to a number of players to reach this stage of the competition. It was an historic win for the 'Bridge as led by Sean Morrissey who scored 2-5 they reached their first senior final since 1974. The other semi-final saw Erin's Own who had progressed from a relegation semi-final to reach this stage only just miss out on a county final appearance when they lost out to Ballyhale Shamrocks by a single point.
In the final Ballyhale Shamrocks opened with storm force and threatened to run away with the game. With TJ Reid registering 1-4 they led by 1-5 to no score after just seven minutes, but Bennettsbridge put in a powerful second half to turn the game into a thrilling contest before the southern team prevailed in the end. Congratulations to Ballyhale Shamrocks on winning their 16th Kilkenny senior title and commiserations to Bennettsbridge who showed enough on the day to suggest that they will be back to challenge for county honours in the years ahead.
Michael Lyng Motors Hyundai Intermediate Hurling Championship:
Graigue Ballycallan, Tullogher Rosbercon, Tullaroan and St. Lachtain's qualified for the semi-finals of this year's Interemediate Championship. Graigue Ballycallan were first to qualify for the final when they defeated Tullogher Rosbercon by three points in a rain soaked Nowlan Park where conditions were not conducive to open fast hurling. Tullaroan prevailed over St. Lachtain's, in a game that ebbed and flowed for large periods, thanks mainly to a display of marksmanship from Shane Walsh. The final between neighbours Tullaroan and Graigue Ballycallan proved to be a fascinating game as Graigue Ballycallan timed a late run to perfection to win a game by 2-16 to 2-13 that Tullaroan had dominated for most of the hour. Congratulations to Graigue Ballycallan on their victory and a return to senior ranks and commiserations to a Tullaroan team who, though disappointed on the day, have shown that they will be serious contenders for this title in the year ahead.
J.J. Kavanagh & Sons Junior Hurling Championship:
South Kilkenny sides Dunnamaggin and Piltown qualified for the County Junior Hurling Championship final thanks to convincing victories over Dicksboro and Slieverue in the semi-finals. Dunnamaggin, who were relegated from the intermediate grade last season, made a swift return when they scored a strong win over Piltown in the final. The crucial score was a 54th minute goal from a penalty by Willie Phelan who crashed a powerful shot to the net. Piltown did pull back a late goal themselves from a penalty by Peter McCarthy, but the score came too late and Dunnamaggin added a second junior title to go with the one won in 1994.
Well done to Dunnamaggin on their instant return to Intermediate ranks and commiserations to a battling Piltown side who no doubt will be determined to go a step further next year.
Permanent TSB Under 19
This was the first year an Under 19 competition was played in Kilkenny and while it ran behind its planned schedule it is worth persevering with as it bridges a gap between under 17 and under 21 and may help keep many players in this age group playing. In the final O'Loughlin Gaels captured the first U-19 'A' title after overcoming a dogged James Stephens team on a scoreline of 2-13 to 1-14.
Kilkenny Honda Citreon Centre Minor Hurling Championship:
Dicksboro and Mooncoin qualified for the minor A hurling county final by virtue of victories over St. Lachtain's and James Stephens respectively. In the final, an historic one as it was the first Under 17 one played, Mooncoin bridged a 39-year gap to their last minor win when they defeated Dicksboro with a late rally to win by five points 3-14 to 2-12.
JJ Kavanagh & Sons Football Championships:
The County Senior Football Championship saw Mullinavat retain their title defeating Muckalee by 5-11 to 2-9 in the final. At Intermediate level Tullogher Rosbercon continued their rise to the top level of Kilkenny football by defeating Erin's Own in the final. Continuing their high level of performance into Leinster Club Championship Tullogher Rosbercon defeated Naomh Eanna of Gorey 1-10 to 0-11 before exiting at the semi-final stage which was a fine achievement. It should be noted that there is a considerable amount of football played in Kilkenny with almost sixty adult football games played this year.
AIB All Ireland and Provincial Club Championships:
Kilkenny Intermediate champions of 2017, St. Patrick's Ballyragget, played their part in an absorbing All Ireland Intermediate final in Croke Park in February when losing out to a late Kanturk (Cork) point,1-18 to 1-17. In a great finish to the hurling year, our county senior (Ballyhale Shamrocks), intermediate (Graigue Ballycallan) and junior (Dunnamaggin) champions of 2018 have won a clean sweep of Leinster club titles. Best wishes to all three in the All Ireland semi-finals in the new year.
COUNTY CHAMPIONSHIP RESULTS 2018
Grade Teams/Results
Senior Hurling: Ballyhale Shamrocks 2-20 Bennettsbridge 2-17
Intermediate Hurling: Graigue Ballycallan 2-16 Tullaroan 2-13
Junior Hurling: Dunnamaggin 1-16 Piltown 2-8
Junior A Hurling: Mooncoin 1-13 Thomastown 0-7
Junior B Hurling: Graiuge Ballycallan 2-1 O' Loughlin Gaels 1-7
Junior C Hurling: Glenmore 2-16 Galmoy 1-16
Junior D Hurling: Mooncoin 3-18 Clara 2-3
U19 A Hurling: O' Loughlin Gaels 2-13 James Stephens 1-14
U19 D Hurling: Barrow Rangers 3-18 Slieverue 3-10
U17 A Hurling: Mooncoin 3-14 Dicksboro 2-12
U17 B Hurling: Thomastown 3-13 Danesfort 2-13
U17 C Hurling: Tullaroan 3-14 Conahy Shamrocks 0-8
U15 A Hurling: Dicksboro 4-18 Thomastown 0-7
U15 B Hurling: Rower Inistioge 4-11 Tullogher Rosbercon 0-7
U15 C Hurling: Conahy Shamrocks 1-12 Dicksboro 1-9
U13 A Hurling: Griauge Ballycallan 1-12 James Stephens 2-7
U13 B Hurling: Clara 2-13 Rower Inistioge 0-12
U13 C Hurling: Graignamanagh 2-13 St Patrick's 1-11
Senior Football: Mullinavat 5-11 Muckalee 2-9
Intermediate Football: Tullogher Rosbercon 2-10 Erins Own 0-7
U17 A Football: Danesfort 2-6 Kilmoganny 2-5
U13 A Football: Dicksboro 5-14 James Stephens 3-8
U13 B Football: Graigue Ballycallan 2-10 Clara 2-6
U13 C Football: Kilmoganny 4-10 Bennettsbridge 2-11
Under 19 hurling B and C championships, Under 21 hurling championships and Junior Football championship to be completed at the time of writing.
Club Championship Sponsors:
Sincere thanks are extended to our competition sponsors St. Canice's Credit Union, Michael Lyng Motors, J.J.Kavanagh & Sons, Iverk Produce, Countrystyle Foods, Kilkenny Citreon Honda Centre, Duggan Steel and Permanent TSB for their commitment to our games in Kilkenny. A number of launches for the competitions were organised with the sponsors in Nowlan Park and these were quite successful. I would urge all our members to support our sponsors whenever possible.
Referees:
Thanks to the work of Referees Administrator Pat Hayes, with help from Tommy Duggan and Sean Cleere four new referees were trained during the year. In addition, the in-service day was completed by existing referees. All of this work is essential to the future playing of our games. I would call on clubs who do not currently provide a referee to redouble their efforts to do so. Thanks to all who officiated at any of our games in the past year.
Congratulations are extended to Kilkenny referees who are on the Leinster and inter county panel and in particular Sean Cleere who refereed the All Ireland Under 21 final between Galway and Tipperary. I also extend congratulations to Paschal Long who was inducted into the GAA's Hall of Fame this year. Paschal refereed the centenary year 1984 senior hurling All Ireland final between Cork and Offaly in Thurles.
It is essential for the CCC to have the referee's report when dealing with disciplinary issues after a game and for club secretaries and club insurance officers to have a referee's report when submitting an insurance claim. Therefore, I would appeal to all our referees to get their reports in as soon as possible for all games.
Competitions Control Committee:
Under the expert leadership of vice-chairperson PJ Kenny the Competition Control Committee continues to deliver on our fixtures programme despite the many challenges each year brings such as draws, walkovers, bereavements and requests around parish and personal events. This year also saw the new senior and intermediate league groups begin and the A, B, C and D junior leagues and championship format. While the junior competitions were very successful it was a pity that a number of clubs did not take the new senior and intermediate league competitions as seriously as they might, despite the substantial prizes provided by the County Board for the winners. It might be worth considering dividing the prizes across both finalists and possibly also the semi-finalists in order to encourage greater participation. The CCC committee, one of the busiest in the county begins each year with setting out the fixtures calendar for the year, dealing with re gradings and inter club transfers and then meeting regularly to arrange venues, appoint match officials and deal with referees' reports throughout the year. An additional complication this year was the condensed nature of the League and Championship in the autumn, one which the committee dealt with very well, spreading starting times for games whenever possible, to allow supporters to view as many matches as they wished. Another feature of the league and championship programme is how the CCC gave so many venues the opportunity to host a game. On my own behalf and on behalf of all involved in the playing of our competitions I say many thanks to PJ, ever busy and efficient secretary Dan Kenny and the CCC committee for their trojan work throughout the year in organising in the region of one thousand five hundred games in 2018.
Hearings Committee:
I would like to express my thanks toKilkenny Hearings Committee under Chairman Jim Walsh and Secretary Tom Egan for the totally professional manner in which they conduct the committee's business. All those who have cause to attend Hearings Committee will acknowledge the fair and impartial way every case is dealt with.
Coiste na nÓg:
I would like to thank chairman John Byrne, secretary Willie Dempsey, the officers and hard-working committee for their excellent work in organising all of our under age competitions. It is not an easy task with so many teams and competitions in hurling and football across so many grades and the added complication of trying to avoid clashes with squads and school games.
In addition the Coiste continually strives to get the balance right in grading teams to keep games and competitions competitive through all the age levels. Added to the workload is the running of finals and collection of gates.
The involvement of the Kilkenny minor team in ten games at inter county level this year, as detailed earlier in this report, brought an added difficulty for Coiste na nÓg in organising Under 17 club fixtures. Having played five rounds of the League early in the year the competition then had a long break before resuming in late August. As the same format seems likely be in place at inter county minor level in 2019, I would suggest the only remedy to this potential problem is if clubs would consider playing some of their league games minus players involved with the county minor team. I can understand some clubs' reluctance to do this but it would provide games for the club players instead of a long lay off and clubs would have their full complement of players for the championship.
Féile:
Congratulations to Dicksboro, Emeralds and Graiguenamanagh on winning the Kilkenny Paddy Grace Féile finals and representing the county in the National finals. Very well done to Emeralds on winning the National Division 3 title. In Féile Peil Dicksboro and Kilmacow gave a good account of themselves as Kilkenny's representatives. In Handball Clough girls won the Division1 40×20 title, Kilfane boys won 60×30 Division 1 title, while there were Plate successes for Kells , Windgap and Clough. Well done also to Amy Brennan from Clough who won the girls 40×20 Girls Division 1 Skills title.
Age Groups
The change to new age groups of Under 13, Under 15 and Under 17 for our competitions appears to have gone smoothly and worked well this year. While intercounty hurling competition is changing from Under 21 to Under 20 in 2019 I would argue in favour of retaining our local competitions at Under 19 and Under 21 level. The Under 19 competition is an important attempt to close the gap from seventeen to twenty-one for players. Playing it allows selectors to view potential players for the county Under 20 team the following year. The current under 21 knockout format and the time of year when it is played mean it does not interfere with other competitions. For these reasons I think we should retain our age groups at the two-year intervals we currently have and I would hope we will not be compelled by any future rule to change.
Club Officers:
One ofthe mostconcerning developments in recent years at club level has been the number of officers who have stood down from their position. A brief survey completed earlier this year reveals that in Kilkenny no fewer than 29 club chairpersons and 25 club secretaries have relinquished their position in the last three years (2016-2018). Firstly, we should thank those officers, all of them volunteers, for their dedication and sterling service as they helped their clubs flourish and grow, while at the same time no doubt playing their part in their own busy family and working lives. There is no doubt but that the demands on club officers are continually increasing and great credit is due to new officers who have taken up the challenging task. If, as I believe, the increased workload and responsibility is the main reason for the very high attrition rate of our club officers then it is essential that appropriate support must be given to them. In recognition of the challenges involved for club officers the GAA have rolled out a new Club Leadership Development Programme, which it is hoped will give Chairpersons, Secretaries, Treasurers and PRO's an opportunity to gain key knowledge and skills to carry out their role effectively. There are modules for newly appointed officers on their roles and these are already scheduled for Kilkenny's club officers in February 2019, and then topical modules on Communication in a Club, Games Development and Player Welfare, Volunteer Recruitment and Club Governance in addition to a module on Running a Club AGM are also available. The module on the AGM was organised in Kilkenny recently and was well attended and received a good response from those who attended. The organisation and delivery of this Club Leadership Programme is the responsibility of the County Development Officer and in recognition of the importance of this role it will be an appointed rather than elected position from 2019 onwards. I am glad to report that Seamus Reade, having been appointed will continue as Kilkenny's Development Officer. Knowing the excellent job Seamus has done as PRO and continues to do as Event Controller we are lucky that he has taken on this position. I have no doubt he will be a source of support and help to clubs and club officers going forward.
Camogie:
For the second year in a row Kilkenny senior camogie team lost out by the narrowest margin possible at the death in the All Ireland to their great rivals Cork. It was a difficult defeat to take. Earlier in the year in Nowlan Park Kilkenny did have the satisfaction of winning the Littlewoods Camogie National League title against the same opponents.
Congratulations to Kilkenny's five Camogie All Stars: Grace Walsh, Anne Dalton, Meighan Farrell, Katie Power and Denise Gaule. I am delighted that Ann Downey is continuing as Camogie Manager and I wish her all the best in 2019.
I would also like to extend a sincere thank you to the Kilkenny Camogie Board officers for their co-operation throughout the year, especially to Martin Quilty whose time has Chairman has come to an end under rule. Best wishes to new Chairperson Sheila Norris and her committee in the year ahead and I look forward to working with them.
Nowlan Park- Pitch of the Year:
There was a sense of pride and satisfaction at the beginning of August when the GAA announced that Nowlan Park had been selected as Pitch of the Year. The process involved scoring and feedback from referees during the National League and a pitch quality assessment from two international experts. The award is an acknowledgement of the huge investment and effort involved in maintaining and constantly improving the Nowlan Park surface. Huge thanks must go to past and present Board members, especially Ned Quinn and Pat Henderson for their commitment to the facility and to the ground staff of John Coogan, Kevin Mc Garry and Mick O'Neill.
The work of improving Nowlan Park continues with the installation of a new drainage system and the groundwork in place for a new irrigation system also.
Thanks are extended to our clubs who provide over two hundred volunteer stewards on big match days for their work and also to Brigid and John Healy for their work in key areas. Thanks to all involved on big occasions in Nowlan Park for their professionalism and the courtesy shown to all visitors to our county venue. Event controller Seamus Reade and Treasurer Barry Hickey play vital roles on big days and I should also note the help and co-operation of Local Authorities, Gardaí, State Bodies, Order of Malta and Red Cross.
Mick O' Neill:
No report on Nowlan Park would be complete without paying tribute to Mick O' Neill. For well over forty years looking after Nowlan Park has been a labour of love for Mick. His good nature and courtesy to all visitors to our county ground is the stuff of legend. No matter what the time or day Mick is available to allow access to teams, individuals, television crews, repair people and to open and close the Park, always with a kind word and a smile. He is on first name terms with all of the local and national press, as he always allowed them to stay as long as required to complete their work. He has an unrivalled knowledge of Nowlan Park, every corner, idiosyncrasy and aspect of the ground. Kilkenny GAA is lucky indeed to have a volunteer such as Mick in our ranks.
MWH Centre Dunmore:
MWH Centre continues to be a vital asset for the county Board. In addition to being available for the preparation of county teams and club teams in the provincial and All-Ireland series, it has also become the base for all our Development Squad. Thanks to the work of John Coogan and Kevin McGarry under the watchful eye of Pat Henderson the on-going maintenance of the goalmouths, sanding, Verti draining and watering ensures it is available for all teams in almost all-weather conditions. Plans for further development are well advanced and an application for Sports Capital funding has been made thanks to the hard work of Treasurer Barry Hickey for a gym and meeting room, construction of which should begin in 2019.
Income and Expenditure:
The good news in Treasurer Barry Hickey's Financial Report to Convention is that it again shows an excess of income over expenditure, this year in the region of €220,000. In addition to all of the usual costs incurred there were also exceptional costs involved in painting Ardán de Grás, installing the new drainage system in Nowlan Park and completing all of the preparatory work for the new irrigation system there also. In all the total turnover for the year was in the region of €2.6 million with ticket sales included. The contribution the weekly Lotto and the Hurlers Co- Op Draw make is critical to both the clubs and county. So too is the support of Glanbia, O'Neill's, Energise Sport and Elverys.and all of our local sponsors. The income from reaching the Allianz National League final was a welcome boost. Season Ticket and Club Plus tickets sales are reduced but still a significant income stream. With plans for further infrastructure developments such as the new gym in MWH Centre Dunmore it is essential to maintain other income opportunities from events such as big games in Nowlan Park and concerts. Sincere thanks go to the Treasurer Barry Hickey, Pat Henderson and Caroline Morrissey for all their work in micro managing the County Board finances.
County Board Lotto:
This year the weekly lotto draw delivered over hundred and thirty thousand euro to the clubs with another twenty-seven going the board's funds. I would appeal to clubs to increase their support for the Lotto. It has great potential to deliver funding and its loss would affect every club as a replacement to assist all clubs is not easily identifiable. Thanks are extended to the club co-ordinators, the supervisors, individual sellers and buyers and to Sheila Molloy, Ailish, Ned Buggy the County Board representative and their team of volunteers who organise the draw every Tuesday evening in Nowlan Park.
Hurlers Co-Op Draw:
The Hurlers Co-Op Draw was launched by Eddie Keher at the April County Board Meeting along with speakers and organisers from participating clubs. Once again thanks to the club co-ordinators and individual promoters who sold tickets and the supporters who purchased the tickets. The work of Geri Hickey and her team who co-ordinate the draw must also be acknowledged.
Johnny O'Shea:
It was with deep regret that everyone in Kilkenny GAA learned of the death of Johnny O'Shea of Piltown, a man who was synonymous with the Hurlers Co-Op Draw for many years. He was a charismatic, forward thinking entrepreneur and business man, being at the forefront of every positive development in Piltown and its environs. He was also the boss of the huge O'Shea Farms and Iverk Produce business empires and was involved in every aspect of his community and was renowned for his charitable work. He was steeped in the GAA and had a lifelong involvement with his local club Piltown. He was a driving force and organiser of the Hurlers Co-Op draw and a great supporter of all Kilkenny GAA events. On behalf of the county Board I extend our sympathy to his family, friends and local community.
Glanbia PLC:
Sincere thanks are extended to the Glanbia group through the Groups Managing director Siobhan Talbot and Brian Phelan the CEO of the Global Ingredients Division for their sponsorship of Kilkenny GAA teams at all levels. The long-established partnership brings two major Kilkenny brands to worldwide audiences. Thanks also to Kieran O'Connor and Patricia Barry for their liaison work between both groups.
Insurance and Facilities:
In this day and age every club is well aware of the importance of insurance cover for all activities. This includes Property, Public Liability Hirers and Players Injury Benefit. In recent years Insurance premium costs have increased significantly, caused by a deteriorating claims experience and an increase in the number of claims being pursued against GAA Units and the increased cost associated with managing these claims. It is essential that clubs maintain a watchful and responsible look out for potential risks. In this way premiums can be kept down and the trauma of a claim and the loadings that can accrue can be eliminated. To this end clubs should always ensure competent planners and contractors are used on all new builds and maintenance work. It is also essential that excluded or prohibited activities do not take place on Club property and that all non GAA users of meetings rooms, indoor halls, function rooms, bars playing fields, walkways, playgrounds, all-weather facilities and gyms have their own insurance in place and that they can produce it. If any doubt exists it is essential to have its cover verified by our Insurers. The National Insurance Committee and Allianz Insurers visited a number of Kilkenny clubs again this year carrying our Risk assessments and providing valuable advice in an attempt to reduce insurance risks. Safety Officer Eddie Blackmore is always available to assist clubs in the provision of Safety Statements and Risk Assessments. The log of the facilities in each club in the county enables a pro rata spread of the premium based on facilities and risks. Clubs should ensure this list is up to date and all additions or alterations to club facilities need to be notified to Nowlan Park to ensure all areas are properly covered. Clubs should always contact Sinéad Leavy in Croke Park and Willis for advice before organising any events or one-off activities.
Supporters Clubs:
Once again our gratitude must be expressed to the Supporters Clubs in Kilkenny, Dublin and Kildare led by John Mackey, Jim Freeman, Eddie Keher, Eddie Nolan and Dr. Sean Dunne and their committees. Starting each year with the all-important individual membership fee of €20 and Business Membership, other initiatives such as the ever-popular Race Day, the colourful team Calendars, Golf Classic, Table Quiz and Dinner Dance all contribute to raising funds for the benefit of Gaelic games at all levels in our county.All of these activities provide an opportunity for people near and far to play their part in supporting our county sides.
A Day at the Races:
Thanks to the great work of the organising committee under the leadership of John Mackey the 6th annual Kilkenny Hurlers Race Day in Gowran Park proved once again to be a great social gathering and an important fundraiser. One of the highlights of the day was the presentation to Kilkenny's All Ireland Under 21 winning captains, which was sponsored by Pat McCorry. Great credit is due to all the Committee members, especially our Treasurer Barry Hickey, for their work in recruiting race sponsors and selling advertisements for the race card on the day.
Kilkenny GAA Year Book:
Once again the committee under Barrie Henriques, Gerry O'Neill, Pat Henderson, Ned Buggy, Conor Brennan, Tommy Lanigan and Paul Fitzgerald have excelled and produced another top-class yearbook that covers all codes of the games played at every level in Kilkenny. It provides a record of all the year's activities at every level, club, county, schools and squads along with pen pictures, articles, tales of former clubs and heroes and opinion pieces. I have no doubt this year's edition it is set to be another best seller. The financial contribution of the yearbook committee from funds raised through sales should also be acknowledged as they made a major donation to the drainage project and further development of Nowlan Park in 2018.
GAA Bible:
We are lucky indeed in Kilkenny to have Gerry O'Neill. Gerry has been compiling our GAA Yearbook for many years now and has also worked on many other GAA books and publications. Recently Gerry has published an updated Kilkenny GAA Bible. The bible contains up to date Kilkenny and National GAA records at all grades of hurling, football, camogie, handball and ladies' football. It also includes players on Inter county and Senior Club teams, records of Féile, Masters, Colleges, Schools, Oireachtas and inter firms competitions as well as details of officers, All Stars, Referees and Clubs. Such thorough records make us the envy of many other counties.
Primary Schools:
Thanks are extended to Secretary Jim Fennelly and Chairperson Tom Duggan for all of their work in Cumann na mBunscoileanna and to all of the teachers and club officials who are involved in organisation of the games in our Primary schools. Once again, the Schools finals held in Nowlan Park, MW Hire in Dunmore and elsewhere were the highlight of the year for the participating teams in each grade
Another highlight of the Cumann na mBunscoil year came in March when Kilkenny played host to the National Cumann na mBunscol Awards ceremony on Friday Night March 9th and the AGM the following day. 230 guests came together from all over the country to celebrate promotion of Gaelic games in our primary schools. Awards' categories sought to celebrate excellence in promotion of Gaelic games in small and large schools with projects on culture, PR and Digital media all on view. Special congratulations to Paul Kinsella and John Knox who were honoured on the night for their long service. They served Cumann na mBunscol for 37 years each, modernising the league structures, purchase of equipment and running Féile na nGael in Kilkenny.
Georgie Leahy Cup:
An idea born on the night of the Cumann na mBunscoil Awards through the retired teachers association led to the presentation by the family of the late great Georgie Leahy, of a cup to Kilkenny Cumann na mBunscoil which will be presented to the Roinn C hurling winners each year. This is a wonderful tribute to a man who contributed to so many aspects of Kilkenny GAA including being a highly respected and much-loved coach in our primary schools.
Second Level Schools:
Thanks are extended to the second level schools' teachers, coaches and players for their great work. They provide a crucial link between the primary school and adult levels as they work to develop their pupils' skills and interest in our games. Their provision of pitches and facilities to our county squads and fixtures programme is much appreciated. With Martin Gordon as their County Board representative and Pat Henderson as the South Leinster second level schools co-ordinator they are in good hands and we look forward to future success for all our second level schools in 2019.
Coaching and Games Development:
The work carried out by the Coaching and Games committee under Coaching Officer Pat Tynan, Pat Henderson Brían Ryan, PJ Ryan and Sean Kelly is vital to the future and success of our games. A new and successful venture this year was the introduction of Black and Amber days at Under 9 level where players from different clubs played on mixed teams with the emphasis on enjoyment while Under 11 players from every club played in Regional finals at venues across the county. Coach education was well attended with six Foundation Level courses taking place around the county and an Award One Youth/adult course held also.
Another new development in 2018 was the work of Sean Kelly in organising a Youth Player Performance Development programme with the help of 3rd level interns. Over 2,800 players attended Kellogs Cúl Camps across the county while clubs and schools continue to play a vital role in coaching our players.
The Development Squad programme started with a very successful Parent/Player Information night with over 400 in attendance. Another innovation was the use of MWH Centre as the base for all squads this year. A National Review Committee under the Chairmanship of Michael Dempsey visited Kilkenny as part of its work across the country. We look forward to its findings and recommendations. On the representative side the performances of the Under 14 side in the Tony Forristal Tournament in Waterford in reaching the final were most encouraging. The change to the structure of the Arrabawn Tournament was most unsatisfactory and meant Kilkenny, the holders could not take part in the Cup on the weekend of the competition proper. One hopes this reorganisation of the Tournament will be revisited by Croke Park. A huge debt of gratitude is owed to all those who work as coaches to our development squads. Next year will see an Under 19 Emerging Talent squad, the brainchild of Coaching Officer Pat Tynan, being set up and it should provide another vital step in player pathway to adult success.
I would also like to acknowledge the contribution of Joe Pyke to the successful organisation of all our Squads. Joe makes a huge contribution in organising buses, hotels, jersies and looking after injured players as well as all the other small but essential details to allow everything to run smoothly.
Junior Board:
This year saw the birth of the new Junior Board. Under chairman John Lacey and Secretary Ned Buggy the Board took on responsibility for running Junior, Under 19 and Under 21 competitions. I thank them and their committee for all of their work throughout the year.
Public Relations & IT Committee:
This year was another very busy one for Public Relations and IT Committee and I thank all the Committee members under PRO Paul Fitzgerald for their work. The introduction of GDPR legislation during the year and the implications for the County and for clubs was dealt with by Aodán Ó Ruairc who provided informative briefings for the Management Committee and the County Board and also organised a workshop for club officers with Croke Park's Kelly Cunningham which was well attended. Details of the requirements GDPR will place on clubs are dealt with in the Media and IT Committee's report in this booklet. The Committee also supports clubs in updating and developing websites. In his report PRO Paul Fitzgerald also deals with the growth of social media in recent years and notes Kilkenny GAA now has over 40,000 followers to whom we can promote games and events and keep up to date with our games as they are played. Our website continues to be our IT centrepiece and receives a huge number of hits each day. Thanks to Paul Fitzgerald for his work in keeping the website constantly up to date, to Liam Dewberry for his work in maintaining and administering the website and for his work in providing programmes for local League Championship games.
Media:
I would like to extend my gratitude to all sections of the media for the coverage afforded to both our club and county teams and games with special thanks to both our local radio stations and local newspapers in this regard. I would also like to congratulate Tommy Walsh on winning the best newcomer award at the IMRO Radio Awards ceremony held in Kilkenny in October for his punditry and commentary on Newstalk.
Dublin Event
The Dublin Event conference supporting Kilkenny GAA and St Kierans College Development Programmes was a huge success again in 2017. Led by Rev. Dr Dermot Ryan the large attendance on January 18th last enjoyed Pat Kenny as the MC, and Brian Cody, Terry Clune, Jim Bolger and Jim Gavin as the main speakers on Resilience in Sport and Lessons for Business. The 2019 event is already organised for January 25th in the Intercontinental Hotel and with MC Pat Kenny will feature Hugo Mc Neill, Fiona Muldoon and Brian Cody while Tommy Walsh will lead a panel discussion with Anthony Daly, John Mullane and Eoin Kelly as they speak on 'Maintain the Hunger, Leadership in Sport, Lessons for Business'.
Cultúr:
Once again thanks are extended to Irish Officer Sean Breathnach for organising both adult and juvenile Kilkenny Scór competitions after which representatives went on to participate in Leinster. This was a particularly proud year at Scór for Kilkenny when Claire Walsh from the Tullaroan Club won the Leinster final in solo singing and went on to compete at the All Ireland final.
Sean also organised the annual scholarships to Coláiste na Rinne. For the first time ever, a workshop for club Irish officers was organised in Nowlan Park during the year with a guest speaker from Fondúireacht Sheosaimh Mhic Donnchadha. The Fondúireacht provides support for clubs in the promotion of Irish. I would encourage clubs to play their part in the promotion of our language and culture by considering arranging an Irish event in their club through the Joe Mc Donagh Foundation and also by taking part in Scór.
Handball:
Once again the year just finished was a most successful one for Kilkenny handball. Congratulations to all handball winners at county, provincial and All Ireland level. A particular well done to Jack Holden of Kilfane club who won All Ireland minor softball singles title at 40×20. Well done also to the Kilkenny girls' team of Ciara Mahon (Clough) and Aoife Holden (Kilfane) who reached the All Ireland softball final, the first Kilkenny team to do so. Congratulations to Brian Mahon (Clough) who won All Ireland Intermediate softball singles in 60×30 and also Under 23 B singles at the World Championships. In total ten Kilkenny handballers won Golds at the World Championships held in Minnesota. Shane Dunne, who won his way onto the Irish team for the Championships won gold at Under 19 doubles while Kyle Jordan won four gold medals for Under 13 in wallball and 40×20 competitions in Minnesota also. The news that building work is progressing well on the new Handball Centre at Croke Park is most welcome and it is expected to be open and hosting championships before the end of 2019. Sincere thanks are extended to the Handball County Board, Chairman Joe Anthony and Secretary Liam Mahon, the various club officials and the many players for their great work in promoting and playing the games.
Fixtures:
There is no doubt but that the issue of club fixtures caused most dissatisfaction in Kilkenny and in many other counties nationally this year. The decision to create two five team groups to contest the Leinster and Munster hurling championships was one Kilkenny spoke against and opposed at Special Congress in late 2017, as did most of the other leading hurling counties. However, the decision, a democratic one, was made by the majority at that Congress and the format is one we will have to live with for two more years at least. The result this year was that county players were not available to play with their clubs for May, June and July in Kilkenny this year. While the month of April was designated a club month, unprecedented bad weather meant the Allianz League ran into that month and only one round of local League/Championship was played before August. For clubs, used in other years, to having all five rounds of that competition played by mid-August this was a huge change and one clubs were extremely unhappy about.
At tonight's convention there is a Motion which I have proposed through my own club that the All-Ireland finals be moved back to September. If this were done it could be used to create a window after the provincial round robin and before the All Ireland series commences to play local championship games. This may or may not make it to Annual Congress Clár and may not be successful if it does. None the less I think it is a proposal worth making.
A request at County Board level for suggestions on how the fixtures schedule might be changed brought some novel proposals from individuals and clubs. A number of these were not in Kilkenny's power to implement as they involved major changes to national fixtures. The others involved clubs either playing games without their county players, leaving all club League Championship games to the second half of the year or making major changes to the format of our championships. A Club Forum on Fixtures is arranged before Convention to seek feedback on these options. I do not think clubs would be happy playing League/Championship games without county players even if the point scoring system was adjusted to reflect this. I am strongly of the view that the current system of two six team groups playing five rounds of game before the knockout championship games commence is an excellent system and the envy of many of our neighbours. I do think that if we are to persist with the Senior and Intermediate Leagues which commenced this year to 'fill the gap' going forward, there is an onus on all clubs to take these competitions seriously and to field their strongest team. The County Board made significant prizes available for the winners of these Leagues last year and yet there were walkovers given and anecdotal tales of clubs fielding their junior teams. As I suggested earlier in this report perhaps the prizes should be divided across finalists and semi-finalists rather than just the winners. A second suggestion would be that games in these Leagues be played at weekend days rather than on week nights to facilitate players travelling home to play.
Bereavements:
The sympathy of the entire GAA family is extended to any of our County and Divisional Board members, Club Officers, referees, supporters and players who were bereaved by the loss of a family member or friend during the year. Their passing will be long remembered. Ar dheis Dé go raibh a n-anamacha go léir.
Buíochas
In this, my first year as Rúnaí I would like to express my sincere thanks to all involved in the GAA in Kilkenny. It has been a steep learning curve but a most enjoyable one. To Chairperson Jimmy Walsh who never ceases to work in his role, in constant contact with every level of the organisation, as he strives always to consolidate and improve Kilkenny GAA. Vice Chairperson PJ Kenny who fills an essential role in his efficient way as Fixtures Chairman, keeping the most important part of our organisation, our game,s going. Treasurer Barry Hickey, whose vast experience and advice is often drawn on, as he looks after the complex income and expenditure portfolio. To our Central Council representative, Ned Quinn, an inspiration to us all, a man whose talents have been recognised and utilised at the top of our organisation and a great support and source of advice to me as I settled into my new role. Paul Fitzgerald, our PRO who has already put his own stamp on the position. Seamus Reade, our Event Controller and County Development officer who has continued to excel in his new position and to the multi-talented Pat Henderson for his work across so many areas of our County Board. Also, to our diligent hard-working Leinster Council representatives Jim Fennelly and Willie Dempsey who are joined on the Management Committee by Safety Officer Eddie Blackmore, Coaching Officer Pat Tynan, Bord na nÓg Chairman John Byrne and Children's officer Caroline Clifford, all of whom find time to contribute at Management level in addition to their own busy County Board roles. To the Officers of the Junior Board, Coiste na nÓg and Coiste Peil, the members of the County Board and its sub committees. Also, to the officers of Cumann na mBunscoileanna, Handball and Camogie Boards for their great work for the games. A sincere word of thanks is extended to the officers of all our clubs and county management teams for their work at their local level and together at county level. Finally, to Caroline Morrissey, the public face of Nowlan Park whose multi-tasking keeps the show going quietly and efficiently and whose help and experience helped me adjust to the Secretary's position.
It is a huge honour to be secretary of Kilkenny GAA, to be involved with so many great people who work to promote our games, our clubs and our county.
In conclusion I wish to thank my club O'Loughlin Gaels and most especially my wife Teresa and children, Ciarán and Seoighe for their help and constant support.
Go raibh míle maith agaibh go léir.
Ar aghaidh linn le chéile……..Cill Chainnigh Abú !
Conchúr Denieffe,
Rúnaí Choiste Chill Chainnigh.