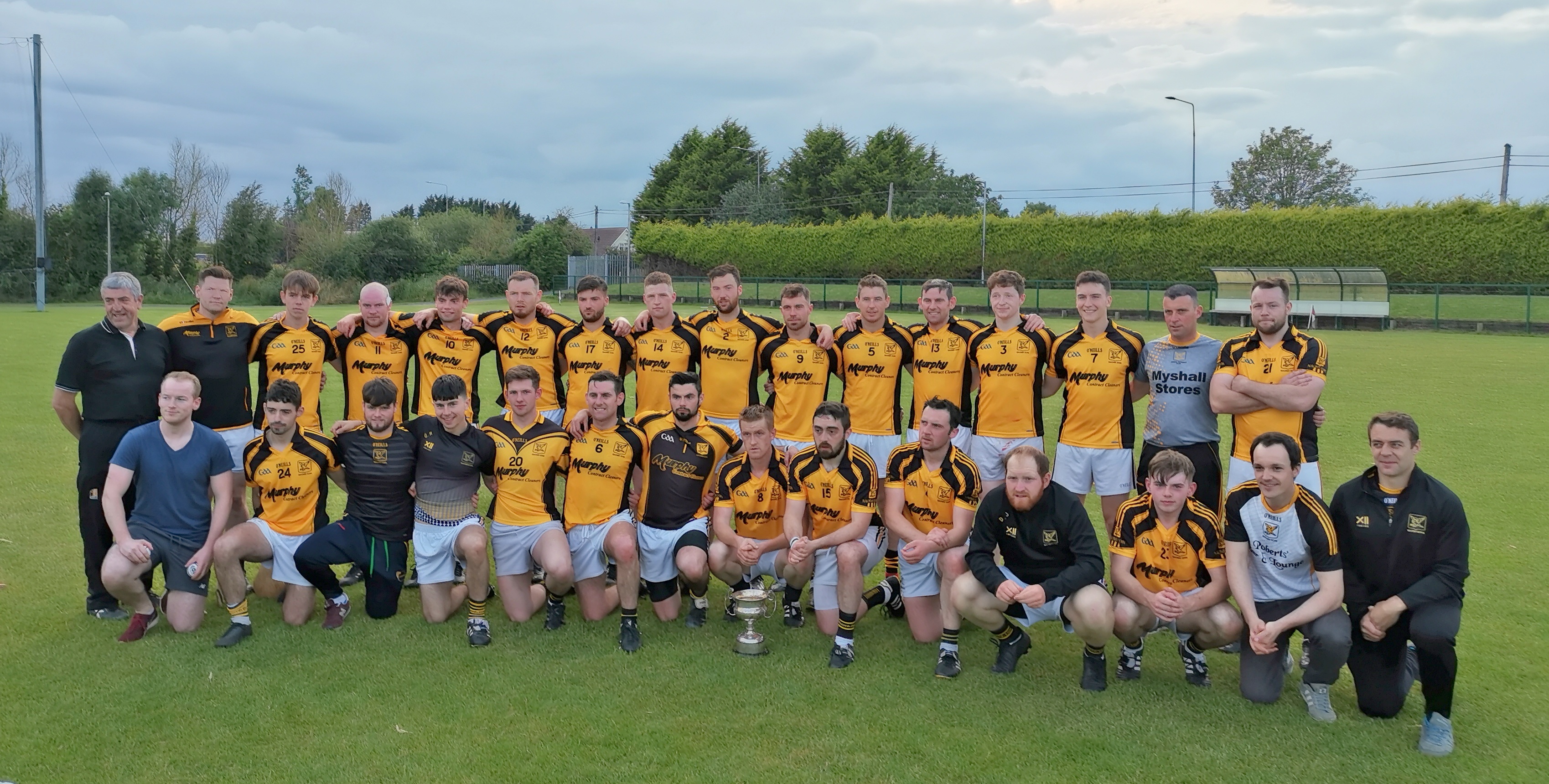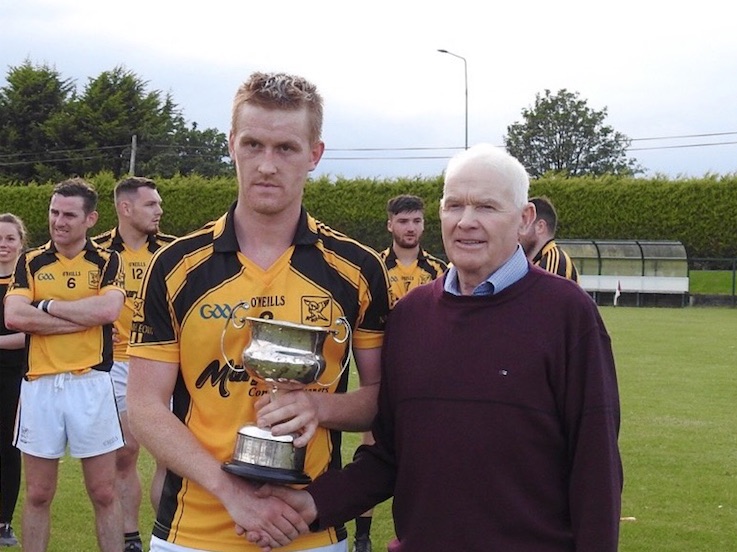 ALL COUNTY JUNIOR LEAGUE FINAL;
The All County Junior League Final always throws up a very entertaining and exciting game and the 2019 final between Naomh Eoin of Carlow and the city club Dicksboro was no exception. The weather was ideal and the Clara club had the grounds in pristine condition. Dicksboro got off to a flying start and looked as if they were going to totally blitz he Carlow lads. Within the first five minutes they had 1-03 on the scoreboard, the goal coming from Paul O'Flynn who cut through the Naomh Eoin defence to blast the ball past Goalkeeper Brian Treacy.
It took until the tenth minute before Naomh Eoin registered their first point with a fine effort from Cathal Treacy. Naomh Eoin were to spring to life half way through the half when they were awarded a penalty after Donal Smithers as taken down inside the square. Padraic Nolan made no mistake when made sure with a low ball to the net past Aaron Duggan. Naomh Eoin were growing in confidence and struck with a second goal by the impressive Donal Smithers.
The Carlow men were rampant at this stage and added three points from play without reply, but the Boro were equal to everything the Carlow men through at them and rattled off three unanswered points leaving both teams level at half time Naomh Eoin 2-08 to Dicksboro 1-11.
The start of the second half was a most cagey affair with both teams looking somewhat anxious and only sharing four points after the 40th minute. Dicksboro brought the half to life with a goal from ace captain Davy Ryan senior to push them ahead again by two points, but Naomh Eoin always had that extra in the tank and rattled off another four points to give them a three point lead but Dicksboro showed what a superb team they were by bringing the game level with seven minutes remaining and at that stage extra time looked a likely prospect.
But Naomh Eoin again split the Boro defence on the 55th minute when Padraic Nolan got his second goal of the game. Both teams swapped a point each before the final whistle to give Naomh Eoin their first ever All County League title 3-17 to 2-17. The individual display by Dwaine Kavanagh for Naomh Eoin at centre forward was outstanding as he helped himself to 8 points all from play while Sean Boyd gave a master class from the dead ball with 7 points from frees and one from play.
They are only the second Carlow team to win this competition the other being Mount Leinster Rangers who went on to bigger and greater things by winning Leinster senior and contesting an All Ireland final. This was a superbly high scoring game with two very evenly matched teams and certainly both will be contesting the business end of their respective championships. Best for Naomh Eoin, Dwaine Kavanagh, Padraic Nolan, Donal Smithers, John Michael Nolan, Cathal Treacy. For Dicksboro, Sean Boyd, Mark Nolan, Stephan Farrell and Davy Ryan.
Scores Naomh Eoin Padraic Nolan 2-05, (Penalty goal and four frees), Dwaine Kavanagh 0-08 play, Donal Swithers 1-01 play, Cathal Treacy 0-02 Play, James O'Hara 0-01 play. Dicksboro Sean Boyd 0-08, 7 Frees, Davy Ryan (snr) 1-01, Stephen Farrell 0-03, Mark Nolan 0-03, Paul O'Flynn 1-00, Liam Brennan Smith 0-01, Joe Sheehan 0-01.
Naomh Eoin Brian Treacy, Donal Smithers, Eoin Redmond, James O'Hara, Martin Doyle, Eoin Nolan, Michael Kavanagh, Michael Mullins (Captain), Ross Smithers, Cathal Treacy, Dwaine Kavanagh, John Michael Nolan, Padraic Nolan, Conor Foley, Cillian McCabe. Subs Eanna Kavanagh, Eoin Doyle,Kevin Foley.
Dicksboro; Aaron Duggan, Liam Stynes, Michael Hayes, Robert Crotty, Tommy Farrell, Kevin Nolan, Eoghan Moylan, Joe Sheehan, Mark Nolan, Seanie Boyd, Stephan Farrell, Paul O'Flynn, Lam Brennan Smith, Tadhg Butler, Davy Ryan (Captain). Sub; David Conway.