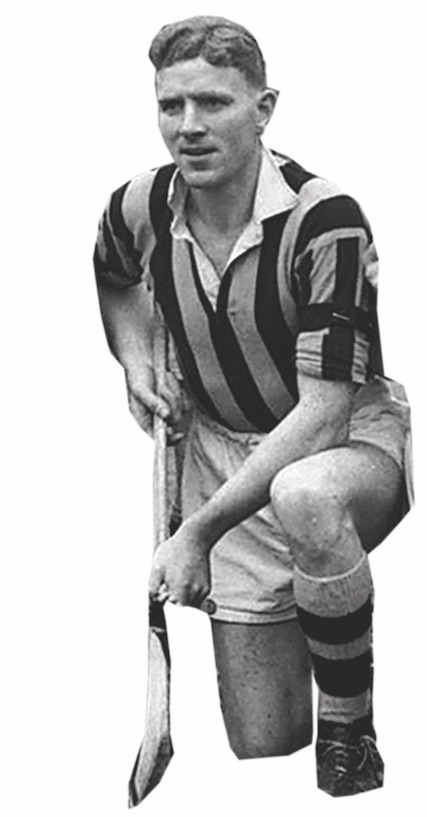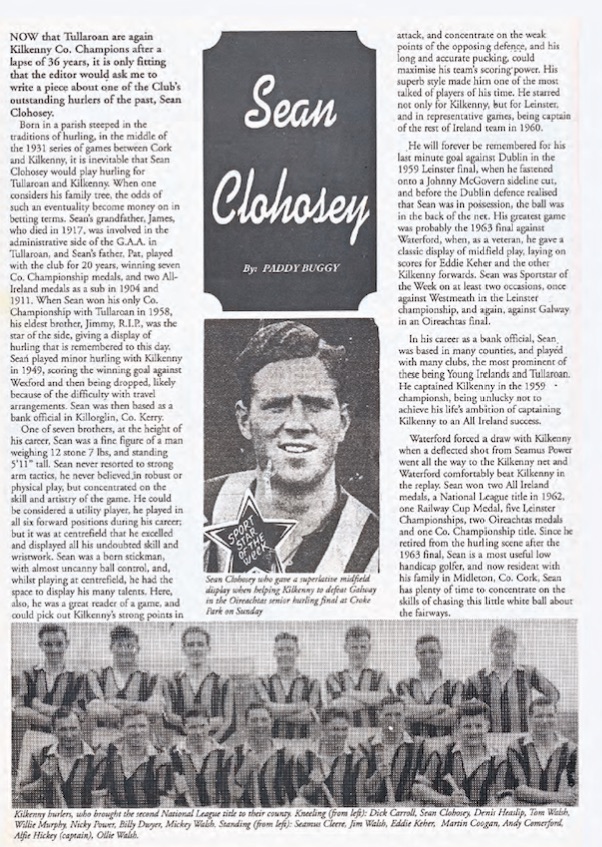 NOW that Tullaroan are again Kilkenny Co. Champions after a lapse of 36 years, it is only fitting that the editor would ask me to write a piece about one of the Club's outstanding hurlers of the past, Sean Clohosey.
Born in a parish steeped in the traditions of hurling, in the middle of the 1931 series of games between Cork and Kilkenny, it is inevitable that Sean Clohosey would play hurling for Tullaroan and Kilkenny When one considers his family tree, the odds of such an eventuality become money-on in betting terms. Sean's grandfather, James, who died in 1917, was involved in the administrative side of the G.A.A. in Tullaroan, and Sean's father, Pat, played with the club for 20 years, winning seven Co. Championship medals, and two All- Ireland medals as a sub in 1904 and 1911. When Sean won his only Co. Championship with Tullaroan in 1958, his eldest brother, Jimmy, R.I.P, was the star of the side, giving a display of hurling that is remembered to this day. Sean played minor hurling with Kilkenny in 1949, scoring the winning goal against Wexford and then being dropped, likely because of the difficulty with travel arrangements. Sean was then based as a bank official in Killorglin, Co. Kerry.
One of seven brothers, at the height of his career. Scan was a fine figure of a man weighing 12 stone 7 lbs, and standing 5'11" tall. Secan never resorted to strong-arm tactics, he never believed.in robust or physical play, but concentrated on the skill and artistry of the game. He could be considered a utility player, he played in all six forward positions during his career; but it was at centrefield that he excelled and displayed all his undoubted skill and wristwork. Sean was a born stickman, with almost uncanny ball control, and, whilst playing at centrefieldd, he had the space to display his many talents. Here, also, he was a great reader of a game, and could pick out Kilkenny's strong points in attack, and concentrate on the weak points of the opposing defence, and his long and accurate pucking, could maximise his team's scoring-power. His superb style made him one of the most talked of players of his time. He starred not only for Kilkenny, but for Leinster, and in representative games, being captain of the rest of lreland team in I960.
He will forever be remembered for his last minute goal against Dublin in the 1959 Leinscer final, when he fastened onto a Johnny McGovern sideline cut, and before the Dublin defence realised that Sean was in possession, the ball was in the back of the net. His greatest game was probably the 1963 final against Waterford, when, as a veteran, he gave a classic display of midfield play, laying on scores for Eddie Keher and the other Kilkenny forwards. Sean was Sportstar of the Week on at least two occasions, once against Westmeath in the Leinster championship, and again, against Galway in an Oireachtas final.
In his career as a bank official, Sean, was based in many counties, and played with many clubs, the most prominent of these bang Young Irelands and Tullaroan. He captained Kilkenny in the 1959 championship, being unlucky not to achieve his life's ambition of captaining Kilkenny to an All Ireland success.
Waterford forced a draw with Kilkenny when a deflected shot from Seamus Power went all the way to the Kilkenny net and Waterford comfortably beat Kilkenny in the replay. Sean won two All Ireland medals, a National League title in 1962, one Railway Cup Medal, five Leinster Championships, two Oireachtas medals and one Co. Championship title. Since he retired from the hurling scene after the 1963 final, Sean is a most useful low handicap golfer, and now resident with his family in Midleton, Co. Cork, Sean has plenty of time to concentrate on the skills of chasing this little white ball about the fairways.