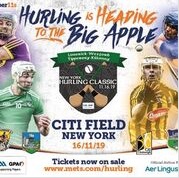 The New York Hurling Classic
Saturday, November 16, 2019
Citi Field
12:30PM Start Time – Subject to Change
Rain or Shine
Hurling, "Ireland's Ancient Warrior Sport" debuts at Citi Field on Saturday, November 16th! Widely believed to be the world's oldest field game, Hurling combines agility, strength and intensity – earning it the reputation as the "fastest game on grass" among its loyal and passionate followers. This popular Irish sport will come to Queens with a 4 team tournament in which Limerick will defend its title against three counties: Kilkenny, Tipperary and Wexford.
The New York Hurling Classic will feature the very best and most competitive hurling rivals from Ireland. In addition to the hurling tournament, the event will feature a lively Irish festival complete with music and dancing.
Parking Lots Open: 9:00AM
Gates Open: 11:00AM
Fan Festival: 11:00AM-12:30PM
Start Time: 12:30PM
*All times subject to change