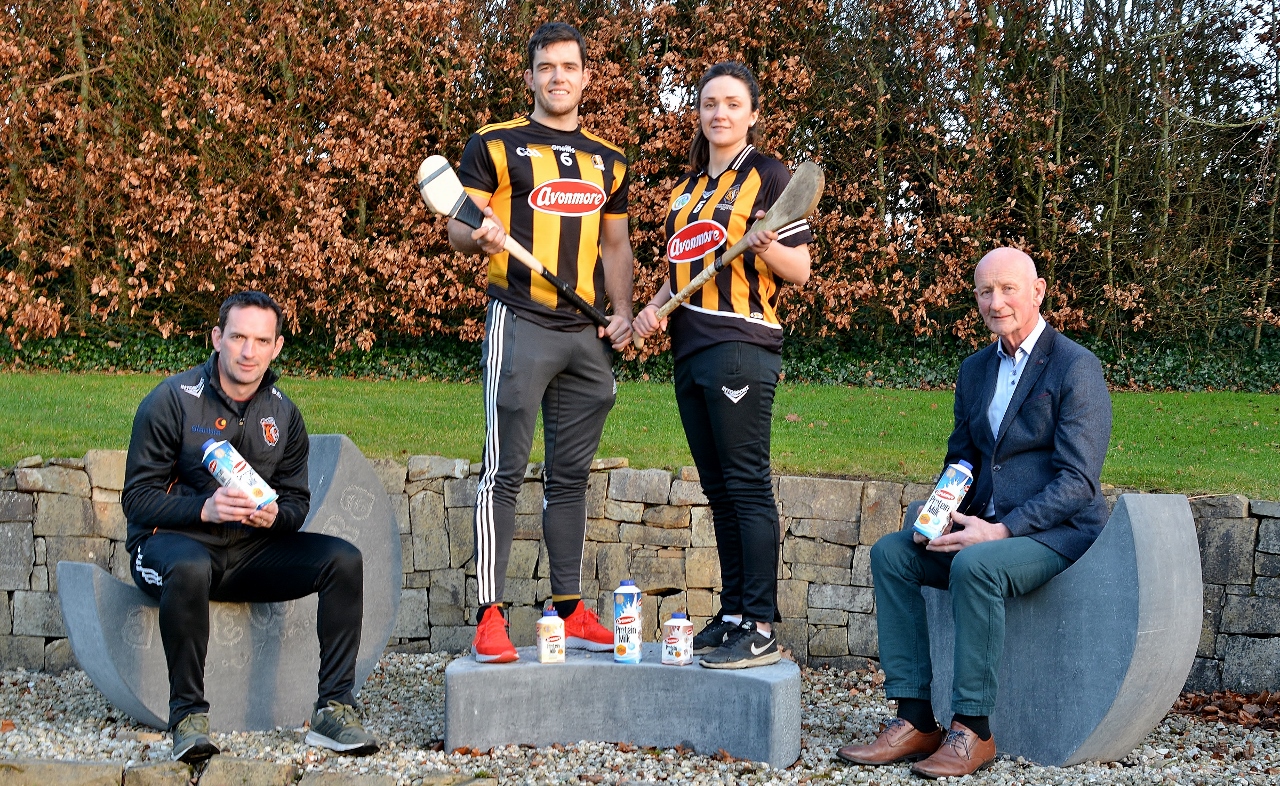 Glanbia returns to sponsor Kilkenny GAA for 2020/21
Glanbia returns to sponsor Kilkenny GAA once more in 2020, in the second year of a three year partnership with the county. All Kilkenny hurling and football teams from Under 14 through to Senior level. Once again the jersey will carry the Avonmore milk logo while all leisure wear including track suits, polos, windcheaters and kit bags will carry the Glanbia logo.
Glanbia will also sponsor Kilkenny Camogie for the next two years, in a further deepening of its commitment to GAA in the county.
Brian Phelan, CEO Glanbia Nutritionals said Glanbia is delighted to renew its sponsorship of Kilkenny GAA: "We are proud to be long term sponsors of Kilkenny GAA and we value the relationship that we have with the County Board and Team Management. We are also delighted to be embarking on a new two-year partnership with Kilkenny Camogie. Glanbia has nutrition at the heart of everything we do and our commitment to GAA complements our Purpose – to deliver better nutrition for every step of life's journey. Our products offer this valuable nutrition to players in the form of Avonmore Milk and many other performance nutrition products, which form part of our players' healthy diets and support peak performance across our teams. We are pleased to be a part of this sporting story."
Speaking on behalf of players and management, Brian Cody team manager said, "It is great to see a company like Glanbia play such an important role in the nurturing of Kilkenny GAA. It ensures that we as a team can get on with what we do best. Our team appreciates all the support from Glanbia and we thank them again for their ongoing support."
Sheila Norris, Chairperson Kilkenny Camogie added: 'We are enormously indebted to Glanbia for their support over the last number of years. Having Glanbia as the main sponsor of our inter-county teams gives huge credibility to us as a sports organisation. In the year of the 20×20 campaign for women's sport, Glanbia is leading the way in promoting this. Our association with this leading global nutrition company also reinforces our message of health and fitness which is so relevant in today's society. We are delighted to have Glanbia as our inter-county sponsor for the next two years.
Welcoming the announcement of the continuation of the sponsorship, Kilkenny County Board Chairman, Jimmy Walsh, said; "Kilkenny GAA relies heavily on the goodwill and generosity of our partners in order to bring our teams to the high level of performance that they achieve year on year. The support that Glanbia has offered Kilkenny GAA over the years is hugely appreciated and valued and our teams reap the benefits of this relationship on a daily basis. We in turn endeavour to bring many hours of great sporting entertainment from our Kilkenny GAA teams to our parks and to our screens again this year. And we thank Glanbia for their continued interest and investment into our young people in Kilkenny GAA."
ENDS
17th January 2020
For more information, please contact sponsorship co-ordinator
Kieran O'Connor– koconnor@glanbia.ie Mobile 087 2516419