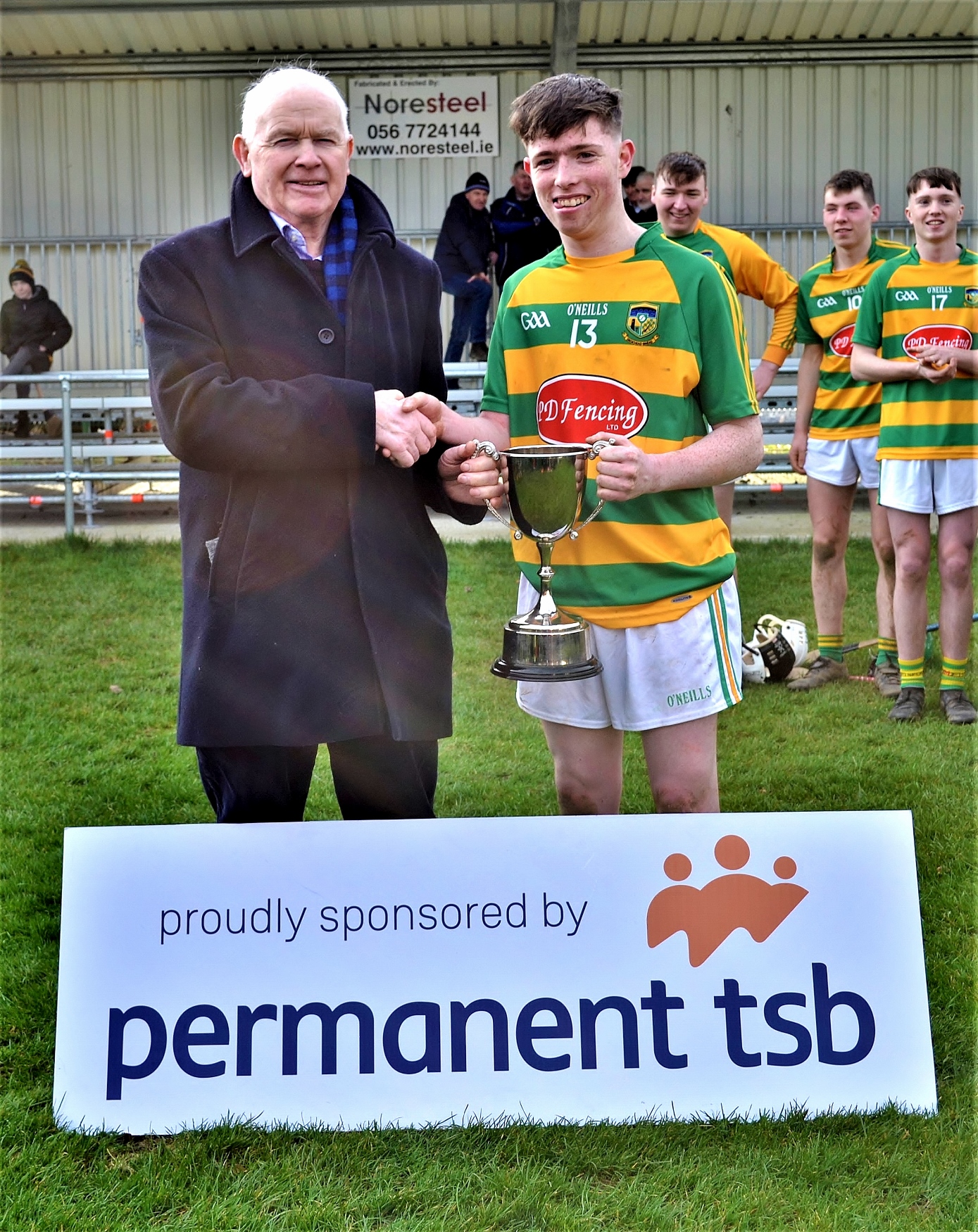 BENNETTSBRIDGE 2-15 LISDOWNEY 1-11
It might be early into the new decade and a lot would say not a period conducive for underage games but the hurling that was on display at Thomastown last Sunday was a sight to behold. From the time the ball was thrown in right to the very end both Bennettsbridge and Lisdowney in this Permanent TSB Under 19 'B' Championship final were full value for the large vocal attendance. The recent dry period certainly improved playing conditions and the Thomastown club must be complemented for the excellent hosting of the final. It was a game where the two number 12's on both teams that were then stars of the show. The powerful Aidan Tallis worked tirelessly for the Lisdowney and was the main scoring machine, striking 1-09 of Lisdowneys total of 1-11. The Bridge Number 12 Ciarán Brennan is proving to be a very formidable scoring machine for Bridge teams. In the 2019 Junior 'C' County final he was the leader from the front in winning that final and on Sunday last he again showed what a prospect he is scoring a total of 0-10 of the Bennettsbridge total of 2-15. As mentioned earlier both teams settled early and within the first nine minutes, they had swapped eight points between them. Lisdowney looked the more impressive, but the dogged work rate of the Bridge men helped them go toe to toe with the North lads. After 18 minutes both teams were locked together at 5 points apiece when Bennettsbridge left half back Daniel Murphy made a break, then hand passed to left corner forward Dylan Kenny who made a piercing run towards goal before distributing to the towering full forward Barry Lennon who smashed the ball to the net passed Lisdowney goalkeeper Richie McEvoy. Lisdowney immediately hit back with a pointed free from Tallis and withing a minute Lisdowney full forward Conor Tallis was fouled inside the square and up stepped his brother Aidan to convert the penalty passed Ben King in the Bridge goal to push Lisdowney a point ahead. Brennan and Tallis swapped points to keep things level until Brennan scored an amazing point from 70 mitres out on the sideline as half time approached. Referee Peter Burke who had an excellent game played an additional 2 minutes of injury time and it was to prove the turning point of the game as Bennettsbridge got the all important score with a goal from centre forward Danny Coyne, to lead at half time 2-08 to 1-07. The Bridge stretched their lead within 2 minutes of the restart with a point from Harry Murphy. But the Lisdowney lads were not giving up the fight and especially their star forward Aidan Tallis as he did his level best to drag his team back into the game by adding 3 points without reply to leave just 3 points between the teams. But the Bridge were just too strong in many quarters and added a further 6 points to Lisdowneys solitary point before the final whistle. The Bennettsbridge had the scoring forwards and were deserved victors. Lisdowney were too reliant on the impressive Tallis to produce the goods and he certainly did as much as he could. Best for Bennettsbridge was the highly impressive Ciarán Brennan along with David Blanchfield, Jamie Harkin, Laurence Mahon, Danny Coyne and Barry Lennon, while for Lisdowney Aidan Tallis was excellent and others who impressed were James Phelan, Luke Campion, David Carroll and Eoin Kenny.; Bennettsbridge team; Ben King, Laurance Mahon, Mikey Lewis, Ivan Kelly, Tom Bolger, Conor Murphy, Daniel Murphy, David Blanchfield (0-01), Jamie Harkin (0-02),Harry Murphy (0-01), Danny Coyne (1-01), Ciarán Brennan (0-10, 5 from play, 1 from 65, 1 from side line cut, 3 frees), Sean O'Connell (Captain), Barry Lennon (1-00), Dylan Kenny; Subs Matthew Treacy and John Doyle. Lisdowney, Richie McEvoy, Jack Grace, Marty McEvoy, Jack McGree, Eoin Delaney, James Phelan, Luke Campion, David Carroll, Gary O'Sullivan, Dean Brophy, Cathal Jordan (Captain), Aidan Tallis (1-09, 3 from play, Goal from Penalty, 6 from frees), Eoin Kenny (0-02, Conar Tallis, Luke Holohan. Subs Lee McCann and Luke Moore.
CARRICKSHOCK 0-15 SLIEVERUE 0-14
It may have been the very last competitive hurling game of 2019 but the JJ Kavanagh & Sons Under 21 'C' Championship final was a real Christmas treat. It was so near to the blessed day that the hint of the Christmas turkey could be smelled wafting from the houses nearby the Carrigeen Asper Park club grounds. After all the continuous rainfall in the previous month, the Carrigeen venue was in excellent condition and it is testament to all at the Carrigeen club. With the pending Christmas feast, Carrickshock and Slieverue put on a top-class performance in this final and really neither team deserved to lose this game and perhaps additional time may well have been the fairer way to separate these two equally talented teams. But as they say you take your chances and that's exactly what the Shock men did. Slieverue were the more impressive team from the throw in and with Craig Phelan and Paul Rellis along with Evan Cullen causing havoc, the Carrickshock team struggled to get into the game. Jack Frisby at centre back was totally dominant for Slieverue and throughout the deep south lads looked like they would totally sweep Carrickshock away. In fact, Carrickshock were living on scraps and were fortunate that Slieverue coughed up several good goal chances. But in Fairness Carrickshock kept plugging away with frees from Eoghan O'Neill along with individual points from Jake O'Dwyer, Barry Lennon and Luke McNamara kept the score at half time 0-08 to 0-05 in Slieverues favour. Carrickshock certainly started the second half with a more determined purpose. They made a number of positional changes in an effort to nullify the dominance of Frisby and Phelan in the Slieverue line up and in doing so started to dominate the game. But they didn't help their cause as they proceeded to drive six dreadful wides. But the free count started to mount against Slieverue and that indiscipline was to be costly with Eoghan O'Neill proving accurate from frees. Even goalkeeper Dan Blanchfield hit a monstrous free from 80 mitres which was a huge boost to the Shock. Patrick Dowling for Slieverue hit 2 points in succession to stem the Carrickshock tide. Eoin Crowley put the Shock a point ahead on the 29th minute but on the stroke of 30 minutes Craig Phelan scored an outrageous point to level the game. At that stage everyone was shouting for final whistle so as to push the game into additional time but play went on and moving into the 32nd minute midfielder Jake O' Dwyer who had been outstanding in the second half fired over the leading point which was to prove decisive and on the puck out the whistle blew. Exhilaration for Carrickshock and despair for Slieverue. Best for Carrickshock were Jake O'Dwyer, Eoghan O'Neill, Eoin Crowley, Luke McNamara and Barry Lennon, while for Slieverue were served well by Craig Phelan, Paul Ellis, Patrick Dowling and Jack Frisby. Carrickshock team; Dan Blanchfield (Joint Captain) (0-01 free), Jack McGuire, Oisin Carroll, Jamie Barron, Ciarán Lennon, Michael Murphy, Luke Hudson, Padráig Lennon, Jake O'Dwyer (0-04. 3 from play and 1 Side line cut), Barry Lennon (0-01 play), Eoin Crowley (0-02 Play), Kieran Conroy(Joint Captain), Eoghan O'Neill (0-06, 5 from frees), Rory Doyle, Luke McNamara. Subs, Shane Fennelly (0-01). Slieverue, Gavin Grant (Joint Captain), Sean Freyne, Ben Alcock, Mark O'Donovan, Josh Walsh, Jack Frisby, Reece Murphy, Luke Heffernan, Cillian Power (0-01), Paul Rellis (0-02), Eamon Phelan (Joint Captain), Craig Phelan (0-07, 5 from Play, 2 frees), Patrick Dowling (0-02), Evan Cullen (0-01), Conor Wall (0-01). Subs Mark Keogh and Ian Aherne.